Backyard Renovation Ideas & Designs
Backyard Renovation Ideas & Designs
With warmer weather approaching, everyone is looking for ways to enhance their outdoor spaces. Whether you plan to use your backyard for entertaining or as a secluded relaxation spot, there are some backyard renovation ideas you can apply to your space. Just like any interior renovation, there are different levels of renovation. This guide is here to take you through the basic backyard renovation options and help you find which one is best for you.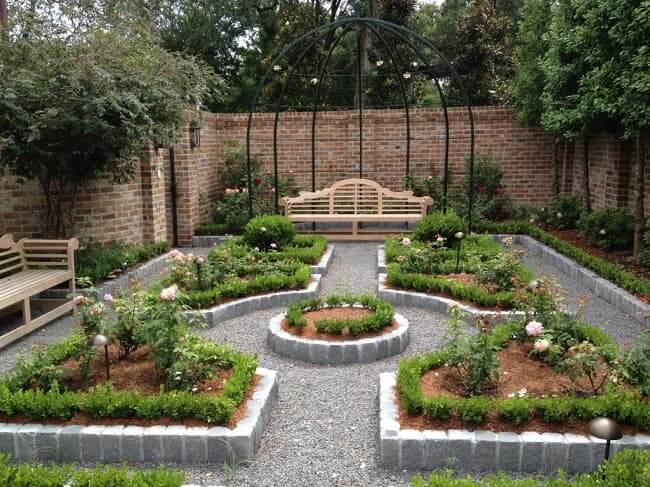 Backyard Landscaping
One of the easiest ways to revamp your backyard is to starting with the landscaping. Whether you plan to have a large open area or want plants as the supporting features, you can add color and create an oasis in your backyard.
Gardens
Gardens are a classic way to add some life to your backyard. If you want a traditional backyard, you can keep it simple with a standard flower bed. You can incorporate different colors and shapes by planting different flowers and bushes. If you want your garden to be the centerpiece of your backyard, these backyard renovation ideas can add an x factor to your garden.
Vegetable Gardens
A vegetable garden is the perfect addition to an urban apartment or an eco friendly home design. It helps your home to be more self-sustaining and give your backyard an actual function, rather than just being an entertaining space. If you live in a city building, vegetable gardens are popular for urban rooftop decks. Your vegetables will vary based on your climate and your personal preferences.
English Gardens
English gardens are truly a wow factor in any backyard. By using this intricately designed garden plan, you are creating a unique landscape for your home. English gardens use a combination of paths and smaller gardens to create a larger effect. They contrast the shaped hedges with free growing plants and turn your backyard into a secret garden getaway.
Ponds
Manmade ponds add a wow fact to your backyard while keeping natural elements at the forefront. These small bodies of water are more flexible than many people think. Your standard pond has a number of different designs. You can have a very clean and angular reflection pool in your backyard for a more modern home. If you want a more rustic and natural look to your pond, you can create this using different stones around the edge and additional landscaping. You can add fish for a fun element to your backyard or build a small bridge over the water to separate the sections of your backyard. No matter what design aesthetic you choose, your pond will elevate the space and make it feel larger. Backyard ponds have the same effect as a large interior mirror by expanding the space by reflecting the sky back to your space.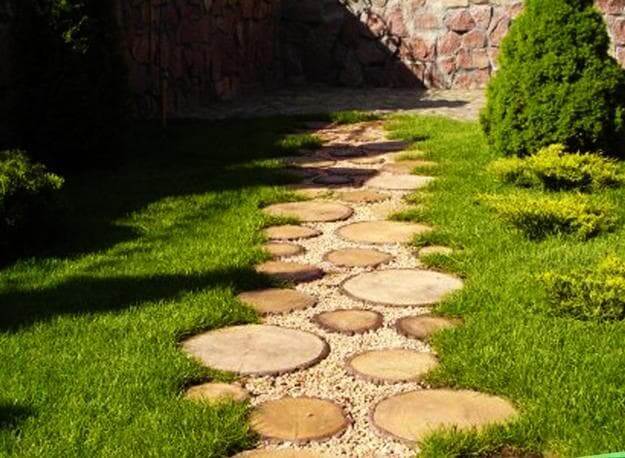 Pavers and Walkways
If you choose want to have a set walkway through your backyard, you can either have a full sidewalk or individual stones marking your path. If you want to create a full walkway, you have several different options in terms of materials. Use brick for a traditional home design or stamped concrete for an economical way to create a stone path look. For a more whimsical feel, use individual stones as steps. You can fill the empty space with either gravel or keep it open with grass. If you can't find the pavers that fit your ideal backyard design, they can be an easy DIY project. Using wet concrete, you can add different color accents, such as pebbles or marbles, to create a unique stepping stone for your garden or backyard. Many families also use them as keepsakes with their children's hand prints and the year in the stone.

Backyard Decks
Backyard decks are often a wow factor in your home design by themselves. They range from multi level deck designs to a simple raised platform. They have limitless possibilities when it comes to elevating the space.
Deck Stairs
If you have a raised deck, you most likely have deck stairs that connect your deck to your backyard. Many homes utilize a traditional deck stair design. These simple straight stairs may get the job done, but they have a large footprint and lack the unique design aesthetic required to add a wow factor to your backyard. Spiral stairs meet both of these needs. A spiral staircase has a small footprint that is kept to a circle in your backyard, which allows you to maximize your backyard space. This is also ideal of multilevel decks that want to keep as much deck space as possible. From a design perspective, there are two standard options for your outdoor spiral stair. The first is the Galvanized Exterior spiral stair. This cost effective option has a carbon steel frame that goes through a hot dip design process to create a maintenance free barrier and a sleek metallic silver finish. If you want a stair that has a softer look, an Aluminum Powder Coated spiral stair can complement your home design. The naturally rust prohibitive aluminum stair is powder coated to give it a custom color finish and a weather proof barrier. The color choices can range from a classic black or white to a bold purple and everything in between. Both spiral stair designs have the potential to be the centerpiece to your raised deck design.
Under Deck Patios
Often times, under deck areas are left open and unused. However, these spaces have potential to be a completely unique space in your home. This is an ideal space to renovate as the space is already outlined and framed with the vertical supports from the deck above. The under deck area is very flexible and can be defined by the furnishings that you put into it. Because the space is already covered, you can use your under deck patio as additional outdoor entertaining space in poor weather. You can create a three season room with the addition of screens to enclose the space. If you want to keep the possibility of an open air patio during warmer months, use retractable screens. Maximize all of your space for outdoor entertaining by keeping your dining area on your raised deck and installing an outdoor kitchen on the patio. The deck will protect your grill and any other appliances from rain and you can keep excess smoke away from your guests' conversations.
Backyard Fences
Backyard fences are often used simply for function rather than adding to the aesthetic of your outdoor space. It's a safety feature for both pets and children and closes off your yard from nearby neighbors. Because the focus is on utility, the style of the fence is often forgotten. These backyard fence options can help you elevate your space without losing the function of your fence!
Wrought Iron
If you're looking for a traditional backyard fence design, a wrought iron fence is the perfect solution. This classic design choice is most commonly used around pool decks. However, it's a great fit for a backyard that's attached to a Victorian or Traditional home design. Wrought iron fences have a wide range of design styles, from simplistic to very ornate. You can choose straight balusters with no decoration added. If you're looking for a more ornate design, there are plenty of options. These range from a small twisted cage design to a Victorian style scroll pattern that are common in European cities. You can use your wrought iron fence in combination with large brick pillars for a classic home design.
Living Fences
If you want the maximum amount of green space in your backyard, a living fence is a great option for close off your yard. Living fences are solid screens of plants that are known for growing tall, dense, or both. If your dog likes to dig, this isn't the most secure fencing option to keep them in the yard. The traditional living fence is made from either boxwood plants or privet. Both boxwood plants and privet are known for their ability to be trimmed into different shapes and their density. They may take a little longer to grow to your desired height than other options, but they are very sturdy. You're not limited to simple green hedges, lilacs are known for their pink and purple tones and grows fairly quickly. For a bolder color choice, bright yellow forsythia bushes that can grow up to 9 feet tall.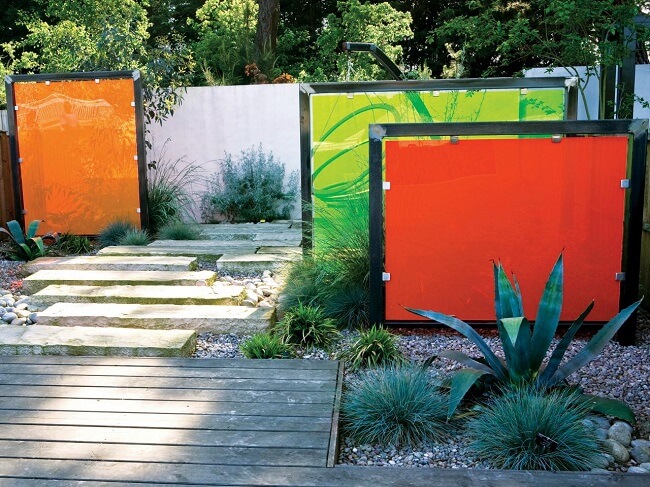 Privacy Screens
Privacy screen are popular in neighborhoods that have small plots and neighbors in close quarters. As much as you may love your next door neighbor, you want some privacy in your own backyard. You can utilize some of the living fence options and have them grow tall enough to act as a privacy screen. If you want a more open air option, lattice panels have an open weave allowing light into your backyard, but still provide coverage. For more of a solid panel, you can use climbing plants, like ivy, to add another layer of protection to your lattice panels. Curtains hung from an overhead awning are a light and airy privacy screen option. For a real wow factor, you can add sliding stained glass panels to your deck frame. These can provide coverage where you need it and add pops of color to your deck. For a true wall around your backyard, two tone wooden panels add dimension to your design rather than a boring solid wood fence. However, this allows little to no pass through of light and can make your space feel smaller than it actually is.
Backyard Furnishings
Your backyard furnishings will define your space further. By creating a beautiful setting, you are creating the perfect place to put furniture that will dictate the function of your space. Your furnishings are flexible and have unlimited options between purchasable products and the millions of DIY projects out there. You can easily find the right furnishings for your backyard.
Backyard Structures
On a hot summer day, you'll be thankful for a small shaded oasis in your backyard. Pergolas and cabanas both provide some shelter from the intense summer sun or rainy days. This backyard renovation idea isn't limited to a deck or patio. You can easily install your structure in the middle of your yard for an exclusive space. You can add curtains to your canopy to provide extra coverage.
Outdoor Entertaining
The main function of any backyard furnishing is to create a function for the space. By choosing the right furnishings, you can make your backyard ideas come to life. The most common use for your backyard is outdoor entertaining. Flexibility is at the core of the most successful backyard renovation ideas. Choose furnishings that you can change around depending upon the event or time of year.
Basic Furnishings
The most basic backyard furnishings are tables and seating options. These are necessary for any kind of outdoor entertaining. If you want you have outdoor dinner parties during warm weather months, there are plenty of dining tables that can fit any design aesthetic. For a more intimate furnishing choice, small round café tables that seat up to two people are a good choice. These also fit well into large garden settings. Your seating options should cater to the table designs you choose. For instance, if you have a small table, don't use large outdoor chair sets. There are plenty of dining sets that include both the table and matching chairs. For a more eclectic design aesthetic, you can use mismatched chairs in a variety of colors. Bright chairs and oversized cushions are popular backyard ideas when it comes to adding pops of color.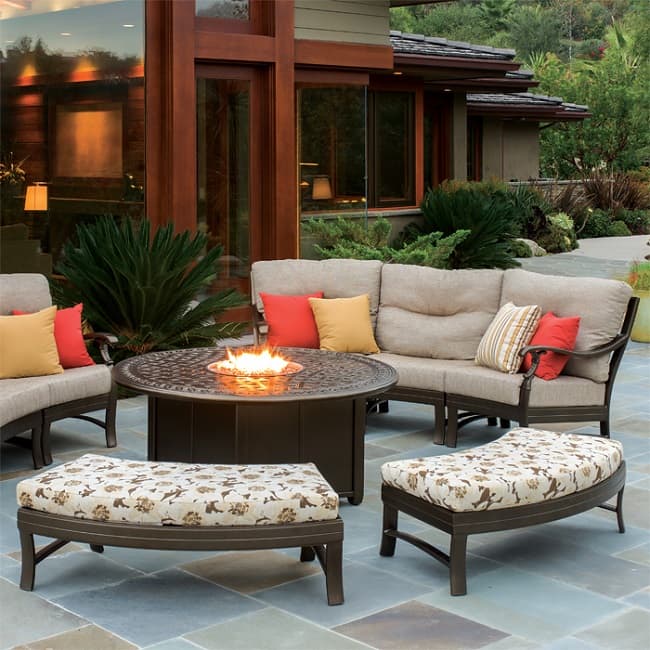 Centerpieces
Every backyard should have a focal point. This can be a communal gathering area or a beautiful addition to a private getaway. These centerpieces can take any backyard renovation idea and elevate it to the next level. There are two main categories when it comes to centerpieces in your backyard: water features and fire pits. Water features are different from the previously mentioned man made pond. These furnishings feature moving water, rather than a stagnant pool. If your backyard is meant to promote relaxation and serenity, a waterfall wall is a show stopping centerpiece that supports your backyard ideas. Smaller fountains fit well into backyards that have a garden focus. These fountains don't have to be huge, a small metal or stone fountain can add polish to an otherwise regular garden.
If you want a centerpiece that lends itself more to outdoor entertaining, a fire pit is the perfect solution. Unlike water features, a fire pit has a large communal feeling tied to it. You can arrange any of your outdoor furnishings around the fire pit to create a unique outdoor entertaining space. Outdoor living rooms are common backyard renovation ideas and a fire pit acts as the fireplace. Fire pits are also a three season centerpiece that can be used from early spring through the fall season.
Whether you decide on a deck or a garden, you want a beautiful and functional backyard. If you can't decide on just one backyard renovation idea, that's okay! A raised deck is the perfect solution to a hybrid space. If you want to keep your deck's footprint small and maximize your green space, a spiral stair is a great fit. You can call one of our consultative designers to design the perfect spiral stair for your space.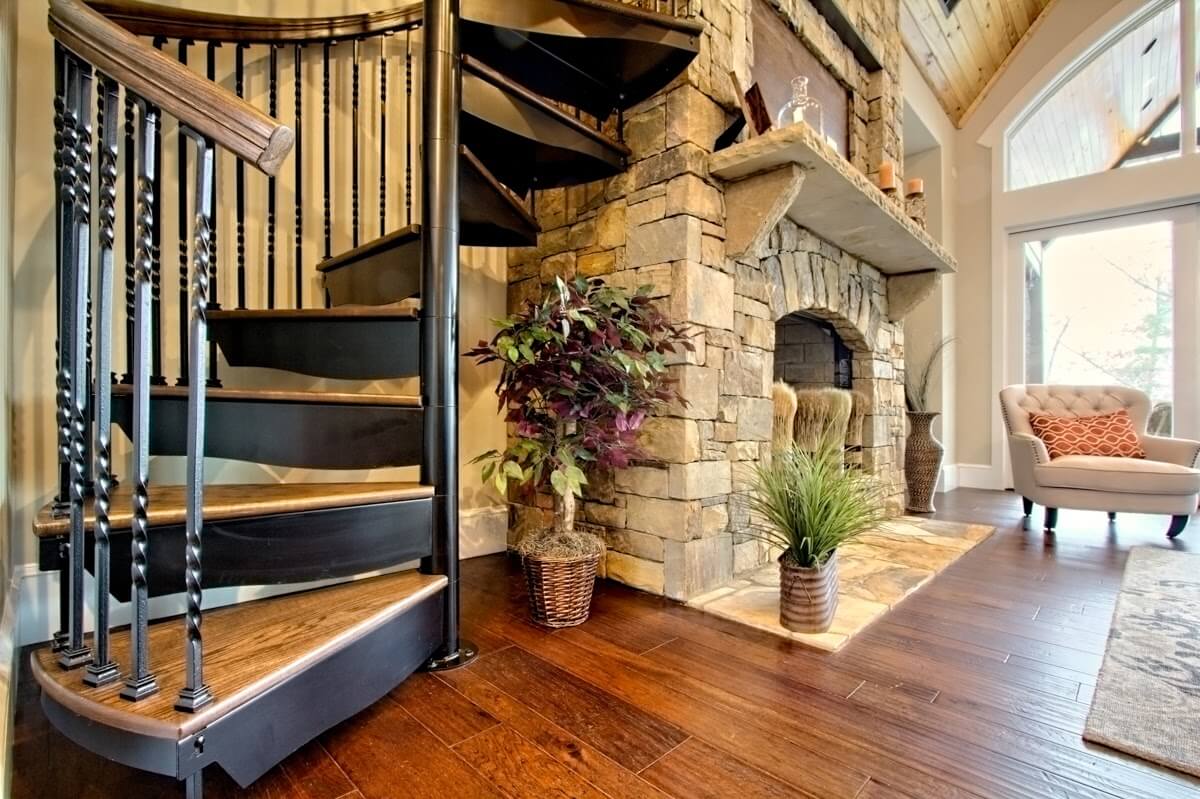 Why Salter
Ready to experience the best in Spiral Stairs?
Get started with a free, no-hassle consultation.
Same Day Pricing

Expert Design & Sizing Advice

Custom Design Options Tailored to your Budget

Estimated Product Lead Times
Get started with a free, no-hassle consultation.