Farmhouse Renovation Room Ideas & Designs
Farmhouse Renovation Room Ideas & Designs
There's something about renovating an old farmhouse that gives you a sense of accomplishment and wonder about your own home. There's something to be said about the charm of old architecture that you're now using for your modern day home. Farmhouses are some of the most commonly renovated buildings, along with barns and warehouses. These farmhouse renovation ideas are broken down by room to help you work your way through your own farmhouse renovation.
Table of Contents
Farmhouse Kitchen Renovations
Farmhouse Living Room Renovations
Farmhouse Bedroom Renovations
Farmhouse Bathroom Renovations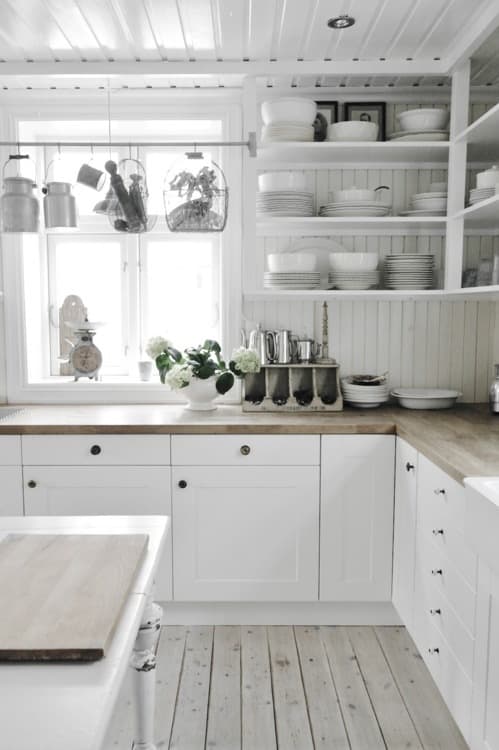 Farmhouse Kitchen Renovations
Kitchens are often the central hub of any home. They are typically the gathering place of families at the end of every day and where homeowners entertain. This is especially true for farmhouse kitchens. They are typically defined by large sinks and lots of counter space. A farm style kitchen is perfect for the hostess that loves to entertain and bring people together with food! It has plenty of space for guests and is warm and welcoming to anyone in the house. They typically lean towards natural materials, such as lumber. However, the welcoming nature of a farmhouse kitchen doesn't have to mean rustic and country charm home décor! You can create a modern or minimalist home as well! It all depends on your materials and furniture choices.
Kitchen Walls
There are a few different choices when look at materials for your farmhouse kitchen walls. A kitchen backsplash is a design focal point in any kitchen. If you want to keep the rustic charm that comes with a farmhouse kitchen, a brick backsplash paired with wood panel walls is the perfect mixture of materials. To achieve this look you don't have to install a completely new wall. Brick veneer is available at almost all home improvement stores and can give your wall a brick façade without all of the extra construction. The key is to space the brick pieces evenly. This weekend DIY project is exactly like tiling a wall. Each brick is attached to the wall using a heavy construction adhesive one layer at a time. If you need different size bricks, you can cut the tiles with a tile saw. After the bricks are attached to the wall and you've let them set for about a day, you can mix the grout and apply it to the wall in between the bricks. If you want a minimalist kitchen design, you can use the same process to install a subway tile backsplash instead. The all white tile gives your wall texture as a focal point, but doesn't overpower the space.
No matter what backsplash you choose to use in your kitchen, the rest of you walls can also make a statement. All wood wall paneling is common in farmhouse renovations. If you want a clean but comfortable setting, all white beadboard is a great walling solution. The white color can fit into either a rustic or minimalist home design, and the grooving adds texture and breaks up the solid white wall.
Kitchen Counters
Counters are an important part of any kitchen. Farmhouse kitchens typically have lots of counter space that cater to large meals and entertaining in the home. The counter typically wraps around an entire wall and around a small corner. This L shape gives you ample food prep space and more space for countertop appliances. Another key feature to any farmhouse kitchen is a large island at the center of the kitchen. This central piece has two functions. Not only does it give your kitchen a more casual gathering point than a formal table, but it also gives you one large workspace that allows you to spread out. Wrap around counters are great, but they also force you to spread things out linearly.
When looking for the right material for your countertop, you want to consider the functional features as well as the aesthetic of each choice. The most traditional farmhouse counter style is butcher block. This wood countertop adds to the warmth that most farmhouse owners are looking for in their kitchen. Within the butcher block category, there are three different styles: edge grain, flat grain, and end grain. Edge grain is the most common design because of its durability and price. It's the least expensive of the three and is made from long boards that are placed on their sides and joined together to form one large surface. Flat grain is made in the same fashion a hardwood floor is put together. The boards are flat and joined together. This style of butcher block is the most likely to be damaged from knife marks when they're used directly on the counter. Edge grain is made from small rectangles that are arranged with the growth rings showing. This creates a checkerboard like effect and hides any knife cuts into the wood. It's the strongest style of butcher block, but also the most expensive. If you want the rustic, but more polished look for your farmhouse kitchen, soapstone countertops are a great option. From a functionality standpoint, soapstone is durable and easy to clean. This makes it an ideal choice for a kitchen that will be heavily used. Soapstone is a softer material than other countertops, so you should avoid chopping or cutting directly on your counter. Aesthetic wise, a soapstone countertop ranges in color from white with some marbling to an almost solid charcoal color. The darker tones are a great contrast for a farmhouse kitchen renovation that uses white cabinets or walls.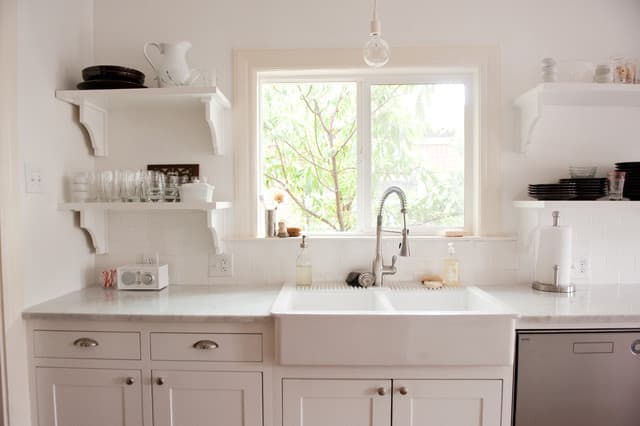 Kitchen Furnishings
The most important part of any kitchen are the appliances. The most iconic farmhouse kitchen feature is the farmhouse sink that has an apron front. The oversized sink design is durable and has an easy clean front. They come in a variety of materials and finishes to match whatever design style you choose for your kitchen. Most refrigerators fit into any design aesthetic. If you want to add a customized look and feel to your kitchen, you can add wood paneling to the front of your fridge. By having it match the cabinets, you're creating a built in look. Some design to use vintage style appliances that fit into the traditional style of a farmhouse kitchen. Gas range stovetops and vintage ovens come in a variety of sizes and colors to fit your kitchen needs.
Farmhouse renovation ideas often get stuck in a quaint country charm aesthetic. However, you can take the same pieces of furniture that usually fall into this category and make them fit into more design styles. Besides the counters, farmhouse tables are one of the most important part of a kitchen renovation. They give you a place to sit and enjoy the company of your family and friends. Most farm tables are long and made from distressed wood for a rustic look. They're designed for family style dining and are long enough to accommodate at least six to eight people. If you can find the repurposed wood, this is any easy DIY project. For seating, these tables usually have benches, chairs, or a mixture of both. The benches are also made from repurposed wood and match the table. Some tables have a bench line one side of the table and chairs on the other side. You're not limited to long rectangular table designs. There are several round farm tables. These tables normally seat four to six people. Obviously circular tables will require chairs, rather than benches. Traditional farmhouse kitchen chairs are all wood designs with added cushions. To add the final touches to your farmhouse kitchen renovation, open glass light fixtures are the perfect solution for bright lights and a combination of rustic and modern design styles. In the kitchen, you want bright lights that will allow you to see what you're doing no matter what time of day it is.
Kitchen Storage
There are plenty of kitchen storage ideas that fit perfectly into your farmhouse renovation. Ample cabinet space is a staple of any farmhouse kitchen. Between cabinets that line the entire upper wall and storage underneath the counters, there is a ton of storage space. The kitchen island also gives you extra space to store pots and pans. If you want hidden appliances, you can always create a cabinet with fewer but taller shelves to accommodate larger items. Glass front cabinets are a classic farmhouse kitchen design. It helps the space to feel more open and brighter. If you don't have as much cabinet space, but like the idea of open storage, open shelves are a great solution. Solid wood floating shelves can create an accent to your white walls and provide a place to display serving bowls and accent pieces in your home. If you want an aesthetically pleasing way to store loose food items, such as sugar or flour, mason jars are a classic and popular option. There are tons of ways to create custom labels and paint the jars for a unique look.

Farmhouse Living Room Renovation
Farmhouses have a natural warmth built into their home design as a whole. They typically feature open floor plans that leave the kitchen and living room open and connected. This means that the communal feeling of the kitchen extends to the living room. They both have their own purposes, but share a common value of togetherness. Many farmhouse renovation ideas focus on a comfortable and homey aesthetic. This starts with the structure of the farmhouse itself and follows through all the way down to the accents and storage solutions.
Living Room Walls/Structure
If you want to create a warm comforting room, the design starts with your walls. The key is to bring a comfortable color or material into the walls without it feeling overwhelming or stifling. Wood paneling is the most common material used for the walls in a traditional farmhouse renovation. This natural material keeps natural tones incorporated into the structure of the house. If you think an all wood paneled room can become overwhelming, try an accent wall. This creates a focal point in your room and adds a rustic touch without the all wood walls. If you want to use paint on the other walls, use light neutral colors. This will balance out the dark colors of the wood panels. If your farmhouse features the open floor planned mentioned above, your wall treatment will extend from your kitchen to the living room area. If this is the case, keep your wall colors on the lighter side, unless it's a smaller accent wall. This will keep the room feeling light and open.
Large windows can also add to the feeling of a larger space. While it may seem odd that larger spaces feel more comforting than a smaller warm space, it will keep you and your guests from feeling cluttered and cramped. Lots of natural light can fill your space and highlight the original architecture of your farmhouse. For a rustic style living room, use interior shutters as your window treatments. You can easily make these yourself with reclaimed wood and old metal hardware. Another popular structural element of old farmhouses are the original stone fireplaces. Keep these as close to the original as possible to keep your farmhouse aesthetic alive.
If you want a way to access your second floor without interrupting your open floor plan, there are a few options. If you want to keep a traditional staircase in your home, it will have a large base that can be bulky and create a wall in the middle of your space. To keep it out of the way, you would have to keep it on the back end of your home or in a corner. This can be difficult with the straight design. The second option for your farmhouse stair is a spiral staircase. This design choice is perfect for an open floor plan with its small footprint and customizable design options. If you decide to keep your spiral stair in the center of your floor plan, its footprint will be kept to a circle around the staircase itself. If you want a more discreet stair option, spiral stairs can easily fit in to the corner of your home, out of the way of the flow of your home. For a rustic spiral stair, you can use a metal stair frame with all wood treads and handrail. This mixture of materials can be seen in other farmhouse renovation ideas and is a staple to the rustic design aesthetic.
Living Room Furnishing
When you're looking to furnish your farmhouse living room, the focus should always be on comfort. This isn't the place for hard furniture that you'd find in an urban apartment. Upholstered furniture with comfortable cushions are ideal. Stick to lighter color fabrics, such as tan or off white. It creates a contrast with the dark floors and other rich colored wood accents in the rest of the room. Large sectionals are best for these spaces as they can be wrapped around a central coffee table and accommodate large groups of people. You can also add overstuffed comfortable armchairs for additional seating. If you want to add a touch of luxury to your upholstered furniture, quilted sofa backs and chairs can help a piece of furniture feel more expensive and create a add a new visual element to your furniture. If you can't find an ideal seating solution, you can reupholster an old couch or create new pieces from different repurposed materials! Pallet couches have a rustic look and can easily become an afternoon DIY project. Many homeowners choose leather furniture for their farmhouses. The dark rich colors that come with leather couches and armchairs accent the rest of the décor in the home. This furniture choice should be kept to rooms with lighter walls and lots of light to keep the room from feeling heavy.
The surfaces in your living room as just as important as those in your kitchen. Coffee tables and end tables give something for people to gather around and frame the space on either end of your couch. One of the biggest trends in farmhouse renovation ideas is to repurpose materials that you would otherwise find on a farm. Old wood is constantly find new life by being refinished and used as a coffee table. If you want a large central table in your living room, think of a paired down farm table design. Keep it lower to the ground a cut the length down to keep the rustic aesthetic in your home. Continue the mixture of materials through to your table by using an old water trough as the base of your table and reclaimed wood as the table top. Not only is this the perfect end table for those that want some extra surface area, but you can also add hinges to create a new storage space.
There are several lighting options for your farmhouse living room. Many farmhouse light fixtures are ceiling lights that feature a metal or wire cage. While these are often seen as industrial, they fit perfectly with a rustic décor that also features repurposed wood and warm tones. If you want your light fixture to be a focal point, you can find a rustic chandelier that can hang in the center of your room. These can include everything from old metal frames to hanging mason jars.
Living Room Storage
The beauty of a rustic décor for your farmhouse is that there are plenty of storage options that are actually accent pieces. You don't need to find extra storage solutions when old baskets and trunks are common pieces in the rustic décor. Old vintage trunks are the perfect accent to your home décor. They add a personal touch to the room and can also be used as storage for toys, blankets, or extra pillows. These trunks could be old leather pieces or wooden boxes with aged metal hardware. Baskets are another common piece of décor in rustic home design. They are typically either woven baskets or wire frames. The only difference is that woven baskets typically give you a little more coverage when it comes to what you're storing.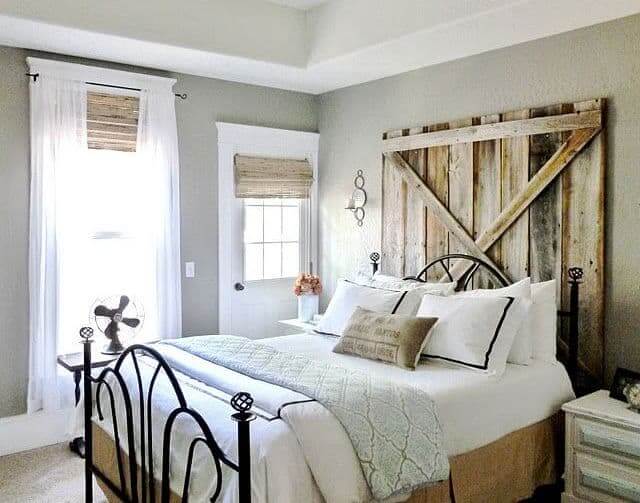 Farmhouse Bedroom Renovation
There are common design rules that should be used in every bedroom, no matter what design aesthetic you're looking to achieve. You want a room that you feel completely relaxed in with no distracting décor. The room should be cozy and welcoming. Your farmhouse bedroom renovation can feature many of the same design accents that you use in the rest of your house, but can also be tweaked a little bit to create a space that is uniquely yours and different from the communal areas of the home.
Bedroom Walls/Structure
Unlike your living room, your bedroom can have darker walls be the larger part of your room. A bedroom design is completely about the person sleeping in the room. Comfort is the number one priority and that could mean having dark wood paneling on three or four walls. Darker bedrooms have that rustic coziness that you look for in ski lodges and cabins. Use distressed reclaimed wood to give the wall more texture without losing any warmth from the wood tones. If you want a lighter room, use white washed wood panels. Bead board ceiling panels can extend the light and make your room feel more spacious. If you want to use paint rather than wood panels, the options are endless. Cooler tones that have blue undertones support the other neutrals that you can pull in with your décor. Other structural elements you can incorporate into your farmhouse bedroom design are barn doors for your closet or en suite bathroom. These sliding doors automatically pull in large rustic influences.
Bedroom Furniture
If you want to keep the rustic design aesthetic that you've created in the rest of your house, your bedroom furniture has a few different design style options. Rustic can split into two different styles: country charm and industrial. If you choose to follow the country charm style of rustic design, there is a lot of wood panel furniture and natural elements. The industrial furniture uses more metal elements, such as repurposed pipes and wrought iron frames. The only pieces of furniture that these differentiations will really apply to are your bed frame and any décor accents, such as light fixtures. Your headboard will almost always be a focal point in your bedroom design. Use reclaimed wood panels to create a unique headboard that pulls in the natural elements of the walls and ceilings. Wrought iron bedframes are perfect for those that want an industrial touch. The bedding you choose will also be a central focus of your bedroom design. Just like the furniture in your living room, light soft colors should be embraced here. Neutrals are ideal for a calming bedroom design. Pull in homey touches, such as cable knit throw blankets and soft pattern pillows.
Bedroom Storage
The storage options for a farmhouse bedroom renovation is very similar to those in the living room. Storage trunks are the perfect place to store extra bedding and create interesting décor accents. Under bed storage should also not be underestimated. While it's a basic concept, it can be incorporated in to whatever design style you choose. Incorporating drawers into the bottom of your bedframe gives you extra storage in a space that you wouldn't otherwise use. Storage benches at the foot of the bed are another common storage solution. There are plenty of styles out there to fit into your desired aesthetic. If you can't find the perfect bench for your bedroom, you can easily create a weekend DIY project out of making your own.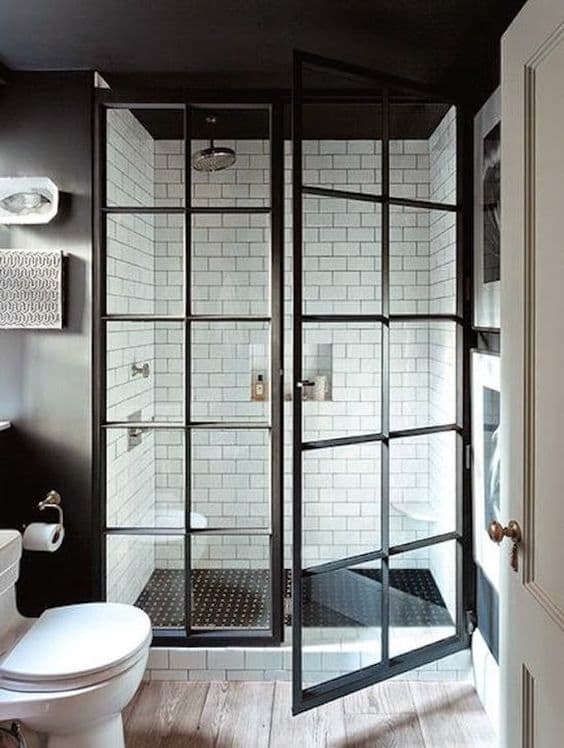 Farmhouse Bathroom Renovation
One of the most shared farmhouse renovation ideas is farmhouse bathrooms. This is probably because no matter what, most homeowners want to replace and update an old farmhouse's bathroom fixtures and dating tiling. The key to a successful farmhouse bathroom renovation is to keep the room bright. While it may seem like wood doesn't mix with the large amount of water that you find in the bathroom, there are plenty of bathroom renovations that utilize a lot of wood. A farmhouse bathroom that pulls in rustic design styles can also have a lot of modern or minimalist design influence as well.
Bathroom Walls/Structure
Bathrooms should always have lots of natural light. This means large farmhouse windows that have little to no obstruction in the stream of light. To keep the rest of the room light and reflective, white tile is a common design choice. White subway tiles are used as the shower wall for a simple and clean look to your bathroom. Much like the kitchen backsplash, it adds an interesting visual element without taking away from the simplistic design style. For the rest of the walls, you can paint them a neutral color or continue the wood paneling that you can find in the rest of the farmhouse.
Your floors can be either the traditional tile or you can use a hardwood floor. Those looking for a more modern and interesting tile patterns than your typical square shape can use hexagon floor tiles for a dynamic look to your bathroom floor. Farmhouse renovation ideas usually feature all white or black hex tiles for the floor. Hardwood floors may seem like an unconventional choice for the bathroom, but it's perfectly fine with the right precautions. You simply need to add a few more layers of varnish and sealant to your wood floor. You should also avoid letting water sit on the hardwood for an extended period of time.
Bathroom Furnishings
Obviously, the bathroom furnishings are what define the room. Much like a kitchen, these pieces are what make the room a bathroom. A shower or bathtub is a huge design choice for your home. If you have a bathtub shower hybrid, your curtains can elevate your bathroom's design above a standard shower curtain. Using a double curtain with a valance for your shower helps to polish the space and add more of a design flair to the room. If you have a shower stall, there are a few different design ideas that can add to your space. If you want a modern farmhouse update, you can use paneled doors that use glass panes to close off the shower. Paired with the subway tile, this design is a simple but beautiful update that fits perfect in a farmhouse renovation. If you prefer a tub or have a tub and shower, claw foot tubs are a classic design choice for farmhouses. They are a traditional design that would've been found in the house when it was first built.
You have a few different design choices when it comes to your sink as well. You can always use the same apron front design farmhouse sink that is commonly found in the kitchen. These large sinks fit well into a simplistic design style and accent the rustic décor. If you want a double sink, you can either have two separate sinks or simply use a double faucet. The other rustic sink design is to use a galvanized bucket and repurpose it with a drain and piping to create a new bathroom sink. This design is definitely less polished than the farmhouse sink and has more of a quaint country look to it.
Bathroom Storage
Your bathroom storage is going to be similar to the other rooms in your farmhouse. The key is to use storage solutions that can stand up to the excess moisture that will be in the bathroom. The same galvanized bucket that you can use for a sink is also a great storage solution. It has the country charm of repurposed items and is made to stand up to moisture. Wire baskets are another popular option for bathroom storage. They are a little more designed than a galvanized bucket and are perfect for smaller items, such as toothbrushes.
Farmhouses are a lot like barns when it comes to the unique architecture. Use the country charm that comes with the home as the basis of your renovation. You can incorporate it with different design styles, such as minimalism or industrial, to create a one of a kind living space. Farmhouses also typically feature spaces that are difficult to access. If this is the case, a spiral stair may be a great way to reach it. Call one of our consultative designers to get pricing in five minutes or less. They can help you to design a unique spiral staircase for your space and put the finishing touch on your newly renovated farmhouse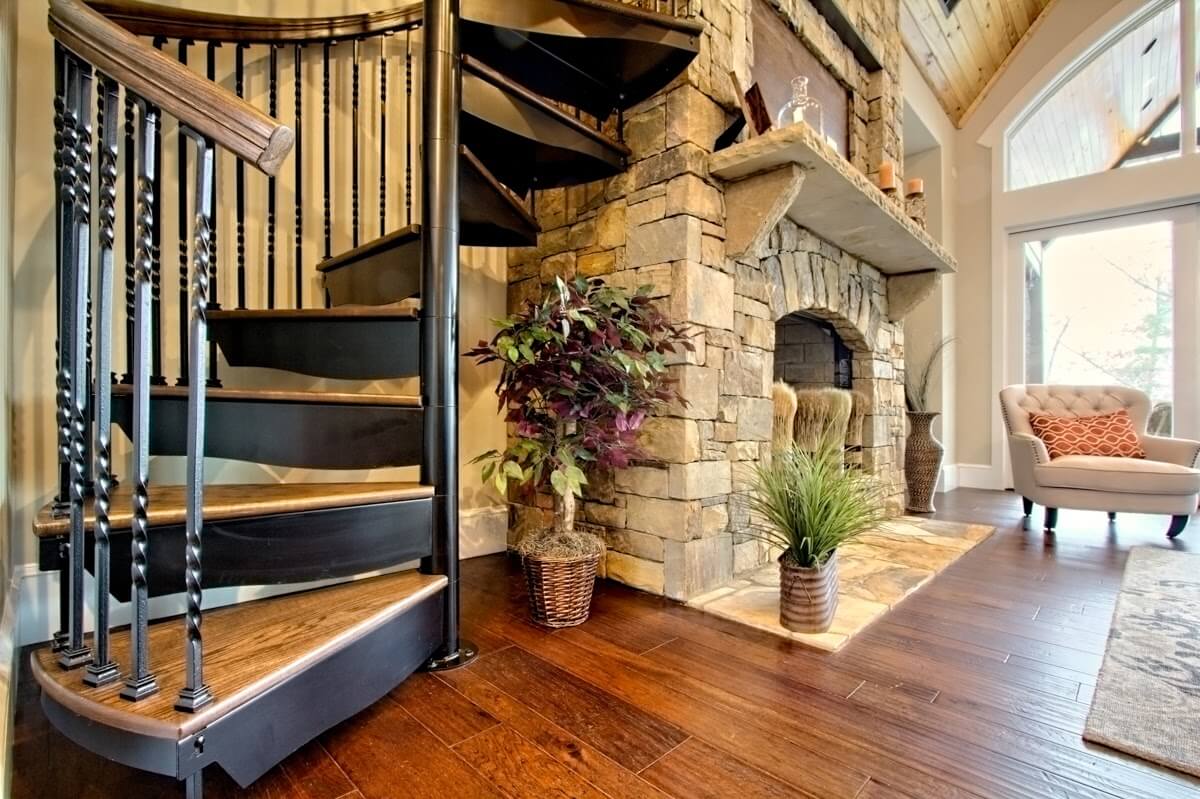 Why Salter
Ready to experience the best in Spiral Stairs?
Get started with a free, no-hassle consultation.
Same Day Pricing

Expert Design & Sizing Advice

Custom Design Options Tailored to your Budget

Estimated Product Lead Times
Get started with a free, no-hassle consultation.