Multifunctional Furniture for Small Spaces
Multifunctional Furniture for Small Spaces
Furniture designs have become more innovative to accommodate small living spaces. Your furniture can multitask within your space as well. Multifunctional furniture has become the standard in home design. With so many options, it's hard to know which one is right for your space. This blog outlines some of the most common options for multifunctional furniture for small spaces, with some incredible innovations mixed in.
Multi Use Sofas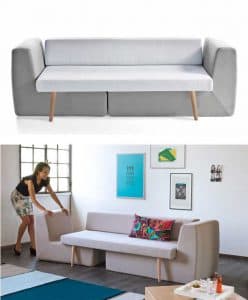 Starting at the classic design of the sofa bed, couches have always been the most common pieces of double duty furniture. Pull out sofa beds has been a staple in living rooms since the 80's when futons made their first appearance.
These simple designs are ideal for small spaces. Studio apartment typically take advantage of these couch-bed hybrids. Futons, daybeds, and pullout couches all have the same advantage of looking like a sofa during the day and easily transitioning into a bed when needed.
The most recognizable futon design features a basic metal frame with a cheap thin mattress pad. However, there are more stylish options that are cheaper than the other two options. Wooden frame futons have a more polished look and hold more substantial mattresses.
Your multi use sofas aren't limited to sofa beds. Modular sofas are a great option for those who want flexible seating. Unlike a typical sectional, you can move the extra sections as needed for different seating arrangements.
For a truly innovative design, you can look for a piece similar to the one pictured here. It breaks down into a couch, chaise lounge, and a chair. This takes the total number of seats from 3 to 6. If you don't need the extra seats, you can put all of the pieces together for a comfortable sofa with armrests.
Hidden Tables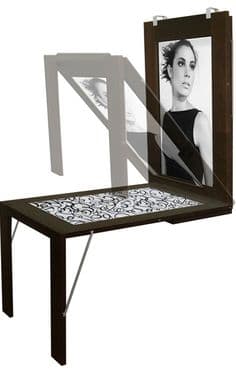 Your couch may seem like a fine place to eat and do work, but you'll quickly realize the importance of a table when you have company over. There's no denying that a table will take up room in your small home. However, you don't have to sacrifice any your square footage for a simple table design.
A popular way to hide your table when it's not in use is to create a fold down table from your wall. You can either buy these designs as is or create a simple DIY project using hinges. One fold down table that's gathered a lot of attention is this clever double duty table.
When not in use, this table folds up to lay flat against the wall and act as an art piece. This is ideal for those that have very limited square footage, but also want the option of a full table. The frame folds out into two legs while the table provides the other support.
The underside of the table can be completely customized to your desired design. As this is the section that will be displayed on your wall when not in use, you want it to reflect your space's personality.
For a flat surface that can act as your side table, look to your current furniture. Your couch's armrest is the perfect place to put remotes, drinks, and plates. If it's rounded or heavily padded, you can invest in a wraparound shelf or table.
These designs give you the extra stability of a flat surface, but don't take up any extra space. Some designs are just a wooden piece that fits around the armrest. Others have pockets and stands for your remotes, magazines, and tablets. If you're particularly tight on space, you can even use this to eliminate your coffee table!
Broken Down Ottoman

When you're entertaining, you know that you can never have enough seating. This can be a problem in tight spaces. There are plenty of options for extra seating that can easily be hidden. However, many of these lack the design aesthetic that you want for your home.
This featured ottoman actually holds five minimalist style stools. They have patterned cushioned seats that come in a variety of colors and designs to fit your space's personality. There are also plenty of designs that you can reupholster as a fun weekend DIY project.
When these stools aren't in use, they fit together to create a stylish padded ottoman. It doesn't take up any more room than a small square in your space and can be used as a single seat or footrest when needed.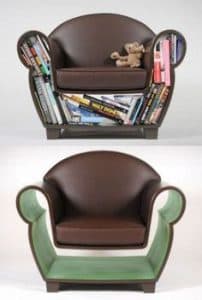 Multifunctional Storage Pieces
Finding the space for storage will always be a challenge in small spaces. The best way to find extra storage in your home is to incorporate it into pieces that you already own or will need.
You may want a bookshelf to hold your book collection, but you'd rather have more seating. You don't have to choose between the two. There are a ton of different seating options that have open shelving around the frame.
This is perfect for those want to display their books or want to easily access them. If you want a more hidden storage solution, there are plenty chairs that have hidden storage underneath the seat itself. The cushion is hinged in order to create an out of the way compartment for DVDS or books.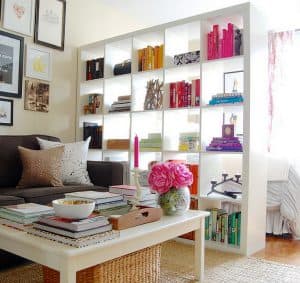 Room dividers are popular for studio apartments that want to create the illusion of different rooms. It helps with organization and flow of traffic. Some people use privacy screens or curtains, but you there are other options that can have multiple functions.
Bookcases are the most popular way to really utilize your room dividers. They can be solid or open depending upon your desired design aesthetic. They give you privacy on the bedroom side and storage on the living room side of your wall.
Evolving Furniture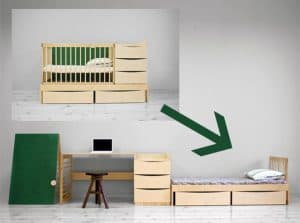 If you have kids, you know that their bedroom furniture needs to develop and grow over time as they do. While this may not have multiple functions at one time, a convertible crib has an investment quality to it. When you buy your baby's crib, you may not be thinking about their future standard bed.
However, once they've outgrown their crib you'll find that they need more furniture besides their bed. Some cribs come with the ability to be used as a play table or desk once they are no longer being used as a bed.
Other cribs can be converted into a full size bed and grow with the child. This is the perfect solution for parents who value longevity in their purchases.
Tansu Steps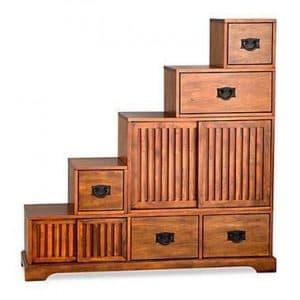 Tansu steps have become a very popular tiny house stair option due to their multifunctional design. The base design is made up of staggered drawers and cabinets to create a staircase shape. This is a great solution for small spaces with second floors or lofts.
The cabinets and drawers create storage space, while the stair step design provides a necessary means of access to their lofts. The staggered drawers have a place in single level homes as well.
The flat tops are a good place to display photos or added décor pieces, such as small statues or plants. If you can't find the perfect design for your house or apartment, building your own Tansu steps can be a fun DIY weekend project.
Compact Rooms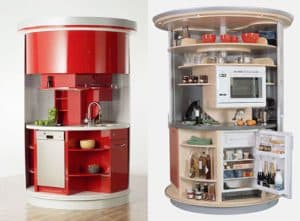 If you want to take your multifunctional furniture to the next level, compact rooms are definitely some next level stuff.
A popular room to compact is a kitchen. This can be seen in different forms, starting with a basic micro-fridge combination in a dorm room. However, there are some companies that are making it possible to have your entire kitchen, fully outfitted in one small unit. Compact Concepts' Circle Kitchen keeps your kitchen to 19 square feet and, depending on your design, can include a dishwasher and stove top. This one unit is the definition of multi-use furniture with its multiple capabilities of refrigerating, cooking, and cleaning.
Your bathroom can be compacted too. This may seem crazy when you think about all of the different fixtures in your bathroom. Design Odyssey Co. has managed to fit your entire bathroom into one tower with seven rotating pieces on a center column called the Vertebrae. Not only does it have the necessities, like a shower, sink, and toilet, but it also includes two storage areas. There are two shower heads at different heights as well. Compacting doesn't mean you have to give up style or luxury. Both the Circle Kitchen and Vertebrae have sleek designs that can fit into any home.
Multi Use Furniture Sets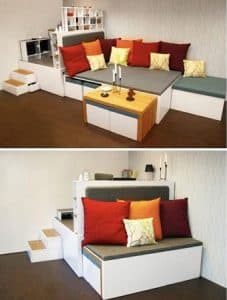 Some sets of furniture include multiple rooms in one place! This rivals the compact room for most innovative multifunctional furniture for small spaces.
This particular set has a couch, desk, coffee table, and ottomans all in one. It looks like a simple modular design of an L shaped couch and a raised platform with a work space. However, the platform is hallowed out to hold a coffee table and four ottomans that also open up to provide storage.
The coffee table can be expanded into a dining table. You can extend the couch fully to the size of a full bed. This furniture set truly takes advantage of all possibilities and space. They only thing it doesn't have is a kitchen function.
At a first glance, multifunctional furniture may seem like it should be kept to a college apartment. However, new designs are making them trendier and elevating their styles. The category of double duty furniture has extended to include a full furniture sets that include tables, chairs, and shelving units. These condensed sets can help you maximize space in your small home!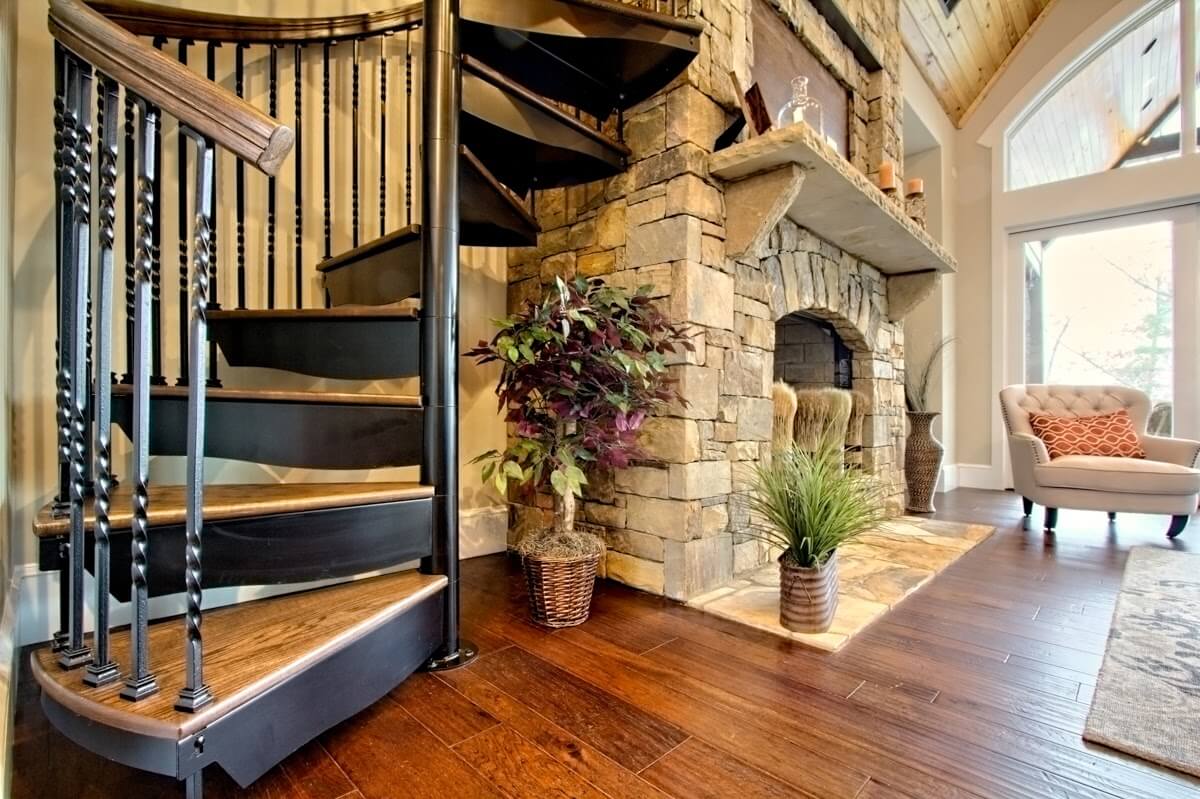 Why Salter
Ready to experience the best in Spiral Stairs?
Get started with a free, no-hassle consultation.
Same Day Pricing

Expert Design & Sizing Advice

Custom Design Options Tailored to your Budget

Estimated Product Lead Times
Get started with a free, no-hassle consultation.