Tiny Home Styles & Designs
Tiny Home Styles & Designs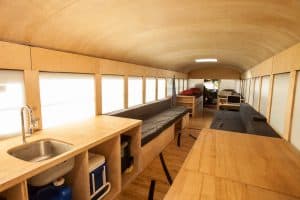 Bus Conversions
Living in a bus may seem like a crazy idea, but bus conversions have become popular DIY tiny home projects. When you think of a school bus, you don't picture a spacious home. However, once you get the bus and take out the rows of seats, you're left with a long home that has plenty of space for your home design! There are a few different sizes of buses, so you should decide what you want to include in your home before buying the bus. The widths will remain consistent, but the lengths have a wide range that goes up to 40'. Many people might associate an old school bus with retro and dated home décor. However, once you completely empty your bus, you have a blank canvas. A school bus allows plenty of natural light into your space, as the walls are lined with windows. For times when you want more privacy, you can add curtains.
Many bus conversions cover their windows to add insulation and privacy. This bus conversion takes advantage of the large amount of windows by keeping the coverings translucent. They add coverage, but also allow the pass through of some light. This particular picture was taken from the back of the bus, giving you a full bus shot. The floor takes advantage of tiny house storage and has trap door panels in the floor for extra storage. The benches are also multifunctioning pieces of furniture. The seats lift up to create a storage trunk. The all wood interior is simplistic and compliments the minimalist lifestyle of the homeowner.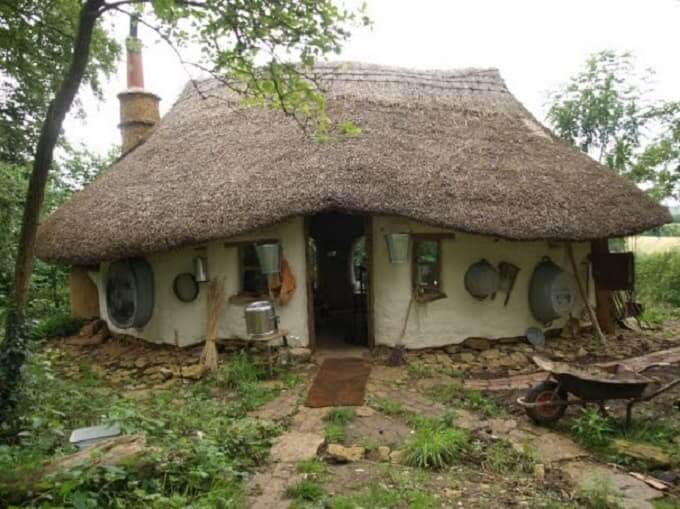 Cob Houses
The idea of a home may seem intimidating to some, but cob houses are much more than a small clay hut. Cob, a mixture of clay, sand, and straw, is the perfect all natural material for your tiny home. Not only is it cheap, but it is also durable. Many homeowners assume that natural materials will deteriorate over time, but if you take the right measures in your tiny home design, you can have a home that will last for a lifetime. There are known cob structures in England that have been standing for 500 years. The key is to have an overhang roof too keep too much direct moisture from your exterior walls. A strong stone foundation will also help keep the bottom of your walls dry and safe from the elements. Cob is definitely the material to use if you want a one of a kind tiny home.
This cob house is probably what you think of when you think of a tiny home that is made of all natural materials. It has a fairytale look to it with its uneven roof and quirky design. You can see the large overhang of the thatched roof that is designed to protect the walls from excess moisture during a rainy day. The stone foundation is also pictured. Cob houses are built in stacks of stones that elevate the home above ground level and keep the bottom of the walls from absorbing any moisture in the ground.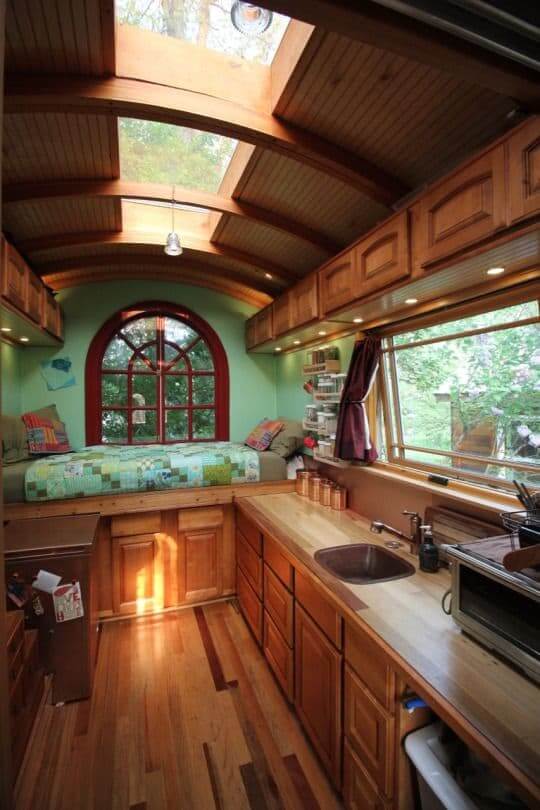 Vardo Tiny Homes
It doesn't get tinier than living in a small wagon. Vardo tiny homes take the classic British Romani wagons and fit them into their minimalist lifestyle. Traditionally, vardos were horse-drawn and ornate in design. They had intricate carvings with rich color schemes on their interiors and showcased the work of woodcrafters. Modern vardos are commonly towed behind vehicles. They keep their iconic design which features a bow top and large wheels on the outside of their frame. The rounded top maximizes the space by keeping the widest part of the wagon where the bed would most likely be placed. This design also helps to minimize the side effects of strong winds.
This vardo design takes advantage of every opportunity for natural light. The skylights and large window over the kitchen sink help the space feel more open. There are lights built into the cabinets that line the top of the wagon. It keeps the classic design features of an all wood interior with lots of cabinets and storage space. The bed is placed at the back of the wagon against a large window. The light color compliments the rich wood tones and makes the space brighter.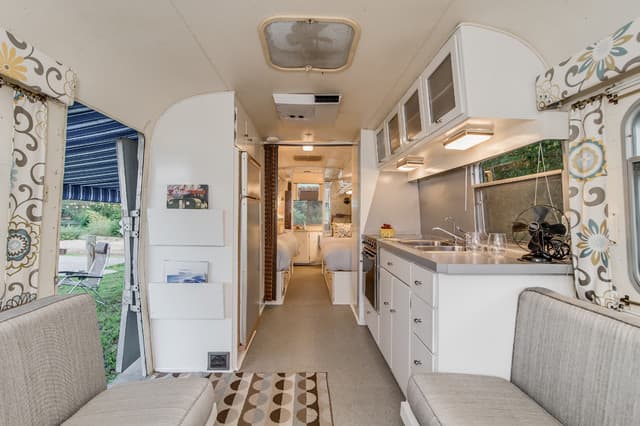 RVs
It can be said that RVs are the original tiny house. Their small living quarters have been used as campers and low budget housing long before microliving trends came to be. If you're looking to downsize or you want to live simply, an RV is a standard option. They have the benefits of mobility and no construction. You can easily find a ready-made RV that is ready for you to move in. An RV is also a good test to see if you want to commit to tiny house living. One drawback to living in an RV year round is that it is reserved for mild weather and shouldn't be used during cold winters unless you have made some serious renovations.
This RV design is light and airy and proves that a small space doesn't have to feel cramped and dark. The all white walls and cabinets open up the space. The homeowners steered clear of any dark color accents to keep the space feeling open. There is a clear walkway down the center of the RV and there is plenty of seating in their living room area. This fresh RV design also features lots of storage space in the form of cabinets built into the counter and above the sink.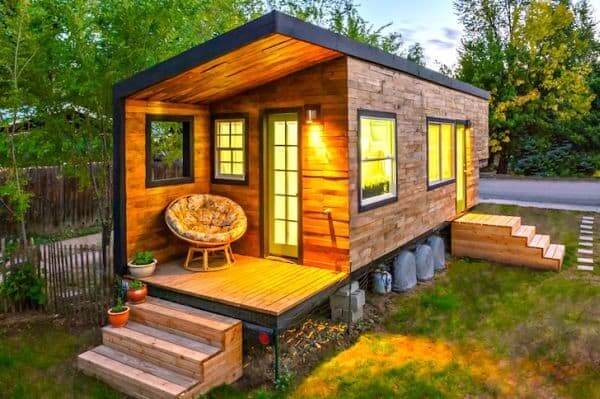 Trailer Homes
The name of this tiny home design is deceiving. While it may sound like the same thing as the previously mentioned RV, a trailer tiny home is very different. Trailer tiny homes are full tiny houses that have been constructed on a trailer that's hitched to the back of a truck. This tiny home design is the most common and the first tiny home plan to gain a lot of media attention. You can either hire a contractor or DIY with a plan you purchase online or simply draw your own. The frames are usually made of timber for cost effectiveness. This particular design is usually chosen for its mobility. If you're a homeowner that likes a change of scenery, this mobile tiny home is perfect for you.
This trailer home doesn't sacrifice any traditional home features for a tiny home size. Not only does it have both a front door and a side door, but there are large windows that allow in lots of natural light. The covered porch with a singular seat is a comfortable place to enjoy the outdoors. You can see the wheels along the side of the trailer home, which are covered during when the house is stationary. The trailer is supported by cinderblocks to keep the house from rolling away. The steps leading up to either door can easily be moved and placed back into position as needed.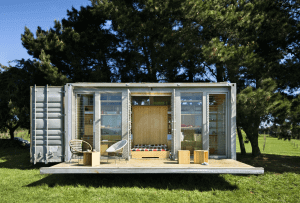 Shipping Containers
Shipping containers are probably the most mainstream tiny house design. People are very familiar with shipping containers themselves giving the large structures an easier transition into residential construction. While most homeowners use the large steel boxes that people are familiar with, there is a wide variety of materials for shipping containers. You can have a large scale wood shipping container if you want to build your tiny home with more traditional materials. Because it's original commercial uses, shipping containers are both hurricane and fireproof, making them a durable option for your home. They coming different sizes which makes them ideal for a wide range of projects. If you choose a smaller container, you can make your space feel bigger by added windows and doors to let in natural light. These prefabricated frames are great for single container tiny homes, but they can also be combined to create a modular average size home.
This shipping container home brings some industrial design to the outdoors. With the addition of a porch, this shipping container is the perfect tiny house for those looking for a simple lifestyle. Most of the wall is glass doors and windows, extending the living space. There's lots of shelving for extra storage and the bed fits perfectly in the center.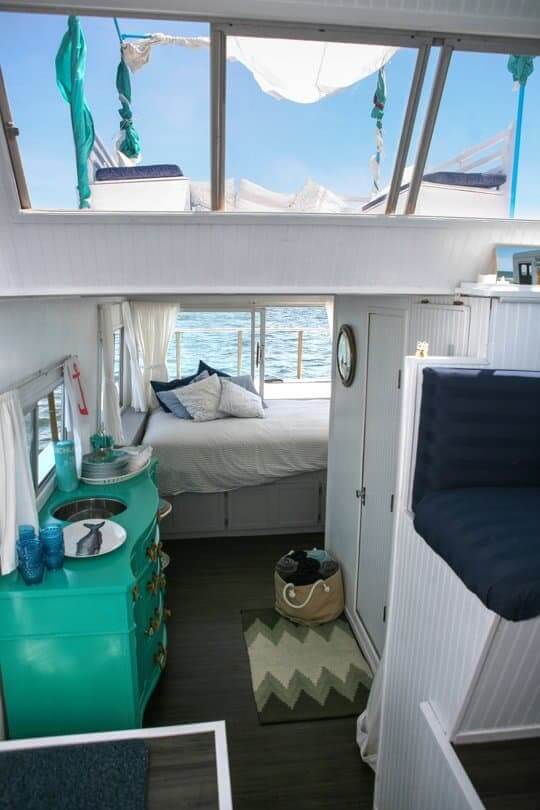 Houseboats
Houseboats are essentially the RVs of the water. These tiny homes have an element of fantasy by allowing the residents to live on the water. While they're aren't mobile on land, you can easily move through a body of water if you want a change of scenery. The small space is perfect for those looking for a simple lifestyle in an unconventional setting. You can't deny that a houseboat gives you a unique lifestyle.
This houseboat embraces its nautical surroundings and used a navy, white, and teal color scheme. As you saw in the RV, white walls help a space to feel bigger. This is particularly important when you are surrounded by dark water at all times. The bed frame as the built in storage of the cabinets underneath the mattress. The houseboat also has an upstairs deck that is perfect for the homeowners to enjoy the outdoors. The large windows can be opened to let fresh air into the small space, making it feel bigger that it really is.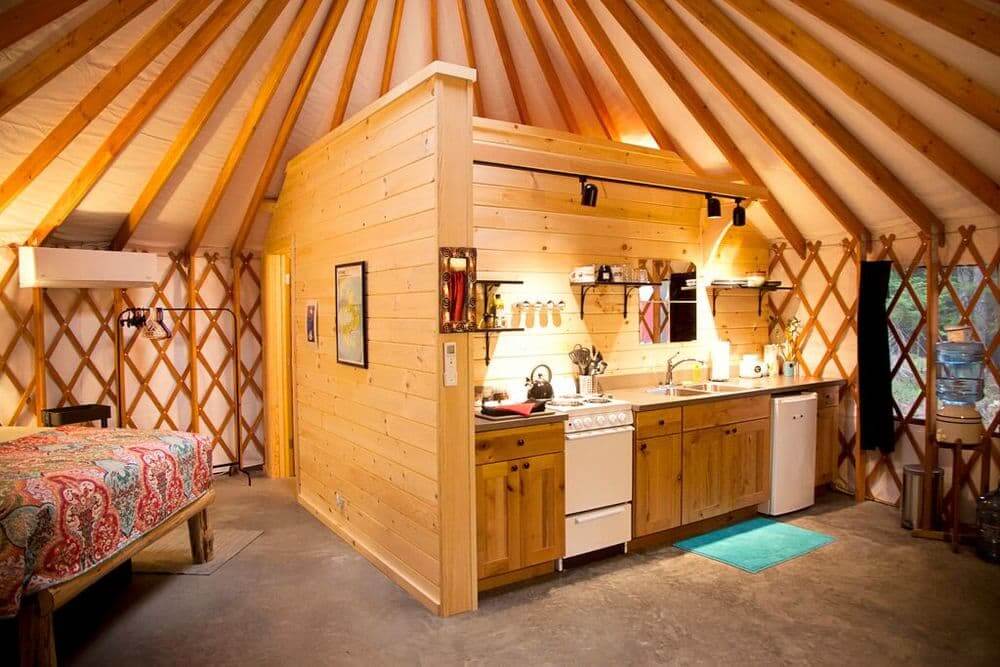 Yurts
If you want to be truly connected to your surroundings, a yurt is the tiny home design for you. Yurts are the traditional round tents that Mongolian nomads lived in. They were made to be portable with a basic wooden frame and felt covering. The walls were usually constructed with wood or bamboo latticework for a stable frame. Modern yurts are made to be semi-permanent. Construction takes a few days and they are able to be moved with some work. Many yurt builders use traditional lattice work for walls that is then reinforced to ensure that your home is structurally sound. They keep their traditional round shape and perfect for those looking for a minimalist lifestyle.
This yurt is definitely one that's been modernized from the traditional tent frame. Not only does it have a closed off bathroom, but it also features a fully functioning kitchen with a stove. Because of the interior structure, this yurt isn't mobile, but it still allows for simple living. The floor is a poured concrete that's been finished and sealed to support the heavy foot traffic. Small rugs were added as accents and for comfort in places where the resident may stand for a period of time, like in front of the kitchen sink.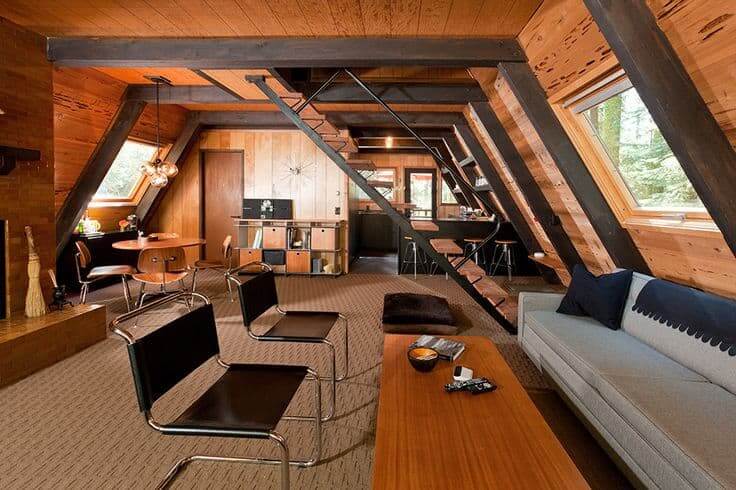 A-Frame Cabins
A-Frame cabins have a defining geometric shape to their home design. They have a classic cabin design that is usually made up of all wood. The simplicity of the cabin is appealing to those looking for a tiny home getaway with rustic charm. The interesting slanted walls give your tiny home a unique architectural element. The steep slopes are perfect for supporting bedroom lofts, a common feature in tiny homes to maximize space. The exterior is characterized by a steep sloped roof with large overhangs. This creates a covered porch aesthetic for your classic cabin.
Right away, you can see the defining slanted walls of this A-frame cabin. The all wood panel walls give the cabin a rustic décor. A common feature of rustic décor is the mixture of metal with organic materials, such as wood. This is present throughout all of the furniture in the home. This particular A-frame cabin has a second floor in the point of the house's frame. Tiny house stairs are one of the most important aspects of a two floor tiny house design. This particular floating stair helps keep the floor plan open which makes the space feel larger.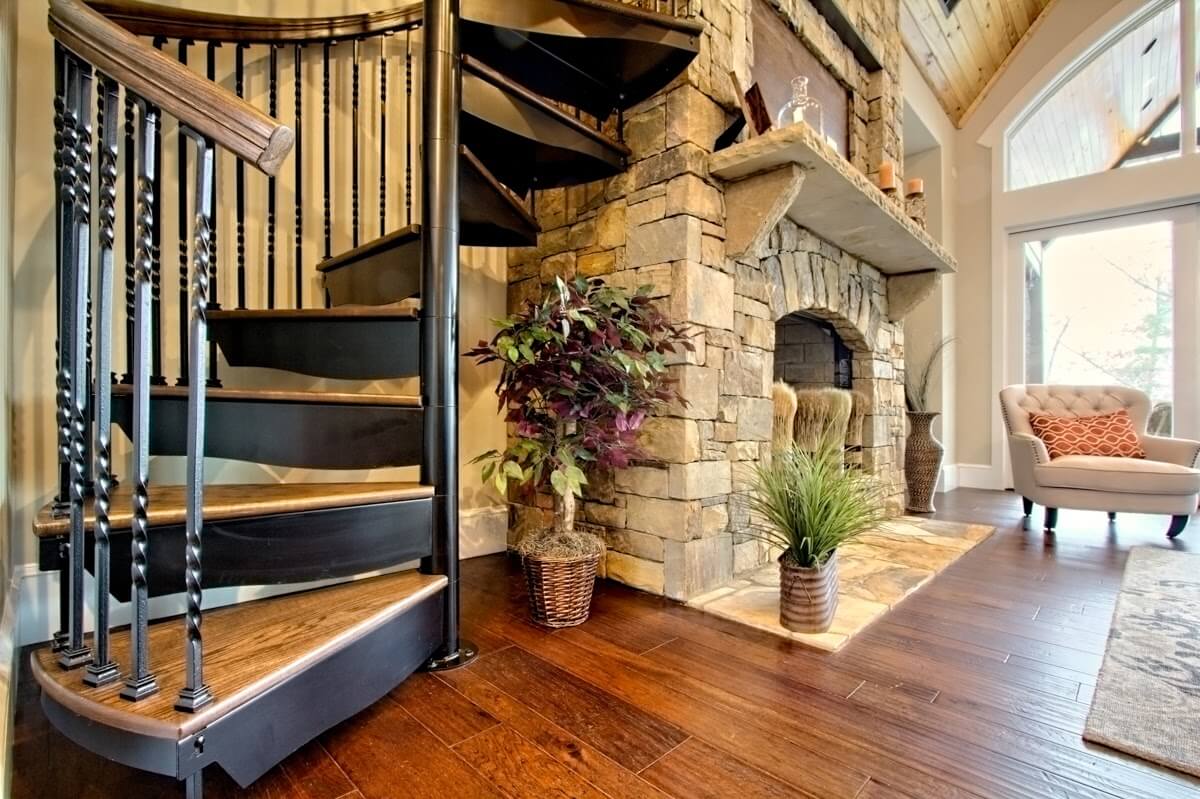 Why Salter
Ready to experience the best in Spiral Stairs?
Get started with a free, no-hassle consultation.
Same Day Pricing

Expert Design & Sizing Advice

Custom Design Options Tailored to your Budget

Estimated Product Lead Times
Get started with a free, no-hassle consultation.