How to Choose the Best Handrail for Your Stairs
Your handrail selection for your stair provides the necessary and obvious measure of safety, but it also adds a vertical element of beauty—an upright canvas with the opportunity of expression. This canvas is topped by your handrail. What you choose to have your handrail made out of and how you choose to have that material shaped will dramatically affect the atmosphere generated by your stair. It's not a decision you want to make on a whim if this stair is at all going to be central to any space in your home.
Material Selection
One immediate factor to consider when selecting the material for your handrail is that this component is what really creates the curved effect for a spiral staircase.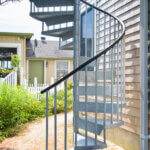 Black Vinyl
Black vinyl is a simplistic approach, and very affordable. It works well with minimalist stair structures in a modern chic urban setting.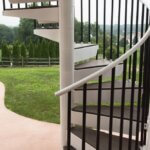 Pre-Formed Round Aluminum
Aluminum accomplishes the same simplistic look on a slightly more elevated scale. Both work well in industrial and modern locations.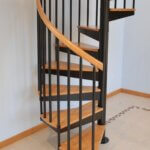 Solid Wood (Various Species)
Solid wood is also a great way to achieve that note of traditional elegance in a space with classical style décor. It contrasts well with various wood tones in a room filled with wood furniture.
Indoor and Outdoor Needs
Knowing your décor style and what materials you think would match it best. It's also important to take under consideration where your stair, and therefore your handrail, will live.
What materials look good inside won't necessarily look the same or as good outside. Brass for instance, while a sharp addition to indoor spaces that are well-lit, is not a suitable material for outdoor settings. Brass isn't the most corrosive resistant metal.
Aluminum and vinyl, however, are great for outdoor rail applications that will last. Plus, aluminum has the advantage of being powder coated either standard black or white or even a custom color. So it's very easy to custom match to your setting's color scheme.
Style Options
For Salter, each material comes in a standard round form, it's just a matter of what shine, finish, or polish you prefer.
Except for wood. Wood can come in different cuts and shapes to match your preferred look. The nature of the material lends itself more easily to unique shapes than do metals or vinyl. So keep that in mind if you want to select from a wider range of shapes for your handrail.
Safety and Code Requirements
The primary factor that affects code requirements for your handrail is the height.
But code standards may not necessarily be your standards. Ask yourself what you'll be using the stair for and how often. Also ask yourself who will be traversing this stair. When you ask yourself these things, then you can determine if you feel 34" suits your purposes. You may easily need it to be higher.
Grip and Comfort Concerns
Remember, all aesthetics aside, a handrail's primary function is to support your hand and weight. You want this support to be comfortable and reliant. So it benefits you to determine for yourself what general shape, and texture, you like the most for gripping securely underneath your palm. Something with a bead and groove shape made for easy finger sliding is worth considering.
There are some other material by location concerns. If your space is particularly cool, such as a cellar or attic, then keep in mind that bare metal might become a little cool to the touch. So wood or vinyl might be the better option. Is your stair in a particularly sunny outdoor location? Then keep in mind that vinyl can become a little warm to the touch. An outdoor wood or aluminum might be the better decision.
If tactile temperature doesn't concern you, then just keep in mind what materials last in what locations.
Structural Methods
One important factor to keep an eye out for in your railing is if it is a single solid piece. There are kits out there where the spiral stair railing is cut up into several sections that are then assembled. This creates a disjointed look in the lines of the stair and is much less solid structurally speaking overall. And your railing is not an area where you want to sacrifice structural solidity.
You also want to ensure your handrail connects to your spindles in a seamless and solid way, so the surface of each spindle is completely flush with the underside of the rail. Points where the connection isn't flush will lead to a loose feel, which will lead to overall loosening of the handrail overtime. So check into the kind of connections used and how they're engineered.
Cost Range
Whatever handrail you go with, just be conscious of the fact that different materials will have an influence over your final cost. And if you go with wood, different species and cuts will also have an influence over your final cost.
Before you do anything else, try to come up with an estimate of your budget. Don't get hung up on an exact number. It's better to create a working range with reasonable margins so you can be flexible. At the same time, though, know where you're willing to flex. If it has to be wood it has to be wood, but you can pick less or more expensive species with similar finishes or grains that can be custom stained to have the look of more exotic species.
A History of Quality
Working with a domestic stair manufacturer means working with a business that has a history. A history that's likely easy to check into through either the satisfaction of previous clients. They also likely have other work that's not too difficult to check into so you can see for yourself the quality of their work either via pictures on the internet or possibly even first hand.
The business is likely even family owned, which means the owners have a stronger investment in the business and the quality of the products they produce. There would also be an element of pride that's been passed on for however many generations. Basically everything that's likely to be entailed when a last name is attached to a product can be expected in the quality of the product.
The Salter Experience
Experience unmatched quality & service
Proudly made in the USA, bringing premium spiral stairs straight to your door.
A consultative process
As part of our design process, you have access to our spiral stair experts through a FREE consultation to ensure we design the perfect stair solution for you.
Ships straight to you
All spiral staircases are packaged into a kit for the easiest and most cost-effective transport through the best local carriers, and delivered anywhere in North America.
Simple and easy installation
Spiral staircase kits can be built in under a day by two average homeowners and require no special tools. For added support, our team is here to help.
Peace of mind warranty
You can be confident in your purchase for years to come with our lifetime warranty on metal fabrication and 5-year warranty on all other materials.