Spiral Staircase Railings & Parts
Your railing is what keeps you safely centered on your stairs. But besides its safety value, a railing system also presents an opportunity for artistic expression. Depending on your material selection, design, and even your amount of pieces, you can set the tone for the overall look of your stair. To be able to come up with the best combination of materials and designs, it's worth the effort to educate yourself on what materials and designs are available to add to your stair.
The Railing Components
Determining the material, style, and designs of your railing has to be broken down into the separate components that make up your railing system. Some of these components have their own separate coding requirements as well, so knowing the different code requirements for each will also help you build your ideal overall railing system.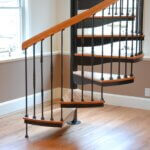 Spindles
Your spindles are the upright rods connecting your handrail to your steps. These can be simple tube constructed from steel, aluminum, or galvanized steel. They can also be cut from wood in either simple or more complex designs. One area of quality you want to look for in your spindles is to see if the angles at the top are mitered in such a way that their surface matches flush against the underside of your handrail. This mitering allows for a much cleaner look.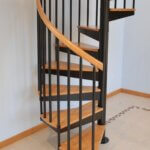 Handrail
Of all the parts that make up your railing, the actual handrail is the most notable. Like the spindles, they can be a simple tube shape, which works if you want a uniform look for your stair. Handrails can also be cut to a more custom shape designed for comfort. A hallmark of quality for a handrail, especially if it's wooden, in a spiral stair is if it's one solid piece rather than several disjointed sections that have to be assembled.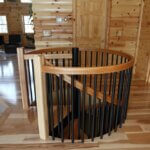 Well Enclosure
Your well enclosure is essentially an extension of your stair railing that goes part the last step and wraps around the opening where you emerge on the upper level. It provides an extra measure of safety. But it can also complete an aesthetic theme with its shape. Generally, the bird's eye view of your well enclosure's outline will be a circle or a square. The circle meshes well with the curve of your spiral stair. The square provides a good contrast and offers a modern look.
Safety and Code Requirements
The coding requirements for each of these components is obviously different as they each perform separate functions. And code requirement isn't always necessary, and certainly has nothing to do with the quality of a stair. However, if code is a concern for your particular project, then you want to educate yourself on these requirements and make sure you choose a manufacturer who can build according to them.
Working backwards, well enclosures are required to be at least 3' tall. In some states this height may be greater, as much as 42". Check with your local authority.
Handrails are required to be at least 34" in height and no more than 38".
Spindles on handrails and well enclosures are required to be no more than 4" apart.
Keep in mind that these are code requirements. Your personal standard of safety according to your situation may call for some of these to be more strict and some of them to be less so. Use your judgment.
Also, be aware that code laws vary by location, so always check with your local authority.
Material Selection
Your material options for these different components vary from aluminum, to steel, to various species of wood. In the case of spindles, you may also come across the option of wrought iron. As for the handrail itself, you may encounter some more classic materials such as polished brass.
These materials each offer different advantages as far as aesthetics and level of maintenance required.
As you're looking at the railing holistically, the aesthetics of the matter are more an issue of the picture created once all of the individual components are put together than they are an issue of how each component looks by themselves.
If you're selecting wrought iron spindles, which species of wood looks best as a complement for the handrail?
If you're going with aluminum, does it make more sense to have a square or round well enclosure?
Do you want a wood species that's easy to paint, stain, or finish for your railing or spindles? Or possibly a mix? So do some research once you discover which species your chosen manufacturer offers and figure out which woods are most susceptible to these.
Indoor and Outdoor Needs
As your railing system is your primary safety measure, you want to make doubly sure it'll last. One step to making it last is selecting the correct material for your setting. Namely, if your spiral stair is outdoors, you want a material that'll withstand the moisture, heat, and other weather related elements of your outdoor setting.
Typically, you want the components of your railing to be built from aluminum or galvanized steel when these are an option. This is because aluminum is naturally corrosion resistant and will last a lifetime in an outdoor setting. Galvanized steel, which is made through a hot-dip process where steel is dipped in molten zinc. This process creates a chemical bond that armors components against corrosion.
Standard steel can also be used for outdoor parts if given the proper treatment. Polished brass, however, is not suitable for outdoor applications. Another material not yet mentioned is vinyl. Vinyl is often used for the handrail and offers a durable solution for indoor and outdoor needs. The only thing to keep in mind is if your stair is in a particularly sunny spot then the vinyl might become warm to the touch and a little uncomfortable.
Lastly there's wood. You might think that wood is not suitable for outdoor uses but this is not true. Think about your deck. Woods like teak, mahogany, and cedar are all perfectly viably solutions. A cedar handrail would be an excellent accent to your cedar deck where the spiral stair connects.
Maintenance Requirements
What is appropriate for outdoor applications as opposed to what isn't gives an implication as to what you can expect in terms of maintenance for your material choices.
Aluminum is such an excellent choice for outdoor use because it is maintenance free. Galvanized steel is almost as durable as aluminum for outdoor uses. However, there is the chance that the zinc armor can be scratched. If that's the case, the steel underneath can corrode. To prevent that, a touchup with zinc-rich paint will be required now and then.
Steel, if outdoors, will need to be primed, painted with rust prevention paint, and sealed. The paint on the steel will also have to be touched up periodically.
Wood, indoors or out, will need a periodic polish, seal, and finish to maintain its sheen. Whether you should use a finish, stain, or seal and to what degree depends on the specific species of wood you select. Just make sure if it's for outdoors that you select the appropriate wood.
The Salter Experience
Experience unmatched quality & service
Proudly made in the USA, bringing premium spiral stairs straight to your door.
A consultative process
As part of our design process, you have access to our spiral stair experts through a FREE consultation to ensure we design the perfect stair solution for you.
Ships straight to you
All spiral staircases are packaged into a kit for the easiest and most cost-effective transport through the best local carriers, and delivered anywhere in North America.
Simple and easy installation
Spiral staircase kits can be built in under a day by two average homeowners and require no special tools. For added support, our team is here to help.
Peace of mind warranty
You can be confident in your purchase for years to come with our lifetime warranty on metal fabrication and 5-year warranty on all other materials.