How To Buy Used Spiral Stairs
Before you buy a used spiral staircase, do your homework. Asking a seller these six questions can save you thousands of dollars and countless headaches. Whether you are designing a new spiral stair or looking for a used spiral staircase, your considerations should be the same.
You want a stair that is durable and fits into your space, both physically and aesthetically. This checklist below will help you make an informed buying decision before purchasing a used spiral staircase or inexpensive spiral staircase kits for sale.
Ask About Signs of Corrosion
Keep in mind that while ordering your spiral stair as soon as possible is usually your best option for keeping your time table moving and reducing the inconvenience of projects mid-process in your home, this is not always the best answer to your timetable needs.
When looking at second hand spiral stairs, the first thing you should check for is any kind of rusting. Rust can compromise the structural integrity and longevity of your stair. Rusting is most commonly found on outdoor spiral stairs as they are exposed to the elements constantly. However, rust only occurs on steel spiral staircases that are placed outside. When not treated or cared for regularly, steel spiral stairs will rust outdoors. This is why we recommend a Galvanized or Aluminum spiral stair for outdoor use.
Purchasing a used spiral staircase made of standard steel that has been placed outdoors is not recommended as there is a high risk of corrosion. Rust typically forms in the tiny nooks and crannies of a steel staircase. More often than not, rusting will begin at stair connection points, such as the connection point between the steps and the center column. The steps are connected to the center column as well as the spindles, so when they rust, the structural integrity of your stair is compromised. You will want to check for rusting at the connection of the balusters and the handrails before purchasing a used spiral staircase.
Weather Resistant Outdoor Spiral Staircases
If you're looking for an outdoor spiral staircase that holds up to the elements and continues to be a stable and safe stair for your home, look for Aluminum Powder Coated spiral stairs and Galvanized Exterior spiral stairs. An Aluminum Powder Coated spiral stair takes an already rust resistant aluminum stair and adds an extra layer of weather resistance with a powder coating process. Powder coating gives the stair a maintenance free finish in a custom color of your liking. If you're looking for a custom color spiral staircase, check to see if the stair was powder coated or painted.
A Galvanized Exterior spiral stair is a durable option that is ideal for environments that experience snow, sleet and rain. The carbon steel stair goes through a hot-dipped galvanizing process that coats every part of the stair in a weather-proof finish. This includes all of the screws and nooks and crannies of the stair where corrosion usually begins. Galvanized stairs are delivered to you with a shiny, silver finish and, over time, the stairs will weather to become a battleship grey color. If you still want a custom color, you can paint galvanized stairs six to nine months after the original purchase. Be sure to ask the seller how long ago the stair was purchased and installed. You must wait six to nine months to paint a galvanized stair to ensure that if has completed the oxidation process. You will know the stair has fully oxidized when it turns the battleship grey color. So pay close attention to color when shopping for a used spiral staircase.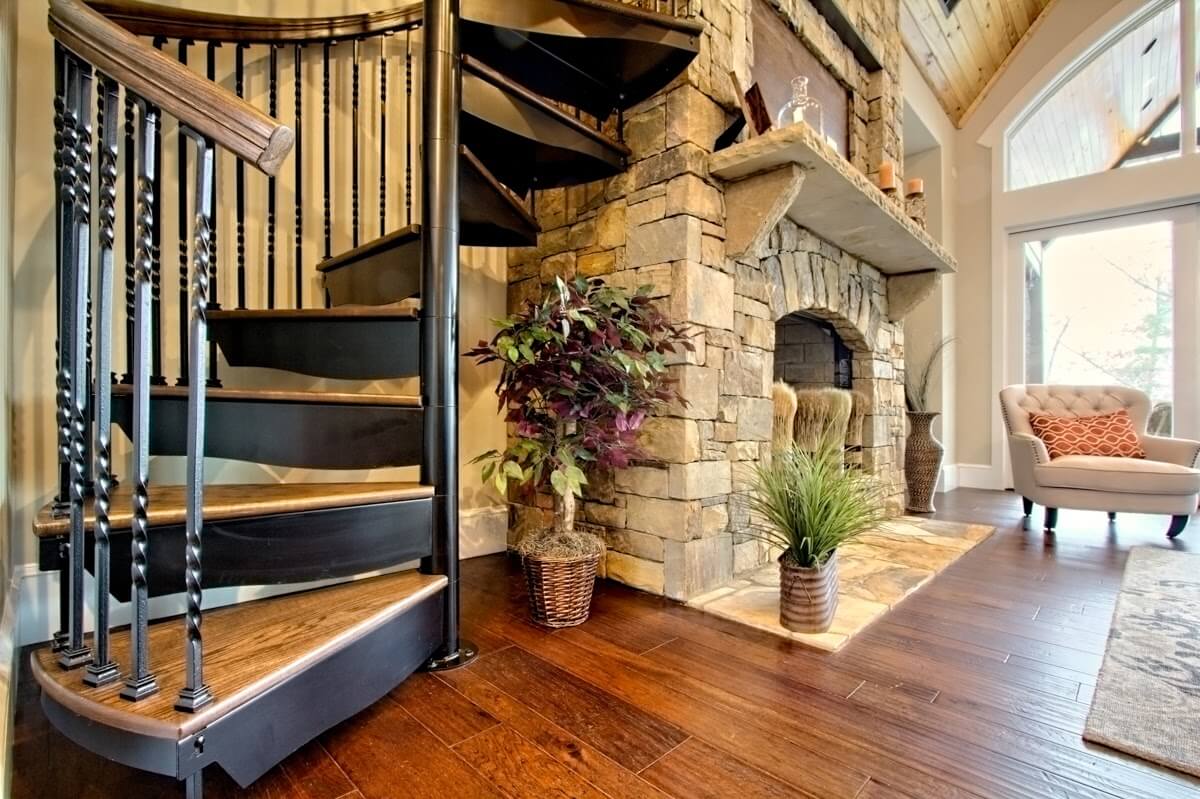 Why Salter
Ready to experience the best in Spiral Stairs?
Get started with a free, no-hassle consultation.
Same Day Pricing

Expert Design & Sizing Advice

Custom Design Options Tailored to your Budget

Estimated Product Lead Times
Get started with a free, no-hassle consultation.
Ask How Much Walking Space the Stair Provides:
This is one of the most important questions when searching for second hand spiral stairs. The technical term for the width of your stair is the diameter. This tells you whether the stair will physically fit into your space or not. The beauty of a spiral staircase is that it has a small footprint that's kept to a circle around your stair. For instance, if you find a used spiral staircase that has a 4' diameter, your footprint will be 48" x 48". If you're unsure about the diameter that will fit into your space, tape off the area taken up by your stair. You can adjust your measurements accordingly.
Your spiral stair diameter also determines the amount of open space you have to walk up and down the stair. The walking space on a spiral stair is the actual amount of space you have to step on as you walk up and down the staircase. You gain 3" of walking space for every 6" of diameter. For example, if you choose the 4' diameter, you will have 20" of walking space, but if you bump up to a 4'6" diameter, you'll have a 23" walking path. Because most used spiral staircase kits are broken down when they're sold, you will only get to see the width of one tread. While some people may be able to picture the full stair from this one piece, many customers cannot. By asking for the diameter, you are able to find a lot more information about the stair's measurements. For further reference, you can find diameter, footprint, and walking space charts on the spiral staircase dimensions page.
Ask If the Stair Meets Building Code:
While it may not be your first thought when searching for spiral staircases for sale, building code is a very important consideration. Building code is a collection of safety regulations that buildings must meet in order to pass inspection. A non-code spiral staircase will be just as stable as a code spiral stair, but if you plan to sell your house or have it inspected, you will need a staircase that meets building code. The stair's diameter is most fundamental code measurement. A spiral staircase must have at least a 5' diameter to meet building code. This also gives your stair a 26" walking space, which is the closest to a traditional staircase that you will find on a spiral stair. Your landing platforms will also need to be at least as wide as your walking path. This creates a safe space to enter and exit your stair. For more details, you can visit our spiral staircase building code page.
Ask What Finished Floor-to-Floor Heights Work with The Stair:
When you want to design a brand new spiral staircase, your floor to floor height is the first thing our consultative designers will ask you. Height determines many of the other measurements and design considerations for your stair. The same emphasis should be put on the height of a used spiral staircase. If a spiral staircase is either too tall or too short by a fraction of an inch, it can render the stair useless in your space. During installation you will slide the spiral stair steps over a center column one-by-one and set screw them into place. In general, spiral staircases have "sleeves" that attach to the steps. There are two types of tread sleeves for spiral stairs that can affect the height of a stair: adjustable and continuous.
Standard, Adjustable Sleeve Spiral Staircase
Adjustable sleeves are a more economical option, as they are able to fit a range of floor to floor heights. You can adjust them depending upon how much space you want between each step and your floor to floor height. A used spiral staircase with adjustable sleeves is more likely to fit your space because of the flexibility.
Continuous Sleeve Spiral Staircase
Continuous sleeves are the more aesthetically pleasing option. They stack on top of one another to fully cover the center column, creating a sleek uniform look. However, because they fit together, they are measured and built to an exact height.
Ask About the Stair's Rotation:
A spiral stair's rotation is based on the floor to floor height. Obviously, for a larger floor to floor height, you will have more treads (steps). As you add treads, you're also adding another section of rotation. If you plan to meet building code, each tread will come at a 30° angle. Therefore, to have a full 360° rotation, your stair will need 12 treads. A 360° rotation will allow you to enter and exit in the same direction.
Call Us for a Price Comparison: Used Spiral Stair vs. Brand New Spiral Stair
One of the biggest reasons that homeowners look for a used spiral staircase, rather than a new custom design, is because they assume the price of a new stair is too high and they want inexpensive spiral staircase kits. Most used stairs are sold between $500 and $3,000. These designs range from interior steel spiral stairs to exterior galvanized designs. We encourage you to give us a call today at (866) 682-8173 to discuss your spiral stair project. Our economical packages for brand new spiral stairs start at $690 and range up to $3,800 for an outdoor Aluminum Powder Coated spiral stair. Getting a price on a spiral staircase takes less than 5 minutes. While Salter does not buy or sell used staircases, our designers can provide you with a price for a custom spiral staircase design, but they can also answer any questions you may have about spiral stairs in general.