Spiral Staircase Safety Information
Between the high standard design Salter's spiral stair and additional features, your staircase will be one of the safest things in your home. You will never have to be concerned about your staircase safety with these five considerations in mind.
COMPLIANCE
Building Code Compliance
Building code is often seen as a complicated concept that homeowners and business owners leave to their contractors to figure out. While it's not always required for a residential space, you will need a code compliant staircase for your commercial space.
Simply put, building code is a set of safety regulations that buildings must meet to pass inspection. There are different levels of building code, from local municipalities to international organizations. There are also different requirements for every aspect of your building, including staircases, both traditional and spiral.
Salter Spiral Stair stands behind the safety of all of our stairs regardless of code compliancy. However, all of our consultative designers are code certified and can help you meet all of the requirement specifications. Your code compliant spiral stair design will include everything from the proper diameter, or width, to extra spindles for maximum safety.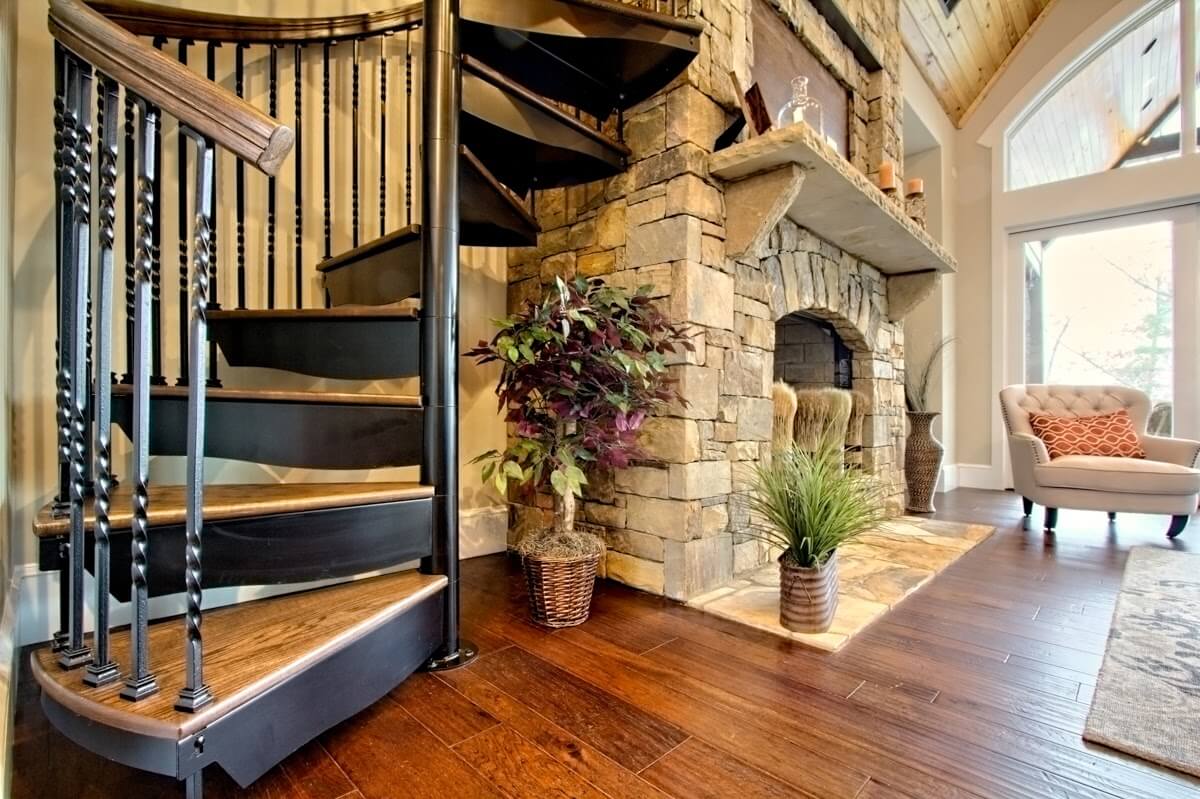 Why Salter
Ready to experience the best in Spiral Stairs?
Get started with a free, no-hassle consultation.
Same Day Pricing

Expert Design & Sizing Advice

Custom Design Options Tailored to your Budget

Estimated Product Lead Times
Get started with a free, no-hassle consultation.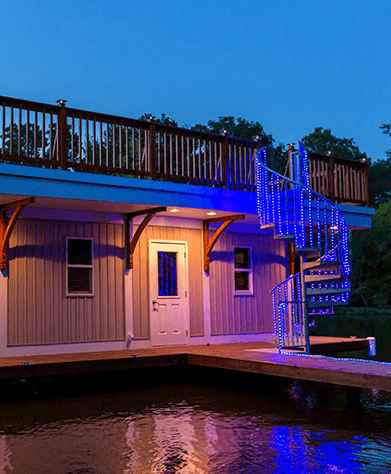 VISIBILITY AT ALL TIMES
Lighting Your Staircase
Good lighting is one of the best ways to increase safety in any area, let alone a staircase. Without proper lighting, it's easy to miss a step or not get a full grasp of the handrail. There are a few ways that you can light your stair.

The most common form of stair lighting is bright overhead lights. With recessed lights or a singular pendant light, you can light the entire staircase with one light fixture. However, this may not fit into your desired aesthetic or just may not be possible in your space.

An alternative that is quickly gaining popularity is recessed step lighting. This consists of the lights being built into the individual steps themselves. Not only does this guarantee your entire staircase being lit, but it also doesn't interrupt the flow of design in your space.

One stair lighting option that is particularly popular with spirals is handrail lighting. You can take lights and wrap them around your handrail for a unique design touch that highlights the spiral design. For indoor spaces or dryer climates, you can use string lights.

If you want a handrail lighting option that will hold up to different weather conditions, rope lights are perfect. They consist of the standard string lights in a weather proof casing. They are flexible enough to be wrapped around your handrail, but are durable enough to last outdoors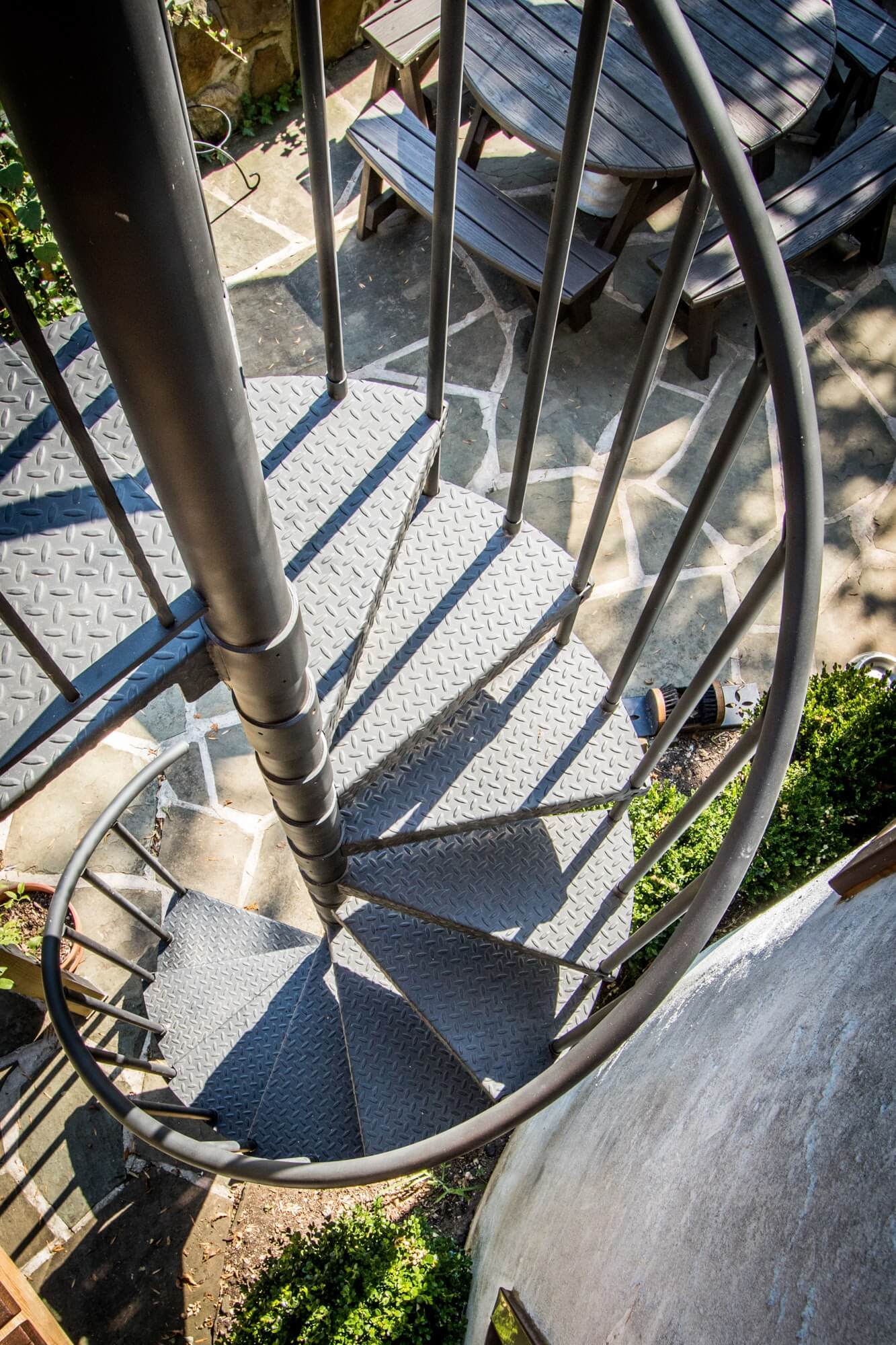 Non Slip Treads
Textured Steps
Textured steps are an easy way to add a unique design element while providing a safer walking surface on any staircase. This is particularly important when it comes to outdoor stairs.

Our metal staircase product lines, both indoor and outdoor, have the option of two textured steps for a safer staircase. The first is our diamond pattern steps, also known as tread covers. This raised pattern creates texture on your steps for a non-skid surface across your entire staircase.

The second option is a grated tread style. This open design allows the pass through of rain and snow keeping your spiral stair safe in any weather condition.

There are additional products that you can add to your steps that are particularly popular for indoor staircases. The first is by using a textured paint on your steps. We ship our wood tread covers unfinished so you can add your own personal touch.
If you want a natural wood tone finish, but want the added safety of a textured step, you can use slip resistant mats and strips.
Sturdy Handrails
One of the most obvious ways to increase staircase safety is to have a sturdy handrail. A handrail's primary purpose to provide stability and support while you ascend or descend your stair.
Salter Spiral Stair provides handrail designs that are customized to fit the exact curve of your stair. This means you are never without some support throughout the entire staircase. Our handrails also permit a whole-hand grip rather than a pinch-grip. This creates more security in a heavy weight or sudden impact situation.
This is also a great alternative to tight spaces that would otherwise call for a ladder. You can have the full benefit of a staircase and handrail, without the square footage that a traditional stair requires.
Your handrail stability extends to the spindles in your staircase as well. Our spindles are designed to provide the sturdiest connection possible between the handrail and stair. They are placed close together to make sure there are no gaps in support.
Clear the Staircase
It may seem obvious, but having a clear walking path is one of the easiest ways to practice staircase safety. This is important in both commercial and residential spaces.
Business that have two floors can sometimes run into the problem of overcrowding the entry and exit points of their staircases. They want to maximize their space and grab the customer's attention as soon as possible. However, it's safest to keep the footprint of your stair clear and easy to maneuver.
In your home, it's a common habit to leave objects on the steps as a reminder to bring them upstairs. It may seem harmless, but these loose objects can become a major hazard. A small table next to your stair is the perfect solution to your loose object problems. If you want a more organized space, a basket underneath your end table works as well. This keeps the objects off of the stairs, while still having them close.