Spiral Staircase Glossary
Your Guide to Spiral Stair Terms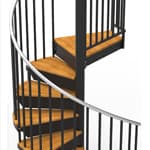 Spiral Staircase:
To answer the question "What is a spiral staircase?" it is a staircase whose steps attach and rotate around a center column. Unlike the similar designs of helical and curved stairs, the individual steps all attach to the center column. While they are often confused for the same thing, they are very different.
---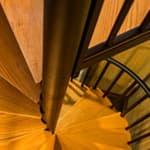 Center Column / Center Pole:
The center column is the large pole that is in the middle of your spiral staircase. It fits onto the base plate at the bottom of your staircase. The individual steps, or treads, then slide down over the center column and are secured with set screws during installation.
---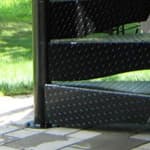 Base Plate:
Your base plate is at the bottom of the spiral staircase and is one of two attachment points for your stair. It comes pre-drilled which allows you to bolt into your bottom finished floor.
---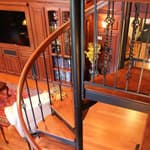 Landing Platform
The second point of attachment is going be your landing platform at the top of your staircase. The size of your platform is going to be determined by your stair's diameter, or the width of your stair. When you call us about your project, our Stair Designers will be able to tell you how large your platform will be.
---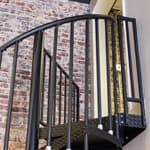 Platform Rails / Landing Rails:
Your platform rails are going to be at the top of your stair and they will connect to your platform. Most people need one or two platform rails. The amount of platform rail needed will be determined by the location of your stair in your home. If your spiral staircase is up against a wall, you will need one platform rail on the opposite side of your platform. If you are not attaching your platform to a wall, you will need two platform rails to enclose the top of your stair.
If you want to create a completely cohesive home design and need railing for your loft or deck, we can design custom railing that will match your staircase.
Part of our unique consultative design process includes a free digital rendering of your stair and railing in your space during a live online meeting. Simply call one of our stair designer and send over a quick snapshot of your space!
---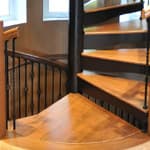 Diameter:
Your spiral stair's diameter is simply the width of the staircase. This also dictates your spiral stair's footprint, or how much room it takes up in your home.
Our smallest diameter is 3'6" which gives you're a 42" x 42" footprint. We can design and build stairs as wide as you want for your space.
Keep in mind that building code requires at least a 5" diameter stair.
---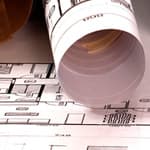 Spiral Stair Building Code:
Spiral stair building code is a set of rules and standards set forth by code enforcement officials that specify the minimum structural requirements of a spiral stair.
Building code varies by state and our Stair Designers will be able to identify any code requirements that you need to meet depending upon your location.
For more information on spiral stair building code, visit our technical page here.
---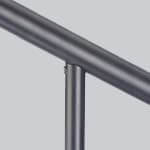 Balusters:
Simply put, your spiral staircases' balusters are the spindles that connect the handrail to the individual steps. Not only do they add to the design, but they also add to the structural integrity of your staircase. We offer different material options depending upon your stair design for a completely unique piece for your home.
---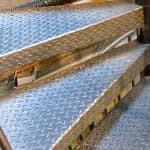 Treads:
Treads are the individual wedge shaped steps on your spiral stair. The size of the treads will be determined by your selected diameter and the number of treads is determined by your finished floor-to-finished floor height. The three most common styles for your treads are smooth steel, diamond plated, and with wood tread covers.
Smooth Steel Treads:
These treads feature a smooth finished surface that are ideal for interior use. The smooth surface gives you the option of adding wooden tread covers later.
Diamond-Plated Tread Covering:
Diamond Plated tread covers feature a raised diamond pattern on the steps. The textured treads provide a non-slip surface that is ideal for outdoor applications. Diamond plate treads give your stair an added design element, while also providing an extra safety feature.
Solid Wood Tread Covering:
Solid wood tread covers are a popular option for homeowners that want to have traditional home designs. With wood species options including oak, maple, cherry, mahogany, and cedar, there are plenty of different ways to customize your spiral staircase. Our solid wood tread covers come sanded and ready to be finished with your own stain. This ensures that it will fit into your current home design.
---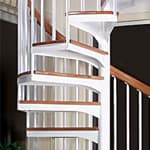 Riser Height:
Riser height is the space between one step and the next step. Spiral stairs have a larger allowable riser height than a traditional staircase because of the spiral design. The stair builds on top of itself meaning you will need to have more space between each step to allow more headroom clearance.
Clear Walking Path:
Your clear walking path is the amount of space that is free to walk on when you move up and down your spiral staircase.
Clear walking space is determined by the diameter you select. As your diameter increase in six inch increments, clear walk space increases in three inch increments. For more information on your clear walking path, you can visit our spiral staircase measurements page.
---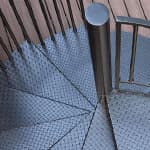 Sleeves:
The sleeves are the piece on the inside of your tread that will slide over the center column during installation and are secured with set screws. Salter Spiral Stair offers two sleeve options: continuous and adjustable.
---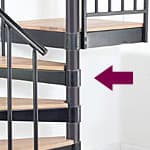 Adjustable Sleeves:
Adjustable sleeves are not cut to your riser height and are therefore much more flexible than continuous sleeves. They can be moved up and down the center column and secured at your preferred height.
The drawback to adjustable sleeves is that it doesn't cover the entire center column. While this may not be a major factor for some homeowners, it may ruin the aesthetic for others.
---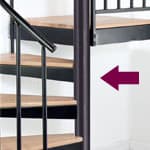 Continuous Sleeves:
Continuous sleeves are cut to your exact riser height and completely cover your center column. This creates a sleek and polished look for your spiral stair.
Many of our customer choose to go with the continuous sleeves once they see the difference between the two during our live online meetings. This side by side comparison is one of the benefits of our unique consultative design process.
---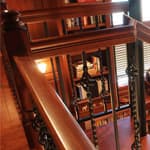 Handrail:
Your handrail is the rail that provides extra support to anyone walking up and down your spiral staircase.
While this may be a standard part of any staircase design, it's very customizable on a Salter spiral stair. We offer aluminum, vinyl, steel and wooden handrails. In addition, we also offer many different handrail looks and many handrail caps. as well.
---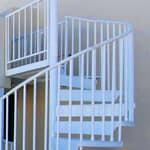 Powder Coating:
Powder coating is a finishing process that we use on both our steel and aluminum stairs. We clean and spray your stair with powder. We then use heat to fuse the powder to your spiral stair and create a protective layer on your stair frame.
While it has the benefits of a maintenance free finish, it can also be done in custom colors to match any design aesthetic you may have in mind.
If you have any more questions about our powder coating process or are interested in a custom color spiral staircase, call one of our consultative designers today!
Galvanized:
Galvanized stairs are known for their durability and our Galvanized Steel spiral stairs are no different. Our carbon steel stair frame goes through a hot dipped galvanizing process that coats every part of your stair in a rust resistant finish. This is the same process that is used with boats, roadway signs, bridges and more.
While they are known for their metallic silver finish, some homeowners want the durability of a galvanized steel stair with a custom color. You can paint your galvanized stair with the proper paint and primers after 6 to 12 months. You want to be sure that the finish has completely weathered.
Primer Finish:
A primed finish is the perfect choice for customers that want to paint their stairs themselves. The spiral stair is shipped to your location with a preparatory coating that you can paint over after installation.
Primed stairs give you the base to paint over them in case there are any small scratches from the installation process. If this does occur all you have to do is paint over the primer to give your stair a nice finished look!