Small Apartment Organization Ideas & Designs
Small Apartment Organization Ideas & Designs
Living in a small space has numerous benefits, but it's easy to lose sight of them when you're facing a storage shortage. Curbing clutter and conquering spatial challenges is the best way to make the most of your home and to remind you of the way you felt when you fell in love with the space originally. Use these practical organization ideas to bring energy and order back into your tiny apartment.
1. Take an Assessment
Honestly, how many things can you really fit in one room or one closet? Take advice from experts like organizing guru Marie Kondo and Graham Hill, the founder of TreeHugger.com and LifeEdited. The concepts of editing your life and curating your possessions have become new trends thanks to these innovators.
We all have our favorite pieces from our childhoods, but according to Kondo, you don't need to keep items out of guilt or for sentimental reasons. Letting things go if they are worn out or don't "spark joy" can free them and make you feel better. Consider Hill's idea that we don't need an excess of stuff to be happy. People who have made these changes say that curating their belongings had a positive effect, changed their lives and fostered new interests.
2. Give Back by Giving Away
There's no better way to pare down your belongings than to give back. As you take an inventory, note duplicate items and things that you rarely use. If you can, only keep items that you use regularly. If there are objects that you aren't using, toss them. Try to drop off your donation quickly to avoid any second guessing. Whether you pare down your wardrobe, reinvent your pantry or donate spare furniture, this step will make it easier to organize the rest of your home.
3.Define Spaces
Whether you live in a 300-square-foot studio or a two-bedroom apartment, each room should have a purpose. Multipurpose spaces are excellent, particularly in small spaces. However, that doesn't mean that different parts of your life, such as work and free-time, need to mingle. Ideally, mixed spaces should have enough storage so that they don't overflow and invade one another. Visually separate different areas with furniture, curtains or a partition. Defined spaces minimize chaos.
4. Move Items into Zones
Once you've defined your spaces, it's easier to organize the contents of your home and to make sure that everything has a logical place. Before you organize every room and cupboard, make sure that things are placed in the area where they will be used. Free up space in your bathroom or hall closet by storing blankets and sheets in a bedroom. Make sure that electronic cables, reams of paper and office supplies are stored near your workstation. Consolidating similar items will give you a better picture of what you have and what you need. This featured apartment has defined spaces for each activity, where it be cooking, dining, or watching TV.
5. Claim Empty Space
Spare corners and awkward spaces have a purpose too. There's no shortage of products created especially for these challenging areas. Corners can become functional storage areas with a triangular accent tale or a set of drawers.  L-shaped desks can turn the corner of a room into a niche workspace. Consider ways that you can maximize the challenging spaces in your apartment.
6. Think Vertically
Vertical space is often forgotten in small apartments. The space between the ceiling and top of kitchen cabinets is ideal for larger items that aren't required often such as platters and serving trays. Place these items in decorative baskets or boxes for a more polished look. Shelving is an ideal way to keep your storage areas out of you way. If you're a renter and can't make permanent changes, bookshelves provide the extra space you need. If you prefer a more drastic approach, think about building a loft in a high-ceiling apartment. You could even replace traditional stairs with a stylish spiral staircase that will save space on both floors
7. Use More Space
Vertical storage is only the beginning of unconventional space saving. Under bed storage is a storage solution that makes use of unused space and keeps it out of your way.  Adding hooks to the back of doors is an easy way to store jackets and free up space in your hall closet.If you're an advanced DIY-er, you can renovate the kick board below kitchen cabinets for extra drawer space. There are so many creative ways to improve existing storage systems.
8. Multifunctional Items
Multifunctional pieces are becoming synonymous with small spaces. For instance, take your kitchen table. When living in a small space, that table quickly becomes a desk/dining area. If you're known for hosting get togethers, consider an extendable table. You can open it up for parties, and keep it small for everyday use. Futons that can double as a sofa and guest bed are great, but daybeds with storage drawers underneath them are even better. It's easy to find stylish benches and practical ottomans that conceal deep storage compartments and fit your style. All it takes is a little creativity to find the multiple uses for an object.
9. Strategy
It may seem extreme to employ a strategy when organizing your home, but it can become overwhelming quickly. If you're working your way through your entire apartment, moving room by room can take the intimidation out of it! Start each project with a plan. For instance, take your bedroom one Sunday and your living room the next. The next part of your strategy is to keep up with the organization. Once you've done an overhaul of your apartment or home, you probably won't want to go through it all again soon. The best way to keep up with this is to pick things up and put them away before bed. The first overhaul of your home may seem overwhelming, but keeping up with these small apartment organization tips will make you and  your home calmer!
Small spaces may feel like your storage and organization space is limited, but there's more room there than you may think. By following these nine steps, you can create an organized space that will in turn feel much bigger than you originally thought. Create square footage in your small apartment or tiny home by simply reorganizing your belongings!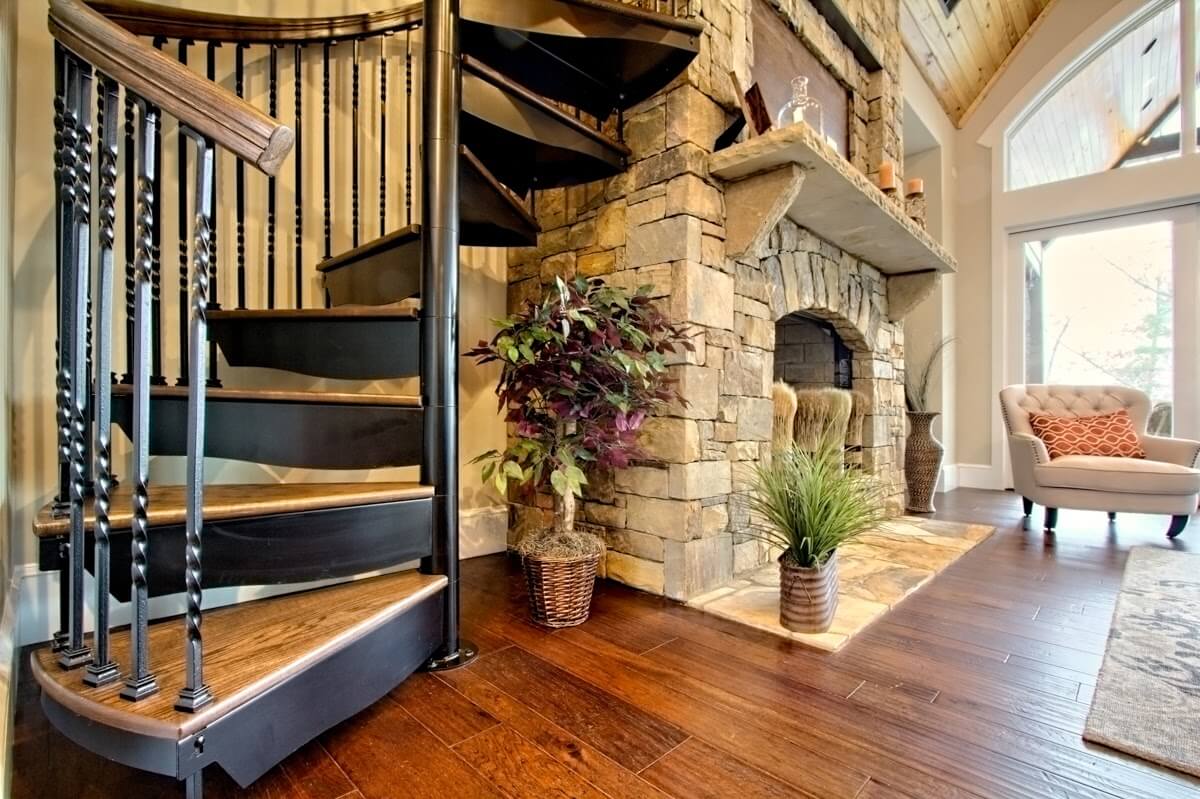 Why Salter
Ready to experience the best in Spiral Stairs?
Get started with a free, no-hassle consultation.
Same Day Pricing

Expert Design & Sizing Advice

Custom Design Options Tailored to your Budget

Estimated Product Lead Times
Get started with a free, no-hassle consultation.