3 Ways To Maximize Your Backyard Deck
3 Ways To Maximize Your Backyard Deck
When beautiful weather comes around, you want to be able to enjoy your outdoor space, including your deck and backyard. Maximizing the space of these areas is key to any successful summer season. Whether it is a casual evening at home or outdoor entertaining, you want the space to live up to all of your expectations.

Knowing Your Space
Just like an interior home design, you have to define your space and its personality. Take stock of the actual square footage and the different nooks and crannies of your backyard. A backyard deck or patio is a great addition to any home. It may seem like a standard piece of architecture, but the options are truly endless. It's important to first realize what will fit in your home design. This could be a ground level patio, a second floor deck, or a hybrid of the two.
If your house is on a long narrow plot, which is becoming more popular in developments, a raised deck might be the better option for you. In a small plot situation, houses are built tall and thin, and this can easily be applied to your backyard! Think of your deck as an outdoor loft. By building a space that's raised above ground level, you're creating square footage that you wouldn't have otherwise. While your house is a major part of your deck design options, your lifestyle also plays a large role. For maximum outdoor entertaining space, you can choose to build a multi level deck. This gives you maximum outdoor entertaining space. This gives you plenty of green space for any children or pets in the house. If you want more outdoor entertaining space, an under deck patio is a great option. It has a ton of flexibility depending upon your lifestyle.
If you decide on a raised deck design, deck stairs are a very important part of your design. You want a staircase that is both safe but also beautiful. It should support the deck design that you put so much work into. A traditional deck stair is definitely safe and can fit well into a traditional home design, but they have a huge footprint. A standard 7' tall deck stair has a total length of 9.5'. A spiral stair can give you the design and stability you're looking for, without a huge footprint. The small footprint is kept to a circle in your backyard, maximizing both your deck and the space below. It can be customized to match your home's exterior and deck, as well as feature added safety precautions. A diamond patterned tread option creates a non-skid surface that has added safety for you and your guests.

Zoning
Depending upon which backyard best fits your needs, there are several ways to use this new space. One way to organize and maximize your backyard deck space is to use a zoning technique. Zoning refers to the idea that each section or room has its own purpose. As it is something that naturally occurs in your indoor space, it makes sense to apply it to the outdoor extension. A multi-level deck is going to naturally zone itself based upon the different floors. The same can be said for a deck patio hybrid. A great way to uses these different areas are for cooking and dining areas. This hostess doesn't need to keep leaving the party to go into the house, but any smoke from the grill isn't interrupting guests' conversations. If you have a pool in your backyard, zoning is the answer to different interests. The lower level can house the pool, while the upper level lets people relax without getting wet on the pool deck. The elevated level is also a great place for parents to relax while still keeping an eye on the kids in the pool below. A ground level can still utilizing a zoning technique. Canopies are a great way to signify different areas. These areas the perfect place for casual seating or a fire pit. A walkway to a different section of a single level patio is another way to zone your backyard. Much like having a stair separate them, a break of green space in between shows a separation.

Creating a Beautiful Space
When you design the interior of your home, you want it to be beautiful and reflect your personality. The same considerations should be taken with your outdoor space. You also have to take into consideration the exterior design of your home. You want the backyard space to look like it fits rather than an add-on that was an afterthought. Your décor can start from the deck structure itself. A wooden deck gives a more traditional look, while modern homes often uses concrete elements mixed with the organic wood. Not only do they serve as the support for your design, they can add to it. By laying wood in decorative patterns, you can add interest to the deck while also aiding the zoning process. Both concrete and wood are great materials for built in furniture that you don't need to be concerned about in harsh weather. These pieces, depending upon the material, can be multifunctional as well. Wooden built in benches can be transformed into storage as well for your outdoor cushions or pool supplies. Your spiral stair can also be used as a functional and beautiful. Powder coating allows you to choose any color for your stair while also providing a weather proof barrier. Adding lights to your stair is another great way to make use of functional pieces. It can be as simple as wrapping a string of lights around your handrail or as advanced as incorporating the lights into the steps themselves. Another great option for out of the way lighting is to use wall sconces. They can be placed flat against the exterior of your house and have a variety of design options.
Your backyard deck is a great way to extend the warmth of your home a little further. Whether it's a deck or patio, these structures can go a long way in terms of your outdoor entertainment. With any remodeling project, the possibilities are endless. You can create the space that best fits your lifestyle, whether that's a peaceful place to read in nice weather or a place for the neighbors to come together. We've outlined just a few ideas to make the most of your backyard deck!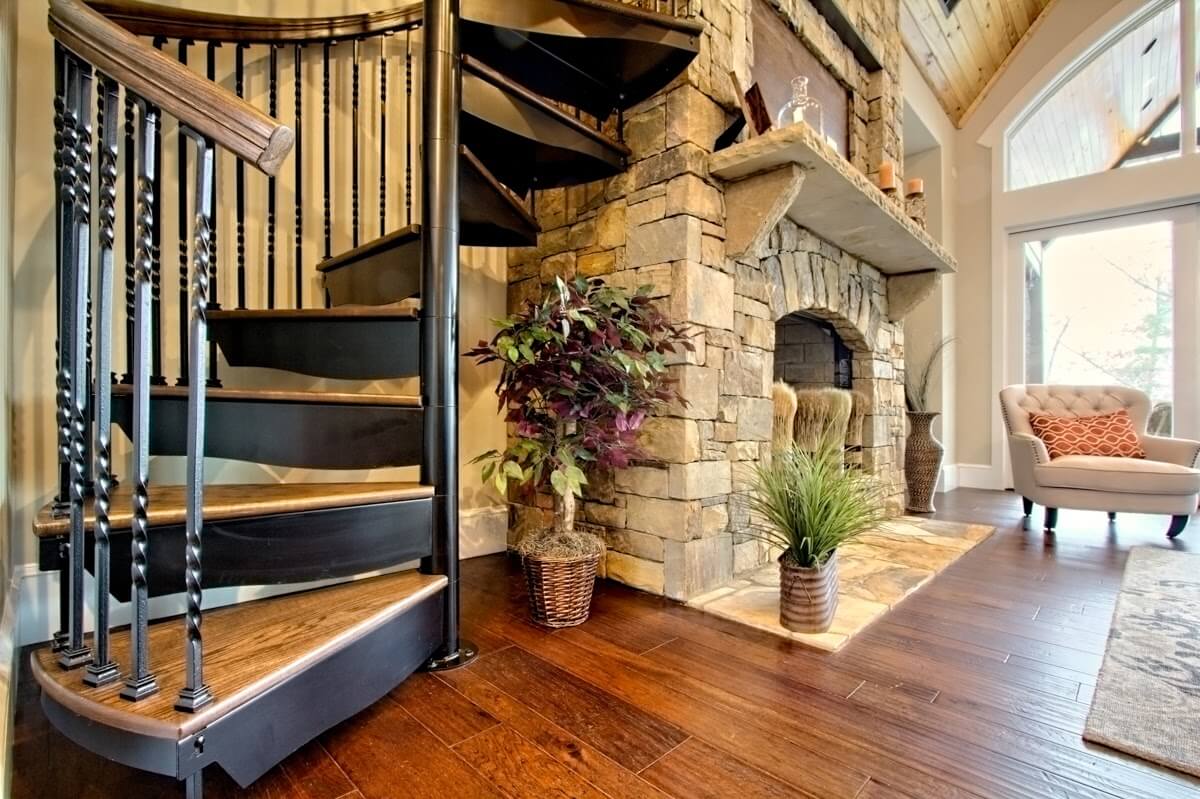 Why Salter
Ready to experience the best in Spiral Stairs?
Get started with a free, no-hassle consultation.
Same Day Pricing

Expert Design & Sizing Advice

Custom Design Options Tailored to your Budget

Estimated Product Lead Times
Get started with a free, no-hassle consultation.