Multi Level Deck Ideas and Designs
Multi Level Deck Ideas and Designs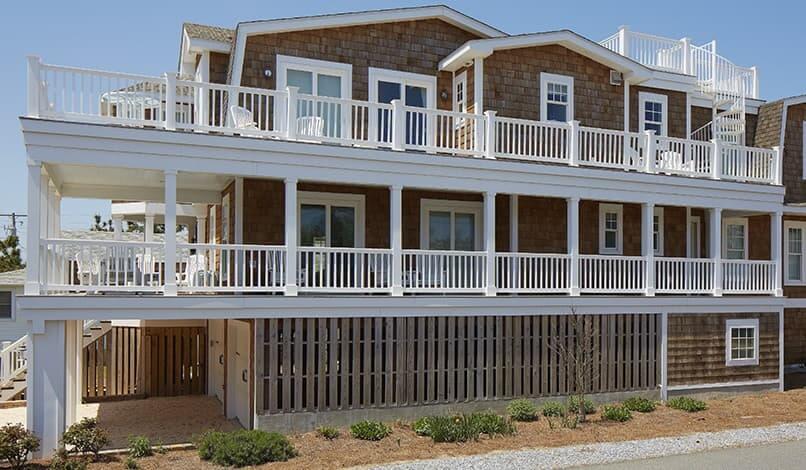 Choosing Your Deck
Add Value to Your Home
If you're looking to increase the value of your home, a multi level deck is an easy and cost effective way to do it! Building a deck is much cheaper than an indoor renovation because you are simply adding to your home with a basic structure, rather than reconfiguring the internal layout. You won't run into unexpected expenses and problems, such as electric and plumbing issues. This increases the living area at a minimal cost per square foot. If you plan to sell, a multi level deck could definitely work in your favor. According to Porch.com, "Homeowners can expect a 77% return from adding a deck." This will vary depending on your geographic region. For instance, a deck in California would be more valuable than a deck in the Northeast due to the climate. By having mild to warm weather all year round, the homeowner will get more use out of it.
Add an Interesting Visual Component
One of the benefits of a second floor deck is that it adds to the curb appeal of your home. If you choose to keep it contained to the back of your house, it will break up a monotonous view of the home and backyard and add grandeur to its design. You can also create a wrap around for a more interesting and unique design choice. It can be crafted to compliment your home's design. A multi level deck creates a dynamic view for anyone looking at the back of your house. The eye will follow the path of your deck from the top to the ground level.
Homes on Slopes
If your home is on a slope, you may find outdoor entertaining difficult. The angle of your yard makes it nearly impossible to have stable tables and chairs. A ground level patio isn't an option unless you want to level out the surrounding area. This can be expensive and require extra work as you will have to install your porch after you level the yard. A second floor deck eliminates the need for leveling out your yard. Your supports will create the level base for your deck. This gives you a solid and level space for outdoor entertaining. By elevating the space, you can still have a full backyard and a flat entertaining space. If you have children or pets, this is a major plus. You don't have to sacrifice your green space for an outdoor entertaining area.
Homes with a View
If your home has an amazing location, take advantage of it! While you can enjoy the view from indoors, should be able to enjoy your home's views outside in nice weather as well. By using a second story deck, rather than a patio, you can extend your view further. If your home backs out onto a heavily wooded area or a water feature, create your own landscape panorama by having a multi-level deck. Give your home a new wow-factor by adding a personal observation deck to the back of your house!
Building Your Deck
Once you've decided that a multi level deck is for you, there are some design choices to make. Many multi level deck ideas incorporate the building material into their design and décor. Consider this when reading about the pros and cons of each option.
Deck Structure Materials
Wood
Wood has always been a homeowner favorite when it comes to decking materials. Most wood that is intended for outdoor application is now pressure treated to fight against decay and is economically priced. However, with any natural material comes changes over time. Wood often swells, warps, and splits due to the absorption of moisture. This requires a deck restoration process every one to two years. While there is wood that requires less maintenance, it comes at a higher price than your average pressure treated wood. One of the benefits to using wood as your decking material is the customization of it. Between the different types of stains and paints, you can create a custom deck that fits into your design needs.
Composite
Composite decking material has been growing in popularity in recent years. The material itself is made up of a mixture of wood particles, such as wood fiber pieces or wood chips, and plastic. This mixture of materials means that your composite deck will require little to no maintenance. The composite material will last longer and will not require the same restoration as a wooden deck. You'll also avoid any splintering that you would have with lumber, making it a safer choice for children. However, these benefits don't come without a cost. Composite decking is heavier than wood, meaning you will need more supports than if you were using traditional lumber. Some composite decks utilize steel supports underneath the frame rather than standard lumber. Composite is also typically more expensive than wood. More and more homeowners are leaning toward composite as the higher price upfront means that you will little to no maintenance costs.
Deck Stair Designs
Deck stairs are one of the most important factors to consider when designing your multilevel deck. One of the benefits of your second floor deck is to have your outdoor entertaining space without sacrificing any of your backyard. By choosing the right multi level deck stair, you can have the best of both worlds.
Traditional Stairs
A traditional deck stair is a straight stair that extends from one level to the next. It will have the same measurements and footprint as an indoor staircase. While you may want the traditional design, this design takes up a lot of square footage in your deck. Assuming your deck stair will meet building code, a standard 8' tall deck will require a staircase that is approximately 9' long. However, many traditional stairs that move from one level to another elevated deck rarely move in a straight line. They break in the middle with a platform and continue in an "L" shape. While this may save room, this uses much more material making the design more expensive. Much like a deck, the two most popular materials for this design are wood and composite. Both of these have their own benefits and drawbacks when used in the stair design.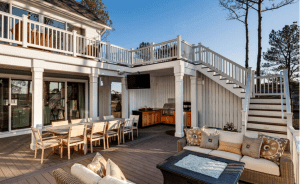 All Wood Traditional Stair
An all wood deck stair is going to be the most traditional design and material combination your deck. By using wood, you can easily stain or paint them to match your deck. To ensure the structural integrity of your stair, you will need to use galvanized hardware to protect against the corrosion and break down of the structure. If your stair will be subject to heavy foot traffic, expect to restore or replace your steps every year or two. The lumber will also be subject to decay over time.
Composite Traditional Stair
Using composite decking materials for your deck stairs will ensure that they last longer. Composite decking won't decay like lumber, but it will need to be replaced eventually. With heavy foot traffic comes inevitable wear over time. Unlike wood, which you can sand and restore, composite decking must be replaced. As mentioned above, composite decking materials are also less customizable than lumber.
The installation time of your traditional deck stair will vary depending upon the height of your deck and the experience of the installer. If you're tackling your deck stair as a DIY project, it will most likely take two days. There are many precise measurements to follow and pieces involved when putting together a full staircase. An experienced contractor could finish an average sized deck stair in a day.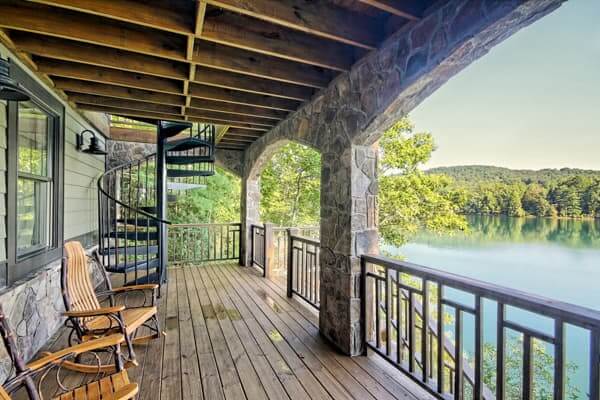 Spiral Stairs
If you want to reach the first level of your deck without the large footprint of a traditional stair, a spiral stair is the perfect solution. Because of the design, a spiral stairs footprint is kept to a small circle on your deck. This could be as small as 42"x 42", helping you to maximize your deck space. A small footprint doesn't mean that it is any less safe than a traditional stair. All Salter Spiral Stair's designs have a lifetime warranty on fabrication. This means that the structure of the stair is guaranteed to last. Spiral stairs are truly the meeting place of durability and beauty. Your deck spiral stair is completely customizable to match your home's design. There are two designs that are most common for multi level deck stairs: Galvanized Exterior spiral stairs and Aluminum Powder Coated spiral stairs.
Galvanized Exterior Spiral Stairs
A Galvanized Exterior spiral stair is a cost-effective and durable solution for your deck. The steel stair components go through a hot-dip galvanizing process. This gives the stair a weather-proof barrier that prevents it from rusting over time. This finish is great for homes and decks in coastal areas with corrosive sea air. Many homeowners leave the stair in its metallic industrial grey finish. Over time this weathers to a battleship gray colored staircase. If you want the durability of a galvanized stair, but want a custom color, you can paint your spiral stair after six months with the proper paint and primer. Your stair has the added safety measure of a diamond plated treads which provide a non-skid surface for you and your guests.
Aluminum Powder Coated Spiral Stairs
An Aluminum Powder Coated spiral stair is an aesthetically pleasing option when looking for a way to access your backyard. We enhance the naturally rust-prohibitive aluminum by powder coating it with a maintenance free barrier. This finish also allows you to customize your stair's color. If you want a quiet accent to your deck, traditional black and white are perfect. If you want a unique centerpiece to your backyard, custom colors are available upon request. Your Aluminum Powder Coated spiral stair can have the added safety feature of the non-skid diamond plated treads. However, this stair also has the option of a classic design and look by adding solid wood tread covers to your stair. This can be combined with the wooden handrail to create a classic elegance for your deck stair.
No matter which design you choose for your outdoor spiral stair, you can be assured that the installation will be simple! Your spiral stair is shipped in a kit form with each piece individually packaged for easy delivery. Once you receive your stair, you can complete the installation in a day with the help of a spouse, friend, or neighbor. Not only do you now have a beautiful addition to your deck, but you have the satisfaction of installing it yourself.
Living With Your Deck
Once your deck is built, you get to the fun part of decorating your deck to meet your outdoor entertaining needs. Don't overpower your deck's structural design, but enhance it by creating a space that makes the most of it. Your deck should be unique to your home's personality and design. Here are just a few second story deck ideas!
Outdoor Kitchen
Take advantage of your multi level deck design by utilizing the different levels. Outdoor kitchens are a popular trend in deck design. If you have a finished porch below your deck, you can install anything from a grill to a full kitchen with a fridge and prep area. Turn your deck into an outdoor dining room with a large table to fill your space and outdoor chairs. Café lights area popular addition for outdoor dinner parties to complete the space. By separating your cooking and dining areas, you're adding to your guests comfort. You can easily keep the any residual smoke away from conversation. Another added benefit is that the host/hostess can stay outside near the guests. They won't be completely separated for their own event.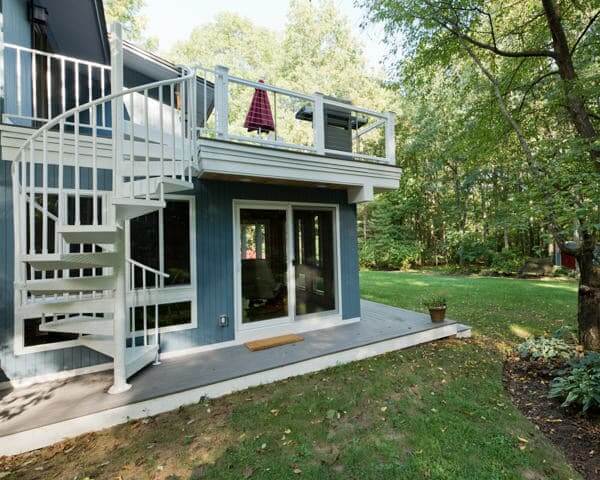 Rooftop Deck
One way to use your multiple floors is to connect your rooftop deck to a larger second floor deck. This small platform is the perfect place to relax and have some alone time. Whether you like to read or sun bathe, you'll definitely be able to relax while taking in the view from the top of your house. Use a spiral stair, like the one pictured here, to connect your rooftop deck to a larger deck that lends itself to a communal area. You can enjoy your outdoor space no matter what mood you're in with these two spaces.
Indoor Outdoor Decks
Use your one level of your deck to enhance the other by creating a three season porch. The second floor deck provides a ceiling and screen connectors through the supporting columns. By using screens, you can still enjoy the nice weather outdoors. This design is especially popular in regions with mild climates. By closing off the space, you can continue to enjoy your backyard through Fall and early Spring.
Multi level decks are a unique space in any home. Whether you plan to use it for different applications, like dining and cooking, or just want an incredible outdoor entertaining space, a multi level deck can help you achieve it. The best way to maximize all of your outdoor space is to use a spiral stair to connect the different levels. The small footprint gives you the largest amount of open space on all of your decks, no matter what floor they're on. Call our consultative designers for accurate pricing on all of your deck spiral stairs in 5 minutes or less!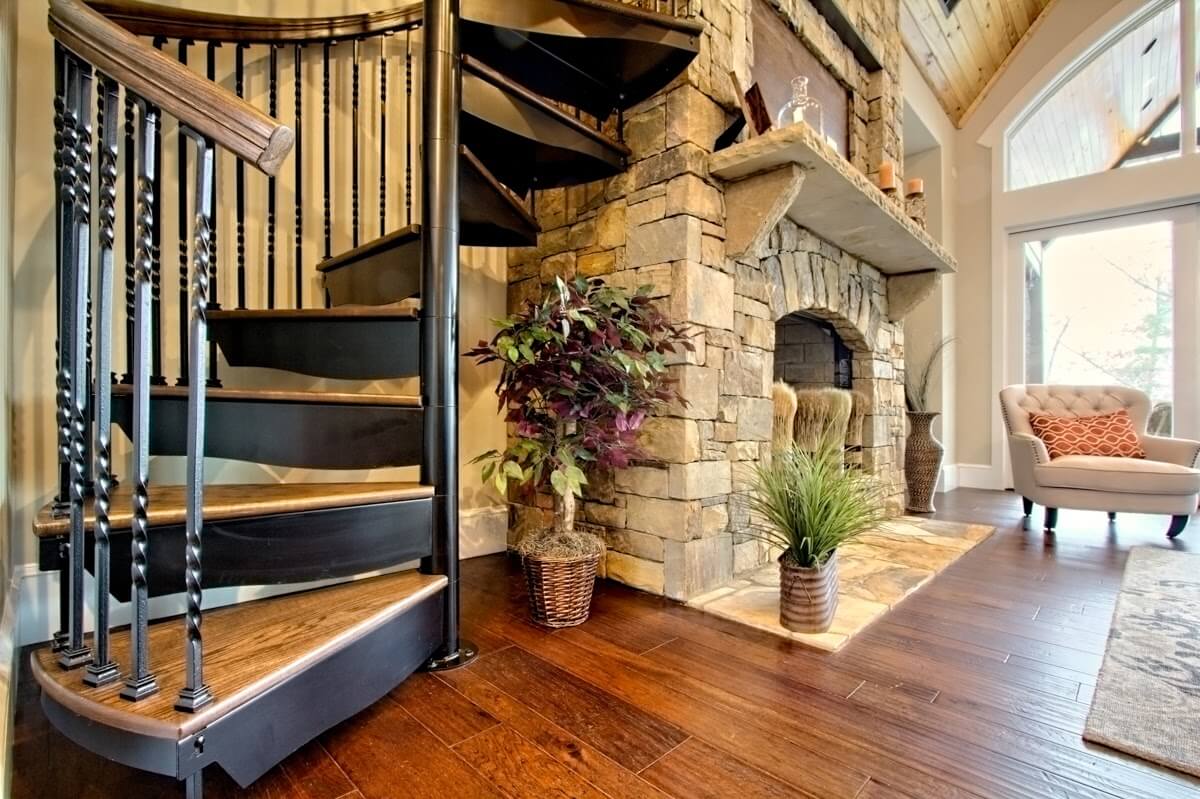 Why Salter
Ready to experience the best in Spiral Stairs?
Get started with a free, no-hassle consultation.
Same Day Pricing

Expert Design & Sizing Advice

Custom Design Options Tailored to your Budget

Estimated Product Lead Times
Get started with a free, no-hassle consultation.