Balcony Decorating & Design Ideas
Balcony Decorating & Design Ideas
Everyone wants a place where they can enjoy the outdoors during nice weather. Some homeowners decide to build a deck where they can have entertain outdoors. However, if you don't have the space, a balcony is the perfect solution! While it's a small space, it can hold big designs. There are plenty balcony design ideas for every design choice of your second floor balcony!
Balcony Railing
Your balcony railing is the most important design element of your space. It is obviously necessary for safety reasons, but that doesn't mean it can't be beautiful. You can achieve several different design aesthetics based on the materials and design details you choose. These choices can define the design style of your balcony.
Wrought Iron Railing
Wrought iron balcony railing paired with a wrought iron spiral staircase is a common choice that gives your home traditional elegance that is similar to old buildings in European cities. It has the flexibility of adding ornate details such as stylized spindles, like the ones above. It can also have the simplicity of standard tube banisters to create a classic look. If you're looking for an even more ornate design, you can add gold embellishments.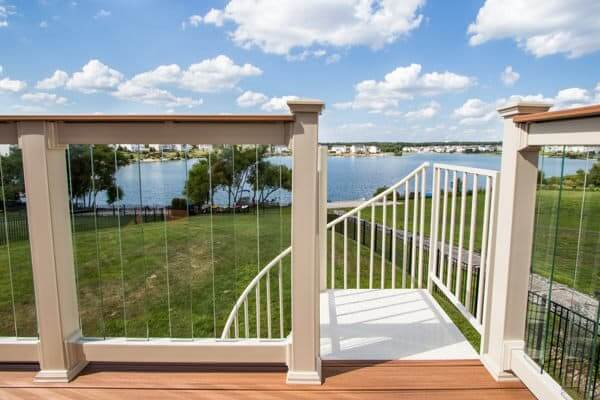 Glass Railing
Modern balconies utilize clear glass walls like the one pictures above. These walls give you the security of railing but keep your views uninterrupted. With the emergence of minimalist lifestyles, the sleekness of a clear glass walls is becoming increasingly popular. Cable railings are also commonly used in these balconies.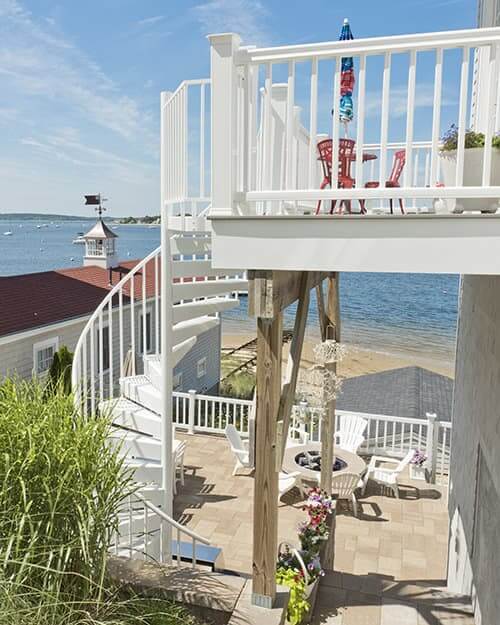 White Post Railing
This last picture features a white post railing that is commonly found on shore houses. This PVC railing is styled in the same way a traditional all wood deck railing would be. It has durability and is punctuated by posts on each corner. If you choose to incorporate a spiral staircase in your balcony design, you can install railing that matches your spiral stair railing. This is perfect for those who want continuity throughout their home design.

Spiral Stairs
If your home features an outdoor balcony, consider connecting it with the rest of your outdoor space. Because balconies are often small, you don't want to overpower it with a full traditional stair. A spiral stair is the perfect accent to a small second floor balcony. Your spiral stair's small footprint is ideal for two different balcony locations. The first is going from a balcony to a patio. Some homeowners who have bedroom balconies want a way to access their pool deck from their bedrooms. A spiral stair not only has a great design aesthetic, but it also keeps the balcony footprint small. The second balcony location is on an upper level and connecting it to a raised deck. This home design calls for a spiral stair because of space constraints. It's difficult to find a multi level deck that has the space for a traditional stair. A spiral stair fits perfectly in the corner of a deck.
There are two spiral stair designs that are made to last outdoors. The first is an Aluminum Powder Coated spiral stair. This stair is the perfect accent to any home design. The rust prohibitive aluminum goes through a finishing process that coats the stair in a maintenance free barrier. You can keep the stair in a classic black or white color for a supporting design piece in your off your balcony, or you can have it finished with a custom color to make it the centerpiece. The second outdoor spiral stair design is a Galvanized Exterior spiral stair. This stair is made up of a carbon steel frame that goes through a hot dip galvanizing process that coats every part of the stair in a weather proof and maintenance free coating. This durable design is great for coastal areas.
Flooring
Just because your balcony is outdoors doesn't mean that it has to have a boring floor. Just like the railing, your flooring can define the space before you even add the extra décor.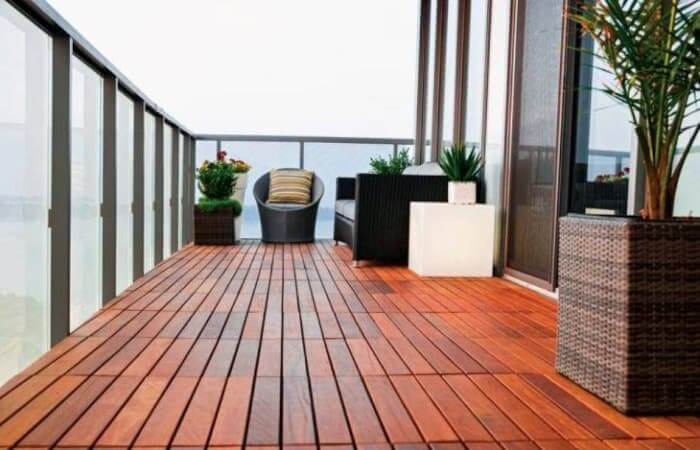 Wood
If you don't have the space for a full deck, and want to install a small balcony instead, you can still have the all wood deck look. Create a smaller classic deck on your balcony by using lumber or composite decking. If you choose to use lumber, you will have to go through a deck restoration process every other year or so. However, you will be able to stain the wood to match any traditional home design. Composite will give you less flexibility in color, but will essentially be maintenance free. You can also use interlocking decking tiles, like the ones shown above. These are easily installed as a DIY project and can be combined with other products, such as pea gravel, to create a space that is complete unique to your home.
Concrete
If you have a concrete balcony and want to add some flair to the drab stone, use a concrete stain. There are two different types of stain: reactive and nonreactive stains. The reactive stains are acid based and will react with the concrete to give you a one of a kind marbled floor on your deck. The colors will be limited to natural earth tones, such as browns and greens. Some of these stains contain metallic salts that will catch sunlight hitting your balcony. Nonreactive stains are water based acrylics and are more like a paint. They have a much wider range of colors and are easier to apply. They won't be as unique as a reactive stain, but will be just as beautiful.
Decor
Your balcony is a blank canvas that can be decorated to fit your wants and needs. Much like any interior space in your home, your balcony's décor will define its purpose. One of the major differences between a deck and a balcony is its size. Where a deck would feature large spaces for group entertaining, a balcony lends itself to a smaller, more personal setting.
Eclectic Design
If your home has a more eclectic style, Moroccan themed balconies are popular. Create a space that's filled with bright colors, such as pinks and greens. Deep jewel tones are also popular for this home design style. Use over-sized cushions as seating and gold accents in the form of baskets and light fixtures to create an exotic getaway on your balcony. Natural wood tones are the perfect background to support the rich colors.
Urban Charm
If your balcony is the meeting place between quaint charm and industrial style, bistro style seating is the perfect choice. This is the perfect match for a home that has a brick exterior and wrought iron railings. The bistro style table and chairs can either be wrought iron or powder coated steel for custom colors. This creates a space that is a great place to catch up with friends while enjoying the nice weather.
Modern Design
If you want a modern balcony, keep things simple! The color schemes are usually black and white, with one or two pops of bright color in the outdoor cushions. The furniture is defined by simple shapes and kept to a minimum. The defining characteristic of modern design and minimalism is open space!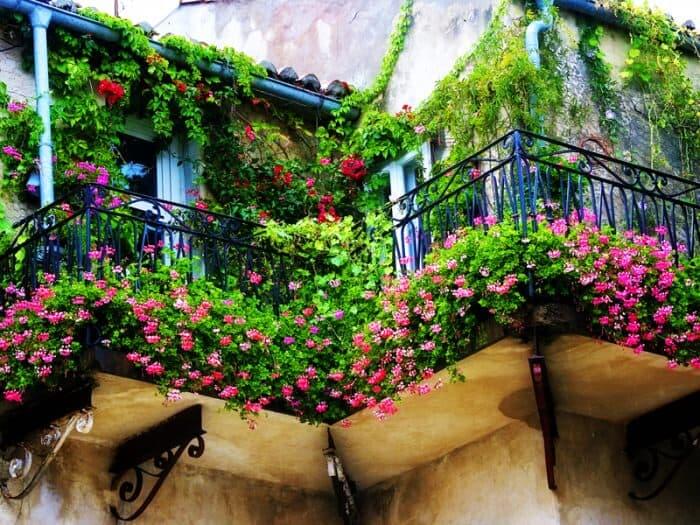 Foliage
As with any outdoor décor, foliage is a great way to add color and life to your balcony! Depending upon your balcony's design, your plants can have different purposes. If you have neighbors close by, a balcony may be easily visible to others. Create some extra privacy with a lattice that's paired with a climbing plant, such as ivy. This will add some green to your balcony while giving you a little more privacy. Depending upon your design aesthetic, different flowers may compliment your space more than others. For eclectic styles, use bright colors that will match the décor. Flower boxes that attach the railings are also commonly found on balconies. It can bring life to an otherwise boring space.
Awnings
Awnings are a great addition to any balcony where you want some extra shade during the day. They also go a long way to protecting any furniture that you may keep in your outdoor space from bad weather. There are a few ways to give some extra coverage to your balcony.
Curtains
Some balconies are built with a roof over head. While this may impede a lot of direct sunlight from hitting your space, you get built in shade and rain protection. If you want any extra protection or privacy, you can hang curtains from the upper level and add tie backs for days with nicer weather. You aren't committed to any design alterations and they are completely customizable.
Retractable Awnings
If you want a higher end shade solution, retractable awnings are very popular. They are automated and can easily be installed by any contractor. You can bring out your awning with the push of a button to protect from harsh sunlight or rain. The beauty of an automated awning is that you aren't committed to having one or the other.
Lighting
One of the final touches you add to any space is the lighting. It really pulls the room together and finalizes small details. The same rules apply to your second floor balcony. Create the best atmosphere with the right lighting!
Lanterns
Lanterns come in a variety of different designs and materials. If you're choosing to stick with the Moroccan theme that was mentioned earlier, pull those same colors and accents in with your light fixtures. Colored glass lanterns that are framed in gold hardware are the perfect final touch. Iron lanterns with ornate cut out designs are also popular for an eclectic design aesthetic.
Cafe Lights
If you want to compliment the urban bistro style seating on your balcony, café lights are a great option. You can find smaller Edison bulbs that have clear glass and exposed wiring in strings and hang them across your balcony. String lights of any kind are always a popular option for balconies as they can be easily strung through the railing.
Candles
For a casual atmosphere, candles are the perfect lighting solution. You can buy them in bulk at a low price and in a variety of shapes and sizes. They can be utilized in a variety of different frames, such as the previously mentioned lanterns or as tea lights floating in a water feature.
Despite being known for small space, balconies have a lot of design potential. Not only are they the perfect escape right outside your door, but they can also take the place of a deck if your square footage is limited. If you want to take your balcony design to the next level and connect it to the rest of your outdoor space, a spiral stair can help keep that footprint small. Call one of our consultative designers to find the perfect outdoor spiral stair for your balcony design. Be sure to ask about our matching railing for your balcony as well!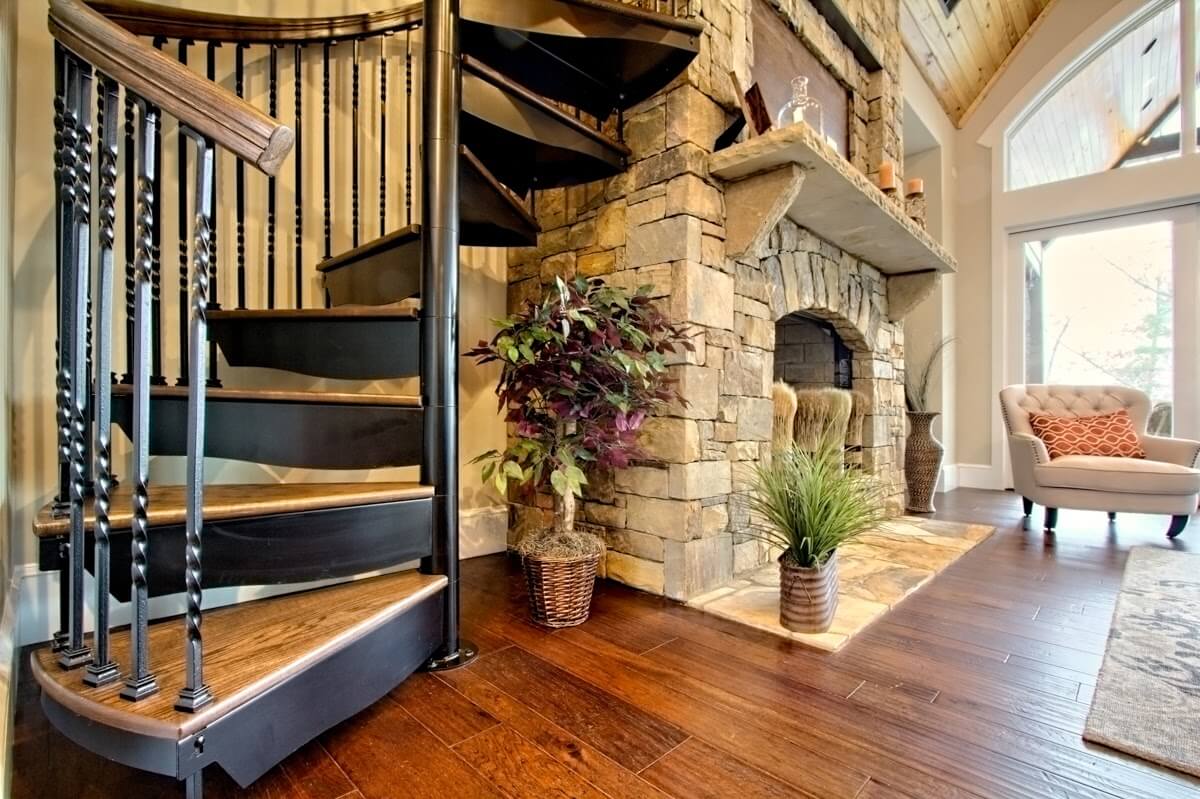 Why Salter
Ready to experience the best in Spiral Stairs?
Get started with a free, no-hassle consultation.
Same Day Pricing

Expert Design & Sizing Advice

Custom Design Options Tailored to your Budget

Estimated Product Lead Times
Get started with a free, no-hassle consultation.