Simple Ways to Upgrade Your Deck Decor
Simple Ways to Upgrade Your Deck Decor
An outdoor deck is often forgotten when designing a home. Homeowners feel that it doesn't require the same considerations as the interior rooms as it will be subjected to harsh weather conditions and remain unused during the winter months. However, when the summer months roll around, you'll want a beautiful area to enjoy the warm weather in.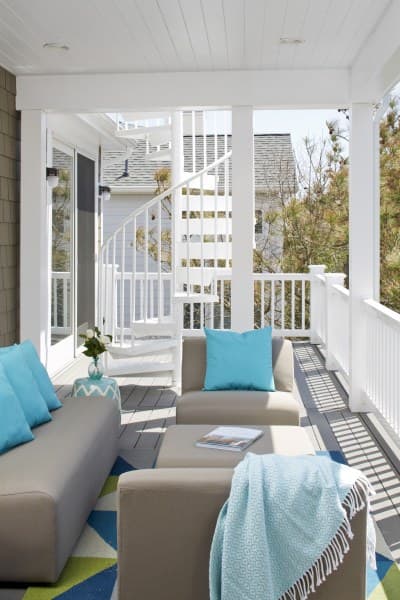 Outdoor Living Rooms
Don't be afraid to bring the indoors outside! When decorating your deck, think of it as an outdoor living room. It's a space that you can relax in and entertain guests during nice weather. The easiest way to create a comfortable outdoor space is to focus on the seating. Built in benches are popular options for DIY decks. They save space and can be transformed into storage pieces to house your cushions when they're not in use. Wicker furniture is a popular option for back decks that have a rustic charm. Metal framed chairs fit nicely into a contemporary patio. All of these options share the need for comfortable cushions. Outdoor cushions can be a comfortable addition to existing chairs, while oversized poufs are a casual seating option. If you want to create your own cushions for an abnormally shaped piece or simply to save money, 100% acrylic fabrics are the best option for longevity. To complete the furniture set in your outdoor living room, a coffee table is the perfect center piece! An aluminum frame is common as it is naturally rust prohibitive. By using a coffee table, rather than a full outdoor dining table, you create a more casual setting for guests.
The minor details can tie together your outdoor living room aesthetic. While the major pieces may be beautiful, you can complete the space by using small design tie-ins. They warm up the space and allow it to feel enclosed even while outside. A minor detail that elevates an outdoor space is an area rug. Outdoor rugs are sturdier and stand up to the elements better than their indoor counterparts. With the large variety of patterns, colors, and sizes, it's easy to find the right rug for you. If you can't find a design that fits your space, a DIY version is easy. Outdoor spray paints and stencils can transform a solid color rug into a patterned accent piece. Light fixtures are another way to tie together your deck design. Lighting can create your desired ambiance, whether it is bright and fun or dimmed and cozy. If you're redesigning your deck, you should consider using wall sconces rather than the typical torches or a single porch light. The light source is more consistent because it is spread out across multiple points rather than one source. Because wall sconces are attached to an exterior wall, they save space. Wall sconces also have flexible designs that range from simple to ornate.
Deck Stairs
Don't forget your deck stairs when thinking of how to decorate your deck! Many stairs have decorative elements built into their designs. A traditional deck stair can be treated or stained to be a seamless extension of your deck. If you're looking for a more colorful option, you can always paint your stairs using the proper outdoor paints and sealants.
Spiral stairs give you a few more design options. An aluminum powder coated spiral stair is design with the color option in mind. The powder coating process can produce a classic black or white stair. However, you can also request a custom color to create a piece that is completely unique to you. A galvanized exterior spiral stair has a sleek metallic silver finish that turns to a battleship grey over time. If you want a change in your design aesthetic, you can paint your galvanized spiral stair after six months with the proper primer and paint. A spiral stair is a functional and decorative piece that you can install yourself! You create your dream staircase by working with a consultative designer and it's shipped in a kit form with each piece individually wrapped for easy installation. You can install your stair in one day with the help of your spouse, friend, or neighbor. Not only will you have a means of egress from one level to another, you'll also have a beautiful addition aesthetically to your deck.
You can enhance the design of your stairs further by adding small touches. Lights are a popular option for a stair design addition. Lights can be a minimalist design with lights that are incorporated into the individual steps, out of guests' sight until they are needed. Another decorative option is to use string lights and wrap them around the handrail of your stair.
Privacy Screens
Your comfort shouldn't be left behind when thinking of deck decorating ideas. Privacy screens are a great option for backyards that have close neighbors. While you may love your neighbors, sometimes some separation can be good! Not only are the right privacy screens functional, but they're also decorative. The most popular outdoor privacy screens are lattice. Lattice walls allow light through, unlike walls or fences. You don't want to turn your backyard and deck into a closed off room, but rather your own space where you can experience all of the elements. This also keeps you connected with your neighbors, by having some visibility through the lace-like pattern. Not only can the lattice provide some privacy from the neighbors, it can also hide sheds and A/C units that aren't the most beautiful pieces in your backyard. Not only is lattice work often a cheaper option than a full fence or wall, but it is also low maintenance. You can paint or stain it to match your deck and backyard design. If you want to keep some green, lattice is the perfect base for climbing greens, such as ivy or jasmine. As always, if you can't find the right lattice work panel for you, there are always DIY options and designs!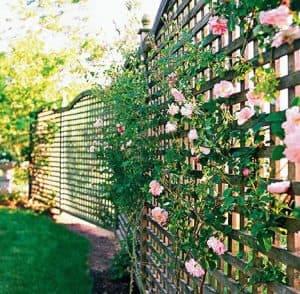 If you want to have privacy, but would like a more natural look and feel to your wall, foliage privacy screens are the perfect compromise. They extend the green space up to create the feeling of a secret garden. When planning your screen, keep in mind that it can be difficult to get the traditional straight hedge line. This requires careful planning and measurements. Staggering several different plans in rows is an easier way to achieve the same look. In order to get the most coverage in a timely fashion, the use of specific plants or the combination of a few will be necessary. For year round coverage, evergreens are your best option. They are dense trees making them ideal for a privacy screen. Bamboo matures quickly and can give you a simple design if you're looking for a natural but fuss free option. Rose of Sharon provides a privacy screen that requires a little more maintenance as it benefits from pruning. It's more decorative than evergreens and bamboo with its colorful flowers.
Living walls have also been growing in popularity recently. Also known as a vertical garden, this takes the same concept of climbing plants on lattice and elevates it. The main difference is that the plants live in the wall rather than growing up the structure. There are plenty of DIY kits that allow you to create the vertical garden of your dreams.
Show Stopping Centerpieces
There are a few ways to add a wow-factor to your deck. Some may be more extreme than others, but either way these unique backyard ideas will be sure to start a conversation!
Many times, homeowners add water features to their backyard spaces. Garden fountains come in many different shapes, sizes, and materials. The most common designs consist of tiered stone bowls that holds water which then runs to a circular base. Many contemporary garden fountains are a metal base with simplistic waterfalls. These can either be built in features or smaller mobile designs. They are found in traditional gardens and modern backyards alike. They promote tranquility for both you and your guests.
Fire pits may be on the opposite end of the spectrum from a water feature, but it holds the same benefits. A fire pit is a natural centerpiece for communal areas on your deck or patio. The comfort of a fire provides the same peace that a garden fountain may hold. Fire pits can be built in or mobile depending upon your size and design preferences. They also come in a myriad of different materials with wide ranges of stone and metal options available.
A backyard can be a homeowner's relaxing getaway or a entertainment hub depending on how it's decorated. The most important thing to remember is to decorate your deck with our lifestyle in mind. You want to create a space that you want to use and are comfortable in. These deck decorating ideas can serve as inspiration for any function you may want for your backyard deck.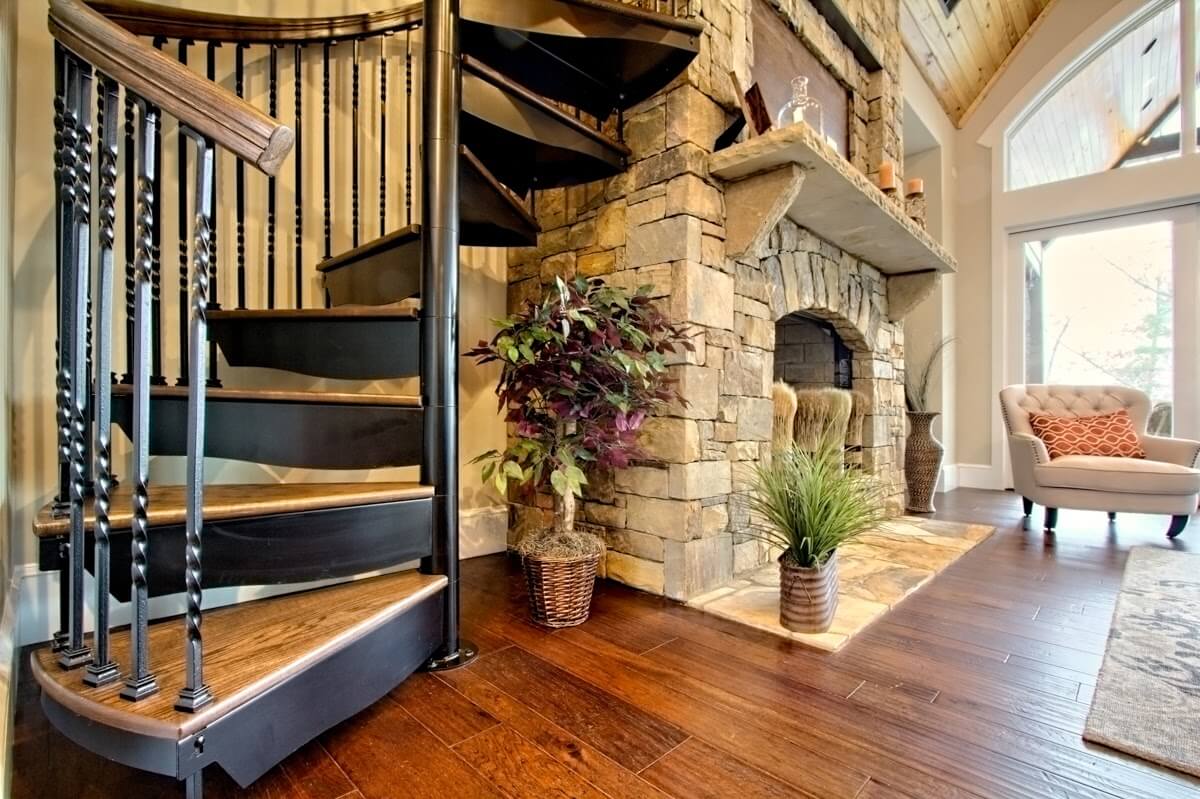 Why Salter
Ready to experience the best in Spiral Stairs?
Get started with a free, no-hassle consultation.
Same Day Pricing

Expert Design & Sizing Advice

Custom Design Options Tailored to your Budget

Estimated Product Lead Times
Get started with a free, no-hassle consultation.