Unique Backyard Design Ideas
Unique Backyard Design Ideas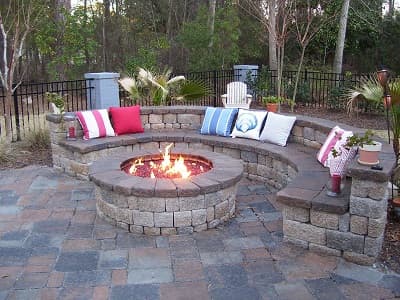 Fire Pits
Fire pits are natural centerpieces that anyone would like to gather around.  By adding comfortable seating, you're creating an outdoor living room. Some homeowners opt for built in benches for a custom deck design. If you want to have more flexibility, casual outdoor lounge chairs can easily be moved around your backyard to fit your seating needs. Your fire pit can act as an outdoor fireplace! A built in fire pit is completely custom and can be an eye catching addition to your communal area. They are usually square or circular depending upon your desired design aesthetic. A circular fire pit is a more classic design, while a square is a modern take. You don't have to sacrifice space to have a fire pit! If you have a small backyard, you can still have a fire pit! Tabletop fire pits are a great option for those who want a mobile option that doesn't take up too much space. They come in virtually any shape, from small bowls to square platforms. They come in lots of different materials, such as precast concrete or even hand carved stone. This makes it easy to find the right tabletop fire pit for your backyard.
Whether your space calls for a built in fire pit or a smaller design, stone and metal are the common materials used. Common metals used for fire pit designs are cast iron, steel, and copper. Cast iron is the most economical choice. However, the color of the frame will fade from weathering and will need to be restored with heat-resistant paint. Stainless steel is a popular option as it weighs less than cast iron and has plenty of different finishes to fit your design. Copper is usually the most expensive metal choice. However, the upkeep will be easier as it's very durable and resists corrosions well. Stone fire pits are typically more permanent, such as s built in fire pits. By using stone, it is usually a more seamless transition between the deck and the fire pit itself. The stone options include concrete, brick, or even natural stone.
The final decision that goes into your fire pit is your fuel source. Gas and wood burning fire pits both have their own pros and cons. Gas fire pits have the convenience of the twist of a knob starting your fire and an easy clean up. However, if there is any moisture on the fire pit, it will produce massive amounts of steam. It also not the best source of radiant heat. Wood fire pits have a classic and nostalgic feel to them and are a great heat producer. However, the ashes and smoke can get quite messy.

Tree Houses
Tree houses are showstoppers in any backyard design! Not only are they childhood classics, but their designs have recently started to grow to appeal to adults as well. While it may be considered something for the kids or as a small project, your tree house deserves all of the design considerations that your actual house gets!
When people think of three houses, they probably envision an old ladder leading up to a wooden platform with some railing. However, you can modernize it without losing that nostalgic charm! Modern tree houses are becoming more popular in recent times. Many people are using them as their full time homes. They usually feature multiple floors and modern home amenities, such as electricity and running water. Another popular design category for tree houses is fantasy. These fully embrace the whimsical nature of a house in a tree and are usually brightly colored and take inspiration from fairytales. All of these different designs call for a different use! From children's playhouses to man-caves, everyone can benefit from a treehouse
All of these designs can be taken to the next level by incorporating interesting aspects to their exterior design. Spiral stairs are the perfect way to reach your tree house without intruding on the surrounding nature! Tree house spiral stairs have become a popular option for those who want a more stable option than a ladder, but don't want to use the space necessary for a full traditional stair. Our aluminum powder coated spiral stair can be powder coated a custom color to blend seamlessly with the surrounding nature, while a galvanized exterior spiral stair has a metallic finish that accents a modern home design.
Backyard Entertainment
If you plan to do some outdoor entertaining during the summer months, there are a few unique backyard ideas that can make your house the entertainment hub of the neighborhood!
Oversized games are the perfect entertainment for summertime family parties. They are relatively easy to put together and can be put away when not in use to save space. Giant Jenga is a popular option for parties that have a wide age range. DIY versions can easily be made with little more than saw-cut wood from your local lumber store. If you want to add a personal touch, you can always paint the wood to make it your own! You can make an oversized chess or checkers board from a stand-alone wooden platform or paint it directly on your deck. Checkers are a relatively easy game pieces to make yourself. However, you should probably leave the giant chess pieces to a professional. There are a plenty of different sets you can buy. For smaller children, lawn tic-tac-toe is a great option! It's a simple frame and you can sub out the X's and O's for fun seasonal pieces, such as flowers or hand painted stones.
If you have a bigger backyard and want to really wow your guests, an outdoor movie theatre is an incredible main event to an evening summer party. There are several different inflatable screens available that are made for outdoor use. If you prefer a DIY approach, a flat sheet or screen fabric attached to wires that are mounted to nearby trees creates a homier feel to your outdoor movie theatre. If you prefer to have a screen free yard, you can always project the film on a completely flat exterior wall of your house. A projector can be rented for one time use. You can also buy one if you decide to have Film Fridays in your backyard.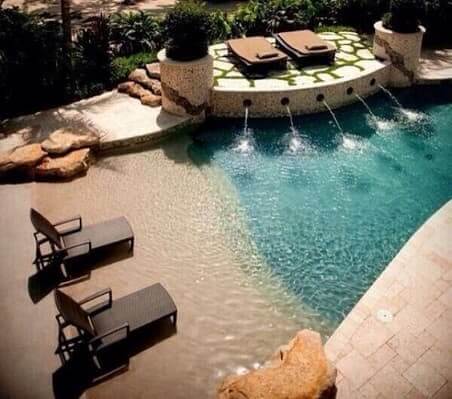 Bring the Beach to Your Backyard
Why not enjoy the fun of the beach without leaving your backyard? This may sound like a crazy idea, but it's easier than you think. The simplest way to incorporate the coast into your backyard is to create a large sand pit! Because of the simplicity of this idea, it can have multiple functions. You can play beach volleyball with a crowd or make sandcastles with the kids during a quiet day at home. A sandy area is a great place to install your fire pit! If the sand pit is large enough, you can use beach chairs and tables where parents can relax while they watch the kids play.
A backyard pool can be turned into a vacation-like getaway by trading in your pool steps and ladders for a sloping entry much like a beach front. While this isn't a DIY project, you can make it your own after installation. This slope can easily become a deck for lounge seats and sun bathing creating your own paradise.  If you want to truly give a resort feel to your backyard, use a cabana to create a lounging area away from the splashing in the pool!
You can create a beautiful outdoor space using these unique backyard ideas! Not only do they create a backyard that is an entertainment center for family and friends, but it can also increase your home's value. If you decide that a dynamic multi level backyard is the best design for your space, call our consultative designers to create a unique spiral stair design that will take your backyard to the next level.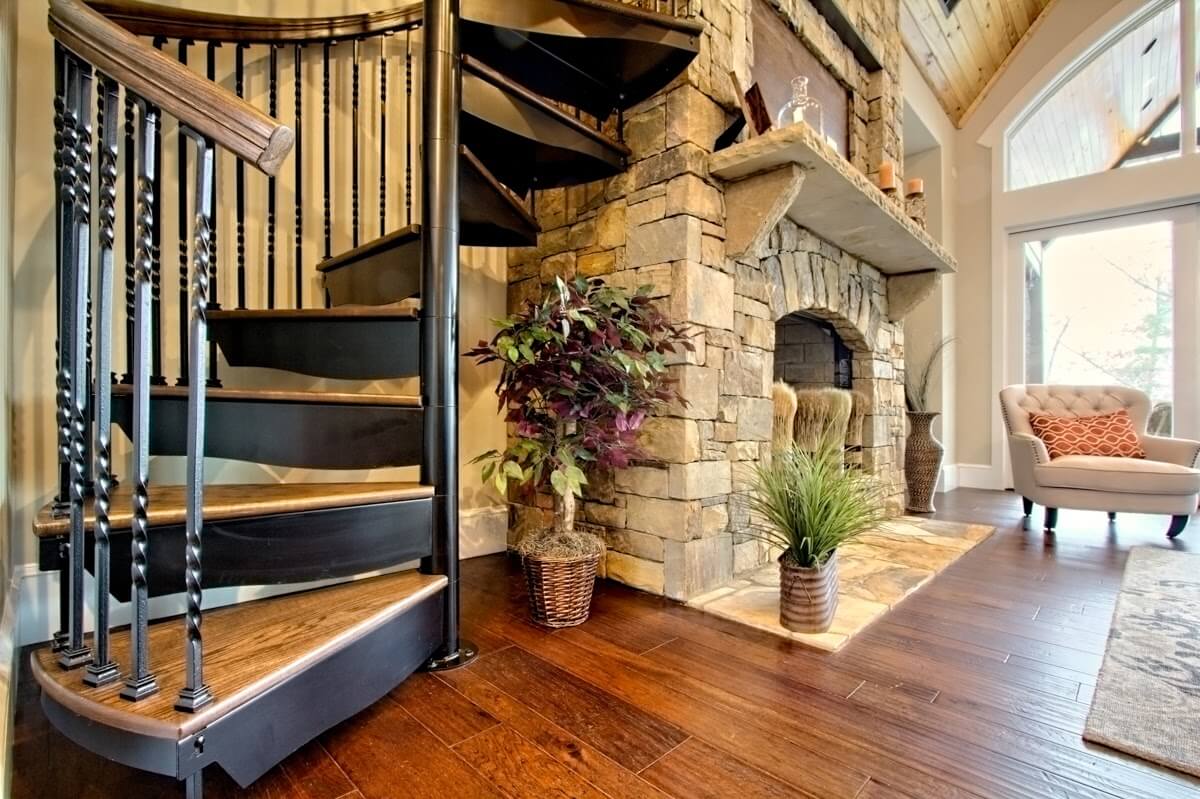 Why Salter
Ready to experience the best in Spiral Stairs?
Get started with a free, no-hassle consultation.
Same Day Pricing

Expert Design & Sizing Advice

Custom Design Options Tailored to your Budget

Estimated Product Lead Times
Get started with a free, no-hassle consultation.