3 Steps to Owning an Eco Friendly Deck
3 Steps to Owning an Eco Friendly Deck
Eco friendly ideas have been making their way into every industry in recent years. Whether it's clothing design or cleaning supplies, everyone wants to reduce their impact on the environment. Home design has stepped into this trend with things like tiny homes and eco friendly home designs. All of the same principles can be applied to your outdoor space.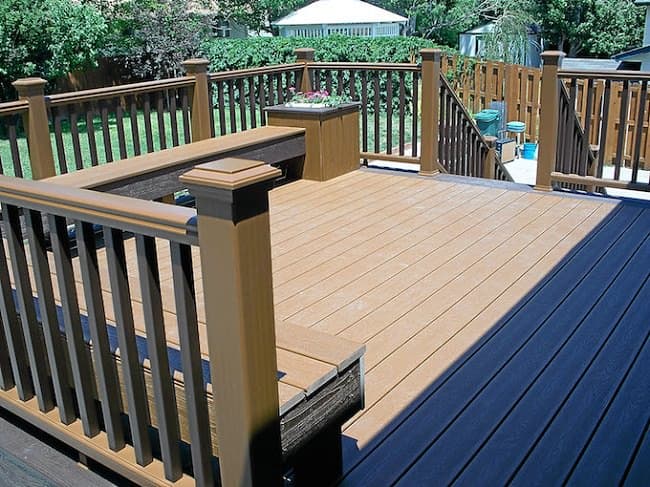 Eco Friendly Deck Materials
When deciding to build a deck, there are several different material options. They all of their own pros and cons for building. They also all have different benefits for the environment.
Natural Wood
When considering an eco friendly material option for your deck, natural wood may seem like an obvious choice. The all organic material fits well into an environmentally conscious designs you may have and it can be found in just about any climate.
Just like any other building material, natural wood has its pros and cons. It's a renewable resource and can easily be recycled after use. Several homeowners also decide to use recycled wood as their decking material. The one factor to be conscious of when choosing recycled wood is to be sure that it can stand up to heavy foot traffic and weather conditions that come with being outdoors.
Natural wood also hasn't been pressure treated to withstand any extra moisture or insects. While this make your wood nontoxic and easier to recycle afterwards, this also depletes your wooden decks lifespan immensely. Without the added precautions of pressure treating the wood, you leave it susceptible to termites, rot, and other hazards that can eat away at the structure. If you want a natural wood deck structure that will hold up to the elements without the added chemicals of treated lumber, hardwoods are a great option. They are naturally rot resistant meaning that you can use an all organic material without any added chemicals.
However, there are some drawbacks to using these materials. Natural hardwood resources are becoming more and more limited. While their use may be an eco friendly idea for your deck, it may not be environmentally responsible. Be sure to find lumber that is responsibly harvested and considered forest friendly. Look for wood that's certified by the Forest Stewardship Council to ensure that it's from a sustainable forest and will not have a negative impact on the environment.
Pressure Treated Lumber
Pressure treated lumber is probably the most popular decking material on the market. You can purchase it at any home improvement store. It's not only great for decks, but also any other DIY projects that you may have around the home.
It seems like the benefits to using pressure treated lumber are endless. While naturally rot-resistant wood may be expensive or hard to find, pressure treated lumber is easy to find and cost effective. It is treated to resist rot and insects that helps the deck last longer than if you were to use untreated wood.
While pressure treated lumber is a sustainable resource, it can be very harmful to the environment around it. The lumber is treated with toxic preservatives that can become very harmful if they come into direct contact with you or your pets. What gives the soft wood its immense benefits, also makes it a major hazard.
If you plan to use the pressure treated lumber and install it directly into the soil, it can cause problems for the surround soil and plants. The toxins can spread in a process that is also known as toxin leeching. Once the moisture in the soil begins to permeate the wood, the chemicals can then easily spread to the soil and roots of any nearby plants.
These chemicals also make it difficult to recycle this wood. Unlike natural wood, you cannot burn any leftover pressure treated lumber. When you burn it, the preservatives become airborne and highly hazardous to its surroundings. If you want to get rid of some pressure treated lumber, your local municipality can dispose small quantities for you. Larger amounts of pressure treated lumber may have be disposed of by a third party waste disposal company.
Composite Deck Material
Composite decking material has grown in popularity in recent years due to its low maintenance features. Composite deck boards are made from a mixture of recycled wood particles and plastic. It also requires little to no maintenance. The addition of plastic into the boards takes away the risk of rot. These boards also hold up to weather and heavy foot traffic much better than wood.
The fact that composite decking material is made up of other recycled materials makes it seemingly fit in eco friendly deck ideas. This economic product does have its drawbacks. While it is resistant to rot and organic breakdown, this can also complicate the disposal.
You must be cautious if you plan to cut your own composite boards for your eco friendly deck design. While small amounts of the saw dust may not be harmful, large deposits of the dust can be hazardous to breathe in. To cut down on the amount of sawdust, use precise measurements before you cut the boards.
The blend of organic and nonorganic materials that make up the composite deck material makes it seemingly impossible to recycle. Because it is so finely blended, there is no way to separate the two categories of products. This means that any extra pieces cannot be recycled and will end up in a landfill. While the manufacturing of composite decking material is environmentally friendly, the disposal is not.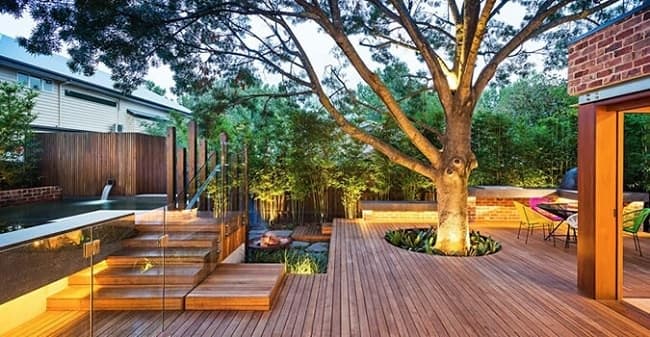 Eco Friendly Deck Designs
No matter what eco friendly building material you decide to use for your deck, there are some design features that you can use. These eco friendly ideas are great whether you have a eco friendly house design or just want to shrink your home's footprint.
The first thing to consider is how you plan to actually build the deck When building the deck, some homeowners dig a large enough hole for the foundation to match the actual size of your platform and fill it in around the supports later. This isn't necessary. Mark the points where you want to install the vertical supports and dig singular holes rather than a large pit. This keeps the deck's overall footprint to a minimum as well.
The direction of your deck is something to take into consideration, but it may be limited depending upon your home's location. However, if you do have some flexibility, consider building your deck to face south of where your home is located. This will help to cut down on excess heat during the summer. This will make your deck more comfortable to use in the hot weather months.
If you want some added shade to your deck, incorporate your backyard into the design. Build your structure around any large trees to provide shade without having to build any other structures. This also keeps your home's carbon footprint to a minimum. Incorporating the natural features of your backyard can also give your deck a one of a kind design.
Once the deck is built, continue to be eco friendly by choosing the right décor. Deciding to update old deck furniture rather than throwing it out keeps it out of a landfill and gives your deck a unique design style. Another way to use environmentally friendly design is to use reclaimed wood and spend some afternoons creating your own deck furniture. There is also a variety of design lines that exclusively use recycled materials to create deck and patio décor.
Lights are another important factor of deck décor. There are lots of outdoor solar powered lights that can fit a large range of deck design styles. Not only does this make lighting your deck easier without the hassle of the extra electrical work that come with wiring, but it also reduces cost and carbon impact of other deck light options.
Don't be afraid to decorate your eco friendly deck with plants either. Green decks are particularly popular in cities where their outdoor spaces are limited to rooftop decks. This eco friendly idea will work just as well in your suburban backyard. The most important point is to find plants that will do well in your environment and climate.
Eco Friendly Deck Maintenance
After you've gone through all the hard work of designing and building your deck with environmental consciousness, you don't want to ruin it by cleaning your deck with heavy chemicals that can harm the surrounding environment.
One of the most common ways that homeowners decide to clean their decks is to use a power washer. If you want your cleaning process to be completely eco friendly, this may not be the solution for you. While a power washer expedites the deck cleaning process, it can have effects on the environment.
For an eco friendly solution, oxygen bleach is a common and safe way to make your deck look like new. Unlike chlorine bleach, it doesn't contain harsh chemicals that are common in deck cleaners. It's usually sold in a powder form and can be mixed with water to create an environmentally safe cleaner that won't harm you or your surround plants. Instead of a power washer, you scrub this mixture into your deck so the oxygen can permeate the dry wood and break up any building algae or mildew.
Eco friendly deck designs are a popular way to reduce you and your family's carbon footprint while still enjoying a dynamic home design. Whether it's a first floor patio or a second floor deck, remember to use economically responsible materials and keep the footprint small. A smaller footprint calls for a clever design and unique pieces to maximize the space in your eco friendly deck design.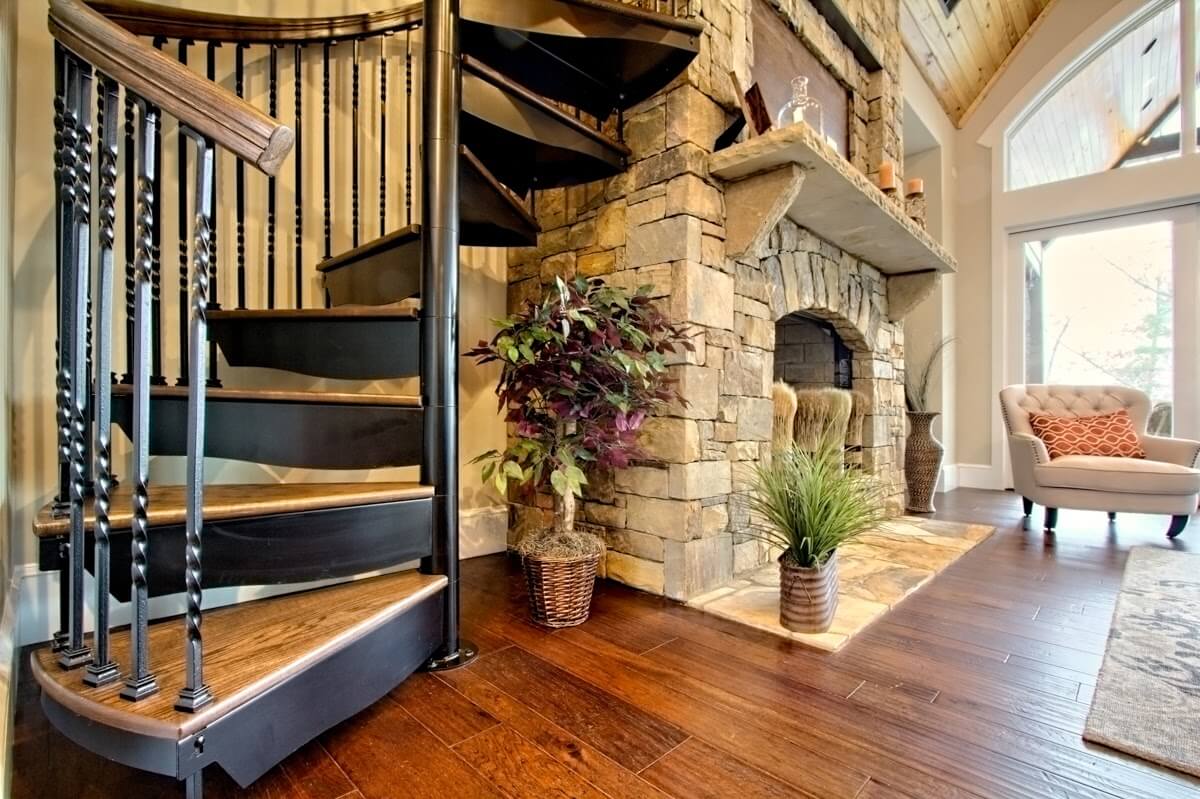 Why Salter
Ready to experience the best in Spiral Stairs?
Get started with a free, no-hassle consultation.
Same Day Pricing

Expert Design & Sizing Advice

Custom Design Options Tailored to your Budget

Estimated Product Lead Times
Get started with a free, no-hassle consultation.