Roof Deck Designs & Decor Inspiration
Roof Deck Designs & Decor Inspiration
The most common place to find a rooftop deck is in an urban apartment building where space is at a premium. City decks are often found on the tops of buildings as square footage is at a premium. By putting the deck on the roof, they create a smaller footprint for the building. This outdoor space gives the residents a chance to enjoy nice weather while still living an urban lifestyle. Suburban homes don't have to miss out on this trend. Just because you have the room for a traditional deck or patio doesn't mean that you have to miss out on this trendy home design. While you may not want a deck on the roof of your traditional home, there are other places that would be the perfect fit. Your garage is a great place to consider installing a rooftop deck. You won't have to sacrifice your traditional roof of your home and you have a nicely sized platform to build on top of. Other options include a pool house, shed, or guest house. All of these are usually found in the backyard which makes them perfect for an outdoor entertaining space.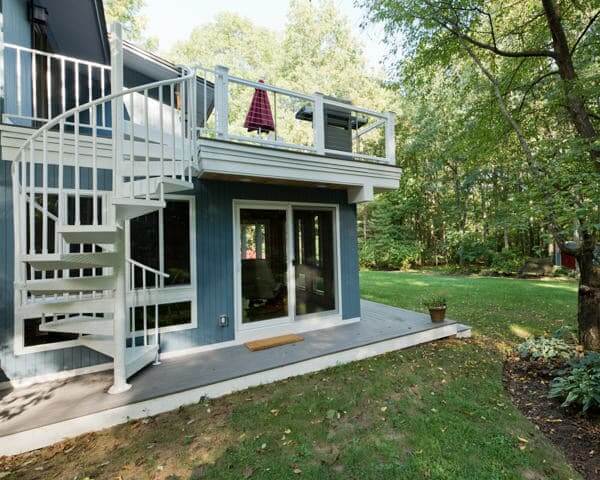 Deck stairs matter to your rooftop deck just as much as a traditional second floor deck. Typically, a rooftop deck isn't found in an area that allows for a traditional staircase. Ladders would be an obvious option as they take up virtually no room. However, it may not be the most practical as it will be a heavily traveled mans of access and used by a wide range of guests. Spiral stairs are a great option, as they have a very small footprint and provide the stability of a full stair. It is a great fit for the modern aesthetic that is commonly found with rooftop decks.
City Deck Lounge Areas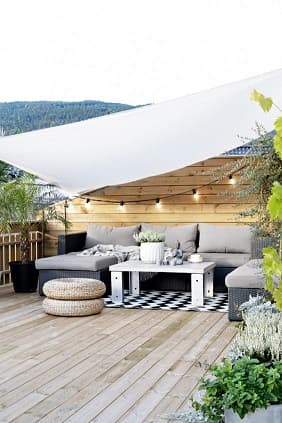 Whether you're in the city or the suburbs, an outdoor lounge area is common among rooftop deck ideas. By converting your rooftop deck into an outdoor living room , you're gaining an outdoor entertaining space that you commonly wouldn't find in the city. Comfortable seating comes in the forms of wrap around and storage benches. For extra seating that can easily be moved around, overstuffed cushions are a casual seating option. They can be added on top of the benches for extra comfort, as well. If poor weather hits your deck, you can always store your cushions in a storage bench! By keeping your seating off to the sides of your deck, you are able to keep the middle open for different uses. Outdoor coffee tables are a great piece to gather around when entertaining. If you want to really tie the room together, outdoor rugs accent any décor theme you've chosen.
You don't have to sacrifice any full size deck features just because it's a rooftop design. Where more decks would have built in features, you can utilize modified designs that are smaller and mobile. Table top fire pits can create an interesting focal point. They come in lots of different designs and materials, ensuring you can find one that fits your deck décor. They are the perfect centerpiece to any outdoor event and can easily be cleaned and moved when not in use. Water features can also be utilized. Small garden fountains are a great way to add both elegance and tranquility to your city deck.
With urban settings come buildings in close quarters. However, neighbors in the suburbs seem to be getting closer and closer over time as well. There are plenty of privacy screen options to fit your desired design aesthetic. If your neighbors are level with your deck, a lattice fence is a popular design. They can be combined with climbing plants to create more green space. It's common in urban areas for neighbors to be above you as well as next to you. Overhanging trellises can provide coverage from above. Pagodas with draped curtains give a resort feel to your deck as well as giving you privacy from any neighbors above you.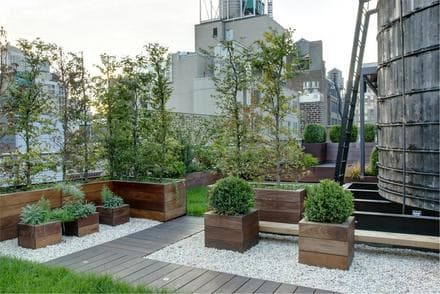 City Deck Rooftop Gardens
Urban residents are always searching for green space. While there are many parks in major cities, some want their own patch of grass or a personal garden. This means that rooftop gardens are popular fixtures in urban settings. This is essentially a backyard stand in for those who live in city apartments. The idea of putting the deck above the building rather than behind it applies to the garden. There are a few ways to get your desired green space. If you want to keep your floor space open, vertical gardens are the perfect way to channel your green thumb! Living walls are a trendy option for both indoor and outdoor spaces. Rather than planning the climbing plants at the bottom of a wall and allowing them to grow up, you are planting them into the wall. If don't want the expense or upkeep of a living wall, you can always stagger your planters into a staircase shape. This allows you to have more floor space by, once again, build vertically. If you want to take your green space to an extreme, you can install a green roof. These deck roof ideas include anything from grass to a flower bed across your rooftop deck.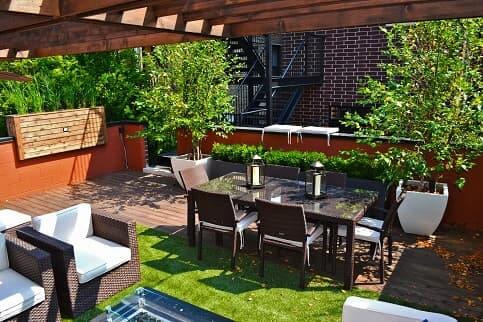 City Deck Outdoor Dining Rooms
When the weather is nice, having dinner outdoors is a great way to spend time with friends and family. This makes outdoor dining rooms a natural option for rooftop decks. The key is to create a full room, much like an outdoor living room. This means having a full furniture set outside with a created ambience. To create a more polish rooftop floor, you can use roof pavers. They create a finished look rather than poured concrete. When it comes to furniture, find the largest outdoor dining table that can comfortably fit in your space. This will fill the area, making it feel like a true dining room. The chair should be comfortable. If you can't find chairs that fit your design dreams, spray paint and DIY cushions can do wonders. You can make your outdoor furniture as unique to you as you would like. To finish the space, short hedges lining the edge of your deck give a polished look. A more modern deck may have a glass wall instead. Café lights strung across the top of extended banisters add to the ambiance of your rooftop getaway. If you have the space, take advantage of it. Use zoning to your advantage and create a complete cooking and dining experience right there on your rooftop. By incorporating an outdoor food prep and storage area next to your grill, you are able to keep the full party outdoors. You won't have to continually leave your guests to go check on food.
City Deck Extravagant Designs
When you're living in the city, you want your own getaway. Some homeowners utilize their rooftop deck as their personal resort. This design can include a rooftop pool and maybe a small bar in an open corner. This will be more involved than simply having an outdoor living room or dining room. This for bigger rooftop decks, as you will need a deck around your pool. Rooftop pools are often long and narrow, fitting along the side of the deck. Not only do you have a relaxing space, but you can enjoy your view at the same time. Filling the adjacent deck with chaise lounges gives you the space to relax in the sun. If you want to really create a resort on your deck, utilize different deck decorating ideas to create the setting of a tropical getaway. Tiki torches and brightly colored cushions are the perfect way to bring some island fun to your rooftop.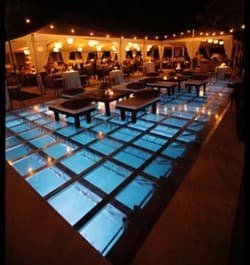 Another extreme way to use your rooftop deck is to have a pool that's highlighted during the colder months! By getting a solid glass pool cover, you can use the square footage that is used by your pool. This gives you the best of both worlds. You can use your pool during the summer months, but still have full use of your entire deck during the fall and winter. They are perfectly safe and stable enough to hold your outdoor dining table and guest.
Don't feel like just because you live in the city that you have to give up a beautiful outdoor space! Not only are rooftop decks a clever way to incorporate these areas, but they're also very trendy in the urban landscape. As the buildings get higher, so does your outdoor space. You can decorate the space to fit your lifestyle and goals. Whether you plan to incorporate these designs in your city apartment or a suburban home, you'll have a unique outdoor space for relaxing and entertaining!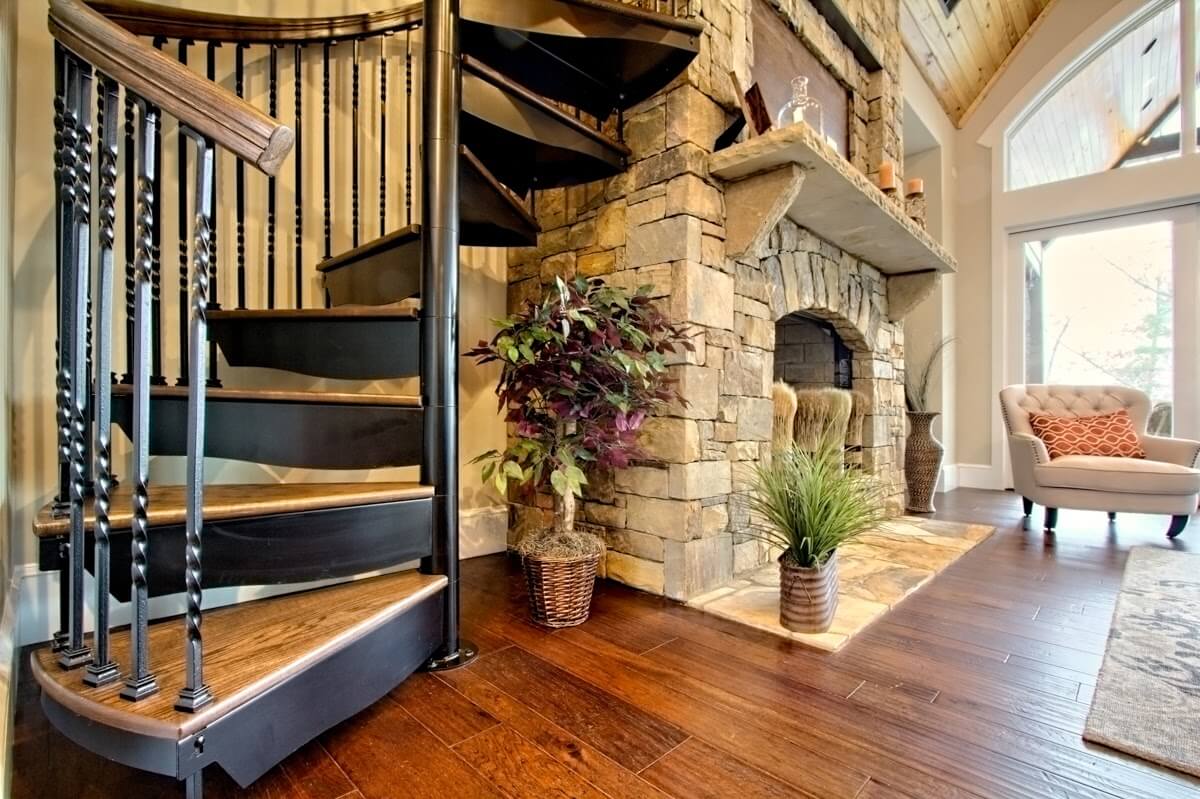 Why Salter
Ready to experience the best in Spiral Stairs?
Get started with a free, no-hassle consultation.
Same Day Pricing

Expert Design & Sizing Advice

Custom Design Options Tailored to your Budget

Estimated Product Lead Times
Get started with a free, no-hassle consultation.