Guest House Decor, Designs & Ideas
Guest House Decor, Designs & Ideas
When looking to create a unique backyard, don't limit yourself to just a deck or a pool. Backyard guest houses are sometimes forgotten as a major asset to any home. While they're associated with large extravagant homes with an excess of space, you can incorporate a backyard house in almost any space.
Think of it this way, if you have room for a medium sized storage shed in your backyard, you have room for a guest house! Guest houses aren't just an added luxury, they have a lot of benefits and can bring a new level to your home design.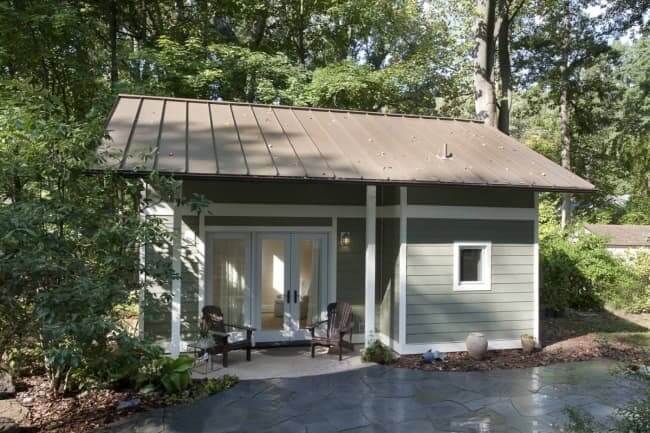 Benefits of Guest Houses
Guest houses have many benefits when it comes to what they can add to your home. The largest benefit is the added value to your home. You are extending the available living space in your home. This is a major value boost if you plan to sell your home later.
Depending upon how you design your backyard house, you can also rent it out for added income. If you plan to rent out the space, you will have to be sure to design the guest house meets building code and pass inspection. You can also choose to decide a completely separate home, or have the guest house share amenities and utilities with the main house.
This is also a popular option for homeowners that have adult children moving back from college or elderly family members that want to be close by. They are separate from the main house and have independence, but they are still nearby.
A major benefit to designing a guest house is that you can keep the extra spaces in your home that are typically renovated for apartments or guest rooms. For instance, the attic and basement are two major places for home renovation. If these spaces are already finished or you don't want to give up your storage space, you don't have to! By building a separate structure in your backyard, you are also able to avoid any of the interruptions that come with renovations on the main house.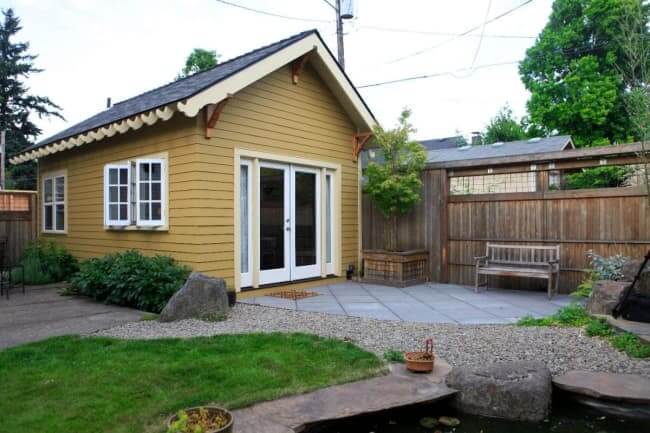 Guest House Structures
The actual structure of your guest house depends completely on your home style. You can have it match the main house or decide to build a unique backyard house that stands on its own. One thing to consider is whether you want to purchase a prefab building, hire a contractor, or have a complete DIY project. While it's going to be much smaller than your main house, it still may be better to leave this one to the pros if you're not an experience DIY-er.
One way to approach your guest house design is to look at popular tiny houses and find what works for you. The same design principles are in both tiny houses and guest houses, especially if someone plans to live in the space full time. These small structures have all of the comforts of a standard home in a compact package.
If you want to keep a traditional home design throughout the entire property, a shed like structure is the perfect solution. While the outside looks simple, you can design your tiny house interior however you want! This is a great option for those that have Homeowners Association restrictions about backyard structures.
Small cabins give your traditional shed design a different edge. Whether you go with an A Frame cabin or choose a small wood home, you can add some rustic charm to the backyard house.
If you want to really add a wow factor to your backyard, consider a treehouse guest house. While these backyard getaways are often associated with children, they've become more extravagant. This will surely give your home a unique edge compared to others.
Another thing to consider when you're planning your guest house design is how it will fit into your backyard. Landscaping and pathways can help to create the overall aesthetic of your backyard house. Well-lit pathways are important for any backyard, but particularly those including a guest house design.

Guest House Floor Plans
There are a few ways to approach your backyard guest house when it comes to the interior layout. A lot of these design decisions depend on how you plan to use your space.
The first and most simple way to use the new guest house is simply as a guest bedroom. This single bedroom is exactly what you'd find in the main house, just separated and in its own space. It would share amenities with the main house, so this is best if you plan to use it for friends or family rather than renting out the space.
From this single bedroom design you can decide to add different elements as you want. Some homeowners may want to add a private bathroom in their guest house. This will obviously take a little more time to construct. You will need dig and lay new pipes for your backyard house. The same will be necessary if you plan to incorporate a kitchen and rent out the space.
One popular way to fit all of these amenities into one tiny house interior is to use lofts. By incorporating a loft into your guest house design you can free up space on the ground floor for things like a bathroom or kitchen. These lofts are usually used as the bedroom leaving the space below open for communal areas.
If you decide to design a bedroom loft, you will need a safe and stable way to reach it. This is very important if you plan to rent out the space or older family members plan to move in. A traditional straight stair would not only take up a large amount of space, but it may also make the guest house's footprint larger. The large rectangular frame doesn't have much flexibility in terms of size and shape.
Traditional stairs may seem like the only alternative to a loft ladder. Normally chosen for their very small frame, loft ladders can be unstable and difficult to use for some. They don't feature handrails or full steps. The happy medium to both of these designs is a spiral staircase.
Spiral stairs are an ideal choice for those looking for loft stair designs. They have a very small footprint that won't extend out past a small circle in the corner of your backyard house. Salter Spiral Stair provides three interior product lines that can be customized to fit your needs. Material choices and designs for everything from the individual steps to handrail options.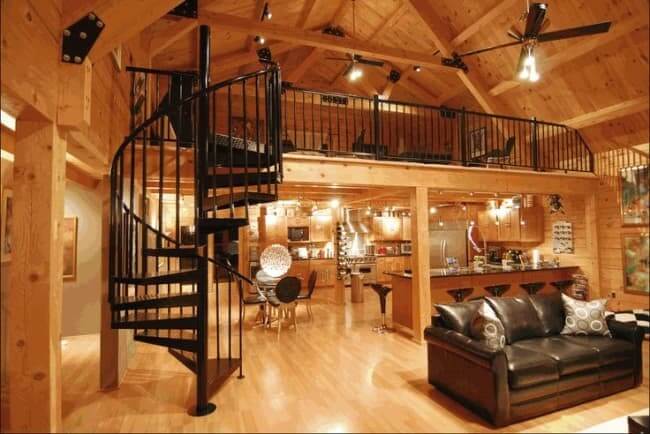 Guest House Interiors
When you're decorating your main house's interior, you want it to reflect your home's personality. This can be done through wall colors, different textures in the space, and décor accents. Your guest house, not matter how tiny, has the same potential.
You can choose to match your home's design aesthetic, or take advantage of a new and separate space. Don't feel like you are tied to the interior design style that you've used in your main house when it comes to the guest house design. Play around with different styles and aesthetics until you find the perfect match for your backyard house. We've outlined some of the most popular home interior styles to jump start your design process!
Rustic
A rustic tiny house interior is the perfect match for those looking to create a cozy getaway right in their backyard. If you want to build a cabin in your backyard and continue the woodsy retreat look and feel throughout the entire space, you can use this design style that's packed with natural beauty.
The most popular materials used in this design style are wood and smaller metal accents. While it may seem like metal takes a turn into the industrial, it really highlights the natural tones and beauty of wood. Walls can feature wood paneling that's stained to bring out rich wood tones.
Once you've designed the rustic frame for your tiny house interior, the right furniture and accent choices can help tie the entire space together. Leather couches and armchairs are a great choice for this design style. Finish out the space with reclaimed wood and repurposed items. The timeworn wood is perfect for exposed beams and tables in the guest house. You can pair them with old metal lamps and table legs for an updated rustic look and feel.
Modern
This chic home design style is a great choice for those homeowners looking for a luxurious space for their guests. A modern design style takes a lot of inspiration from minimalist designs and allows for a clean and bright aesthetic throughout the space. This helps your tiny house feel larger and more open.
When it comes to a color pallet, think neutral and bright. If white walls seem a little intimidating, choose slightly softer whites. Pair these clean colors with streamlined designs. Think combining smooth curves and geometric shapes to create a unique contrast without overwhelming the space.
Avoid heavy looking furniture to keep the guest house feeling light and airy. Acrylic tables and light color seating are commonly found in modern homes. You can choose modern couches and chairs that also have raised legs. This helps the room to feel even large with the illusion of open spaces.
Traditional
Traditional guest houses are more likely to match your current home design. It has a major focus on comfort and timeless designs. By using a traditional aesthetic in your guest house, your guests or tenants are more likely to feel at ease and comfortable in the space.
Traditional walls colors are calm neutrals. Sand color walls are the perfect base for almost any design you want to use in your guest house. For a 2017 update, consider using the up and coming mushroom color for your walls. It's warmer than a standard grey, but is cooler than beige. It's the perfect in between color for your traditional guest house design.
Don't overwhelm your classic space with ornate details. Simplicity is the key to keeping your traditional space relaxing and comforting. Simple lines in your furniture can be enhanced with rich wood tones of armchairs and side tables.
Guest houses have so much potential in every aspect of their design. Whether you plan to rent out the space or simply keep it as a place for friends and family, you find a lot of value in these small backyard homes. If a multi floor tiny house is the right design for your backyard, call one of our consultative designers today to start your spiral stair design.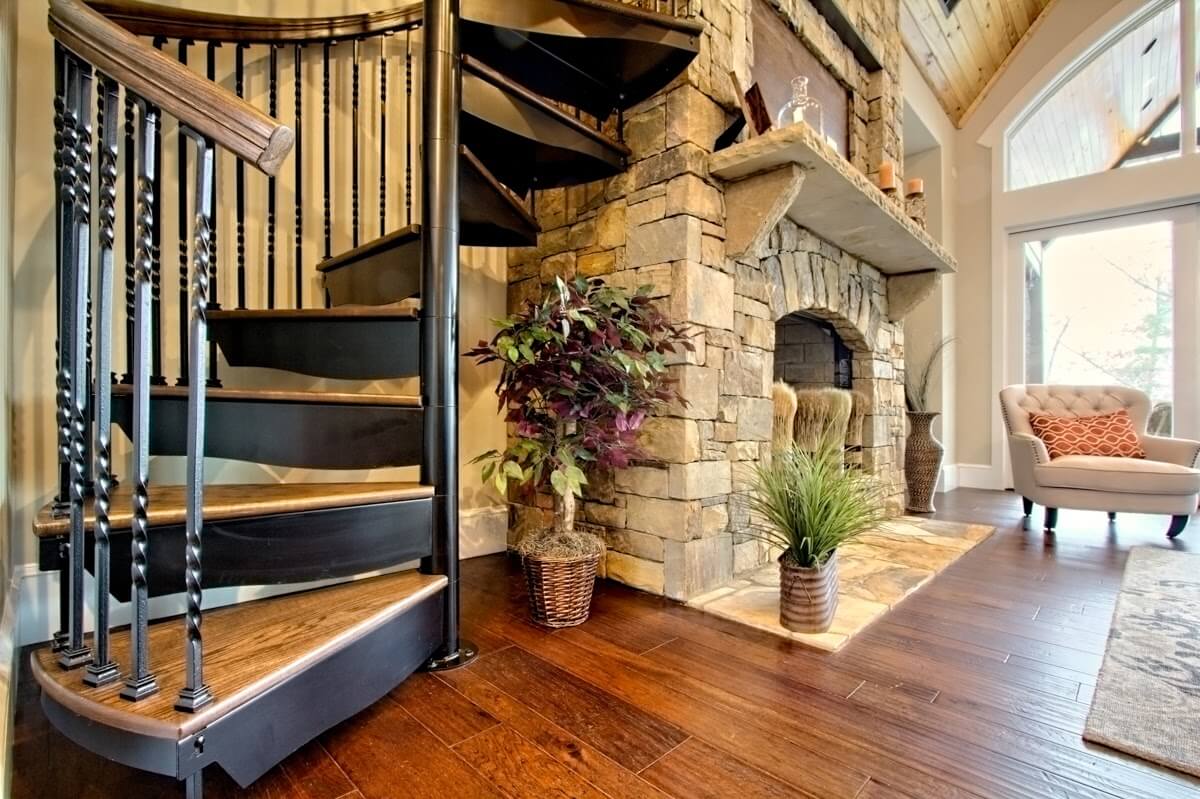 Why Salter
Ready to experience the best in Spiral Stairs?
Get started with a free, no-hassle consultation.
Same Day Pricing

Expert Design & Sizing Advice

Custom Design Options Tailored to your Budget

Estimated Product Lead Times
Get started with a free, no-hassle consultation.