Modern Home Decor To Maximize Space
Modern Home Decor To Maximize Space
When deciding on design ideas for your small home, you always want to maximize your space and help it to not feel cramped. This ideal home design match with modern aesthetics doesn't have to be complicated or intimidating. Many people see modern interior design ideas as expensive and unapproachable. However, when used in the right way, you can design your small home to be modern and inviting.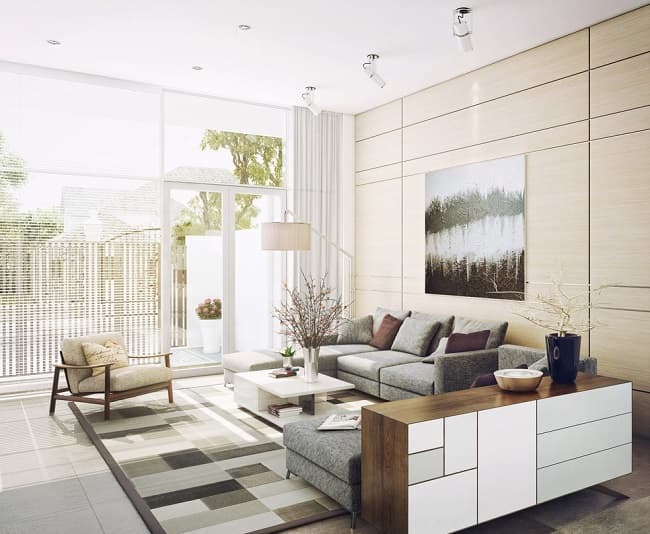 Modern Home Design
There are a few design elements that you will find in every modern home, big or small. Simplicity is the driving characteristic in any modern design. Much like minimalist home design, the function shouldn't be interrupted ornate designs, but celebrated with a clean design style. When it comes to the floor plans themselves, the home should be kept open to maximize the flow of light and air. This means lots of open archways connecting rooms and open floor plans. You also want to incorporate the maximum amount of natural light into your home. It will make your home feel larger, even if it is on the smaller side.
A lot of modern homes leave large windows and glass doors uncovered so sunlight can fill the space. They can feature full floor to ceiling windows on the same walls as sliding glass doors. By keeping it completely open, you can extend your home and blur the separation between your indoor and outdoor spaces. However, there are a few modern home design ideas when it comes to window treatments. Translucent curtains allow some light in while still giving you the privacy that you want. Interior shutters are another design option for added privacy. You can control the amount of light coming through and have the maximum amount coverage.
For a smaller home, lofts can help you to maximize your interior space. You can create square footage by creating a space above the ground level of your house. When building a loft, you will need to enclose the space somehow for safety purposes. Glass panels are a popular option for loft railing. The transparent design option allows the maximum amount of light to pass through. It also creates a more cohesive home design by not installing a solid barrier between your spaces.
There are several different loft stair designs that can fit into a modern home design. If you can, opt for a design other than a traditional stair. While this is the most common stair option for any home, it has a very large footprint that may not be ideal for a smaller home. Traditional stairs also typically have very heavy frames that interrupt the light and airy space that you want with modern homes.
A modified version of the traditional stair that could fit into modern home design ideas is a floating stair. This modern staircase design features traditional steps but an open frame underneath the staircase. It allows the maximum amount of light to pass through and doesn't take up a lot of room. There are a few drawbacks to a floating stair design. The open steps can be a safety hazard for some homeowners. The steps can also look bulky in an otherwise light space.
A spiral staircase can give you a small footprint and a light design. The best spiral stair design for a modern home is a Classic Steel spiral stair. This design can be powder coated a custom color to fit seamlessly into your existing home design. The clean lines of the spiral keep the stair to a small circle in the corner of your home. With customizable options, such as spindle design and the texture of your steps, you can create a piece that will fit into your modern home design dreams.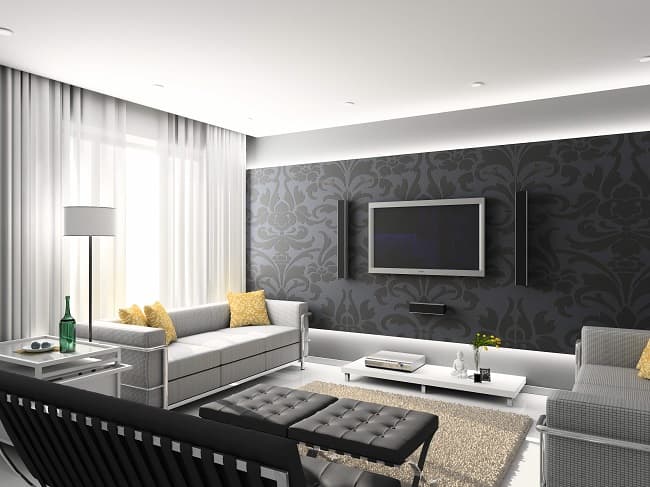 Modern Home Décor
When looking for modern furniture, you always want to find pieces that are functional with simple designs. Clean lines are a defining feature of modern design. This is particularly important in small spaces. You don't want overly ornate furniture to crowd your space and overwhelm your small home. This plays into the idea of geometric shapes in your furniture designs.
Whether it is a sleek straight line or smooth curve, your furniture should be kept simple. If you decide on a larger piece of furniture, such as a wraparound sectional, you may want to sacrifice another large design in the room. A common characteristic of modern home interior design is an open floor plan. You don't have to lose this if you're working with a small space. Keeping your room uncluttered with a focus on one or two larger items helps the room to feel bigger.
When it comes to materials used for your modern style furniture, you want to keep it simple just like the frames. Most homeowners choose to use pieces that are glass or stainless steel. Glass pieces allow the pass through of light and keep the room from feeling too heavy. Homeowners usually use glass coffee tables and side tables to keep the function of those surfaces, without impeding the open look of the room.
If you're looking to keep your home decorating on a budget, acrylic coffee tables are very popular. Acrylic is typically less expensive than glass and is lighter weight. It has the same look as a glass table, but is more manageable in both budget and weight.
Most textiles used in modern home interior design ideas are kept simple. You want to keep the room monochromatic with pops of color to keep the room as open as possible. Whites and neutrals are best for a small space using modern home design ideas.
Monochromatic patterns are a great way to add visual interest to your home design. By keeping the pattern in the same color with different textures, it adds subtle complexity to your interior design. You can incorporate pops of color into smaller pieces of décor, like throw pillows. These small pieces are just enough to add an extra dimension to your home design.
If you want to really make the most of a small space, multifunctional furniture is the perfect solution. These pieces are typical built with clean lines to keep the design simple and transition between uses easy. If you have a small space, they can help you to make the most of your rooms. The most popular designs are multifunctional couches and ottomans. A couch's flexibility doesn't have to be limited to a pull out bed. There are several designs that feature couches that split into different seating options and maximize your space when they're not in use. A multifunctional ottoman can either be a storage piece or a ton of seating combined into one.
Modular Stairs and Multifunctional Furniture
Multifunctional furniture like this comes in especially handy in modular homes such as tiny homes. That's because these homes that are either on-the-go or provide a minimum of space must still accommodate a plethora of uses, so anything occupying them must be easily convertible from one type of furniture into another. The furniture must be just as modular as the homes. This modular property applies to more fixed structures like stairs. "Modular" stairs allow a modular home to maximize use and provide a compliment to the usefulness of modular furniture. A spiral staircase is an excellent solution for modular stairs needs as a spiral stair easily fits in any modular home or tiny home. Both provide high use and space-saving benefits.
Mirrors are popular home décor accents for both modern design and small homes. One of their biggest benefits is that they can reflect light back into your room to ensure that your space is completely filled with light. It adds a visual interest element to your walls without adding heavy and cluttering artwork. The different frames can give you variety in your design. If you like the look of a gallery wall, but you're worried that your wall will look cluttered and overwhelm your space, replace each piece of art or photo with a different mirror. For a simpler take on a wall full of mirrors, you can use an oversized mirror that is leaned against the wall. This can make your room feel bigger and can easily be customized to fit into your space with different DIY projects.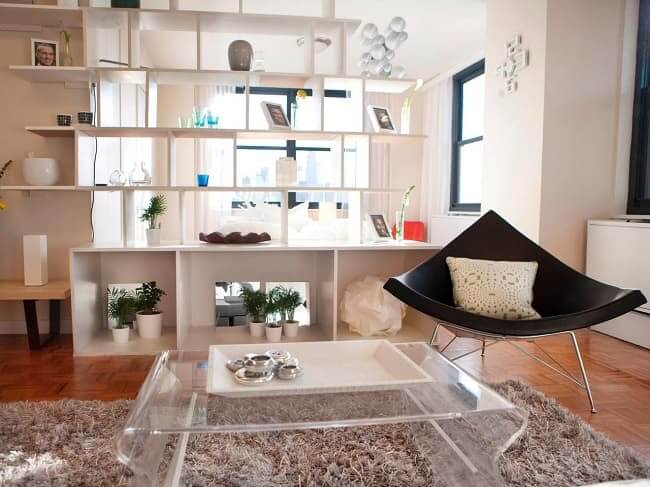 Modern Home Storage Solutions
Small homes are in constant need of storage space. Because you have a smaller amount of living space, you're trying to find places where you can store items without making your home look and feel cluttered and messy. Your storage options are very similar to those found in minimalist home designs. The simplicity of storage solutions in modern home design ideas helps them to fit seamlessly into your home's décor.
The most important part of your storage is the material used to create the space. Sleek materials such as a light finish wood or metal frames create a storage solution that goes well with minimalist interior design ideas. The clean lines they create mirrors the rest of the furniture in your space. Avoid visually heavy pieces just like you did with the home design and décor.
Open frame shelving is one of the most popular storage solutions for modern home design. The open design keeps the room open and not cut off from other areas by solid and blocky shelving units. You can create the look of built in shelving units by painting them a matching color to your walls. If you want to add some extra visual interest to your storage solutions, you can use shelving units that are in different geometric shapes, such as triangles and shapes with interior angles.
Storage furniture can help your small space stay clutter free. It keeps your lines sleek by keeping your storage items out of sight. This doesn't have to be an involved hiding place. It can be as simple as a side table that has a drawer for your remotes. To keep the design simple, keep your drawer hardware to a minimum. This isn't the design style for ornate drawer pulls. Many people prefer to have no hardware at all and have a small notch carved into the drawer instead. If you do want a handle, keep it limited to a simple metal bar that won't take over the design of the table or drawer set. This lack of hardware can be applied to any cabinets you may have in your space as well. Ottomans are another popular option for storage furniture designs. Not only does it give you an extra seat if you need it, but it also can open up to hide things that you may not want to display.
Modern home design can easily be implemented into a small home with the right modern home design ideas. The bright and open spaces that can be found in modern interior design are an ideal choice for a small home that is looking to maximize space. Modern home design doesn't have to be cold and daunting to the average homeowner. It can create a beautiful space that helps your home reach its fullest potential.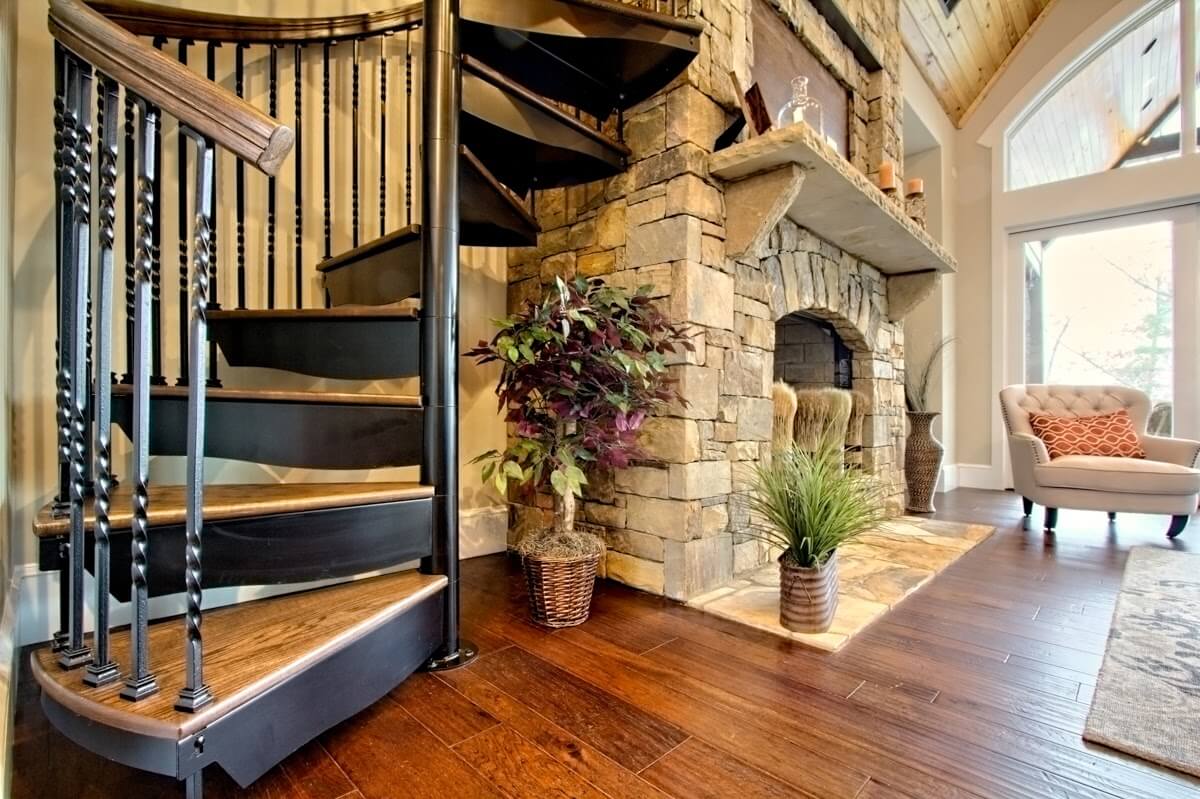 Why Salter
Ready to experience the best in Spiral Stairs?
Get started with a free, no-hassle consultation.
Same Day Pricing

Expert Design & Sizing Advice

Custom Design Options Tailored to your Budget

Estimated Product Lead Times
Get started with a free, no-hassle consultation.