Getting Your Deck Ready For Cold Weather
Getting Your Deck Ready For Cold Weather
These tips can help you prep your deck for winter and maintain it correctly. This ensures that your deck will be in tip top shape for next summer!
Start with the Design
When you're looking to create a deck design that will last throughout all of the seasons, it really start with the design choices you make at the beginning. From material choices to design features, there are things you can implement at create a low maintenance deck.
Preventative maintenance is one of the best ways to make your deck's transition into colder weather a breeze. This will mainly come into play with your material choices. Durable materials will help your deck and all of its attached features to stand the test of time in your backyard.
There are three major materials for outdoor use that are made to last through the winter season: composite decking material, aluminum, and galvanized steel. While pressure treated lumber is a popular choice for deck structures, you'll run into problems trying to maintain it through harsh weather conditions. Low maintenance deck ideas are going to manifest themselves in the material choices.
Deck Structure Designs
Composite decking material is made from a mixture of wood particles and plastic. This makes a maintenance free material that gives off the appearance of wood. This is ideal for decks in climates that experience heavy snowfall in the winter.
Whether you choose composite decking material or the traditional pressure treated lumber, you should use galvanized steel hardware in the structure of your deck. Galvanized steel is weather proof and will not corrode over time. This ensures that your deck is structurally sound no matter what weather conditions it is exposed to.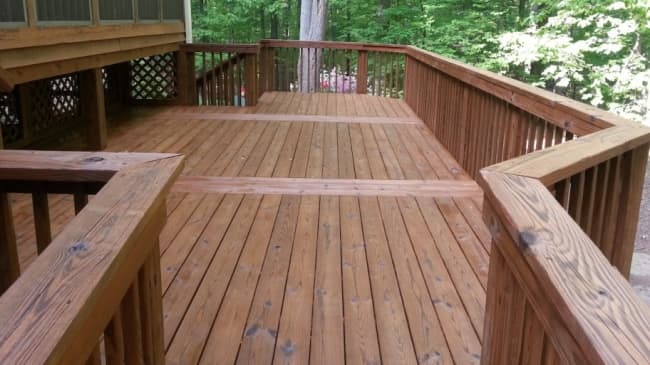 Prep Your Deck
No matter how many preventative measure you take in the design phase of your deck, you're going to have to do some prep work for your deck going into cold weather seasons. The perfect time to start prepping your deck for winter is mid to late fall. Get as much outdoor entertainment time as you can out of your space!
Clear the Deck
The first step to prepping your deck is always going to be clear it of any items that could be damaged or cause damage in the winter. You can leave metal furniture outdoors during winter, but it will take so extra precautions.
If you have aluminum furniture, it's most likely powder coated and simply needs a coat of automotive wax as another layer of protection.
Iron furniture can be left outdoors, but will rust. If you decide to leave them outdoors, you will need to remove rust at the end of the season and coat with the proper paint.
Plastic furniture should come indoors during the winter months. When it freezes, it will become very brittle.
You will also want to remove anything that may catch and hold water on the decks surface, such as planters or pots that have drainage holes in the bottom. With standing water comes the potential of rotting wood at the end of the season.
If you're looking for a place to store your deck furnishings during the winter, storage sheds are a great solution. They don't take away from other space in your home, such as the garage or basement, and allows you to keep all of your furniture together close to the deck.
One popular location for these sheds is underneath your deck. An under deck storage shed helps you to maximize the space in your backyard, while still providing a usable space.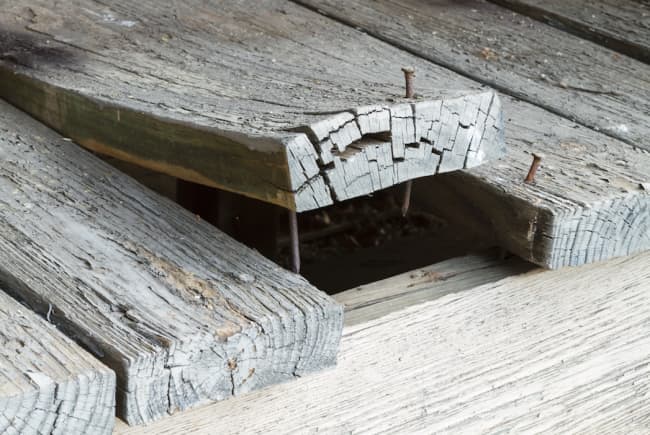 Restore the Deck
After you've cleared the deck, you're going to want to go through the three step deck restoration process. By restoring your deck at the beginning of winter, you're saving yourself some grief in the spring. Fixing any hazards now will keep the problems from getting worse during in the off season.
You fist want to clean your deck and remove any mold or mildew that may be living on the surface of your deck and in between the boards. While a power washer is probably the first tool that comes to mind, this can often do more harm than good. A scrub brush and deck cleaning solution will be so much better for your deck boards.
Once the deck is clean, you'll want to repair any damaged boards on your structure. This is particularly important if your area gets a lot of snowfall. The extra weight can cause further damage and compromise the structural integrity of your deck.
You will also want to replace any board that show signs of rotting. This will only get worse during the winter months.
The last step to this pre winter restoration process is going to be finishing your deck. The key is to reduce the chance of water absorption. This is what's going to break down the deck boards and compromise the structure.
Applying a sealant to your newly restored deck will help to keep excess moisture out of your deck boards. For extra protection, some homeowners simply secure a tarp over their deck. This is definitely one way to keep snow from sitting directly on your deck.
Be sure there are no places that water may leak through on the edges. Because it won't be exposed to the sun, it won't dry out and will increase the risk of mold and mildew in your deck boards.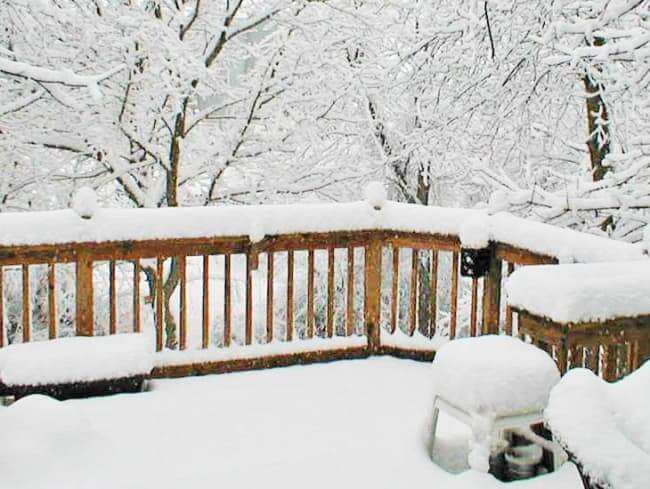 Maintaining in the Winter
There will be some work that needs to be done during the winter months. This will help to minimize the work at the end of the season when you're getting ready for a new outdoor entertaining season.
One of the biggest ways that homeowners damage their decks in the winter is by over shoveling their deck. If there's a particularly heavy snowfall, this poses no more of a higher risk than a regular amount of precipitation. Over shoveling doesn't benefit your deck any more, but rather gives more chances to damage your deck.
The first way to avoid damaging your deck while clearing snow is to use a broom rather than a shovel. If the precipitation is light enough, you can easily sweep the snow from your deck's surface. This will cut down on any extra scraping that may occur while you're shoveling.
If you decide that a shovel is the best tool to clear your deck, you'll want to choose a plastic shovel rather than a metal one. Plastic shovels are more likely have more give and not scrape against the wood. Metal shovels will scrape the wood open up the wood's pore to absorb more moisture.
You still have to take a few precautions when shoveling your deck. The first is to shovel parallel to your deck boards. This significantly lowers the chance that your shovel will catch the edge of your deck board and cause extra scratches and marks.
The last snow removal tip for your deck is to never try and chip ice off of your deck. Use salt or family friendly chemicals. Chipping at the ice will almost guarantee extra damage to your deck.
These tips are here to help with your deck being at its best going into winter! If a low maintenance spiral stair is the right addition for your deck, call one of our consultative designers today. They can help you find the right maintenance free stair option for your backyard.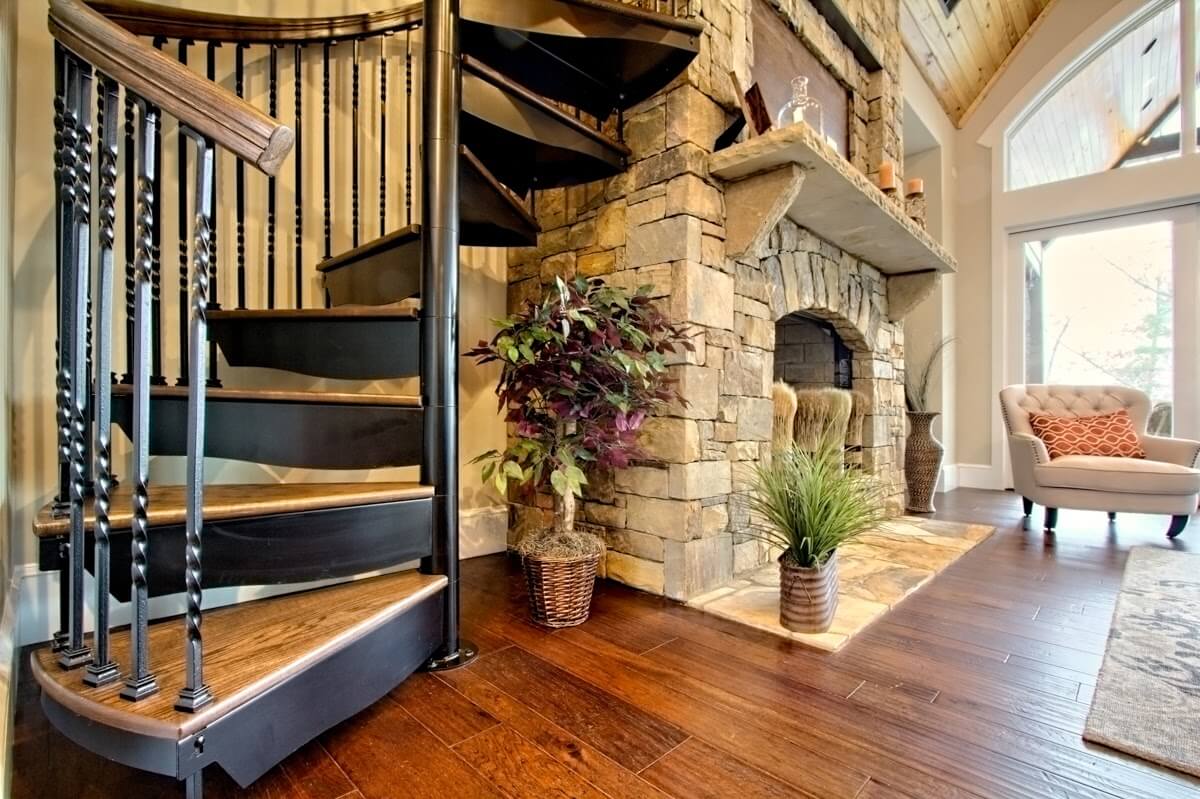 Why Salter
Ready to experience the best in Spiral Stairs?
Get started with a free, no-hassle consultation.
Same Day Pricing

Expert Design & Sizing Advice

Custom Design Options Tailored to your Budget

Estimated Product Lead Times
Get started with a free, no-hassle consultation.