Salter Spiral Stair Reviews on Reddit
Salter Spiral Stair Reviews on Reddit
For 35+ years, Salter Spiral Stair has enjoyed a reputation both locally and nationally as a leading manufacturer of stock and custom spiral staircases noted for outstanding design and fabrication. Our unmatched value and pride in producing the highest quality spiral staircases has seen the demand for our staircase kits increase over the years.
However, we provide more than just a physical product. Salter Spiral Stair provides a unique customer experience through our design process and interaction with our customer service agents. As the most consultative brand in the industry, our designers work directly with our customers every step of the way from the first phone call that starts your design process all the way through the final installation steps. The goal is to not only create a one of a kind stair that fits into their dream design, but also to help the customer to feel comfortable in all of their decisions. Throughout our many years of experience, we've established a buying process and customer experience that has proven to be successful. Our customer service department always encourages and welcomes feedback from our customers to improve our practices.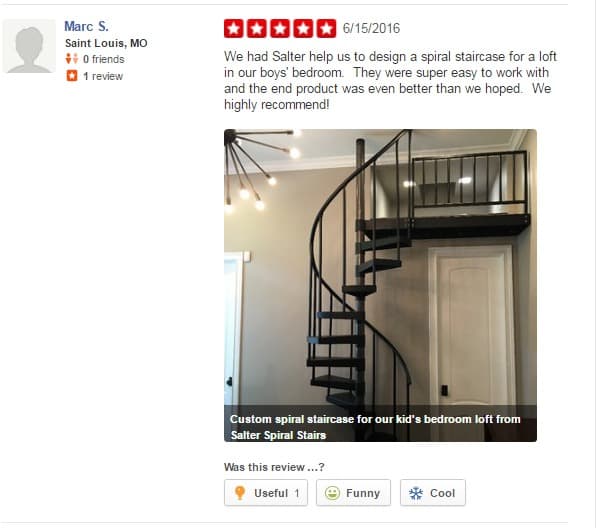 Salter Spiral Stair understands and supports the importance of online reviews when it comes to making purchasing decisions. We encourage our customers to post their own experiences online to help other potential buyers make the best decision. Salter Spiral Stair is happy to say that out of our 32 Yelp reviews, we have an average rating of 4.5 stars. 85% of these reviews are 4 or 5 stars and give accounts of great customer experiences that include everything from interacting with our designers to interacting with our customer service agents after the installation.
We are a rapidly growing business whose massive year over year growth has been made possible through the quality of our product, the expertise of our sales team, and the care we put into each interaction with our customers. Customers want this consultative experience and outcome with Salter. However, this large growth does result in small issues that sometimes results in a negative review. With the custom nature of our designs comes unique installations that may require more attention than others. We work hard to give the best support possible to every Salter Spiral customer.
Salter Spiral Stair encourages and welcomes all feedback from our customers, positive and constructive. We take the constructive reviews as learning experiences and use them to improve our practices. Our customer service agents work diligently to reach out to all customers to offer support after the customer journey is completed. If there was an issue that resulted in a negative review, they work to resolve any outstanding problems for the customer. Often times, these customers update their reviews after working with our customer service agents to reflect the more positive outcome of their experience with Salter Spiral Stair.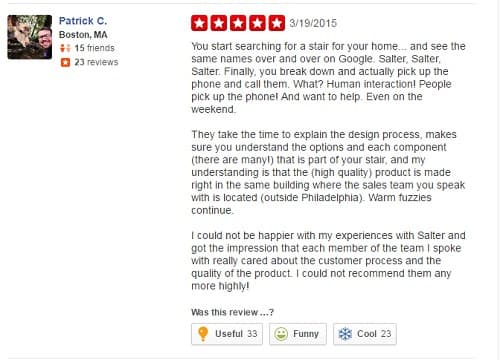 Reviews on Reddit
Recently, when you search for Salter Spiral Stair reviews, a Reddit page has come up that warns potential customers against doing business with us. This thread does not accurately reflect Salter as a brand or our business practices. The person who started this Reddit page has copied and pasted negative reviews from other sources, such as Yelp, without the original reviewer's permission. By keeping the thread limited to only negative reviews, it doesn't provide a full well rounded look into Salter Spiral Stair and how we work with our customers. Not only are majority of our Yelp reviews positive, but we also hold an average rating of 4.5 stars on Google reviews. 90% of the 33 Google reviews are a rating of 4 stars or above. Our customer service agents have reached out to all of the reviewers that have been quoted on the Reddit page at the time of their original posting to resolve any outstanding issues with their order. After reaching a resolution, many reviewers updated their posts on Yelp. However, because the original Reddit post cannot be edited, they are unable to update their reviews on Reddit. This is not only unfair to Salter Spiral Stair, but also to our customers who need to make an informed purchasing decision.3
Salter Spiral Stair encourages feedback from all of our customers and are always looking to improve as a company. We pride ourselves on providing a durable and beautiful designs and a consultative customer experience. While our online reviews speak for themselves, customers have also sat down to discuss their experiences with Salter Spiral Stair. The video below is one of our many happy customers. For more video testimonials, you can visit our Testimonials page.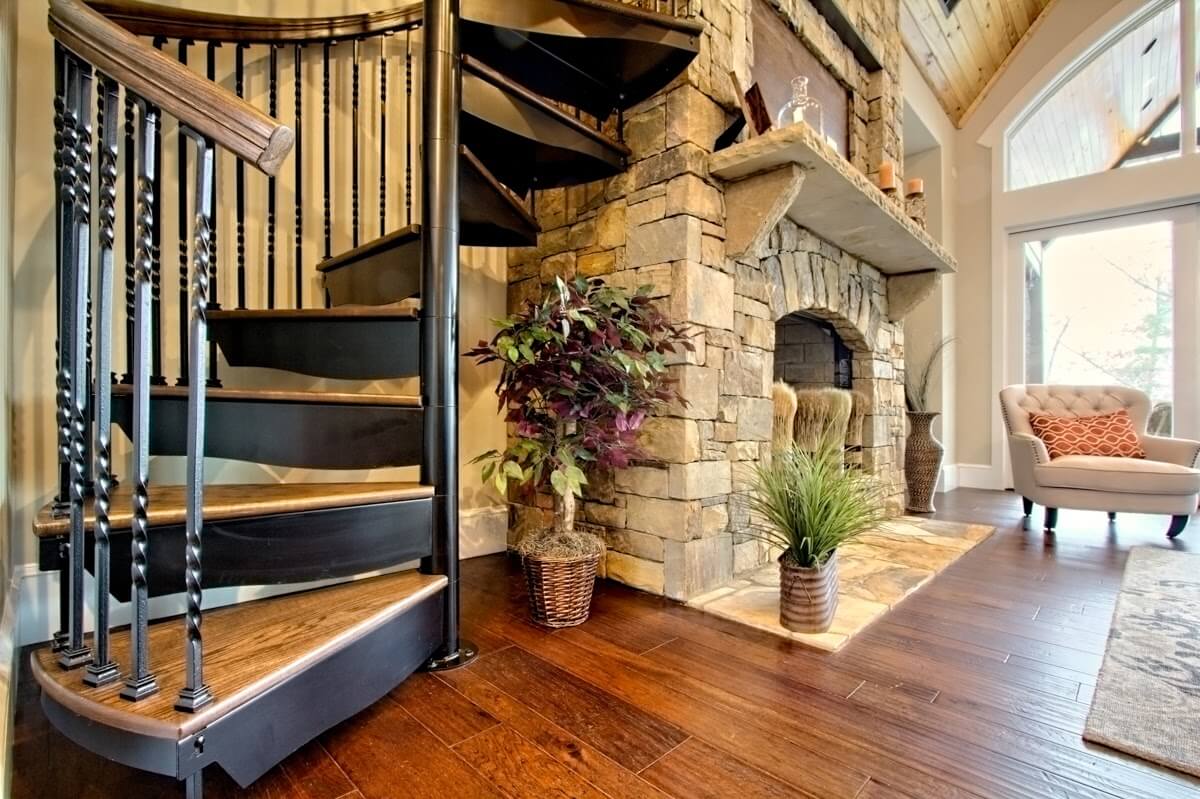 Why Salter
Ready to experience the best in Spiral Stairs?
Get started with a free, no-hassle consultation.
Same Day Pricing

Expert Design & Sizing Advice

Custom Design Options Tailored to your Budget

Estimated Product Lead Times
Get started with a free, no-hassle consultation.