Tiny House Storage Ideas & Designs
Tiny House Storage Ideas & Designs
When homeowners decide to move into a tiny house, they are often faced with the challenge of storing their belongings. Renting out a storage unit seems counter intuitive, as most people move to tiny homes to save money and live a more minimalist, clutter free lifestyle. This means homeowners must find or create the space in their small house.
There are a lot of considerations that go into tiny house storage ideas. Because the space is small to begin with, avoiding clutter is essential to living comfortably. You also want simple design to compliment the minimalist lifestyle that comes with a tiny home. These small home storage ideas will give you some inspiration when looking for organization!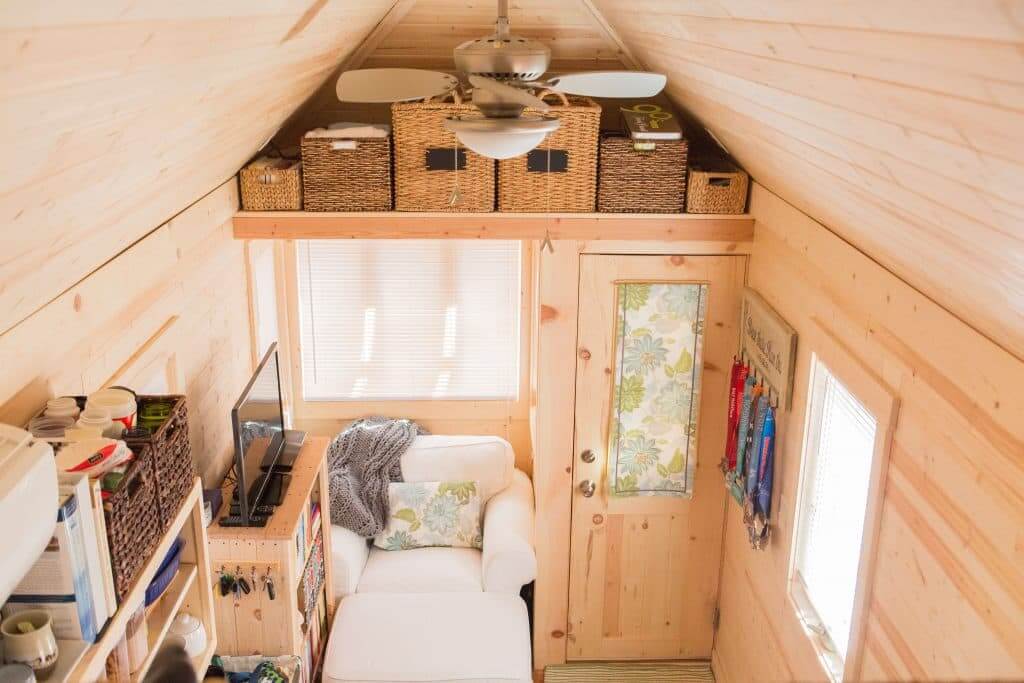 Built In Storage
Storage Lofts
When you live in a tiny house, you're always look for a way to add space without adding square footage. Lofts are common in tiny homes because they utilize previously unused space. While they are typically used for bedrooms, lofts are a great tiny house storage idea. The space above a door or a kitchen is the perfect place to add a storage loft that is out of the way. This keeps your floor space open, which helps the home to feel larger. It's also a great way to use space that you can't use as a bedroom due to steep sloped ceilings. This particular storage loft uses baskets to keep the space organized. By keeping the storage loft small, you're not sacrificing any minimalist style that you would otherwise be looking for in a tiny home.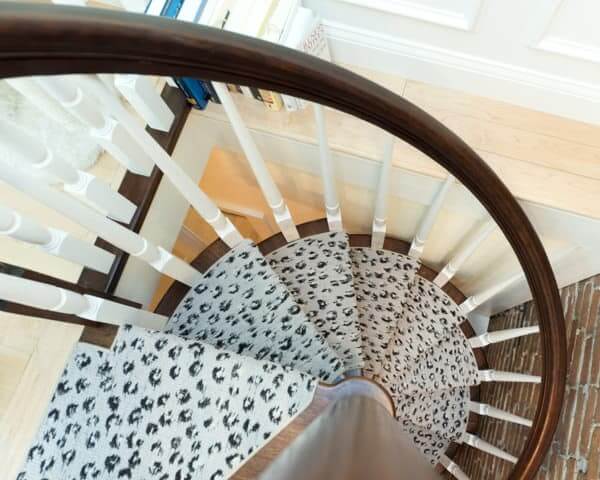 Ladders & Spiral Stairs
When you decide to incorporate a storage loft into your tiny house, you're going to have to find a way to access the space. Tiny house stairs are as important as any other piece of decor in your home. You want something that is safe and stable, but isn't going to take up all of the floor space that you just created. Ladders are the most common choice for tiny homes because they have the smallest footprint. They can be moved out of the way when they're not in use and are usually cheap. However, it's very difficult to carry things up and down a ladder. This defeats the purpose of installing a storage loft. A spiral stair gives you a great solution to this problem. Not only is your footprint kept to a small circle around your spiral stair, but you have full steps and a handrail. This gives you a safe and stable way to access your storage loft while carrying things up and down the stairs.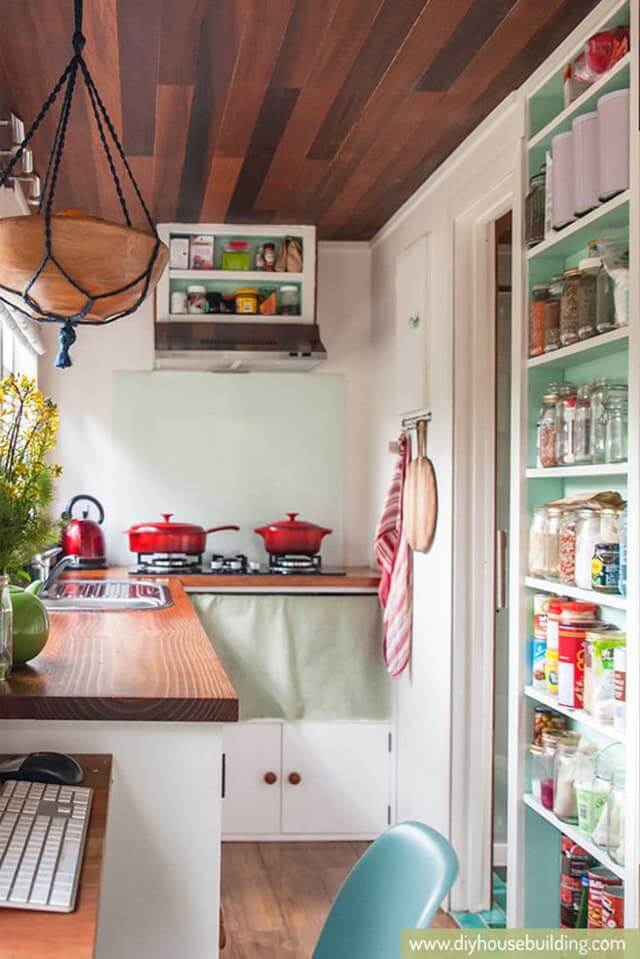 Built In Shelving
Built in shelving is the perfect way to create storage in your house. By incorporating the shelves into the walls of your home, you're taking the shelving units off of the floor and using previously unused space. The key to maximizing space using built in shelves is to keep them shallow. Your shelves should just be wide enough for one layer of cans or jars. This keeps it close to the wall. Many tiny homes use these shelves as a pantry in the kitchen. Because kitchens have the most extra appliances and usually take up the most space, shallow shelves help to minimize the footprint of an extra pantry.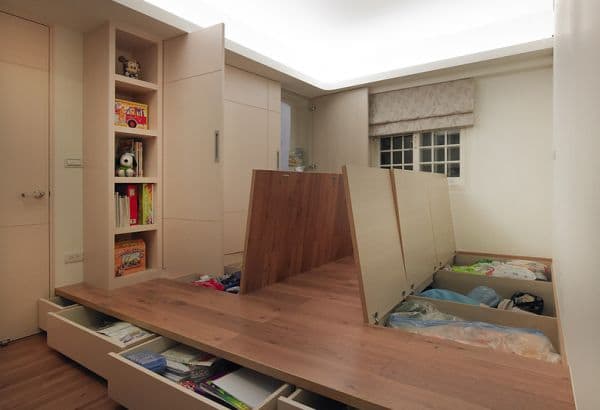 Floor Storage
If you want to keep your floors open, why not add storage underneath your floor? Trap door storage is a great way to keep your belongings that are in storage out of the way. These hidden compartments can hold anything you want to store! They can easily be built into your home by incorporating raised floors into your floor plan. If you don't want to raise the entire floor, create a platform in your home. For instance, if you raise a section of your floor, you can sink your bed into the platform and use the surrounding area as floor storage.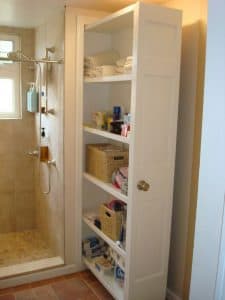 Slide Out Shelving
Part of owning a tiny house means finding space that's built into your home and repurposing it. When you start to look at your home's walls, there are plenty of spaces between studs that are open for extra storage. If you want to keep the solid wall look, you can install slide out shelving. While most tiny homes use this space for a pantry, you can incorporate this hidden storage into any room. The picture above shows shelving in a bathroom that's hidden in the nook behind the shower. Most alcoves are located around a piece of furniture, making your home fit together perfectly. The key to an efficient and organized tiny home is fitting everything together like puzzle pieces.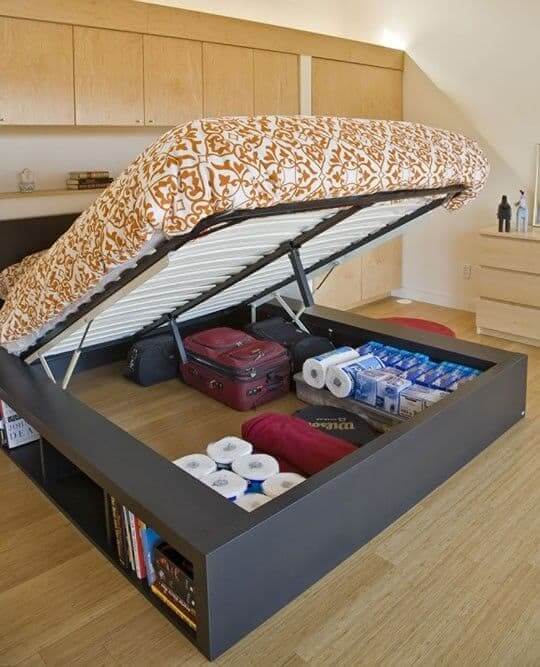 Storage Furniture
Storage Bed
When you think about it, a storage bed is the perfect piece of multifunctional furniture for a tiny house. If you're going to need a bed anyway, why not give it multiple uses? Under bed storage isn't a new concept, but there are new ways to incorporate it into your tiny house. The first way is to incorporate hydraulics into your bedframe. Create a bedframe that has hinges at the head of the bed. This allows you to raise your mattress and open up the space underneath. Another way to incorporate storage into your bedframe is to use drawers as the base. By using drawers as the bed frame, you're killing two birds with one stone. Not only are you creating a sturdy bedframe, but you're creating storage space in your tiny home.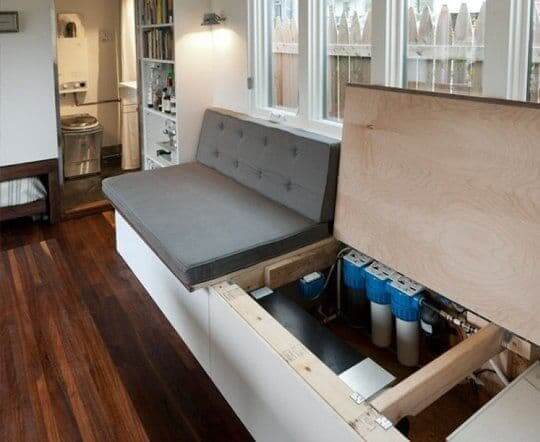 Storage Seating
The combination of storage and seating is a great way to save space in any home. Tiny homes take advantage of this furniture design by using built in seating that has a multifunctional purpose. Built in benches hold a few different options when it comes to added storage. The first is a classic toy bench design with a lift up seat. This is the most popular design as it provides the most storage of out the bench itself. While some choose to store extra blankets and pillows, tiny homes have other things they need to hide in a small space. The storage bench pictured above is the hiding place of a small water heater. Some choose to use the same slide out shelving idea and incorporate it into their bench design. These drawers are usually as long as the bench itself and pull out the endcap of the seat. If you want a more mobile storage seating option, ottomans are the perfect solution. The small pieces of furniture can be moved around to create space in a common area or provide seating somewhere else in the home. The cubes can be opened to create a storage container for anything you'd like.
Storage as Décor
One way to use storage without clutter is to incorporate it as part of your décor. This help you to create a beautiful space, while finding places for all of your belongings. If you have an interesting collection, don't hide it in the hidden storage options listed above. Take advantage of their unique nature to decorate your home! As previously mentioned, open floor space helps your tiny home to feel larger. Take full advantage of your wall space to create storage without a large footprint.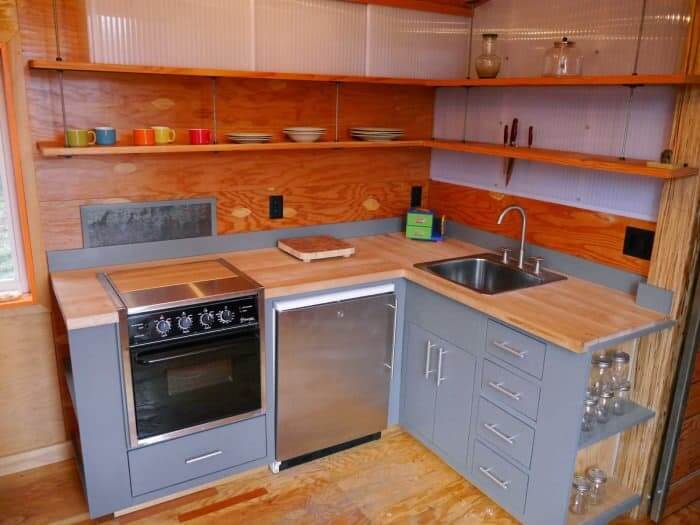 Floating Shelves
Shelving units are an obvious storage solution for any home, but when your floor space is at a premium your options may be limited. Bookshelves provide lots of space, but they tend to have a large footprint. Floating shelves are the perfect answer to this problem. By attaching the shelves directly to the wall, you are freeing up the floor space without losing any storage. The heights of each shelf are completely customizable, which gives you the ability to create a dynamic and interesting shelving unit that features different heights and shapes. Open shelving also helps your space to feel bigger. You're not closing the space in with cabinet doors or walls of a bookshelf. This new open storage space is the perfect place to create interesting home décor out of things you would usually store, such as dishes or cups.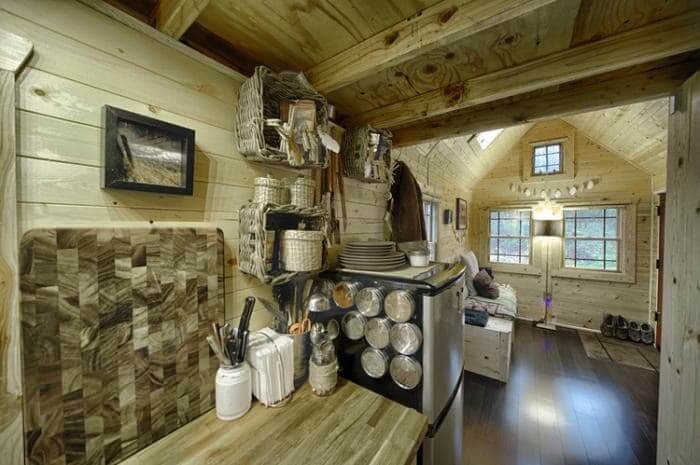 Baskets
Baskets are one of the most flexible tiny house storage ideas. They come in a wide range of styles and sizes that can complement any home design. You can keep your baskets open for easy access if you're storing things like blankets or pillows. If you decide you want a more hidden storage option for things like electronics, you can add a lid. This gives them the same function as a plastic storage bin, but in a more aesthetically pleasing design. The wide range of sizes means that they can fit wherever you need them in your home. They can fit in small nooks between furniture or be a larger accent piece to your home décor.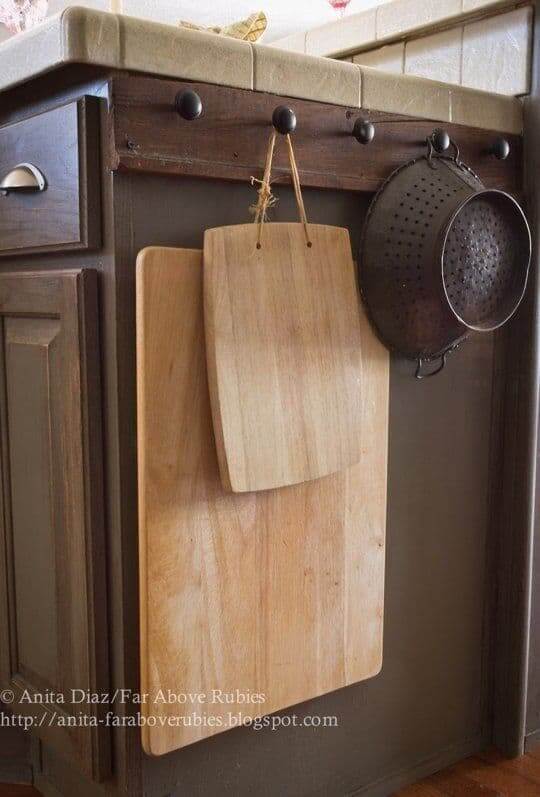 Hooks
The simplest tiny house storage idea is to incorporate hooks into your wall décor. They're small enough that can be installed anywhere in the home to provide extra storage without taking up floor space. The hooks can also replace furniture that would otherwise take up valuable floor space. An obvious use for the hooks is clothing storage. Hooks up against a wall can be used as a replacement for a full closet that would otherwise take up floor space. If you want to keep a more traditional clothing storage solution, you can still use hooks to organize your space. Smaller baskets can be hung for decorative storage solutions. Hooks can also be used in your kitchen to free up cabinet space. By hanging your pots and pans on the wall, you can create more space for pantry items. This will also give your tiny home an industrial touch that is similar to an urban apartment.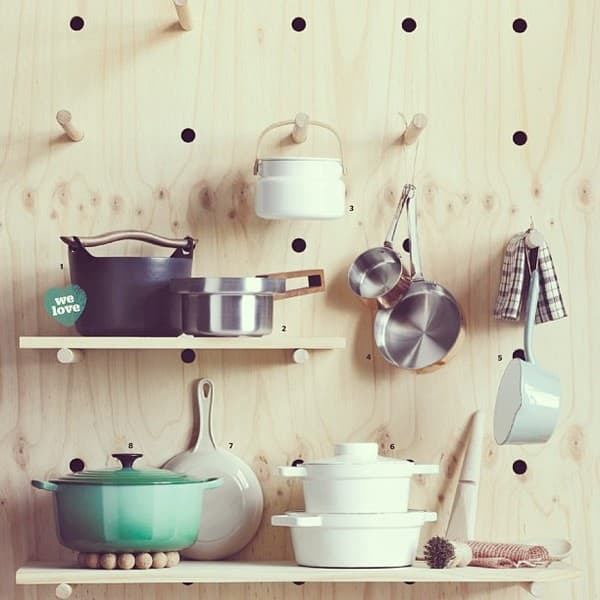 Peg Boards
One aesthetic that many owners of tiny home want to avoid is a shed or garage. Just because a tiny home is small, doesn't mean it should feel any like any less of a home. Because of this, many homeowners stay away from peg board walls. They are usually found in garages and are used for tools storage. However, peg board has different design styles and uses for any room in your home, tiny or not. You can incorporate peg board into your kitchen walls and use it to display pots and pans. The famous chef Julia Child was the one to popularize this design idea. For extra design, take another tip from Julia and outline your pots and pans on the wall. Not only does this add an interesting aspect to the otherwise boring wall, but it also tells you where each one fits! You don't have to keep the peg board plain white either. Paint the board to add a pop of color and brighten your home. You can then stencil each pan in a complimentary color. If you want peg board storage for larger items, you can make a large scale peg board as a DIY project. These larger pegs can support full shelves for even more storage.
Owning a tiny home doesn't have to mean stripping down all of your belongings! With clever storage solutions, all of your collections and necessary items can be comfortably stored in your tiny home without overwhelming your space. The design ideas range from hidden compartments to open shelving and can easily be molded to fit your tiny home design!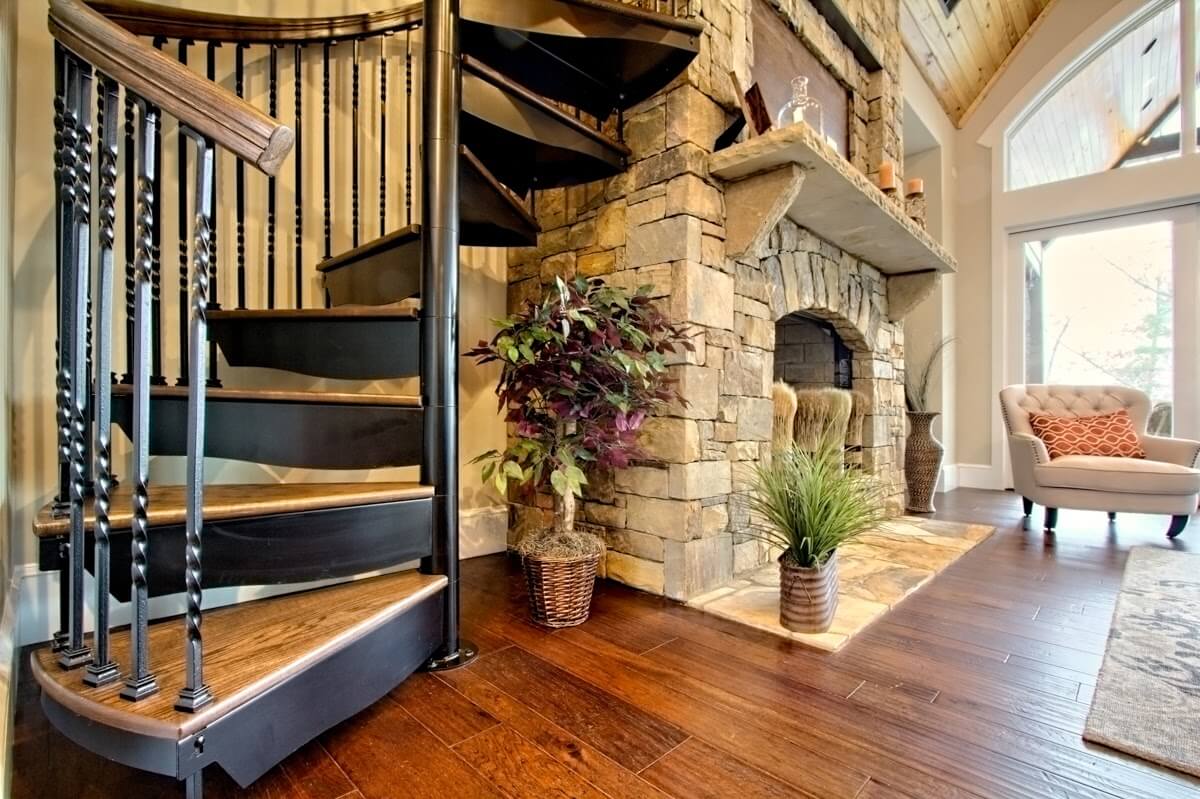 Why Salter
Ready to experience the best in Spiral Stairs?
Get started with a free, no-hassle consultation.
Same Day Pricing

Expert Design & Sizing Advice

Custom Design Options Tailored to your Budget

Estimated Product Lead Times
Get started with a free, no-hassle consultation.