Garage Bonus Room Ideas & Inspiration
Garage Bonus Room Ideas & Inspiration
Extra space is always a welcome discovery for homeowners. There are plenty of benefits to adding an extra room to your home. Whether you plan to use it as a guest room or a play room for younger kids, it can add value to your home. While some may want to build a completely new addition to their home, there are plenty of ways to find the space in the existing structure.
Garages are the perfect place for your new bonus room. You can finish the bonus room over your garage for a space with lots of flexibility. Bonus room ideas range from rec rooms for kids to garage apartments. Here's a step by step guide on how to finish the room above your garage.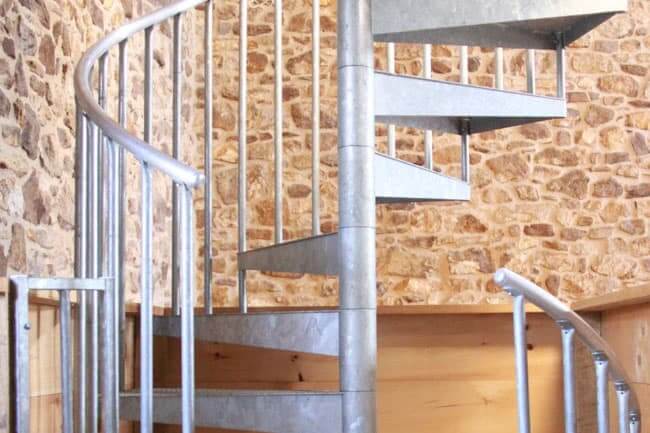 Budgeting & Cost
Budgeting and cost are the first question that any homeowner has when deciding to renovate an area of their home. The approximate cost of finishing the bonus room over your garage is approximately $35 per square foot. This is calculated from standard costs for all of the different finishing pieces, such as the insulation, flooring, and wiring.
A major factor when determining the cost of your renovation is going to the size of your bonus room. Because construction costs are estimated by square foot, the larger the room is, the more it will cost. It will also depend on what actually needs to be done in that space. You may need to add extra insulation or wiring, while other bonus rooms wouldn't need the same treatments.
The starting frame of your home can also help you determine the work that needs to be done. Some homeowners want to do a full remodel of their bonus room. This can include new windows and other structural changes. This will obviously add to the cost of your project.
The final two factors that will affect the cost of your renovation will be the materials used and who is doing the work. For almost every part of your renovation, there are several options for materials used. This can help you to find the right fit for your room and your budget.
There's a large DIY community online that can provide support if you plan on finishing your bonus room yourself. Depending upon the work that needs to be done, you can easily finish the space yourself. Simple things like drywall and installing carpet may take longer as a DIY-er, but can be done. However, if you plan to rewire your space or install new structural elements, like windows or changing the roofline, you should call a contractor.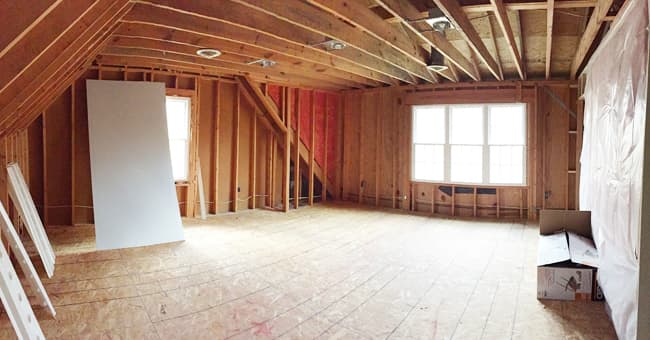 Finishing your Bonus Room Walls
The walls are always one of the most important parts of finishing any room. They create the frame that you can then build on top of for the rest of your bonus room's design. How you decide to finish the walls and the treatments you use will depend on how you want to use the room.
The first thing you will have to do is ensure that your space in properly insulated. Temperature control is a major part of finishing the bonus room over your garage. Because it can become very cold in the winter and very hot in the summer, you want proper insulation in your walls and ceiling to ensure that you won't be wasting money on heating and cooling the space. Spray foam insulation may be more expensive, but it will fill all of those extra nooks and crannies in your garage's walls.
After you've installed insulation in your walls' frames, you'll want to hang drywall as the base of any other wall treatments you may want to apply over it. This gives your bonus room a finished look and brings it into the same design style as your main home's interior.
There are several different finishing wall treatments you could use for your bonus room walls. Paint is obviously the most common finish for any wall. Using paints with a glossy finish reflects light and can make your bonus room look larger. For a more rustic look, you can use reclaimed wood to create a shiplap wall. This wood paneling adds a fun focal point in your bonus room design.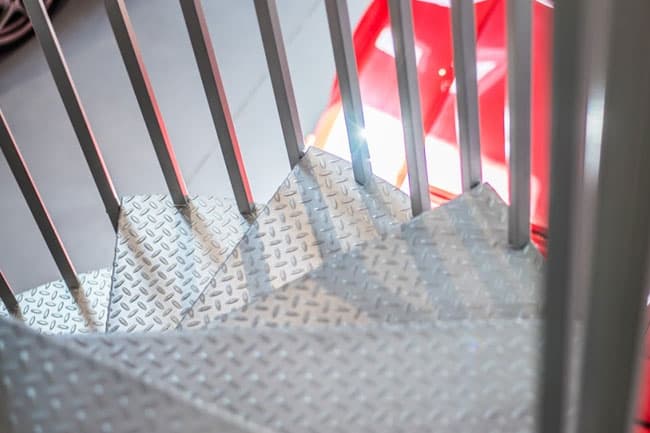 Finishing your Bonus Room Floors
After the walls, you can finish the basic frame by adding new flooring to the bonus room over your garage. Just like a garage apartment conversion, finishing the floors of your bonus room will take a little more than simply laying carpet.
Most garage lofts are basic frames that are not originally built for heavy foot traffic and regular use. The first thing you'll want to do is reinforce your floor joists. This helps it to stand up to the heavy foot traffic that it'll inherit with becoming a living space.
Once the floor joists are reinforced, you have two more considerations before laying the final layer of flooring. Just like the walls, insulation will need to be added to the floors. Not only will this help with the temperature control that was mentioned earlier, but it will has keep unwanted noise from the garage out of your bonus room.
If you want to add another layer of sound protection to your bonus room, you can finish your floors with carpeting. You will need to install subflooring underneath the carpet which will not only support the carpet itself, but also support the sound absorption that the carpet already provides. This soft flooring option is popular for playrooms and home theaters.
Hardwood flooring is always an option when finishing rooms in your home. This clean and classic look is also helpful if you want to avoid spills on the carpet in a children's playroom. It can easily be installed and easily cleaned.
Accessing your Bonus Room
Once you've gone through all of the costs and efforts to create a beautiful bonus room, you're going to want a safe and beautiful way to access your space. You've put a lot of thought into all of the design aspects of your new bonus room and the same considerations should be taken with your bonus room stairs.
When the space above your garage was used for storage, you probably didn't put much thought into how you accessed your space. Now that you will be frequently accessing the space you'll want a staircase that matches the design you've created.
Interior Access
If you plan to install your bonus room stairs inside your garage, you'll want to ensure that you don't take up a lot of space. You want to leave as much space available as possible in both parts of your garage. There are a few options when it comes to your interior stairs.
A ladder is one of the most common loft stair designs when homeowners choose to install a loft that won't frequently be used. It has a virtually nonexistent footprint and can be moved around as needed. There is also a large range of design styles and prices available.
Ladders aren't the best choice for bonus rooms that will be frequently accessed. They are typically unstable and the minimal frame can be hard for people to use. If you have pets or elderly family members, a ladder may not be the best choice for accessing your bonus room.
Traditional straight staircases are another common option. A traditional stair is typically a homeowner's first thought when it comes to staircases. They are definitely stable and have large wide steps that are easy for anyone to use.
As an interior option, a traditional staircase will take up a much larger footprint that you may be willing to give up in your garage. It's not uncommon for straight staircases to take up a full wall of space. This also leaves a large access point open in the bonus room above your garage.
Spiral staircases are the happy medium to these two designs. The spiral design keeps the large full steps of the staircase in a small footprint. This design takes up a small circle in the corner of your garage, leaving the maximum amount of space on both floors.
There are three main product lines of interior spiral stairs that also include a large range of customizable design choices. A Classic Steel spiral stair is known for its flexibility and ability to fit into an industrial space, as well as a traditional home design. The Forged Iron spiral stair brings Victorian elegance to your space and is recognized by the ornate details. Our last interior option, a Solid Wood spiral stair has the traditional style of an all wood design in the small footprint.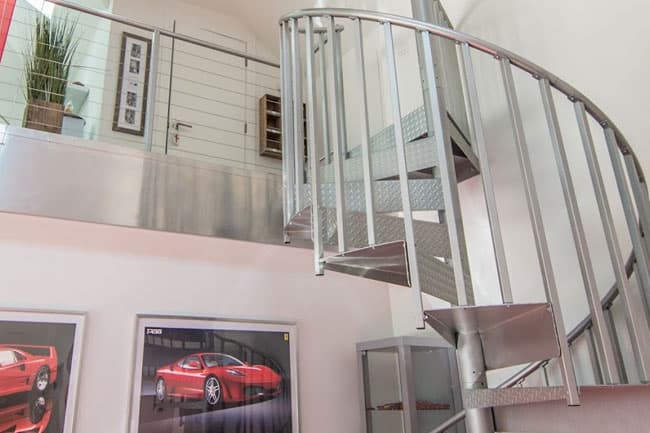 Exterior Entrances
You may choose to maximize your interior space on both floors by keeping your access to the bonus room over your garage outdoors. If this is the case, there are two major outdoor stair designs that can be used.
The first exterior stair is going to be a traditional stair. This all wood design is the same as an interior traditional stair with a few material changes. Rather than finishing your steps with a standard stain or carpet, you will instead use pressure treated lumber that is meant for outdoor use and sealants to protect the wood from weather conditions.
While your footprint may not be as big of an issue outdoors, your material choices will have a larger impact on the stair design. Like any wooden outdoor structure, you'll have to go through a restoration process every so often to ensure that your stairs are structurally sound. You can use metal materials in your stairs, but it will drastically increase the cost of your staircase.
There are spiral stair designs that are design to last outdoors while still giving you a beautiful design. If you have a tight space between your house and garage or want to keep as much green space open as possible, the small footprint is the perfect fit your outdoor entrance.
There are two outdoor spiral stair styles: an Aluminum Powder Coated spiral stair and a Galvanized Steel spiral stair. Both of these have unique features to create one of a kind designs.
The already rust resistant aluminum stair frame is powder coated to create another layer of protection between the frame and harsh weather conditions. While many customers choose to leave the stair in a standard white or black, the powder coating can come in custom colors to fit your design dreams.
Our Galvanized Steel spiral stair is a cost effective stair solution for homeowners want a durable staircase to reach their bonus room over the garage. Our carbon steel frame goes through a hot dipped galvanizing process to coat every part of the stair in a rust resistant finish. The end result is a beautiful metallic silver spiral stair that is going to last outdoors with no extra maintenance.
Utilities in your Bonus Room
Temperature control is a major concern when you're finishing the bonus room above your garage. These spaces are typically subject to extreme temperatures in either direction because of their lack of insulation and HVAC systems. Once you've installed the insulation during the construction stages, you can then look into adding your bonus room to your home's current HVAC system. Depending upon the size of your space and your climate, you may want to give your room its own thermostat. Check with an HVAC professional to ensure you're choosing the best option for your home design.
Electricity is another must when finishing the room above your garage. While your garage may already be on your current power grid, you will need additional wiring to cater to more lighting and electronics that you may put in your bonus room. The addition of wires and new outlets is a job that is better left for an electrician or contractor rather than a DIY project.
Get Started on your Bonus Room Today
Finishing the bonus room over your garage is the perfect way to add to your home's living space without having an expensive addition. Make the most of your new space by keeping impeding features to a minimum. If the small footprint of a spiral stair is the right way to access your second floor bonus room, call one of our consultative designers to start your project today!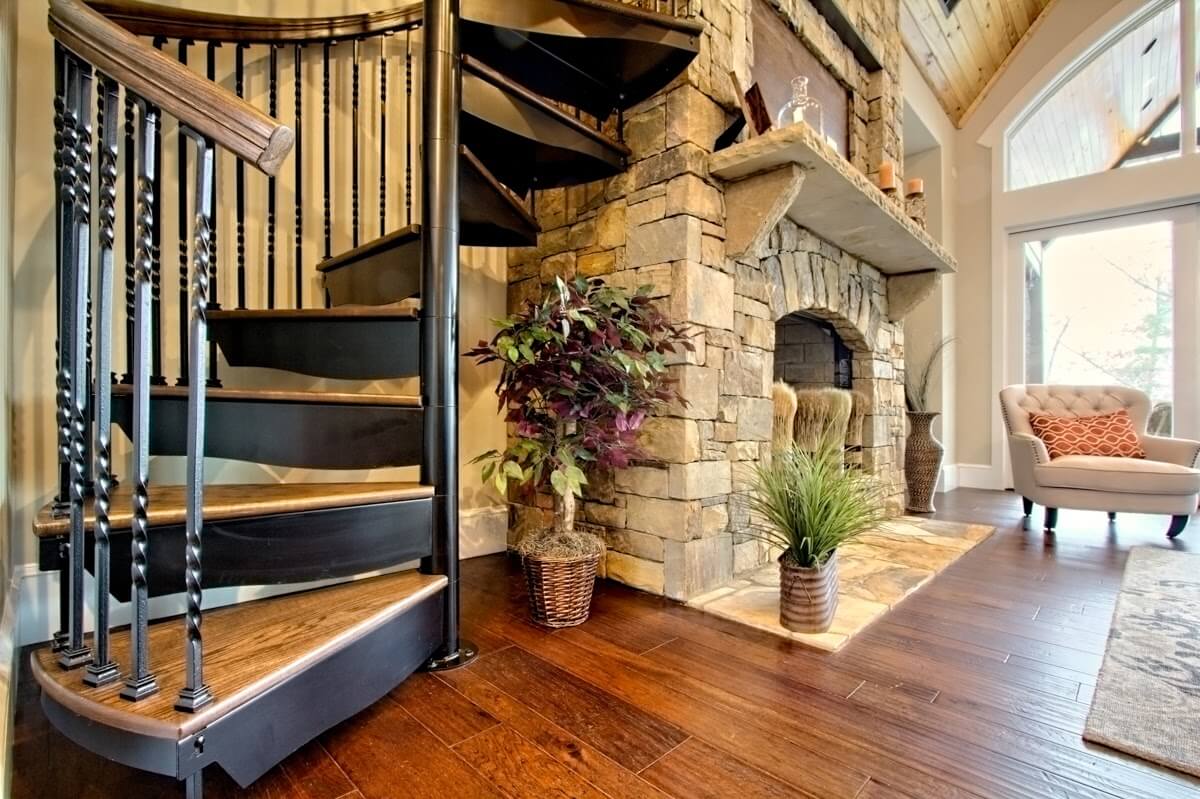 Why Salter
Ready to experience the best in Spiral Stairs?
Get started with a free, no-hassle consultation.
Same Day Pricing

Expert Design & Sizing Advice

Custom Design Options Tailored to your Budget

Estimated Product Lead Times
Get started with a free, no-hassle consultation.