Garage Loft Ideas and Inspiration
Garage Loft Ideas and Inspiration
Garage renovations are becoming one of the most common updates to homes. Both attached and detached garages gives you the extra space you need. Depending upon how you plan to use the space, you will have different considerations and designs.
One popular way to maximize your garage's space is to create a loft. Lofts offer a blank canvas for any design you want to incorporate into your garage, while leaving the original first floor completely open. Here are some of the most popular garage loft ideas for some renovation inspiration.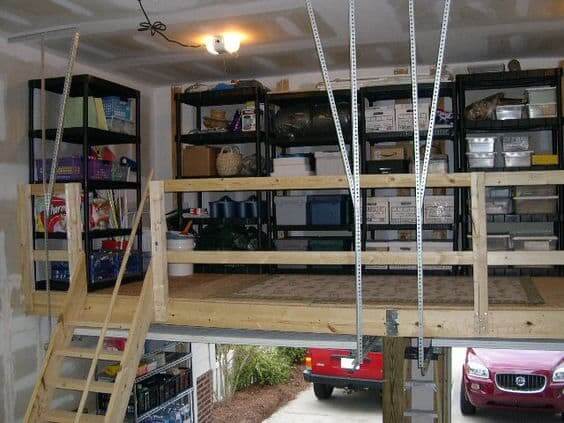 Garage Loft Storage
Storage is one of the most common uses for your garage. Most of the time, your car is park in the middle and storage is lining the walls. While garage organization goes a long way with perimeter storage, you can create much more space with a storage loft. By lofting the space, you're leaving your car's parking spot open and still getting as much storage as possible.
Your garage is out of the way from your common living areas, but is still close by. This makes an ideal storage space for seasonal items or simply things that you don't want to keep in your home at all times.
One common spot for your garage storage loft is right above the door. You can use the door track as the beginnings of your loft frame and take advantage of the structure already there.
For a large storage loft option, you can create a completely separate loft structure that can be used like an attic. A basic wooden frame is perfect for your storage space and can be completed in about two days with a somewhat experienced DIY-er. These structures don't have to be elaborate because you're only using them for storage, and not a living space.
Garage Loft Bedrooms
Converted garages aren't a new concept, but they're becoming much more popular. By renovating your garage loft into a bedroom or even a full apartment, you can extend your living space and add lots of value to your home.
These spaces are also very popular for children moving back from college or elderly family members that want to be close to family. Another option is to rent out this space for a little extra income.
No matter how to you plan to use your renovated garage loft, it won't be your typical loft bedroom design with an open mezzanine style wall. You will want to close off the space from the rest of your garage for the comfort of anyone using the space.
If you have limited space, you can still fit a single bedroom loft into your garage. This would mean that whoever is living in the loft would use the main house's utilities, such as the bathroom and kitchen. Because this can be inconvenient, many homeowners are option for a full garage apartment.
Also known as an in-law suite, these garage apartments are fully self-sufficient. This is probably the better option for those planning to rent the space out. It creates a separation between the main home and the garage.
With the right access points and clever renovations, you can create these above garage apartments without sacrificing any of your car's parking space.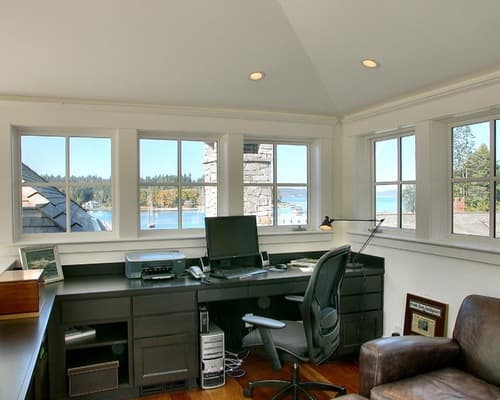 Garage Loft Offices
Working from home has become a normal part of many businesses. Whether you work remotely full time, or just want a structured space to get some extra work done, home offices are becoming a necessary part of your house's design.
Take advantage of unused space. Your garage is the perfect place to put this work space. It's separate from your common living spaces which can help you focus and eliminate distractions and has lots of natural light to promote productivity. By lofting your office, you're completely separating the space. You're still home, but you're not trying to work in your living room.
This separate of garage and office is a great solution for homeowners that have customers or clients come to their home office. With outdoor access to the loft, you take away the feeling of being in a garage. It also keeps them from entering the personal space of your home.
Garage Loft Rec Rooms
Your garage loft doesn't have to be a basic room. Use this bonus room over your garage as a rec room! Because it's separated from the rest of your home, you can have a little more flexibility and fun in your interior decorating without interrupting the flow of the main house.
The beauty of a rec room is that its purpose can change over time as families grow and kids get older. For instance, it can start as a playroom and evolve over time to become a home theater or a sports bar.
One common way people use this extra space is to create a loft with a TV and gaming systems. This is a great place where the kids can hang out and have their own space, while still being nearby. This game room can also double as a home theater. By putting the large screen and sound system over the garage, you are taking some of the excessive noise away from the house where people may be trying to sleep.
Man caves have become more popular for this bonus room design as well. This area can be an eyesore for some wives, but elevating the space and giving it real décor makes it a little easier to handle.

Garage Loft Stair Considerations
One of the major considerations when building a new garage loft is how you plan to access the space. There are three major categories for your loft stairs: a traditional stair, a ladder, and a spiral stair.
A traditional straight staircase is always one of the most popular options because it's the most common stair design found in homes. However, the large frame, while safe, defeats the purpose of creating a loft. The footprint, or amount of space it takes up, can cover a full wall and create an even tighter space than you had before.
Ladders are used for their virtually nonexistent footprint. The minimal frame consists of small rungs attached to two boards on either side of the frame. While space saving stairs are always a good option, ladders can be very unsafe. It's difficult, if not impossible, to carry things to and from your loft.
Spiral stairs are the medium between these two designs. It has the stability of a full stair and the minimal footprint of a ladder. The footprint is kept to a small circle around your staircase. A spiral stair can also be easily fit into the corner of your garage, leaving as much room as possible open. It will be much easier to carry things up and down your spiral stair, rather than a ladder.
Salter Spiral Stair also provides stairs that can hold up to the outdoors as well. Some apartments may call for a private entrance. For instance, if you want to rent out the space, an outdoor entrance would be ideal.
Our Powder Coated Aluminum stairs are perfect for those looking for a chic and complementary design. The powder coating finish comes in custom colors and coats the already rust prohibitive aluminum in a weather proof finish.
The Galvanized Steel spiral stair coats every part of our carbon steel stair frame in a maintenance free finish through a hot dipped galvanizing process. The end result is a durable and industrial silver stair that will hold up to any weather condition. If you're looking to use your garage loft as a residential area, your spiral stair will most likely need to meet building code. Your spiral staircase dimensions and measurements will be dependent on this need.
The minimum width of your stair, or the diameter, will be 5'. This gives you a 26" clear walking path. Your clear walking path is the area of the stair that you walk on while actually using the stair. In order to meet building code, you're treads must also have a 30 degree rotation. This, combined with your floor to floor height, will determine the rotation of your stair.
A garage loft is the perfect way to create more space without interrupting your home with a complete renovation. There are a number of applications for your garage loft, but all of them require a way to access them. Whether you have a garage storage loft or a finished apartment, you want a safe and durable way to reach the space.
Salter Spiral Stair has a lifetime warranty on fabrication and can customize the design to fit into your vision. For accurate and fast pricing, give one of our consultative designers a call! They can help you find the right size and design for your garage loft spiral stair.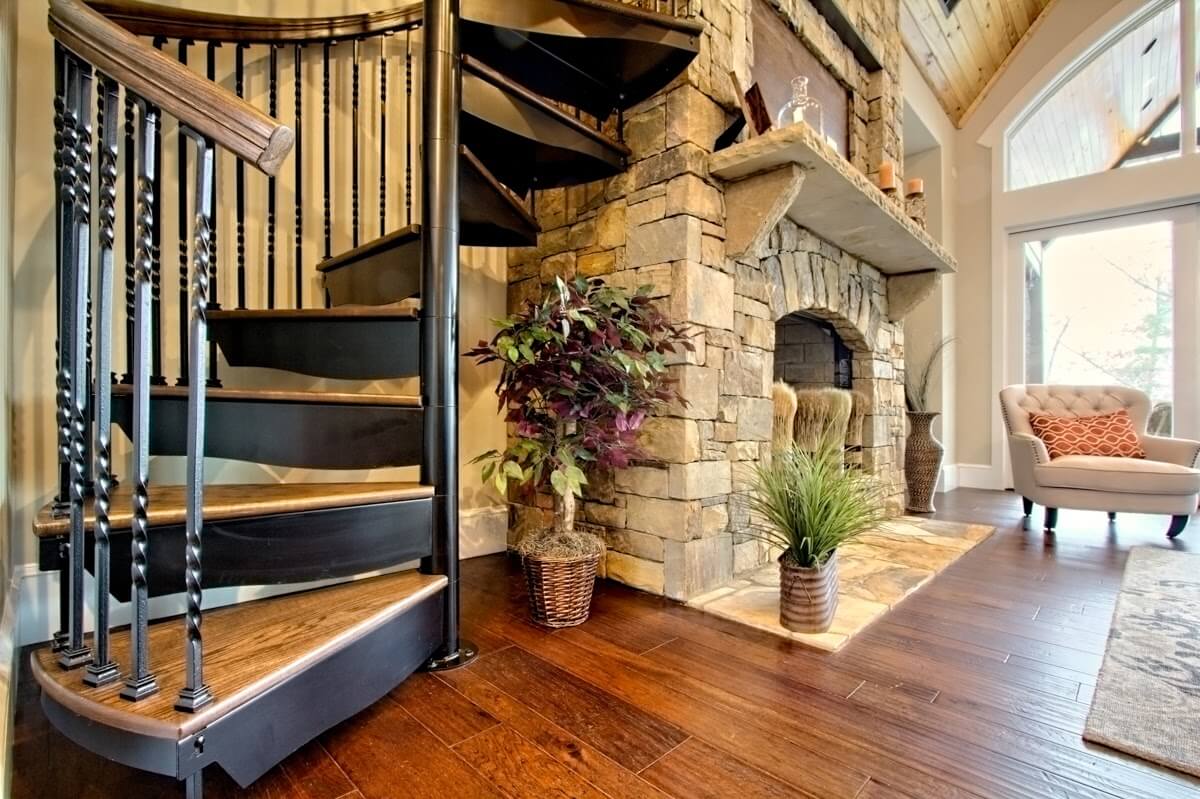 Why Salter
Ready to experience the best in Spiral Stairs?
Get started with a free, no-hassle consultation.
Same Day Pricing

Expert Design & Sizing Advice

Custom Design Options Tailored to your Budget

Estimated Product Lead Times
Get started with a free, no-hassle consultation.