Barn Home Styles, Designs & Ideas
Barn Home Styles, Designs & Ideas
There are so many different styles of barns, but all of them have defining features that create a unique living space. While they all hold rustic charm, you can design your barn style home to be a one of a kind living space. Keep some of the defining characteristics in place and combine them with your own touches. We've outlined some of the defining features in your barn style home and added in some new ideas for a unique home!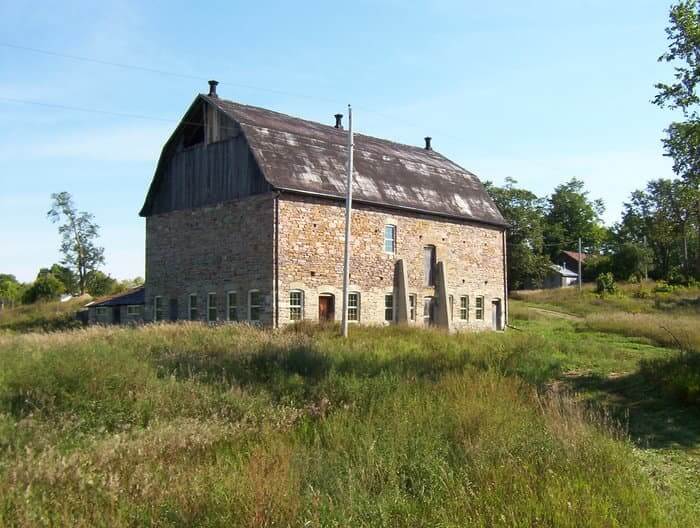 Barn Style Facades
Any barn or barn style home features an iconic exterior. They are instantly recognizable from their shapes and materials used.
There are a few different styles of barns that are defined by different architectural details. This is most important when you're renovating an existing barn. When you're building a new barn style home, most of your exterior will be defined by the materials used.
Common Design Elements
When it comes to architectural features, most barns have the same basic elements in their design.
Gables are found in most barn style homes. They are part of the oldest barn designs in America's architectural history. Gables consist of the triangular portion of the exterior wall formed by your extended roofline. The steep slopes help your roof to last longer and protect your exterior walls.
Along with gables, many barn style homes feature large wrap around porches. While they aren't typically found in existing barns, new construction takes this element of farmhouse design and adds it to the classic barn architecture. It adds a little touch of domesticity to the otherwise industrial building.
Sometimes your architectural elements are dictated by the barn's existing structure. Historically, different barn designs were used based on the building's purpose. Many people think of a classic horse barn with individual stalls. While these are very, there are other designs that feature completely open floorplans.
Exterior Materials
There are two major materials used for the exterior of your barn style home. Inspired by historical barns, your home's façade will probably be finished with either wood or stone. Two major things that factored into this decision were the barn's purpose and the surrounding climate.
If you plan to use wood or faux wood for your barn style home's exterior, there are a few ways to treat it for a traditional look and feel. Many times, reclaimed wood is used to give a rustic and authentic feel to new construction. Many homeowners want to give their barn style home a historical and lived in aesthetic.
Wood may seem like a high risk material to use as the exterior material on your due to its natural deterioration. However, with the right finishes and preservation techniques, it creates a beautifully authentic look. One classic way to finish your barn's exterior is to use an outdoor paint in a burnt red color. There's nothing as iconic when it comes to barn design than a red building.
If you want something a little more durable for your home's façade, stone is another common material used to finish barns. This ideal for homeowners that want to build or renovate their barn in areas with harsh climates.
Some homeowners like the look of the wood siding, but worry about the durability of their barn style home's structure. One way to have the best of both worlds is to simply combine the two materials. You can build a wood sided barn on top of a stone foundation. This protects the base of your home where deterioration will be the most damaging and gives you a traditional red barn look.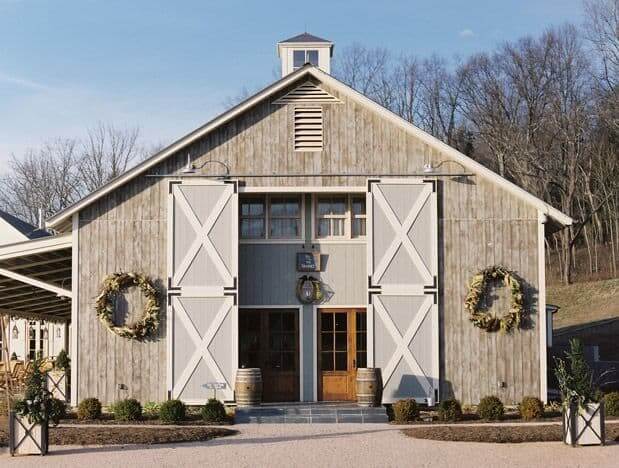 Barn Style Windows and Doors
Windows and doors are both functional and aesthetic pieces. They're important to your home design for obvious reasons, but can also add unique elements to the exterior design of your home. Traditional barns don't have your standard window and door designs.
Whether you're building a new barn style home or renovating an old barndominium, you can take the traditional pieces, such as barn doors, and create your one of a kind living space. Barns are known for their large doors, but not having many windows. Make some alterations to the original design for a more updated structure.
Not only will these updated pieces help your design, but both windows and doors help ventilation. This is a major part of making your barn more livable.
Windows
Traditional barns don't feature a lot of windows which can make it difficult to view it as a potential home. You can easily add in extra windows to create a more livable space. The addition of natural light transforms the previously dark barn into a large bright open space that has a lot of potential.
One popular window design for barn style homes is a minimalistic rectangular window. The frame is a simple rectangle and may include smaller panes within the large window. These can either go from floor to ceiling or even be a multilevel design.
The reason these windows are so popular is that they allow the maximum amount of natural light into your home. The minimalist frame doesn't take any of the original charm away from your barn, but the modern design updates it.
Another window shape that is typically used in barns is a dormer window. This design consists of windows that extend out of the roof line in a small rectangle. They sometimes have those iconic gables that we previously mentioned.
These windows are so popular because of the added element they give to the roofline. They also create extra space indoors with their small nooks.
Doors
One of the most iconic parts of any barn structure are the large wagon doors at the front of the building. These are obviously not practical to use as your standard front door, they can easily be incorporated into your home's design.
Many barndominiums use the original barn doors as a second set and create a double exterior wall. You can construct a wall within your barn that has your front door hidden behind the large wagon doors. It's most common to leave these large doors open as a frame for your front entrance.
The second type of door commonly found in barns is a Dutch door. This type of door splits in the center to create two sections that you can open separately, or keep them attached and open as a singular door. These are very common in horse barns as they were used in the stalls. This traditional farmhouse design is great for homeowners that like to get the maximum amount of fresh air in their homes during nice weather.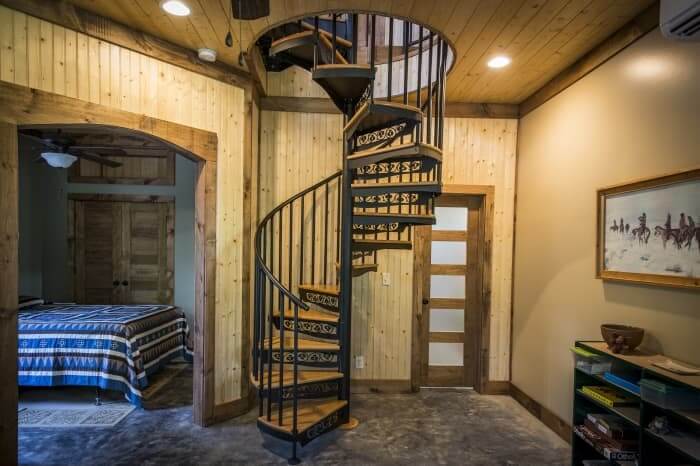 Barn Style Interiors
Just like your home's exterior, there are several defining features of your barn style interior. There are some structural elements that help to pull in the barns original construction and other accents that support the rustic charm.
Lofts
Lofts are a common feature of most barns. In the original structure, they were typically used as storage. However, these spaces are the perfect place for a living room or a bedroom. It creates square footage in your home and adds a dynamic element to your interior structure.
If you want to utilize your loft as a living space, you'll need a reliable way of accessing it. Barns traditionally use a ladder that is flat against the wall. However, this can be unsafe and won't hold up to the regular foot traffic that comes with a living space.
A good replacement that still allows your maximize your space is a spiral stair. Unlike a traditional stair, your spiral will only take up a small circle in your home. This is perfect for homeowners looking to keep their floorplan as open as possible. We offer three interior spiral stair product lines that can be customized to fit your ideal aesthetic. Our rustic loft stairs are the perfect complement to your barn interior!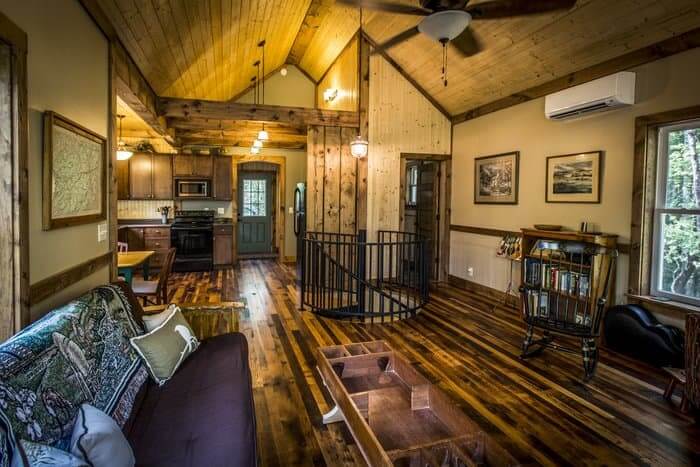 Interior Materials
There are several materials that are commonplace in barn style homes. While the designs may vary based on the original barns use, there is some consistency in the materials used to create that classic rustic charm.
One of the most prominent materials in any barn style home is obviously going to be wood. Because of its prominence in historical barns, it's the natural choice for those building new homes. There are several ways to use this traditional material in your barn's interior.
Exposed support beams are a popular feature in barndominiums and renovated barns. They are a unique piece of the original architecture that holds a lot of design in your new home. If you are building a new home, or want to add support beams to an existing structure, reclaimed wood is the perfect accent.
Wood can also be used as your wall treatment throughout your home. Wood paneled walls are a rustic design choice, but they can be treated to create a more modern look. Between stains and paints there are plenty of ways to finish your wood paneling.
While you can finish wood to hold up to extra moisture, it's not the most ideal choice. You may not want to be limited to the standard square acrylic tile that's common in kitchens and bathrooms. Subway tiles are a more updated option that compliments the rustic design style.
For smaller architectural details, like loft railings, dark metal accents are preferable. These industrial pieces contrast your all wood aesthetic and create more modern take on the rustic design style. These accents are also traditionally found in barns
Barn style homes have become increasingly popular because of their unique architecture. Whether you're renovating a barn to create a barn with living quarters or you're building a new house, this a cozy place to call home.
With all of the unique design elements involved, it can be difficult to know where to look. If you want to start with your barn loft, consider looking at a spiral stair to reach your space! Our consultative designers are only a call away and can answer any of your questions.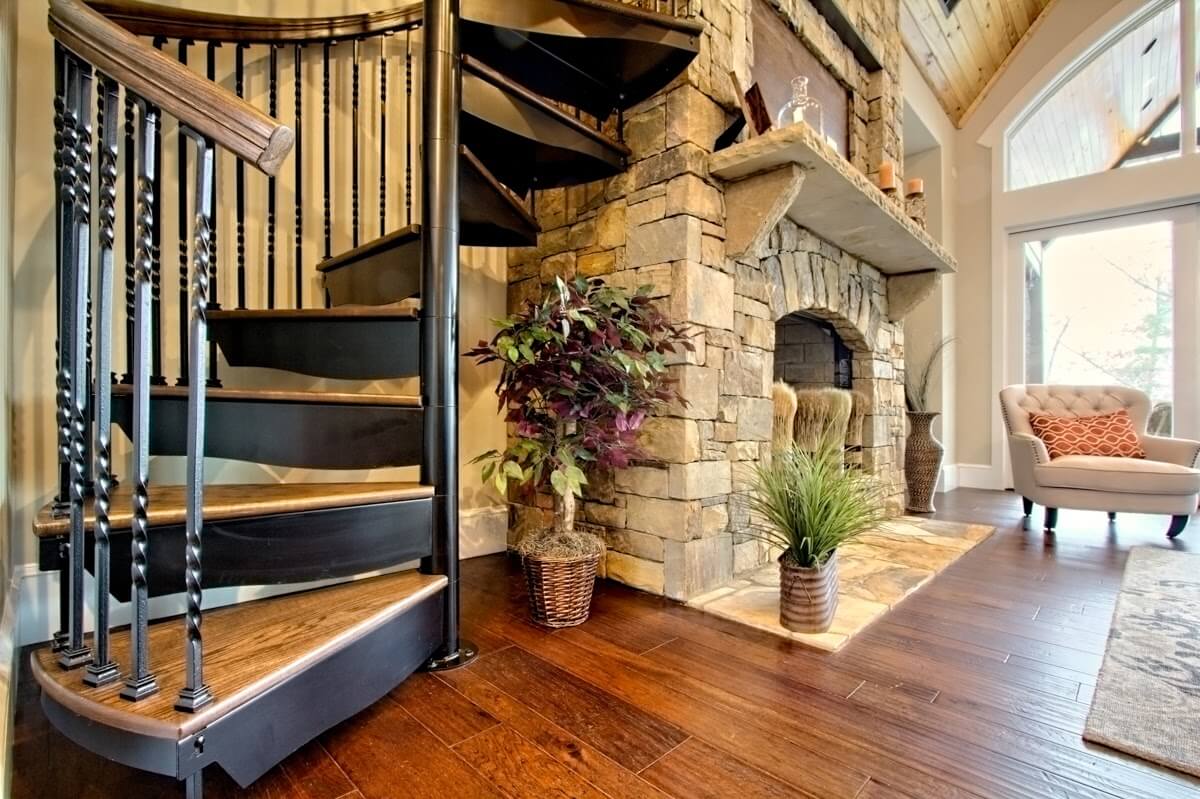 Why Salter
Ready to experience the best in Spiral Stairs?
Get started with a free, no-hassle consultation.
Same Day Pricing

Expert Design & Sizing Advice

Custom Design Options Tailored to your Budget

Estimated Product Lead Times
Get started with a free, no-hassle consultation.