How To Convert A Loft Into A Living Room
How To Convert A Loft Into A Living Room
Lofts are one of the best ways to add living space to your home. These spaces have incredible flexibility with it comes to its design aesthetic and function. Ranging from bedroom lofts to home library designs, loft space ideas cover a wide range of possibilities.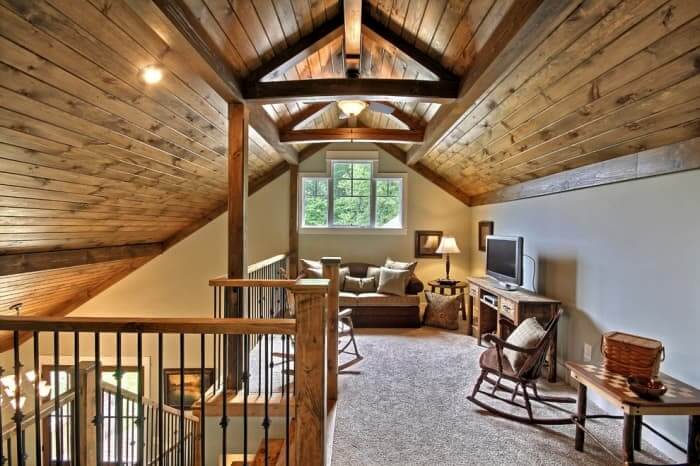 Loft Conversion Basics
Lofts vs. Additions
The most common way homeowners add living space to their homes is by building a brand new addition. While this may be standard, there are several reasons a loft may be a better solution for your home.
The most obvious difference is one is exterior construction and the other is an interior project. An addition to your home will require you to break ground and lay a new foundation outside of the existing structure. Building or renovating a loft will be a completely indoor project. If you already have a loft, it will be a renovation. Even if you decide to build a new loft, it's a matter of adding things to the interior of your home.
With the difference between an addition and a loft comes lots of differences in the project. The largest consideration is the difference in cost. Your loft will be considerably cheaper than a full addition because of the simplicity of the project. By building a loft, you take out all of the extra steps of breaking ground and pouring a foundation. The base structure of the surrounding room is already in place.
With a smaller budget comes a simpler project and a shorter timeline. This smaller scale project gives you the same result of a brand new living space. You are able to use and enjoy your space much quicker than if you were to build a completely new section of the house.
An addition will also require several more permits. It's altering the exterior of your home and will therefore be subject to more regulations laid out by your local municipality. If you live in a community with a Homeowner's Association, you will also have to clear any major construction projects with them.
Cost of a Living Room Loft
The cost of a loft conversion will depend on the size of your project and whether or not you plan on hiring a contractor. The starting cost for a loft renovation is around $1,000. A few different aspects can raise or lower your price.
One way to keep your budget as low as possible is to treat this is a DIY project rather than hire a contractor. While this is a great option if you're confident in your DIY abilities or it's a simple floor installation, building a brand new loft and installing windows will require the help of a contractor.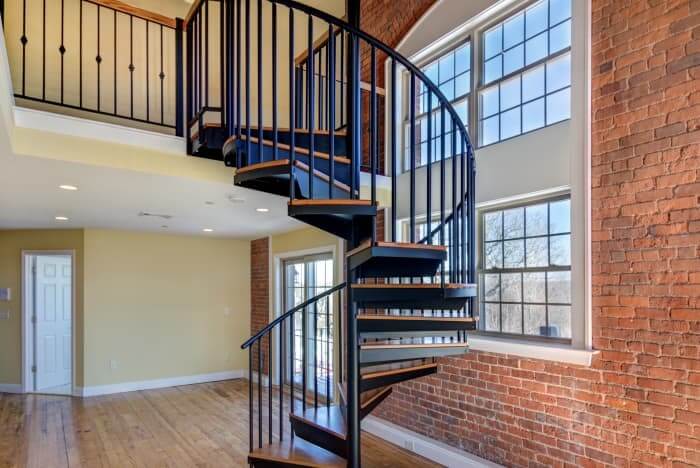 Converting the Loft
After the budgeting and planning is complete, you can start the actual conversion or building of your loft. Depending upon your space before the conversion, this can be a very simple process. If you plan on building a completely new living room loft, these are some of the most important considerations to take into account.
Railings & Walls
The most important part of building a new loft space in your home is making sure that it's safe for you and your family to use. Installing a barrier between your loft and the floor below adds a unique design element creates a safer environment.
You can choose to completely close off your space with a full wall. This is more common in bedroom designs as it provides more privacy. An open railing design is much more common in general living spaces.
Loft railing has a wide range of flexibility in materials and design styles. One popular design to incorporate into your new loft is to have matching railing at the face of your loft and on your loft stair. This can be ornate forged iron scroll railing or chic and modern cable railing.
As minimalist design styles become more popular in residential spaces, glass half walls are used to give the security of the closed in space while keeping it seamless and undetectable. It allows the maximum amount of light to pass through your loft space and down to your main living area. This helps your home to feel bigger and highlight the high ceilings.
For the other three walls of your loft, they are just as flexible as your railing. Depending on the design aesthetic of the rest of your house, you can choose to keep it consistent in your loft design or treat this extra space as a canvas for creativity.
Accent walls are popular in lofts because of their dynamic designs. Using wall treatments rather than paint is a great way to make the most of your new space. Ship lap has becoming increasingly popular. It's a simply DIY project for any wall in your home and adds a unique rustic charm. You can use reclaimed wood or pick up a set from your local home improvement store.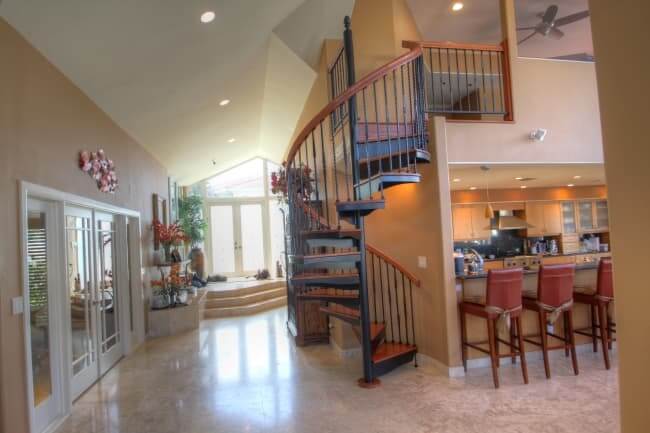 Stairs
Whether you are building a brand new loft or renovating an existing structure, you are going to need a safe way to access your loft. Your chosen stair design needs to hold up to heavy foot traffic and not take away the extra space that you created with the loft.
Loft ladders are popular designs because of their virtually nonexistent footprint. There's a large range of prices and design aesthetics available to fit every homeowner's needs. If you can't find the right design already made for you, it's an easy DIY project because of its simple frame. Ladders also have the benefit of mobility. They can be moved out of the way when not in use and to other parts of the house as you need them.
However, there are quite a few drawbacks to loft ladder designs. All of their benefits, the small footprint and mobility, tend to make the design unstable. If you choose to bolt the ladder to the wall to secure it, the minimal frame still proves to be some risk. The small rungs aren't meant for heavy foot traffic and regular use. If you've created a beautiful space in your loft, you want to be able to enjoy it without too much hassle.
Traditional stairs are another loft stair option. They are the most common stair design found in homes. The frames extend out in a large rectangle from the entrance point and features full steps and handrails.
Traditional stairs are the exact opposite of a loft ladder when it comes to the benefits and drawbacks. There is no question about the stability of a traditional stair, but it takes up a very large space in your home. The large footprint takes up a lot of the space that you had created by building a loft in your home.
Spiral stairs are the perfect answer to both of these designs problems. With spiral staircases becoming more popular is residential spaces, more homeowners are finding that they fill their design needs.
Because the spiral design builds on top of itself, a spiral stairs footprint is kept to a small circle in the corner of your home. It maximizes the amount of space available underneath your loft. Spiral staircases also feature full steps like those you would find on a traditional staircase. It keeps these stable and safe steps in a small footprint, like that of a ladder.
Spiral staircases are flexible in both design and access points. Because it requires so little space, you have the flexibility of accessing your loft from almost any point, whether it's through a hole in the floor or at the face of the loft. The design is also completely customizable with the base designs of a Classic Steel, Forged Iron, or All Wood spiral stair.
Windows
Natural light can elevate any home design style, particularly in the unique space of a loft living room. Turning your loft into a living room creates a dynamic design in your home. The right windows and natural light can help enhance your overall home design.
Skylights are a popular option for lofts with slanted ceilings. Not only do they provide a little extra head room, they also add visual interest to your loft's ceiling. The natural light comes into the space at an angle and fills the space more efficiently than a standard window.
If your loft is below another room and you cannot install skylights, Dormer windows are another popular window option. These windows extend out from the home and create small nooks in your loft that adds to the overall square footage. These little space are the perfect place for a small side table or a storage bench.
Floors
Most living room lofts typically start with an all wood frame and you can build on top of it. There are several ways to finish the floors when turning your loft into a living room.
The easiest flooring option for a living room loft is the finish the wood frame and keep the hardwood floors. This cuts down on your project time by keeping the original floor in place. You simple need to finish the wood flooring planks. Area rugs can be used throughout the space for a softer surface.
You can also choose to install carpet in your living room loft to give it a cozier feel. However, you will have to install subflooring and the carpet which can take a little longer than finishing the wooden planks. This will also make your floor a little thicker. Keep this in mind when you're planning other aspects of your loft design, like your railing and loft stairs.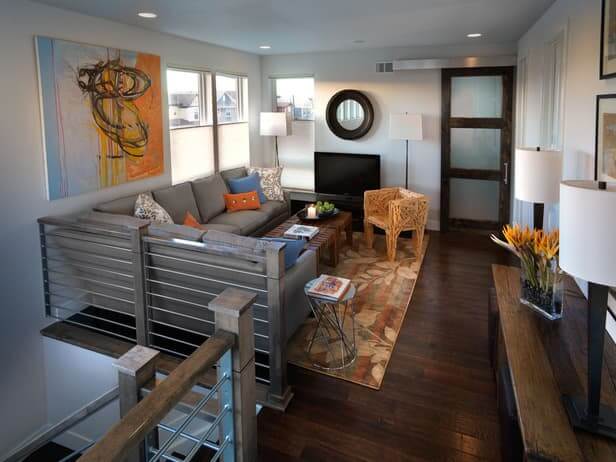 Decorating your Living Room Loft
Once you're done building or renovating the space, adding décor is the last step of turning your loft into a living room. Because lofts are typically a smaller space, you want home décor that will maximize your space.
Built in pieces are a great way to use all of your wall space without taking up too much of your square footage. Entertainment cents are the perfect piece to incorporate as a built in focal point in your new living room. A main console with bookshelves on either side provides storage and a one of a kind piece.
For the built in look without the built in cost, use the budget friendly home décor material that is crown molding. By attaching it to the top of your entertainment center or shelving units, you can add height and create a one of a kind piece for your new loft.
Lots of comfortable seating is an important part of any living room design, whether it's a traditional room or a loft. Sectionals are a great way to provide a lot of seating without taking up your entire space. This may seem counterintuitive, but one larger piece of furniture anchors the room and helps it to feel larger rather than several smaller pieces.
To truly make the most of your loft, multifunctional furniture is the perfect solution. Combining seating options with storage creates space in your home. Storage benches and ottomans can be used as seating when needed, but they also free up space in other places that would otherwise be housing storage.
Put the finishing touches on your living room loft with the addition of smaller accent pieces, like light fixtures and coffee tables. These can define the design style you're looking to use in your space. A clean and simple light fixture paired with a clear acrylic coffee table creates a minimalist space, while a reclaimed wood coffee table creates a rustic style room.
Turning your loft into a living room is a great way to add to the general living space in your home. You are able to add lots of value to your home without the high cost of a full addition. This second living room is the perfect solution for families with lots of different interests as well. Everyone can have their own space. If you want to start your project by replacing an old loft ladder, call one of our consultative designers to start designing your spiral stair today.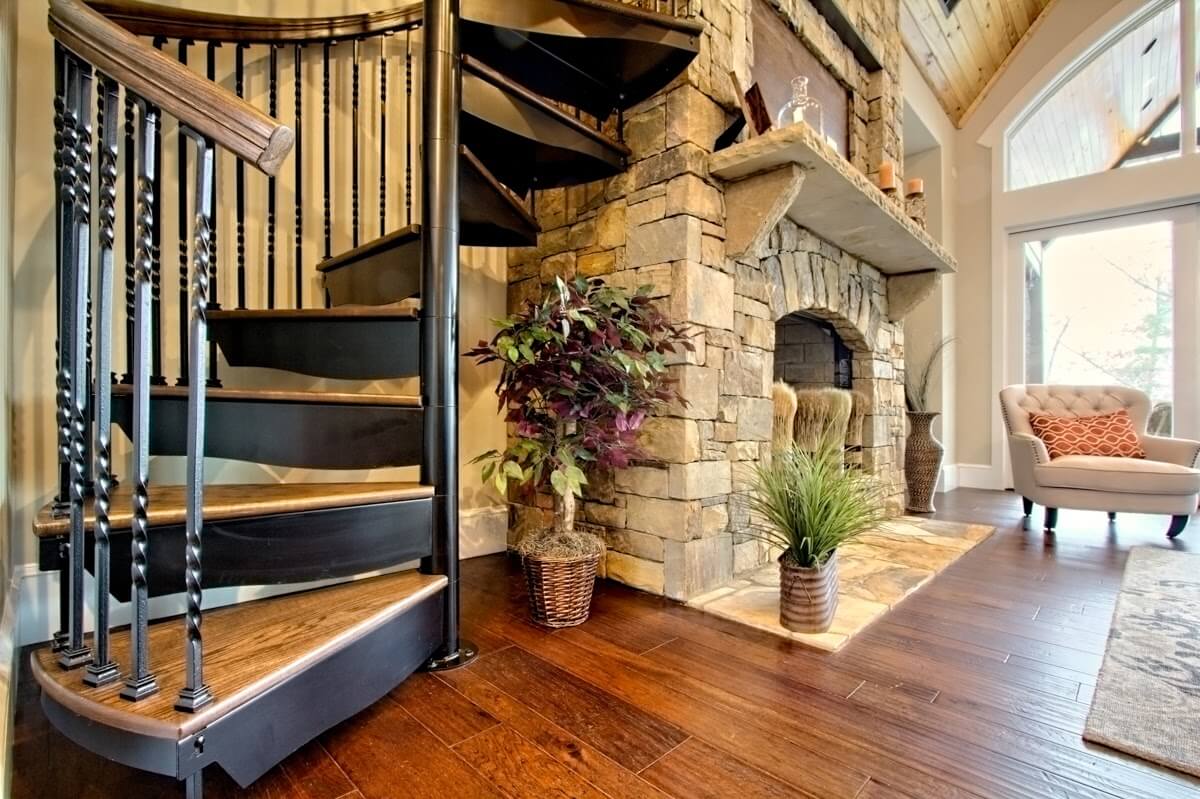 Why Salter
Ready to experience the best in Spiral Stairs?
Get started with a free, no-hassle consultation.
Same Day Pricing

Expert Design & Sizing Advice

Custom Design Options Tailored to your Budget

Estimated Product Lead Times
Get started with a free, no-hassle consultation.