How To Finish Your Garage (Ideas & Designs)
How To Finish Your Garage (Ideas & Designs)
In home renovations are always a good choice for homeowners that want more space without the inconvenience of an addition. They can make use of the space that they already have with a few renovation projects. Often times, people focus on the basement or attic because it's already a part of the main living space. However, the garage holds just as much, if not more potential when it comes to your home renovation projects!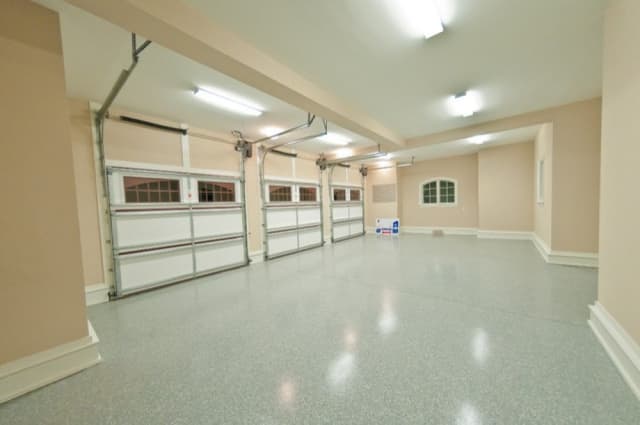 Finished Garage Basics
No matter how you plan to use your newly finished garage, there are a few parts of the renovation that will be the same. Because garages are typically a basic frame without any of the usual features of the main house.
Walls
Typically, an unfinished garage has basic frame walls or wall coverings that may not be ideal for a newly finished living space. If your walls did have an original covering, you'll want to remove it for easier location of studs, vents, and electrical writing.
Drywall is the most popular finished wall option for those looking to convert their garage into a living space. You can add whatever wall treatment you want over top of it, whether it be paint, wall paper, or even faux brick.
If you want finished walls, but don't need the extra polish that you get with drywall, plywood panels are a great cost effective option. You can screw it directly to the frame without having to go through the finishing process that's necessary for drywall. They also can support additional shelving and can be painted to fit into your ideal design.
Floors
Your garage probably features a basic poured concrete floor. Depending on how you plan to use the new space, a concrete floor may be a great option. However, there are plenty of ways to keep the low maintenance concrete floor without the lackluster finish.
Before you treat or cover your concrete floor, you'll want to repair any damage that's happened over the years. This is especially important if you plan to treat the concrete for your new flooring rather than covering it with a carpeting or tiles. You can do this with any epoxy based crack fillers. Water or latex based products won't accept the stain or paint that you plan to use on the finished floor. You want to be sure to clean your concrete floor after repairs and before you apply any kind of finish.
Once it's repaired, you can paint your poured concrete floor or you can use an epoxy. There are latex based paints that are made specifically for concrete floors. They come in a large range of colors and can be used in different patterns to create a one of a kind floor.
Epoxy coatings for your garage floor are durable and customizable. Unlike paint, it bonds to your current poured concrete flooring to create a long lasting flooring solution. You can add in different color acrylic flecks to your top coat or even a slip resistant mixture for a safer garage floor.
For living spaces that require a more typical home flooring option, you can add hardwood, vinyl tiles, and carpeting with the right subflooring. The main concern with these options is the amount of moisture that your garage is exposed to, compared to your typical living spaces.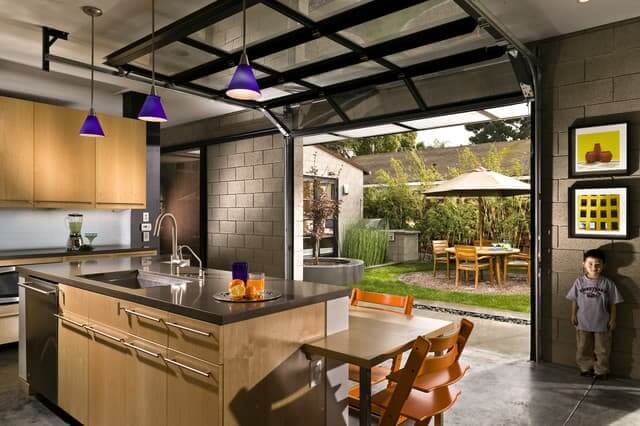 Doors
The most defining feature of any garage is the large garage door. It's an added element that you're not going to find in any other part of your home. There are a few ways to approach the large entryway when going through a garage renovation.
There are some benefits to keeping your garage door as a functional part of your design. If you live in an area with all four seasons or a mild climate year round, you can open this large door to create an indoor outdoor room that's ideal for relaxing at home. This is also a great option if you plan to create an entertaining space in the newly finished garage.
If you want to keep your large garage doors closed, you can paint or panel their inside of the door to create a unique design element. For a bold design, you can replace your traditional garage doors with glass panels to create a full wall of windows. Of course, you can install curtains inside of the newly renovated space to ensure privacy when it's needed.
Pretty much all garages have another door already built into their design for regular access to the space. You can keep this door as your access point, or you can choose to install a new one. This is particularly important if you have a second floor to your garage. You can have a separate entrance installed to reach the space above your regular garage. You can access the space using any outdoor deck stair that fits your design.
Livability
There are certain aspects of your main house that probably aren't found in an unfinished garage. While you can renovate either an attached for unattached garage, these steps will differ a little bit when it comes to adding amenities and utilities to your space.
Your garage is probably already wired for electricity, but if you plan to use it as a living space, you'll want additional outlets and a large light fixture. Most garages will already be on the same electric grid as the main house, especially if they are attached. Depending upon how much power you're looking to add to the grid, it may make more sense to put it on its own power grid. Consult your electrician and power company to find the best solution for your home.
Insulation and temperature control is a major concern when finishing your garage. Because it's not typically used as a living space, proper insulation isn't always a feature of your original garage design. Foam batting is one way to insulate your garage before you install drywall or plywood boards. If your walls are already finished, you can cut a hole and use blown spray foam insulation between the studs. Don't forget to install insulation panels around your garage door as well!
The last utility to add to your garage is plumbing. This is only necessary for those who plan to finish their garage as an apartment or simply want a convenient bathroom while spending time in the garage. This project may be one for professional, as it can involve running pipes through your yard and driveway.
Finished Garage Designs
There are a million different ways to use you're newly finished garage. Whether you simply want a nicer place to store seasonal decorations or you're looking for a new man cave, your garage is the perfect place to create that space.
Storage Space
Storage is the most common use for a garage. It's an easy place to put and landscaping tools and seasonal decorations that you only use a few times a year. However, just because it's acting as a storage space doesn't mean it has to be a mundane grey space.
By finishing the walls and floors of your garage, you can create a bright space and that will actually make things easier to find. Installing pegboards or slat walls over your empty frames can open up your limited floor space and create a larger spot for your car. It also makes things much easier to find than digging through piles Take your renovation as a chance to overhaul your storage solutions! There are a few weekend garage organization projects that are simple and can make a major difference.
Bonus Room
Bonus room designs are the perfect solution for families with young children. The concept behind a bonus room is that you can design it to fit whatever your need is at that time. If you have young kids, you can create a play room for them that you can change as they get older and their interests change. For instance, as your kids get older, you can use the space as a home theater or a game room. It gives them their own space without them completely leaving the house or sacrificing the family room.
Use this space as something that you wouldn't typically have in your home. You're creating extra living space in your home, so why not use it as a fun rec room? Whether you've always wanted a craft room or a yoga studio is more appealing to you, you can create it in this bonus room space.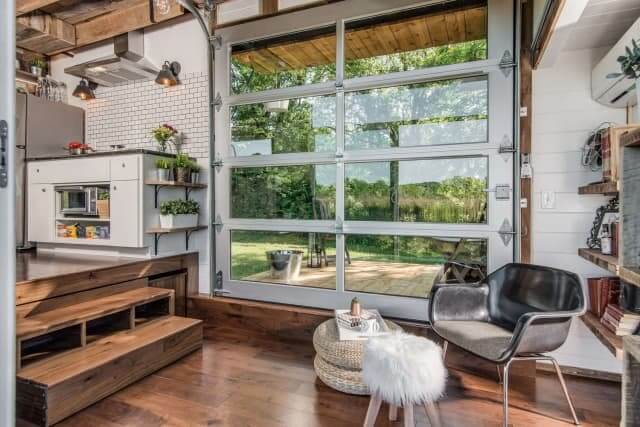 Tiny House
Tiny houses have been taking the home and garden industry by storm over the past two years. Why not skip a single level apartment and create an entire house in your driveway? A garage is the perfect place to create this extra living space.
If you have children moving back from college or elderly family members moving in, this is a great option. You are able to give them their own space and independence while still having them very close by. Another option is to finish your garage and rent out the space for extra income.
This finished garage will take some extra renovation to make it a full time residential space rather than other finished garage interiors that are only used part time. This is particularly important if you plan to rent out the space. It will need to meet building code requirements and pass inspection to be rented.
Man Cave
The garage is the typical setting for a husband's getaway in his house. Whether he uses it as a place to work on his car or as a place to watch the game, a man cave is a highly sought after place. Garage man caves are similar to bonus rooms in the way that these finished garage interiors can feature whatever you want. There are some typical features, such as an in home bar.
There are plenty of different aesthetics that you can use for your man cave design. Wood paneling and different animal accents can give you a rustic cabin feeling, while sports memorabilia and a large tv can give you the perfect place to watch the game.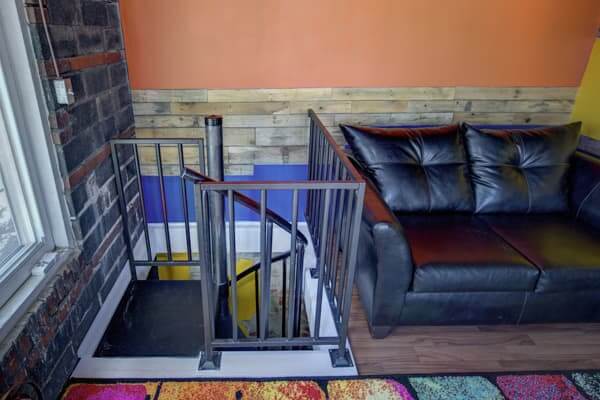 Finished Garage Loft
If you want that extra living space but don't want to lose your car's parking spot, consider a garage loft design. These lofts are flexible when it comes to their use, meaning you can incorporate any of these designs into the second floor of your garage. There are a few extra considerations when it comes to creating or finishing the second floor of your garage.
The first is to decide whether you want to install an open railing at the face of your loft, or completely close it off from the rest of your garage. Depending on how you use the space, one option may be better than the other.
A second consideration is how you will reach the second floor of your garage. Because space is limited, it may be difficult to fit a traditional straight staircase. They have large bulky frames that can take up as much as an entire wall depending upon the height. One garage stair design that gives you the benefits of full steps and a handrail without the large footprint, is a spiral staircase.
Spiral stairs build on top of themselves meaning they won't extend out beyond a small circle in your garage. Salter Spiral Stair also offers durable stair solutions that are perfect for indoor or outdoor settings. Our consultative designers help your to design the right spiral stair for your garage. The easy installation means that you can have a brand new means of access in the space of a weekend!
It's clear that an unfinished garage has plenty of potential when it comes to applications for the empty space. You can reorganize your space or create a brand new home right in your driveway with these finished garage ideas. If a loft or second floor renovation is in the cards, call one of our consultative designers to get quick pricing on your custom spiral stair.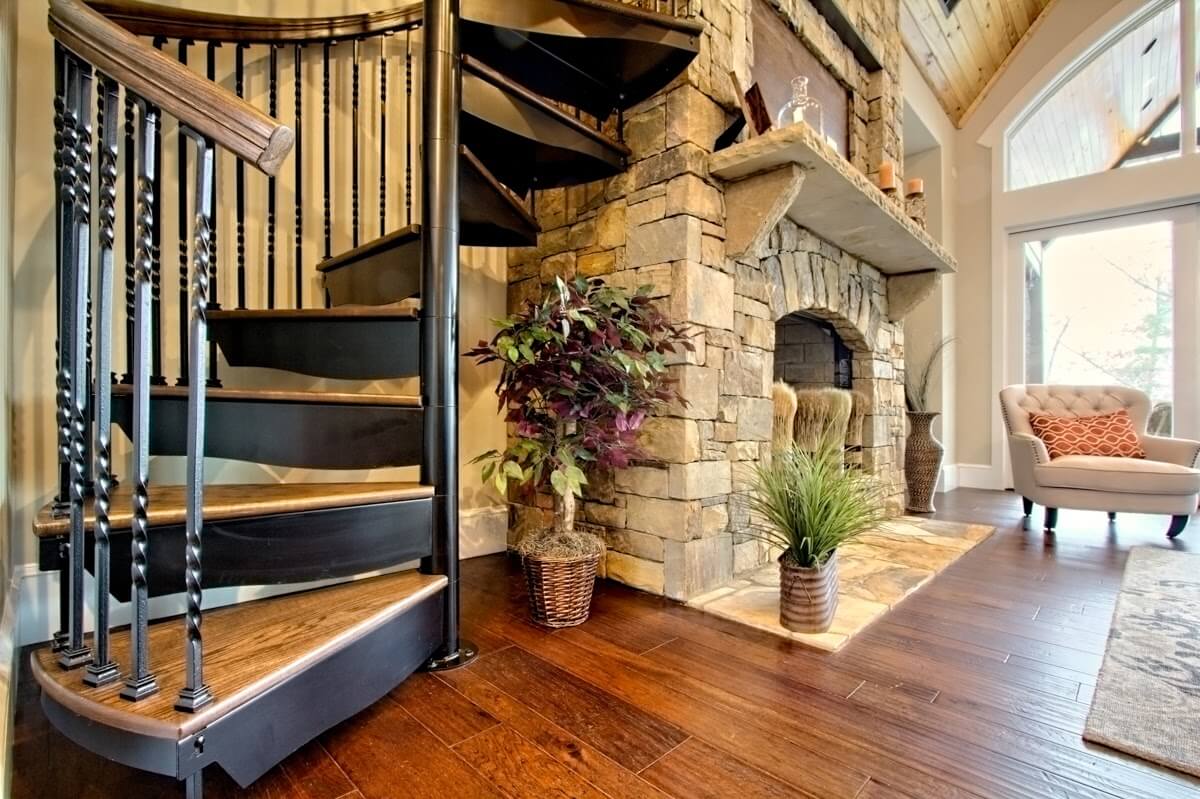 Why Salter
Ready to experience the best in Spiral Stairs?
Get started with a free, no-hassle consultation.
Same Day Pricing

Expert Design & Sizing Advice

Custom Design Options Tailored to your Budget

Estimated Product Lead Times
Get started with a free, no-hassle consultation.