Garage Man Cave Ideas & Inspiration
Garage Man Cave Ideas & Inspiration
Everyone wants their own space in their home. This takes the form of a bedroom, craft room, or finished basement. Man caves have become their own category when it comes to home interior design. These getaways are no longer limited to folding chairs in a garage with concrete floors and storage on the walls. While many homeowners still use their garages as a rec room, these designs have taken it to a whole new level.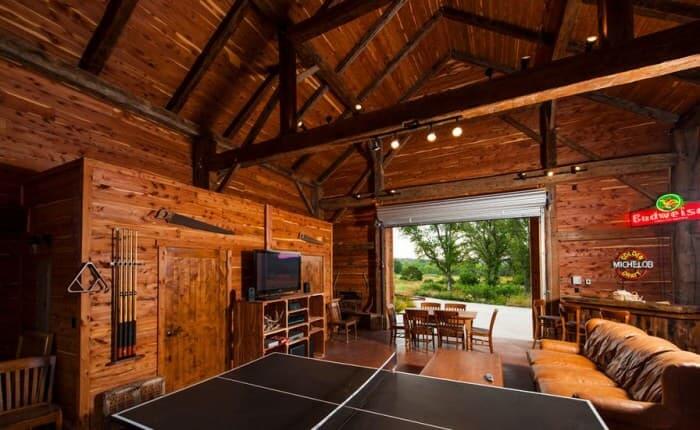 Man Cave Walls
Garage man caves will require a little more work when it comes to creating a finished room. When garages are built, they are constructed with the intention of car storage. Because of this, the walls aren't necessarily ready for paint and different wall treatments. The walls will need to go through the same process as if you were converting a garage into an apartment. You will need to add insulation and at least plywood panels to create a base for whatever treatment you plan to add to the walls.
Paint
The easiest wall treatment for your garage man cave is to paint the walls. This seems like an obvious choice, but sometimes simplicity is best. If you plan to fill the space with interesting furniture and décor, a solid color wall keeps the room from being too busy. Because it's a separate space, you don't have to be limited to traditional interior design colors. You can use whatever color you want for this fun space.
Wood Paneling
If you want to create a rustic log cabin in your garage, wood paneling is the perfect wall treatment for your man cave. You can install the wood boards directly to the original wall supports taking out some of the extra work. You can stain them and seal them to whatever wood finish you'd like. If your garage doesn't already have them, you can install extra wooden support beams in the ceiling to further your rustic cabin aesthetic.
Stone
If you want to add an interesting texture to your man cave walls, brick or stone walls are unique and surprisingly easy to install. You can create faux brick walls in a day! You can find brick or stone veneers at most home improvement stores. After you've decided on your materials, you can apply them to the wall much like regular tiles. Some faux stone veneers come in a panel form that you can adhere directly to your wall. It wouldn't hurt to add extra adhesive to the back of your panels to ensure that it will stand up to any extra moisture that may be in the air.
Built In Shelving
Built in shelves are a unique way to display your accomplishments or sports memorabilia. Most built in units are all wood. You can stain them to match the wood panels that you decided to use for your rustic man cave, or dark wood floating shelves that fit into the industrial look of a brick wall.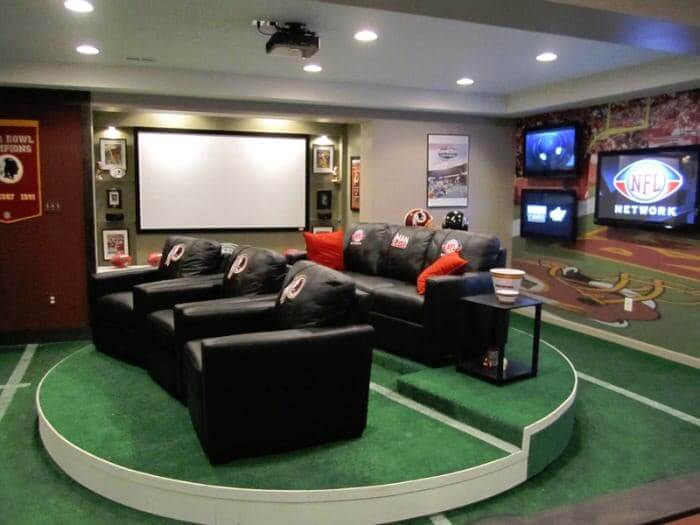 Man Cave Furnishings
Seating
The furnishings in your man cave fall into a few different categories. From seating to extra décor pieces, all of these things work together to create a fully realized space. You have more flexibility when it comes to furnishing your man cave than your standard living room. It's meant to be a room that is uniquely yours and unlike any other room in the home. Many seating options for your man cave have rustic and thicker fabrics in their upholstery. You don't want a delicate loveseat in your man cave, but rather a couch that can hold a large group of people on game day. Because man caves are usually the gathering place for sporting events and large get togethers, you want a comfortable seating option that also provides a lot of seating space. This makes sectional sofas a great choice for man caves. A common material for a man cave sectional sofa is dark quilted leather. This gives it an expensive look while also being rustic and comfortable. Stadium seats may fit into your garage man cave décor, but they're not the most comfortable for a living space. Recreate the stadium seating feel by creating tiers in your floor. Place more comfortable seats, like small couches or recliners, on each tier to create a stadium layout.
Sports Memorabilia
There are plenty of different pieces you can add to your garage man cave to put the finishing touches on your room. Majority of man cave design feature sports memorabilia in some way. If you have old jerseys or signed sports equipment, your man cave is the perfect place to display them! Shadow boxes may give you a way to display your memorabilia like art. Not only are all of your guests able to see it, but you are also keeping it safe from fingerprints or stains.
Movie Memorabilia
The same care could be taken for movie memorabilia. Movie posters are the perfect wall art for a man cave. You can use the same tiered floor design to create a movie theater setting. Using wall sconces that have a dimmer can complete movie theater design. Most home theaters feature rich tones, such as reds, maroons, and dark browns. For an over the top design, you can incorporate a small bar at the back of your room complete with a popcorn machine and movie theater candy.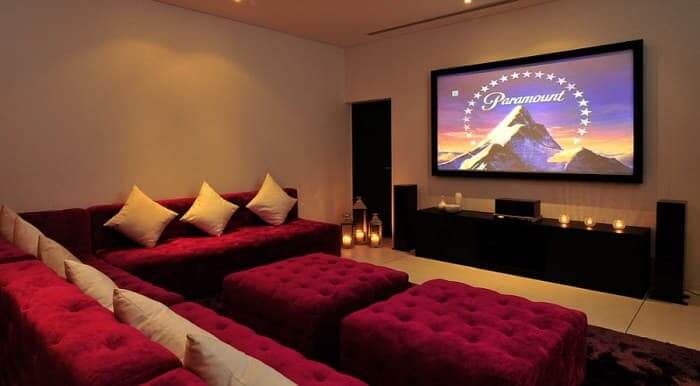 Man Cave Entertainment
TVs & Projectors
Whether you plan on using your garage man cave as a game day retreat or a home movie theater, the TV is the most important part of your room. There have been many different debates on whether you should use a TV or a projector and screen. They both have their pros and cons. The traditional TV is easy to set up and has a standard connection to any sound system and cable box you may have. A television screen is also visible no matter what the lighting conditions are. However, your size is limited when it comes to a TV. If you choose to incorporate a projector and projection screen into your man cave, there are several benefits. Obviously, your screen will be much larger with a projector than if you decide on a TV. They truly give you a movie theater experience in your own home when paired with the right sound system. However, a projector does have a few drawbacks. Because of the projector's location at the back of the room, you will have to do some extensive wiring to connect it to your cable box and sound system. A projector is also limited by the lighting conditions in the room. For optimal use, you should have little to no light in your garage. No matter what screen option you choose, the placement will be the same. A popular trend in home design is to mount the TV above a fireplace or small shelving unit. However, it's been proving that the best placement and viewing angle for optimal viewing is at eye level. A projection screen will have to be mounted no matter what viewing angle you choose. A TV has some more flexibility when it comes to placement. To have the TV be at a true eye level, you will probably need to use a TV stand or entertainment center to elevate your TV.
Sound Systems
A true viewing experience isn't complete without a dynamic sound system that immerses you in the game or movie. Surround sound systems are the standard when it comes to man caves. You can either buy them in a kit form which has a complete surround sound system or you can buy the individual speakers to form your own system. They come in different sizes that include different amount of speakers depending on the size of your room. One drawback to surround sound kits is that they can often become outdated quickly and you can sometimes pay for more speakers than you need. The alternative is to buy all of your speakers individually. This allows you to update individual speakers as needed and create the exact sound experience that you want. The most common speaker categories for a surround sound system are the front speakers, rear speakers, and center speaker. Some speakers require the use of a separate receiver that works on an antenna and cable system.
Game Tables
The last category of entertainment furnishings for your garage man cave are different game tables. There are several different designs that you can incorporate into your home design. The most commonly used game table in a man cave is a pool table. There are different design that range from a traditional wood table with green felt top and basket weave pockets to a modern all white table with solid frame pockets and blue felt. You can easily find a pool table that fits into your desired aesthetic. Other game tables you can incorporate into your man cave are a ping pong table, air hockey table, and a poker table. If you want the flexibility of having multiple uses for one table, there are multifunctional game table designs that can switch between a few different activities.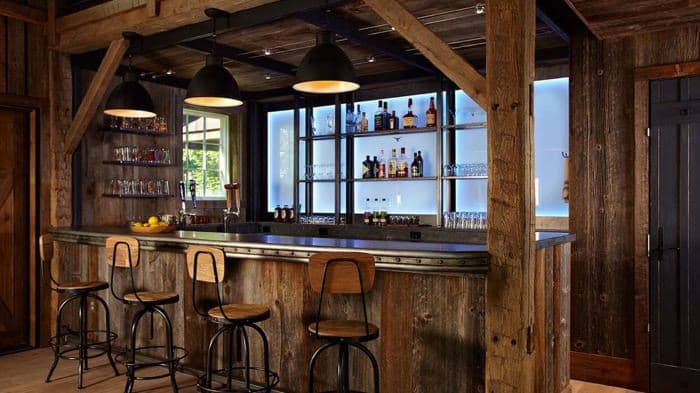 Man Cave Bars
Bar Essentials
The bar itself can be a focal point in your man cave. For a traditional bar look, you can use an all wood bar design that has been polished and lacquered to stand up to heavy use over time. If you want a more rustic look, reclaimed wood can easily be put together in a DIY project to form a one of a kind bar. The bar stools also help to complete the look of your home bar. If you want that classic bar look, opt for a bar stool that has either a metal or wood base with a leather cushion seat. All wood stools can either be bought or made as a DIY project to complete your rustic design aesthetic. Something that every bar needs is a fridge. This can be a mini fridge or a full sized appliance. Some homeowners choose to frame their fridge with lumber to fit into an all wood design. For those that are beer drinkers, a kegerator is a popular addition to your home bar.
Bar Decor
A lot of your bar décor will depend on what aesthetic you're going for with your man cave bar. A sports bar is always a popular option. You can incorporate stained glass lights and signs that feature your favorite team's logo. Displaying your glasses can easily be done with open shelving or glass front shelves with great lighting. A traditional bar décor will have a lot of pendant lights that hang from the ceiling. Lower level lights are what is traditionally used in bars.
Man Cave Wow Factor Pieces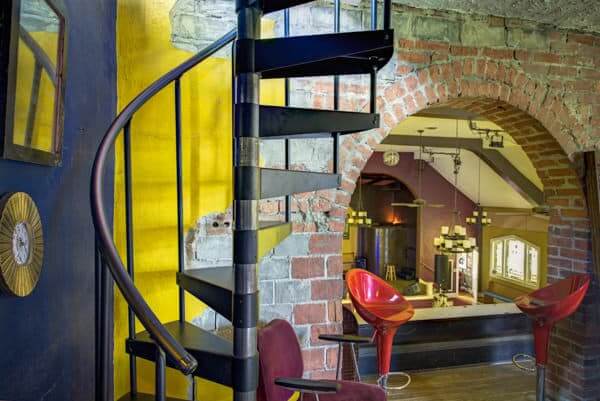 Lofts
As if your man cave wasn't a wow factor enough to your home, you can incorporate show stopping centerpieces to really give it that incredible design. The best way to incorporate these pieces is to make sure they also have a function in your space. If you're looking for a place to add some storage out of the way of the common area of your man cave, take the idea of a garage loft. This is the perfect place to store things out of the way of your garage floor. It also can provide a second area in your man cave for a different function.  If you want a stable means of access that won't take up much space, a spiral stair fits into the corner of your man cave without a large footprint. Depending upon the customizable design options you choose, your spiral stair can fit into any home decor. An all metal stair would fit perfectly with a brick wall for an industrial look or with wood paneling for a rustic cabin design.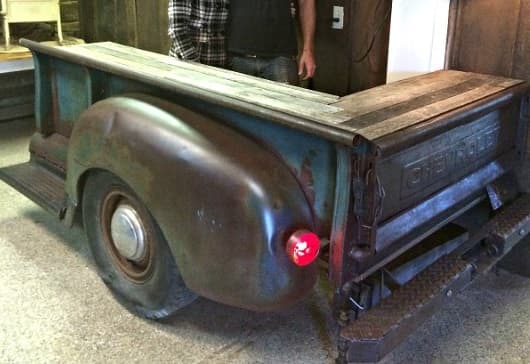 Auto Accents
If you want more seating, but want a large statement piece, consider using large car bench seats as seating! While this would be a particularly difficult DIY project, you can find different designs all over the internet. They come from all different models and have different colors to match your man cave's design. Another popular use of repurposed auto parts it to create a fold down table out of an old truck's tailgate. Not only is this a cool way to use old car parts, but you're also saving space by keeping the working hinge on the wall. The last repurposed car project for your man cave in this post is the bar that's featured to the left. This DIY project was made from an old Chevy truck tailgate and a reclaimed wood bar top.
The beauty of a man cave is that it's completely customizable to fit your ideal space. There are a ton of different ways to mix and match different elements to create a one of a kind space. If you decide to incorporate a loft into your garage man cave, a spiral stair could be the perfect way to access your space. They can fit any design style you decide to use for your man cave, whether it's rustic or industrial. Give our consultative designers a call to find the right design for you and get pricing in five minutes or less!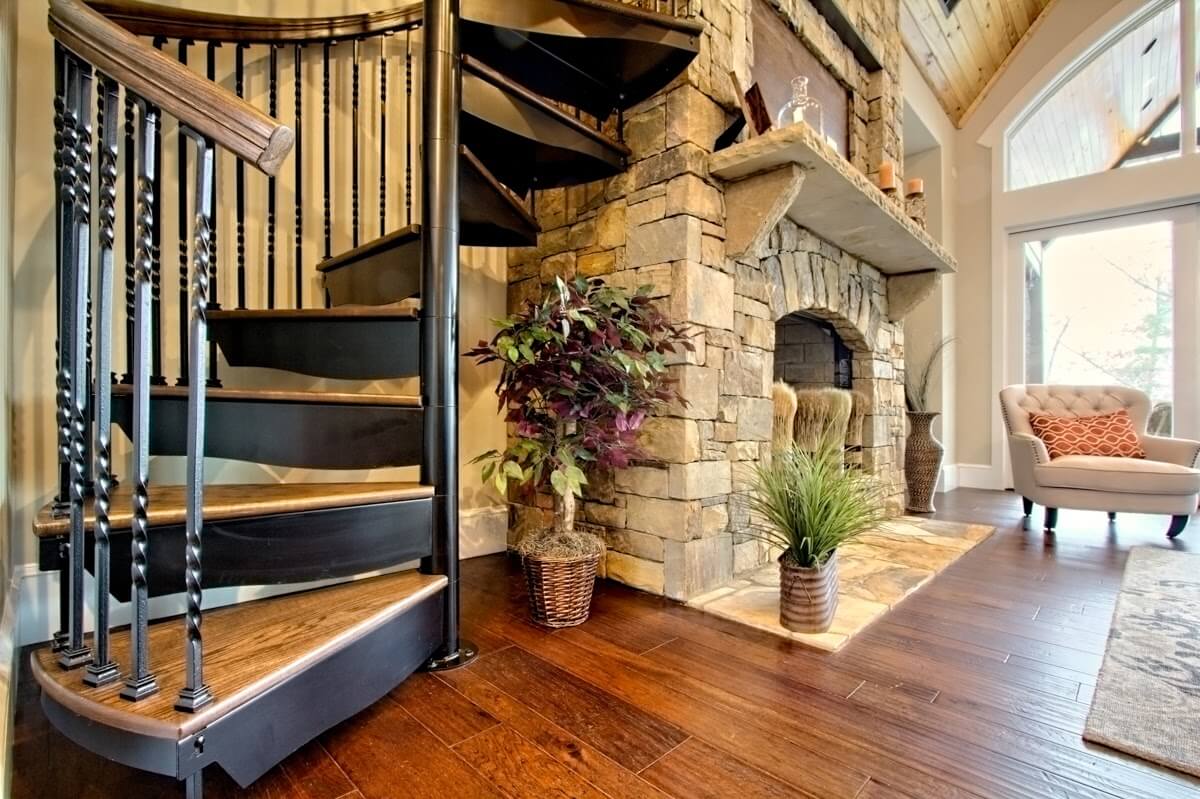 Why Salter
Ready to experience the best in Spiral Stairs?
Get started with a free, no-hassle consultation.
Same Day Pricing

Expert Design & Sizing Advice

Custom Design Options Tailored to your Budget

Estimated Product Lead Times
Get started with a free, no-hassle consultation.