Hidden Storage Ideas & Designs
Hidden Storage Ideas & Designs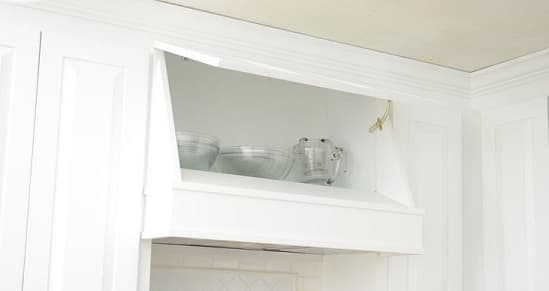 Kitchen Hidden Storage
Most kitchens have built in storage between the shelves and cabinets. Common designs have cabinets and open shelving, but you may not want to display all of your belongings at all times. If you have company coming over, or just want a hidden way to store extra kitchen items, there are small nooks hidden all over the room! If you have limited space, a slide out pantry is the perfect solution. A thin vertical drawer that holds herbs and spices can easily fit between the fridge and counter, or you can have a wider drawer that holds boxes and cans that you would typically find in a pantry. This keeps your items easily accessible, but cleverly hidden in a smaller space.
Another kitchen cabinet modification idea is to add more vertical storage space. The space between a standard cabinet and the ceiling is typically unused. By adding in another cabinet, you are able to store things without having them on display in an open space. If you want to keep the space a little more open than a solid cabinet, the addition of a frosted glass panel can break up the dark wood. If you have an island as the centerpiece to your kitchen, consider using any empty space at the base as storage. Installing drawers in the baseboards is one way to hide the extra storage space. For some truly hidden storage, consider remodeling your range hood over your stove. This can be a DIY design that extends the range hood out to create a large space in front of the actual hardware. For some temporary hidden storage, your oven is an option. If your guests are coming soon and you need to hide some cookware, your oven is a no brainer. It's out of the way and in a place where guests aren't going to be looking. It's also the perfect place to get hot pots off of the counter. They can cool without risking anyone burning their hands.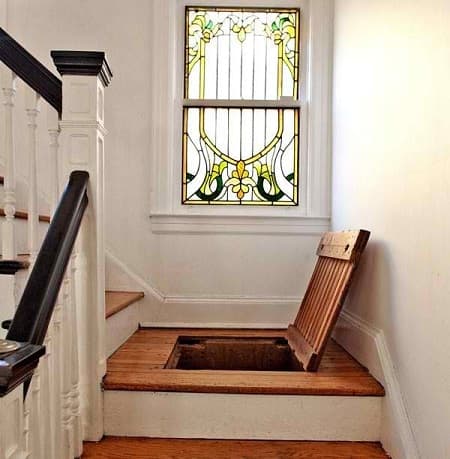 Living Room Hidden Storage
Your living room has ample opportunities for hidden storage spaces. The one thing that's in every family room is either a couch or bench. This can easily be transformed into a multifunctional piece with hidden storage for extra blankets, movies, and pillows. Benches and couches with hinged cushions create a trunk like space for bulky blankets and pillows. If you have a wooden bench, you can always add cushions and a slipcover. This would be a better option for items that aren't commonly used. If you want a place to store your DVDS without using bookshelves, consider installing drawers underneath your couch frame. This is space that is probably being unused and is out of the way. While it may not be completely hidden, it is definitely out of plain sight. If you want to keep your storage a little more hidden, a pop out coffee table is the perfect place for small items, such as remotes and books. If you want more storage in your coffee table, consider using hinges to create a trunk. Old trunks are a trendy rustic option for those looking for extra storage in their coffee table.
Many homeowners use their living room as a gathering place with large entertainment systems. This means lots of wires, electronics, and mess. A technology closet is a great way to hide the tangle of wires. If you don't want to draw attention to the closet with a traditional door, a mirror or piece of framed art is a great cover. It can be fastened to the wall so it can be swung open like a door. This is also a popular place to hide safes and valuables, such as jewelry. If you have a wireless router on a shelf in your living room, consider hiding it behind false books. This is an easy DIY project that can really change the look of your shelves. Cut the spines off of old hard cover and attach them to the front of a basic wooden frame. This leave a small nook that's the perfect size for your wireless router.
Your staircase is another great place to have a hidden storage space. The cupboard under the stairs is a normal storage spot, particularly in old homes. However, you can make the door blend into the space with strategically placed molding. Another stair storage option is to have a modified false step design. You can either hinge the treads to create small trunks or use drawers as the base of each step. Not only does this save space, but it also hides the eyesores that are usually left at the bottom of the stairs, such as shoes and toys. If your staircase has a landing, consider a trap door style storage space. This creates a completely hidden space that can hold bigger items like extra duvets and pillows for a guest room.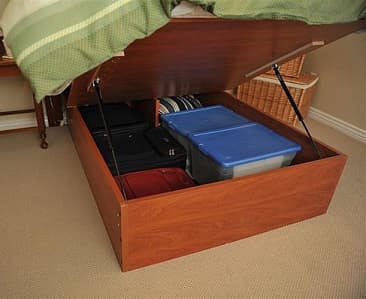 Bedroom Hidden Storage
Many homeowners want their bedroom to be a place of calmness and order. It's hard to feel at peace when your room is cluttered and overrun with stuff. Hidden storage can help you feel more organized and calmer. A headboard with built in drawers and shelves is one way to take the clutter off of your floor. Under bed storage is a common form of hidden storage. It takes the same idea as the drawers under your couch and applies to your bedroom. There are the standard storage bags and large containers that are made to fit under your bed. However, you can have truly hidden storage by using a hinged mattress. By utilizing this small space organization tip, you can have a hidden space at the center of your bedframe that can also utilize storage. If you want some extreme under the bed storage, you can raise the floor around your bed to create many different trap door storage opportunities. By doing this, you're not only creating a very large hidden storage space, but you can also sink the bed into the platform to create a cozier feel. These spaces can hold everything from extra bedding to out of season clothing.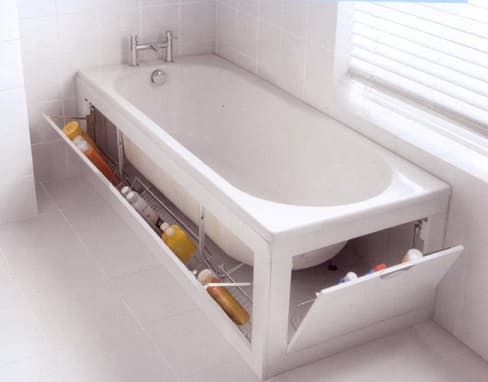 Bathroom Hidden Storage
While it may seem like your storage options for a bathroom are limited to open shelves and medicine cabinets, there are a few unexpected hidden storage ideas. The most unexpected design is a hinged bathtub frame. This is probably one of the most clever hidden storage spaces. The design uses the basic bowl of the bathtub and creates the square frame around it using tilt out drawers. This is the perfect place for cleaning supplies and frees up space under the sink or in a hall closet. You can use this design and apply it to your bathroom counter as well. Many counters feature false drawers above their cabinets. Create a tilt out drawer that can hold hair styling tools or makeup, freeing up a traditional drawer. You can also create a tilt out hamper to keep your bathroom clean and organized.
If your bathroom features a half wall at the end of your bath or small nooks where the wall juts out, you have the perfect place for pull out shelving. This is the same design as the small pantry in the kitchen, but repurposed for the space! If you don't have room for a bathroom closet, this can be a place for extra toilet paper or other supplies you need in your bathroom. This can also be used as a pull out towel rack. This is creating space by using the inside of your home's walls.
Hidden Rooms
You don't have to limit your hidden storage to small spaces. If you have the space, hidden rooms can be a great addition. Not only does it give you the storage space you want, but you get that square footage without sacrificing a full basement or your garage. The first type of hidden rooms are ones that are on the same level and simple have secret entries. This can be part of a walk through closet or hidden behind a built in bookshelf.
The more complicated designs feature hidden rooms that are on another floor. Popular designs for hidden rooms feature wine cellars. These rooms have a trap door style entry and often lead down to the basement. If you're a wine collector, or just an avid wine drinker, this frees up space in your kitchen that would otherwise be taken up by bottles. Another multi-level hidden storage option is a storage loft. These are typically tucked into the back end of a house and create square footage with a lofted space.
If you choose a multi-floor design, you'll need to access that space. A ladder is a popular option because it has the smallest footprint of all the options. However, it's often times not stable and it's difficult to carry things up and down your ladder. A spiral stair can solve these issues for you. They have a small footprint and can be maneuvered to fit your space.
If your home doesn't have a garage or basement, you may feel like your options are limited when it comes to storage. While open shelving is a popular design trend, you may not want to display all of your belongings throughout your house. These hidden storage ideas can be as small as a compartment in your coffee table and as involved as a storage loft! With a little cleverness, you can find storage solutions anywhere in your home.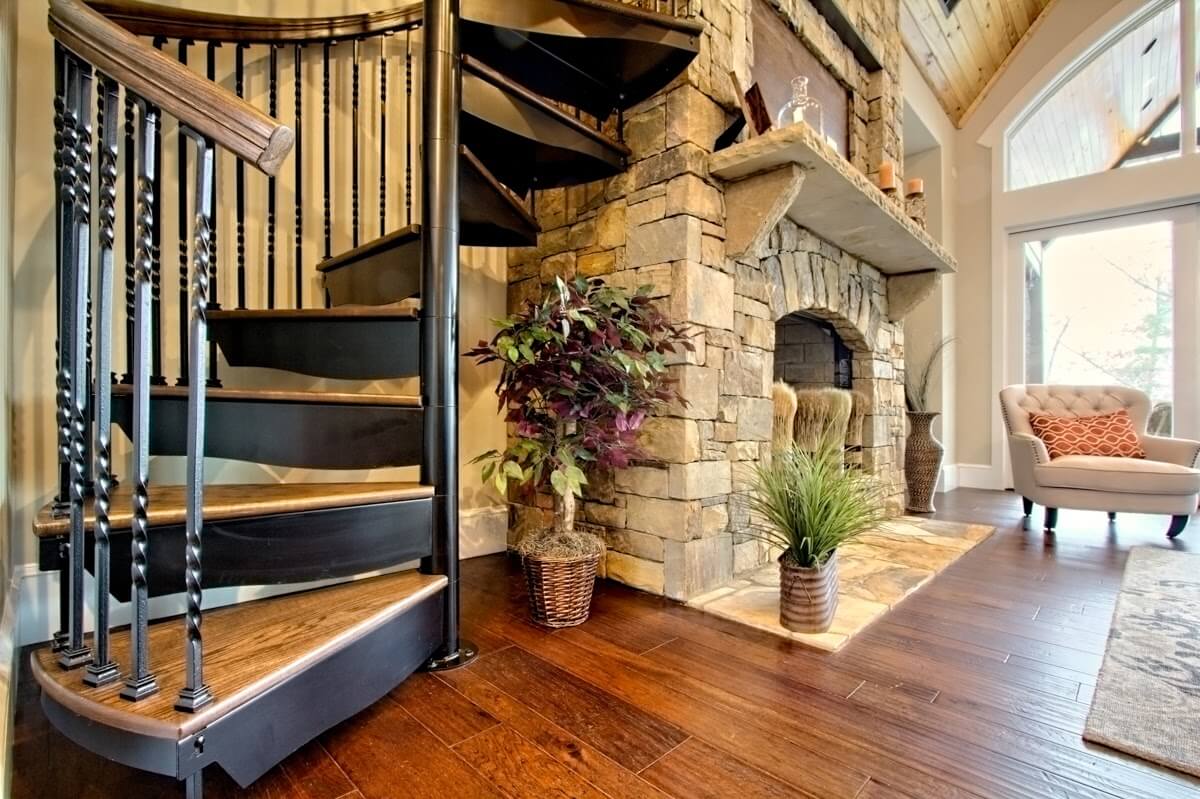 Why Salter
Ready to experience the best in Spiral Stairs?
Get started with a free, no-hassle consultation.
Same Day Pricing

Expert Design & Sizing Advice

Custom Design Options Tailored to your Budget

Estimated Product Lead Times
Get started with a free, no-hassle consultation.