8 Room Designs for Basement Renovations
8 Room Designs for Basement Renovations
You can add extra living space to your home in two ways: building an addition or renovating the space you already have. Finished basements have become very popular in new construction. You aren't adding to the house's footprint at all, but you're still adding a substantial amount of living space.
Attics may seem more appealing at the beginning because of their access to natural light, but basements are actually much easier to renovate. Basements already have the existing infrastructure for a larger living space. Use these basement renovation ideas to give your previously unused dark space some new life!
Table of Contents
Basement Apartment
Basement Home Office
Basement Laundry Room
Basement Home Theater
Basement Play Room
Basement Sports Bar
Basement Home Gym
Basement Wine Cellar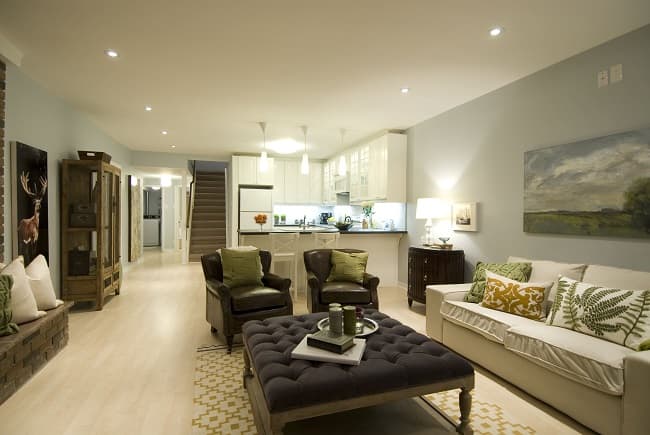 Basement Apartment
Renovating your basement to create a full apartment is becoming more common.
Many homeowners choose to renovate their basement when an elderly family member moves into their home and create an in-law's suite. However, many children are beginning to move home after college. This may make things a little crowded in your home.
Not only does a basement apartment solve a bedroom shortage, but it also allows them to have their own space while still being close by.
If your home has a walkout basement with its own entrance, you can also rent out your space. This is a great way to generate extra income and add to the overall value of your home.
Walls
The existing structure of your basement makes it easy to create an apartment renovation! The exterior walls are in place and depending on your floorplan, you may not even need to add interior walls.
A studio apartment will call for one additional room to be built for the bathroom. If you want to have the bedroom separated from the general living space, you will need to build another set of interior walls.
You may need to finish your exterior walls with some insulation and dry wall. This is a simple weekend project for an experienced DIY-er. Be sure to use good insulation that will hold up over time. This may seem like a large cost upfront, but it'll save you lots on your home's heating and cooling bills.
After you're done with the drywall, you'll want to carefully choose your paint color depending upon your desired aesthetic. Whether you plan to keep the space as a family apartment or rent it out, light neutrals are best.
Basements can feel much smaller than they actually are because of the lack of natural light. Make the space feel larger by using light colors, such as tans and off whites.
If you want to keep consistency throughout your entire house, you can continue the color story that you've used in the rest of your home.
You can keep the neutrality of the walls while still keeping them interesting. Use wood panels to create a texture on your wall. Paint them to match your walls to add a subtle focal point.
Floors
Unfinished basements commonly have a plain poured concrete floor. Nothing about this hard grey surface says cozy apartment.
Basement renovations almost always include a new floor. To create the homey environment of an apartment, you can use either carpeting, engineered hardwood, or laminate flooring.
Before you add any additional flooring to your basement, it's important to take the necessary measures to make sure your flooring will last in the basement. Because basements are below ground level, they are susceptible to extra moisture, mold, and mildew. If you want wall to wall carpets in your basement apartment, carpet padding that has built in anti-microbial materials is a must. This won't eliminate all risk of mold and mildew, but it'll help.
If you want the traditional look of wood flooring, you can use either engineered wood flooring or laminate flooring. Engineered wood flooring has a plywood subfloor layer that keeps any underlying moisture from reaching the thin hardwood layer on the surface.
Laminate flooring has the look of traditional wood, but the benefits of a plastic coated waterproof material. This is probably the best option for basements that have high moisture levels.
Furnishings
The furnishings of your apartment will all depending on who's living there. If you want to furnish the space yourself, there are a few different approaches.
If you plan to keep the space as a studio apartment, multifunctional furniture pieces go a long way. These furnishings can take one room and give it two or three different functions.
Sectional sofas are perfect for a multifunctioning space. You can move around different pieces of the couch to accommodate seating needs or even create a bed when needed.
Furniture that doubles as storage pieces are also a major asset in basement apartments. Because the basement is usually a storage space, when you renovate it, you need a new way to store things! Using storage ottomans or coffee tables gives the apartment functional furniture and extra storage.
Open back bookshelves can also double as room dividers. They provide shelving and a visual separation, but the open back doesn't close off the space. A solid room divider would make the space feel much smaller than it actually is.
If you live in an older home and plan to convert your basement into an apartment, consider different basement stair options. Many old homes have open and unsafe staircases leading down to the basement. This can be dangerous for heavy foot traffic and will most likely not meet code for a rental space.
You can replace the old stair with a new traditional staircase, but this will take up a large portion of your basement. A spiral staircase can help you maximize your basement square footage and provide a safe way to move from your main living space to your basement.
If you simply want to add a secondary stair for extra functionality in your basement. If you're concerned about moving furniture up and down you spiral stair, a walk out basement can provide a second entry point.
Wow Factor
In any living space, lighting is one of the most important aspects of interior design. It can alter the entire mood of the space and those in the apartment.
Because basements are below ground level, they rarely have ample amounts of natural light. Overhead lighting is a great option for basement apartment. They can be strategically placed and light the entire space easily.
Low hanging pendant lights should be avoided as they can make the space feel smaller. Recessed lighting is the ideal choice. You can supplement your overhead lighting with table and floor lamps for a softer light source.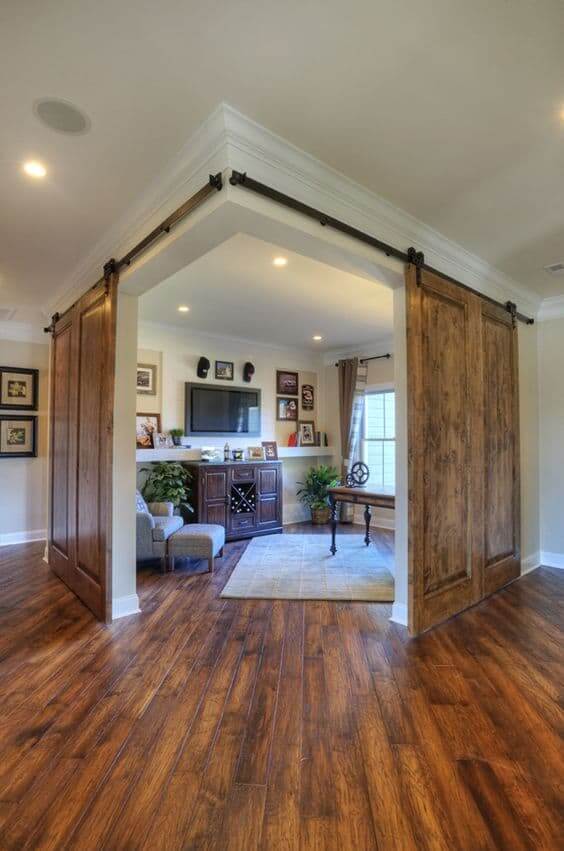 Basement Home Office
Your productivity in your home office has a lot to do with where it is in your home. You want a space that is away from distractions and extra noise, but easily accessible. While your basement may seem like an unlikely choice, with the right design choices, you can make an inspiring and productive work environment.
Walls
The most important part of designing your home office is to create a space that inspires you. There are some colors that are standard for offices, such as neutrals and light colors. These are standard for any space because of their "blank canvas" effect.
They don't overpower your sense or your thoughts. However, you can expand your color choices to include blue tones as well. Muted blue tones promote both calmness and productivity making them ideal for an office space.
If you prefer to have a more creative work space, consider adding chalkboard walls. These unique walls create new work surfaces and allows your ideations to quite literally explode around your space. If you want a less permanent creative wall treatment, large corkboards are the ultimate organization tool.
If you have a large basement and don't want to dedicate the entire space to your home office, there are several ways to separate your space. If you want a closed off room for the maximum amount of privacy, you can add additional interior walls.
If you want the option of full privacy, but don't want to constantly be closed off from the space, use large double doors that meet at the corner. By putting their meeting point at the corner, you make the space feel larger than simply opening a wall.
Floors
When it comes to flooring in your home office, you want something that is polished and comfortable. Obviously, you will have to take the same considerations for your home office flooring that you would with any other basement flooring option.
Hardwood floors can give your home office a traditional look. The engineered wood or laminate flooring can give you a classic design with extra durability. If you want the comfort of carpet, but don't want the risk of mildew or mold, area rugs over hardwood or laminate flooring is the perfect solution.
Furnishings
The most important piece of furniture in any home office is the desk. Just like choosing your wall colors, you want to choose a desk that will inspire you.
If you want a blank canvas that will support any creativity, a clean white design is the perfect design for your home office. It can support any color story you decide to use in your office.
For a minimalist home office, a clear acrylic desk is the right design. It allows the pass through of light keeping the room feeling open and brighter.
For a classic office design, choose a large traditional wood desk. If you want a truly grand design, combine this desk with a built in cabinet system.
After you've chosen your desk, you'll need to choose a comfortable chair. Whether this chair has wheels or is a standard design, you want to be comfortable while you're working. That's a major perk of working from home and you don't want to give it up because of a chair.
Wow Factor
Lots of light can help you to feel more productive and refreshed in your work space.
Natural light is always best, but that may not be an option in your home's basement. If this is the case, use soft white lights to brighten your space.
While super bright lights definitely brighten the space, they can be too harsh and have the opposite effect that you're looking for. Overhead lights with dimmers can fill the space without the harshness that you normally find with task lights.
For some extra organization, accent your space using peg boards. They provide the flexibility of giving you a large space that you can fill with pegs to support baskets or shelves anywhere on the wall. They come with a variety of hole sizes that cater to different peg. The larger the peg, the more stable the support will be.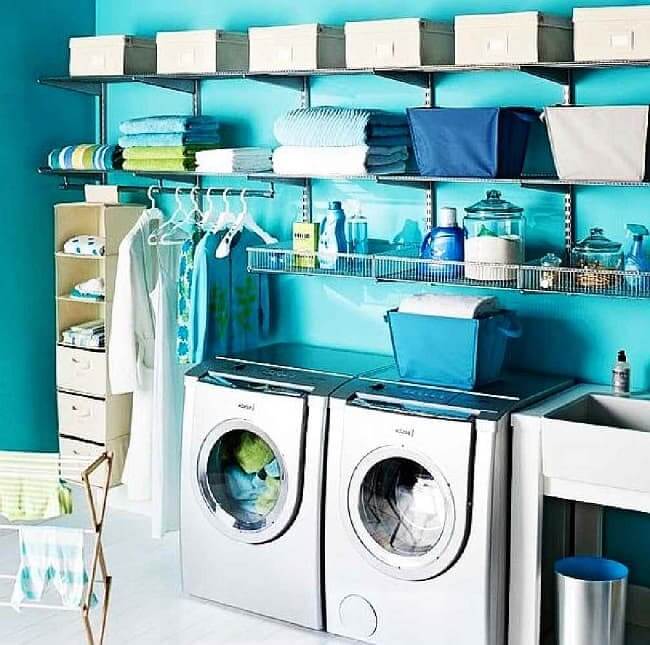 Basement Laundry Room
Often times, homeowners keep their washer and dryer in the basement. It keeps the laundry away from common living spaces and out of any space that may be used for entertaining. Your basement laundry room doesn't have to feel dark and dreary. You can brighten and organize the space to maximize efficiency and make it as beautiful as the rest of your home. The use of your washer dryer are inevitable, so make it fun and a reflection of your home décor!
Walls
The walls of your new laundry room should be bright to keep the space feeling open. Because it's not an area that will be commonly used or seen by guests, you can use bolder colors like aqua or green.
Classic neutrals are always welcome in any room of the house. If you want to incorporate tile into your laundry room walls, subway tiles are a modern option that won't be too much combined with the bright colors that you used on the walls.
Floors
A laundry room is one the basement renovation ideas that can keep the concrete floor in place without sacrificing any comfort. Just because you want to keep concrete doesn't mean you have to have a boring grey slab.
There are two finish options that can give your poured concrete floor a fresh new look, paint or stains. Before you apply either product, your floor must be cleaning and stripped of any other sealants or finishes that have been previously applied.
To paint your concrete floor, you will need to use an epoxy paint. Epoxy paints dry to create a durable and waterproof finish on your floor. This is an ideal flooring option for a space that you're going to use as a laundry room. These paints are usually completely opaque and come in a wide range of colors.
Concrete stain is a little different as it permeates the concrete itself to create a unique finish. Depending on whether you choose an acid based stain or a water based stain, you will have different color choices. An acid based stain reacts with the concrete to create complete unique finishes in dark earth tones and bluish greens.
Water based stains still saturate the concrete, but do not react chemically to create their finishes. They offer a much wider color range. Both stains must be followed by a sealant once they are completely dry. If you want your laundry room to have a classic look, you can always lay tile over your concrete floor.
Furnishings
The obvious furnishings for a laundry room are your washer and dryer. They may seem like necessary appliances that don't need much thought from a design perspective, but there is a ton of things that you can do with them!
From an aesthetic perspective, you can use decals or coverings that can be applied to your washer and dryer like a sticker. They can be easily removed when you decide to redecorate and can add a little more personality and fun to chores.
You can enhance the design of your entire space by creating a cabinet and drawer system around your washer dryer units. One of the most popular additions to laundry rooms are pedestal drawers underneath your appliances. These can be used to store detergents and stain removers.
Other common built in pieces in laundry room renovations are sorting baskets and a fold out ironing board. If you have the space, consider adding a large farmhouse sink. The oversized basin and apron front make it the ideal place to prewash items before putting them in the washer.
Wow Factor
Just like any one room you may include in basement renovations, your new laundry room will require good lighting.
When you're doing laundry, you want bright lights that fill the space. This is important when transferring laundry between machines or to a folding basket, as well as any ironing that may be done.
People have also been adding fun typography elements to their laundry rooms. The most common way to incorporate lettering is to label any sorting baskets you may have. This is the perfect addition to the washer dryer platform.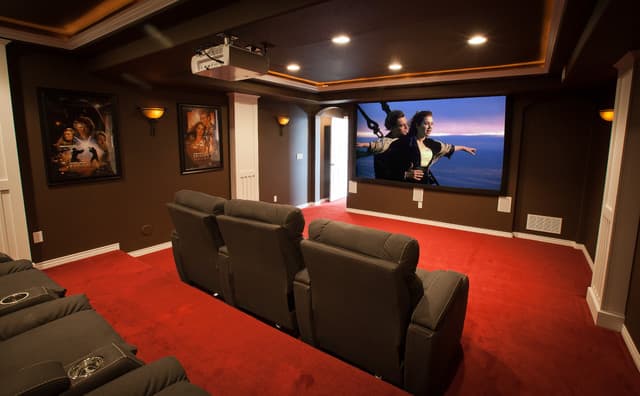 Basement Home Theater
Finished basements are typically used as a second family room. Why not take this idea and take it to the next level? A home theater is the perfect place to enjoy a movie night with friends or family. You don't have to be a movie buff to enjoy this space. This is the perfect place to enjoy game day festivities with friends.
Walls
When you're starting to design your home theater, think of the aesthetic of an actual movie theater. The main focus of the room is going to be the screen.
There a few reasons to use dark colors for your basement walls. You don't want anything to distract your eye from the screen at the center of the room. Bright bold colors can overpower the space.
You also don't want any colors to reflect back onto the screen. This would eliminate any lighter neutrals or bright colors that easily reflect light.
If you're not ready to take the plunge and paint your walls a solid black, dark charcoal is a softer option that has the same effect.
No matter what paint color you choose, it should be a flat paint that doesn't have a shiny or reflective finish. For extra sound absorption, you can also use peel and stick carpet tiles on the walls.
Floors
Floor to floor carpeting is the ideal choice for your basement home theater. You may be apprehensive to install carpeting in your basement because of the moisture levels and risk of housing mold and mildew. There are measures you can take in the carpet installation process that can prevent extra moisture ruining your carpet. After you've cleaned your cement floor, lay down a layer of dimpled polyethylene sheet to create a durable barrier between the concrete slab and your standard subflooring. You can then install your plywood, carpet pad, and desired carpet. It may sound easier to install a hard floor, such as hardwood or laminate tiles, but this can muddle any surround sound systems that you install.
Furnishings
The most important part of any home theater is the screen. There is some debate as to which is better: a large TV or a projection screen.
You can have a true movie theater experience in your basement by using a projector and screen, but a TV can be more cost effective depending upon your set up. Televisions are also much more user friendly for the average homeowner.
No matter which screen option you choose, you will need comfortable seating in your home theater. For a basic design, large sectional couches are an easy solution. They provide a lot of seating and usually have movable parts to fit different seating needs.
For a more extensive home theater design, create tiered seating in your basement with platforms. The seats themselves can be anything from individual recliners to shorter loveseats that seat up to two people at a time.
Wow Factor
The most obvious way to decorate your home theater is with any movie memorabilia that you have collected throughout the years. From framed movie posters to movie props in shadow boxes, they all add to the unique nature of your own movie theater. When it comes to the lights, overhead lights or wall sconces are commonly used in home theaters because of their dimming abilities. This adds the finishing touch to the movie theater environment you've created in your basement.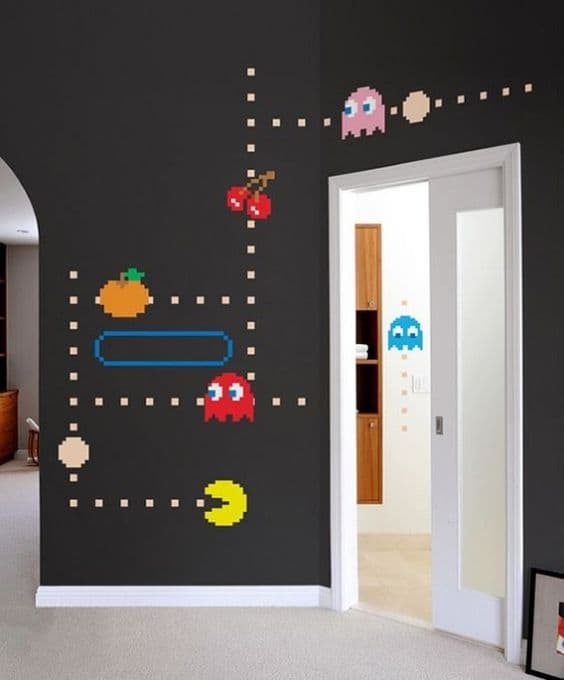 Basement Play Room
Many homeowners use their basement renovation to create a game room for their families. This fun space has unlimited design possibilities because of its fun and whimsical nature. It's completely flexible and can be designed to cater to your family's interests. A game room doesn't have to be limited to children's activities. Whether you're making a giant playhouse or a home arcade, you're sure to create a room that wows guests.
Walls
If you choose to use your basement renovation to create a rec room, you're opening up your space for a large range of design aesthetics than a traditional apartment or living room. There are two approaches to creating walls that fit into the fun aesthetic of a game room. The first to simply use fun and bright colors. The bright colors add energy to a space that was previously dark and damp. For a truly unique approach to your game room walls, use a neutral base color and use decals or paint to create interesting design and murals over it. This featured wall uses Pacman decals to continue the gaming theme to the walls. Other homeowners have covered an accent wall with old board game boxes for a unique and vintage approach.
Floors
Carpet is a tempting flooring option for your game room. It's comfortable to walk on and can help to insulate the space. However, there are concerns with the extra moisture that can be in the basement. There are ways around it, such as an extra subfloor layer. If you want a simple floor install, hardwood and laminate flooring may be the better options. For some extra comfort in areas you will be walking barefoot, you can always lay down area rugs. Area rugs can also help create subtle separations between different spaces in the open plan basement. This comes in handy when you have several children with different interests.
Furnishings
There are so many different pieces that can be incorporated in a play room. If you choose to use an arcade and video game theme, at home arcade games are incredible centerpieces for your basement. If your family leans more toward modern gaming systems, large comfortable seating is key. Whether they're playing by themselves or with a large group of friends, your kids will appreciate the comfortable couch. You can use craft tables to give your children a place to express their creativity. This keeps any extra mess away from the common living spaces.
Wow Factor
As to be expected, lights are going to be a large part of your basement renovation design. If you've been using a gaming theme, why not apply it to your light fixtures as well? This Tetris inspired lamp has moveable pieces that you can fit together in any design you like. Obviously this won't be your only light source. Traditional white lights can be used in either recessed ceiling lights or wall sconces. This keeps light fixture up off the floor and maximizes the space. Shelving units are another important design accent to incorporate into your play room. These storage solutions are key when you're designing a space that will be primarily used by kids. With the wide range of activities that you have in your basement play room, an organization system keeps your space clutter free.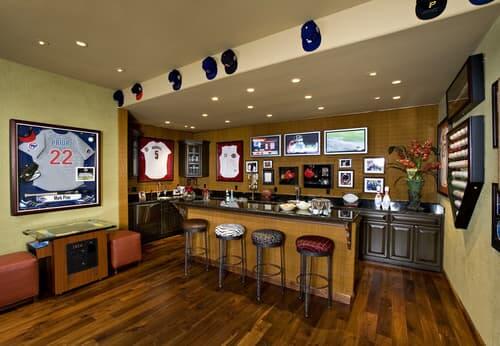 Basement Sports Bar
When it comes to game day, there're nothing like enjoying the game at a sports bar that is full of sports memorabilia and other fans. What if you had that experience right in the comfort of your own home? Using your basement renovation to create a sports bar isn't new, it's a common man cave idea. This space is great for entertaining and game day parties. By keeping it in your home you have the flexibility to watch whatever sporting event you want.
Walls
Because a lot of the interest that your extra décor will add, the walls of your home sports bar should be kept simple and clean. You don't have to be limited to the light neutrals that are common for living spaces. Deep colors, such as a hunter green or warm reds, can add support to any natural wood tones that a lot of homeowners use. If you want to add a rustic aesthetic to your home bar, wood paneling on the walls can add a lot of visual interest to an otherwise plain wall.
Floors
When looking at flooring options for your home sports bar, you want a floor that is durable and easy to clean. If you want to keep your concrete floor but give it an update concrete paints and stains are the best option. They can be sealed with a waterproof sealant and give a plain concrete floor a unique finish. For a more traditional look, tiles and hardwood are both viable options. You will have to seal your hardwood with an extra layer of varnish to ensure that it can stand up to any unexpected spills that may happen.
Furnishings
Your furnishings are what will make your basement renovation a sports bar. The most important piece is the bar itself. There are several different designs that range in aesthetic from a rustic all wood bar to a sleek and modern glass top. A traditional sports bar is an all wood design that is stained and sealed to preserve the natural dark tones of the wood and the wood grain patterns. The decoration on the bar itself is minimal and only present in the carvings. These are accented with bar stools that are either all wood or a wood base with leather seats. They typically have a short back to them for some extra support. Behind the bar, you should stock all of the essentials. From your favorite beer to a decent liquor selection, there should always be a range of selections for any guests. More and more homeowners are starting to install kegerators in their home bars for an ice cold beer whenever they want it.
Wow Factor
One of the most common design accents in a sports bar is a stained glass pendant light that hangs over the bar top. This provides light over the most important part of your basement renovation and adds a decorative element. To continue the sports theme in your home bar, find a light that has your favorite team's logo and colors incorporated into the design. You can continue the sports theme through your barware as well. There are plenty of options out there when it comes to themed items to place in your bar. From glasses to bar taps, you can always incorporate your favorite team into your home bar. If you have sports memorabilia, display it around your basement in frames and shadow boxes. This ties together the entire space.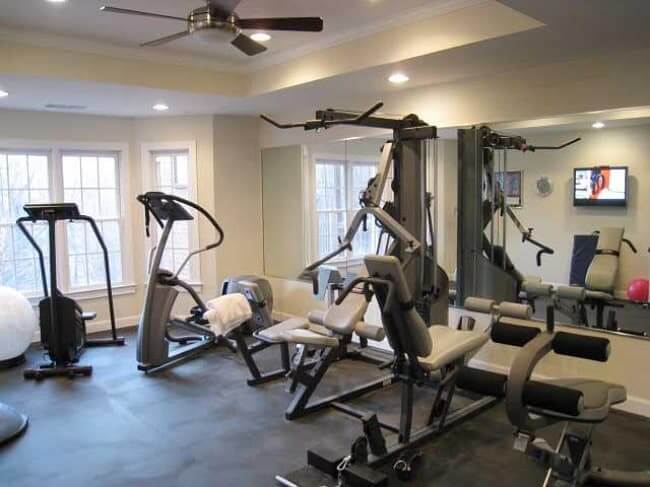 Basement Home Gym
It's hard to match the luxury of having a gym in your own basement. Many people that decide to renovate their basement use the extra space for a home gym. It gives you the flexibility to work out whenever you have the time. You don't have to wait for your machines to be free and you can design the space to cater to your fitness goals.
Walls
Light colors are the most popular option when it comes to designing a home gym. Within this the light colors there are two categories, brights and muted tones. Both options bring their own look and feel to your home gym. If you want a high intensity work out, bright colors can give you the visual boost that you're looking for. If you lean more towards yoga and meditation in your health and fitness approach, muted tones can help you to relax and add a soothing feeling to the space.
Floors
The best thing about putting your home gym in a renovated basement is that the existing concrete floor is a good base to support any gym equipment. It can absorb any extra vibrations or impact that may come with dropping weights. However, you'll want a flooring option that will give you a little more give than a straight concrete slab. Most homeowners install rubber flooring tiles over the concrete floor for a more supportive flooring option. If you want a more aesthetically pleasing flooring option, you can always install carpeting over your rubber flooring. It's also going to absorb more sound than the rubber flooring alone. If you plan to use the space as more of a yoga studio, hardwood is a good option for stability and aesthetic purposes.
Furnishings
One of the best parts of having a home gym is the fact that you can tailor the equipment in your space to your own fitness routines and goals. You can decide to purchase free weights, machines, or a combination of both. Other common furnishings in your home gym are large mirrors. These typically take up an entire wall. Be sure to include fans in your room design as well. Air circulation is one of the most important aspects of a home gym, especially one in the basement. These can be ceiling fans or floor fans depending upon your design and budget.
Wow Factor
You'll want to be sure to include bright lights in your home gym. Not only will it motivate you more, but it's also an important safety factor. You cannot work out safely and correctly if you can't see what you're doing. Overhead lights fill the space and can have dimmers attached to them for days when you don't want the light to be quite as harsh.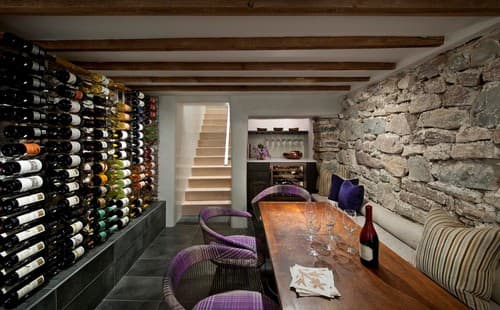 Basement Wine Cellar
For a truly luxurious basement renovation, you can add a wine cellar to your home. This is a unique home design option that you won't find in every house. A basement wine cellar is the perfect addition for an avid wine collector who wants to properly preserve their collections. Even if you're not a connoisseur, you can appreciate the beauty and grandeur of having a personal wine cellar in your basement.
Walls
Your walls will define your space and give your wine cellar its aesthetic. The most common aesthetic for a basement wine cellar is a rustic design with stone walls. These walls are inspired by classic Italian villas and rustic settings. If you want to create a space that is more modern, sleek wood paneling is the answer. These horizontal panels are kept in the wood's natural warm tones and accent the rich colors of the wine. When combined with the glass panels that secure the wine, this minimalist design let the wine be the true centerpiece of the room.
Floors
As with any basement renovation, you will want to install a floor that is moisture resistant. One of the most important aspects of a wine cellar is a consistent temperature. This means sealing your existing concrete floor even if you're adding another flooring material on top of it. Wood is a classic design choice when it comes to basement wine cellars. The engineered hardwood floors help insulated your basement and protect the floor from any excess moisture in the air. This is especially important if you plan on installing any kind of refrigerating system for your wine storage.
Furnishings
You can't have a basement wine cellar without built in wine storage. This can come in a few different forms. You can always have your standard shelves, but many people like to display their wine while their storing it. This calls for open shelving unit and glass doors. Any wine storage space in your basement wine cellar must have a sealed door to control the humidity and temperature. This opens up the wine storage to be viewed. If you want to create a small space to enjoy your wine in the basement, a small table and chairs set can fit right next to your wine storage unit. If you want a rustic aesthetic, dark leather armchairs with a wooden table fit the space nicely. For a modern approach, a sleek simple table and chairs set can make the wine the real focus of the space.
Wow Factor
There are several pieces you can add to your basement wine cellar to put the finishing touches on it. Special considerations must be taken when choosing a light sources because of the temperature control necessary in the wine cellar. LED lights are typically cooler than other sources and still give off a large amount of light. Ceiling lights are the most common application because of the floor to ceiling light storage. They usually have a dimmer switch to change the light level depending on what mood you want to set in the room. Some homeowners also choose to have decorative wrought iron doors over the glass sealed doors. These feature ivy designs and play up a rustic Italian villa aesthetic. For a classic way to reach your wine cellar, a spiral staircase winding down to the basement is the perfect piece. It has a small footprint that is kept to a circle in your floor plan allowing you to have the maximum amount of wine storage space. There are plenty of different design options depending on your desired aesthetic.
Basements are often forgotten or used as simply storage space. However, these dark rooms hold a lot of potential when it comes to interior design. If you want to create a unique feature in your home, you don't have to build out and go through the hassle of a full addition. Finishing your basement can cut some of the costs and give you a head start to your dream addition.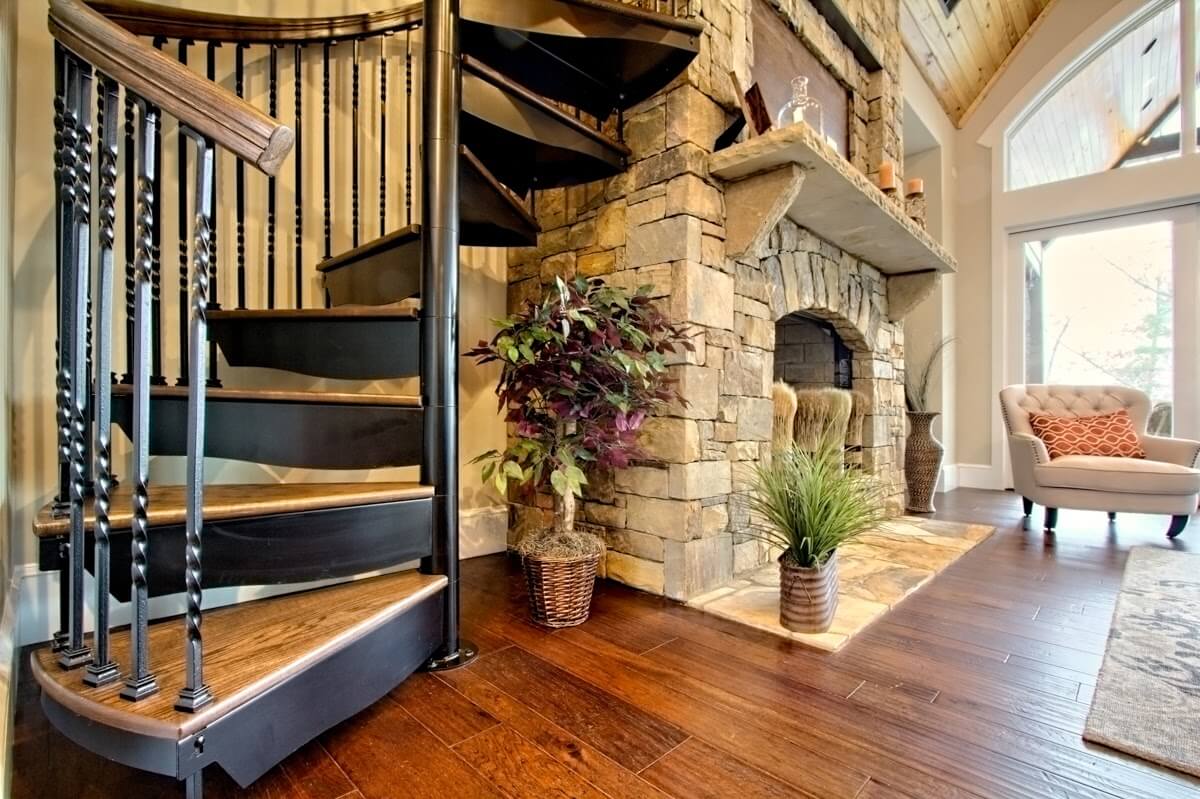 Why Salter
Ready to experience the best in Spiral Stairs?
Get started with a free, no-hassle consultation.
Same Day Pricing

Expert Design & Sizing Advice

Custom Design Options Tailored to your Budget

Estimated Product Lead Times
Get started with a free, no-hassle consultation.