How To Convert A Loft Into A Home Office
How To Convert A Loft Into A Home Office
As a homeowner, you are probably always looking for more space in your home. You may have considered renovating a basement or create a completely new room with an addition. However, both of these options can be costly and time consuming. If you already have a loft space in your home, use it to your advantage!
This renovation is almost all completely interior and can add value to your home without a high cost. Turning a loft into a home office has become increasingly popular. More and more homeowners are working from home and need an office. This guide will take you through each step of your loft renovation and help take the stress out of it.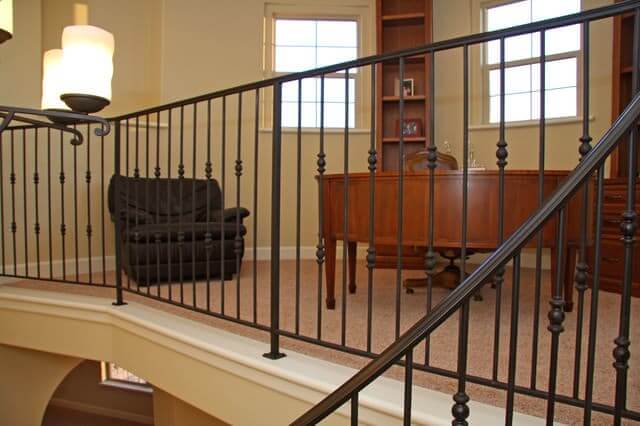 Before the Renovation
Planning
When turning your loft into a home office, planning is a very important part of your loft conversion. Not only will this help you form an accurate budget, but you'll also be prepared should anything come up unexpectedly. It also helps you break down the project into sections. The full love renovation may not seem as complicated when broken down into steps. This also allows you to pick and choose where you plan to use a contractor, if at all.
Building Code & Permits
With any home renovation, you will want to make sure that your space is safe and you are legally allowed to do any construction. Building code is a set of construction and safety standards that all buildings must meet to pass inspection. This is particularly important if you plan to sell your home in the future. It also ensures that your loft is safe and stable for everyday use.
Before you begin any construction on the loft renovation, check with your local municipalities on permit requirements. Most places require permits for alterations to weight bearing walls and changes to electrical wiring. Both of these are common when it comes to interior renovations. By consulting your local municipality, you are ensuring that you won't be hit with surprise fines later.
Define the Space
Every loft is unique when it comes to size and shape. A lot of the space is defined by the building that it's in. When you decide to convert an existing loft into a home office, it won't naturally require nearly as much space as loft bedroom designs. This makes it easier to keep construction to a minimum and simplify the overall project. A simpler project will also result in a smaller budget.
If you want to create more of a standalone room for your home office rather than a small platform, you can extend your loft out into your home. This will require a larger budget and possibly the help of a contractor. Some experienced DIY-ers may be able to extend the frame depending on the location of the loft. If you're unsure about a project, hiring a contractor is the best way to get the project done and eliminate questions about stability. This is particularly important for lofts that will be used on a daily basis and stand up to heavy foot traffic.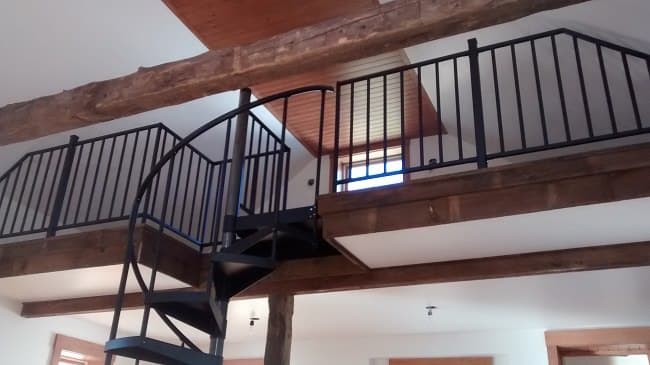 During the Renovation
Loft Enclosure
Enclosing your loft is one of the most important parts of your loft design. Because it's an elevated surface, you will need to create some sort of barrier at the face of the loft to keep anyone using the loft safe. While more private rooms, like bedrooms may require a full wall, loft railing would be the better option for a home office. It gives you the benefits of the free flow of air and light to create a more comfortable space that will then promote productivity.
A loft railing can add a lot to your space depending on the material and design that you choose. You want it to be secure enough to hold up to people leaning on it, but also beautiful because it will be on full display in your home's living space. There are plenty of designs available to fit any design style that you decide on. From steel cable rail for a modern home to a traditional all wood railing, it can help define your space's design style.
Windows
Windows may not be the first thing you think of when you plan on turning your loft into a home office, but they can completely transform your space. Natural light is an important thing to have in any home office. It helps you to feel more productive and fills the space with soft light. This is a welcome alternative to the harsh lights that you would typically find in office buildings. It also helps your loft to feel larger and extends the space.
A popular window design that homeowners incorporate into their loft design is a dormer window. Dormer windows are windows that extend vertically out of a sloped roofline. If your loft has a pitched ceiling and you want to create small nooks to extend the square footage, dormer windows can help achieve this unique design. Installing these windows would require building permits as they affect the exterior walls and roofline of your home.
Skylights are another way to fill your new home office with natural light. While you would still need the building permit to install them into your home's roof, it will not alter the roofline that's already in place. Skylights also have a larger ability to fill the space below the loft with light as well. Their angle makes it easier for light to pass over and through the railing.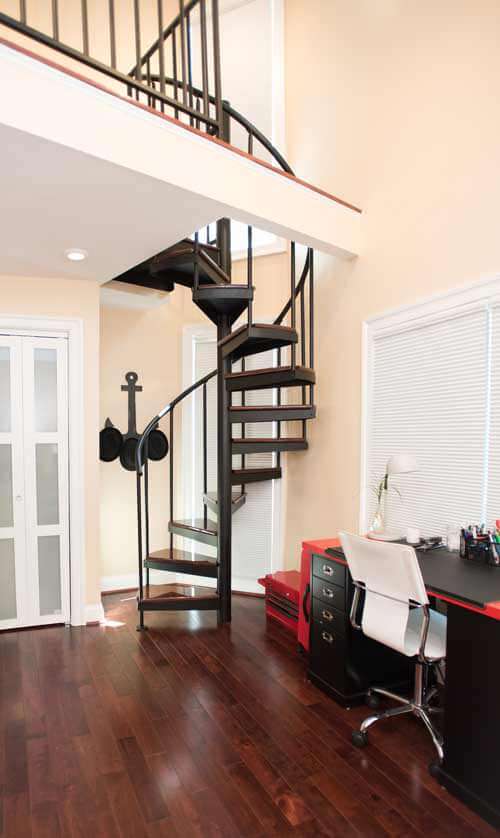 Loft Stairs
Turning your loft into a home office means installing a means of access that is safe and secure. You will be accessing the loft much more often than you had previously and will need a set of loft stairs that will hold up to the heavy foot traffic. The three most common loft stairs designs are loft ladders, traditional stairs, and spiral stairs. They all bring different benefits to your loft design.
Loft Ladders
A ladder is almost always one of the first things that pops into homeowners' minds when they're looking for a way to access their loft. Its minuscule footprint makes it an obvious choice and very popular among loft owners. If you choose to take advantage of your ladder's mobility, you can move it out of the way when it's not in use. This simple design is particularly common in tiny homes. There's a large range of ladder designs that also comes in a wide price range.
However, there are some drawbacks to loft ladders. The largest problem is the lack of stability that you'll find in a loft ladder design. Because of the very simple frame, you lose the large flat surface of individual steps that you would typically use. If you plan on taking advantage of the mobility of a ladder, you will create a major safety concern. The ladder will not be secured to anything and will be a major safety concern. If your loft is in a full size home, there's not need to limit your footprint to something as small as a ladder.
Traditional Stairs
Traditional stairs are at the other end of the spectrum. This is the most common stair design in any application. These designs are typically all wood and found in Traditional style homes. Because they steps are wood, there is a large range of customization options. They can easily be painted or stained to match different aesthetics and are a blank canvas for your creativity. Many homeowners install a carpeted runner down the steps to add comfort and eliminate any potentially slippery surfaces.
While traditional stairs are popular, they may not be the best choice for your home loft. The full steps provide a lot more stability than you would find in a ladder, but this also means that there is a much larger footprint. Ladders can be flat against the wall with their minimal rungs, but a traditional staircase extends out into your floorplan with a very large footprint. These heavy frames take away from any light flow through the house. The large footprint takes away some of the square footage that you created by renovating your loft. Due to the straight frame of traditional stairs, they also lack a flexibility in their access points. They are difficult to maneuver to reach spaces that are tucked into corners of your home.
Spiral Stairs
Spiral stairs are the happy medium to these two seemingly extreme loft stair designs. Spiral stairs are typically used because of their small footprints. The spiral design keeps the footprint of the staircase to a small circle in your floor plan. It's determined by the width, or diameter, of your stair. However, your spiral stair's small footprint doesn't sacrifice any stability that you would find in a traditional staircase. Unlike a ladder, it has full steps and provides a solid flat surface to walk on when using the staircase.
Spiral stairs also come with a large flexibility of design. Depending on the materials you choose, you can create very different staircases to fit into different design styles. The three most popular interior spiral stair options are the Classic Steel spiral stair, the Forged Iron spiral stair, and the All Wood spiral stair. All of these stair designs come with customizable pieces, such as the stair covers and spindles, to give your stair a truly unique design.
A spiral staircase also has flexibility when it comes to access points. Much like a ladder, your spiral stair can access your loft through a hole in the floor or at the face of your loft against your loft railing. However, what sets the spiral stair apart is the fact that it will also have a landing platform. This even further increases the stability and safety of a spiral staircase. You have a secure access point no matter where you choose to install the stair.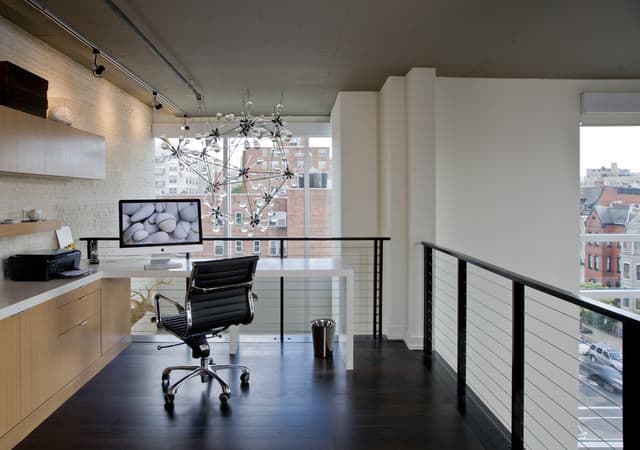 After The Renovation
Your furnishings are what's going to define your home office. Filling your space with the right furnishings is the last step to turning your loft into a home office. There are some pieces of furniture that are necessary when filling an office space. The major variations will come into play when you decide on the design aesthetic.
A recently popular trend in home design is a minimalist aesthetic. This means simple and clean lines with a black and white color pallet. Acrylic desks fit well into this design aesthetic. The clear material allows light to pass through and keeps the open look and feel of a minimalist design. Your chair should be a simple design that doesn't have ornate detail in the frame. Pull in pops of color in through an area rug or a small pillow on your desk chair.
Industrial home offices are trendy and embrace a mixture of materials. Faux brick walls are a popular addition to these spaces as well. Use a mixture of repurposed pipes and old reclaimed wood to make your own desk for a one of a kind industrial piece. Edison light bulbs are the perfect accent to these spaces and provide light.
For a truly traditional home office, think lots of wood and ornate carvings. Rich tones of the wood pair well with jewel tones and create a warm space. Forest greens and maroons are typical office colors, as they promote productivity and achievement. The addition of built in bookshelves can add a touch of luxury to your loft. For a quick update to bookshelves you already have, use crown molding at the top. This can create the look of a built in without the high cost.
Having a loft space in your home gives your interior a dynamic design that has unlimited possibilities. With working from home becoming more popular, the need for a home office is also growing. Turning a loft into a home office is the perfect solution to have a separate work space that is still connected to the rest of your home. Continue the dynamicity of your loft design by installing a unique spiral stair to reach the space. A call to one of our consultative designers can get you pricing on your stair in five minutes or less! They will take you through every aspect of the design, including the matching loft railing, to ensure that the design fits into your ideal loft space.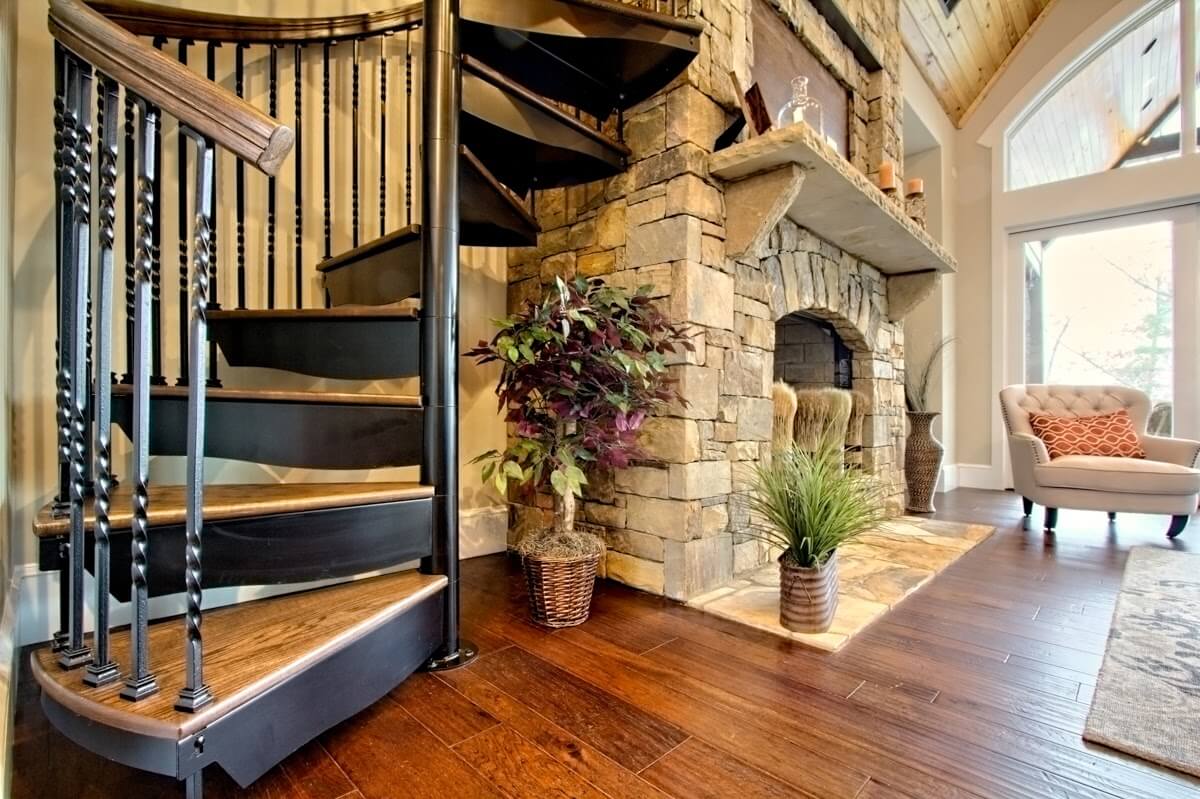 Why Salter
Ready to experience the best in Spiral Stairs?
Get started with a free, no-hassle consultation.
Same Day Pricing

Expert Design & Sizing Advice

Custom Design Options Tailored to your Budget

Estimated Product Lead Times
Get started with a free, no-hassle consultation.