Modern Home Renovation Ideas From Small To Big
Modern Home Renovation Ideas From Small To Big
With a new year often comes the desire to refresh everything, from your wardrobe to your home's interior. Sometimes this consists of updating pieces to match emerging trends or using the new beginning as motivation to finally bring that renovation idea you've been putting off to life.
We've compiled a list that mixes these style changing renovation ideas with the emerging home trends of 2017! They range from simple décor updates to major interior projects.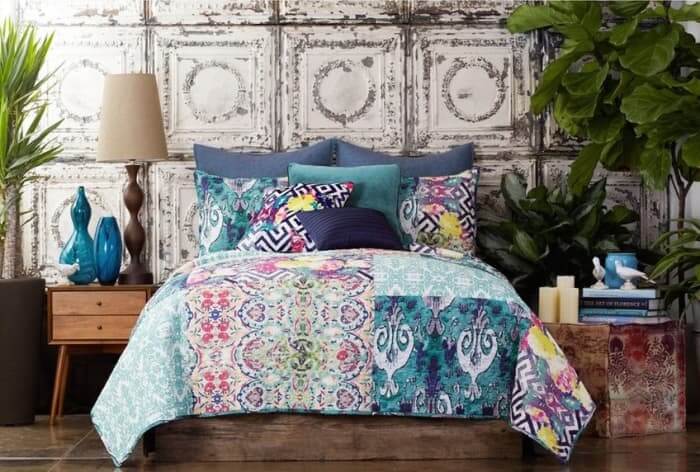 Easy Updates
You don't have to go through a complete renovation to give refresh your home's interior. Some décor updates and replacements can bring your living spaces into 2017. All of these projects can be finished in an afternoon or a weekend!
Interior Materials
One of the best ways to give your living spaces a face lift is with some new fabrics. A huge trend for 2017 is going to be mixed patterns. Don't be afraid to use complementary patterns between the different fabrics in your home.
If you want to give your living room an update, but don't want to break the budget on new furniture, consider couch covers. With the right fit and fabric, your old dated furniture will be unrecognizable! For bolder homeowners, you can add complementary patterned throw pillows.
Textures are another trend in 2017. While 2016 saw monochromatic textures come through wall treatments to fit the minimalist style, this year will feature more luxurious approaches. Quilted back seats and pleats folded into comfortable fabrics. Match your luxurious design with comfort be choosing the right treatment and fabrics!
Accent Pieces
Cork is another material making a comeback in 2017. After Scandinavian minimalist style ruled last year, there's now a push for more organic and earthy materials. While cork is typically used as an office supply material, it has its place in polished home décor as well!
On the other end of the spectrum, marble accents are reaching their peak after a steady rise in 2016. The key to using this luxurious material is to have moderation and to mix in metal pieces. If there's an over use of marble, it can make it seem cheap and cancel out any of the style you were looking to create.
Upgrade Your Surfaces
The surfaces in your home can recreate your space. They're a supporting character in your rooms that can sometimes go unnoticed. However, once you change the table or counter top, you'll notice a major difference in the personality of the space.
Tables are one of the easiest things to change out. The table's legs and frame can pull out different accents in your space that you may have never noticed before. Whether it's a new complementary color to your existing wall treatments or a new shape to fit the room. 2017 will welcome a shift from the sharp edges of Scandinavian designs to warmer and softer curves. Look into semi-circle or round pieces to redefine your space.
Kitchen counters are an easier and much more affordable update than you think. Because it covers the most area, other than your cabinets, your counters can change the entire style of your kitchen. Whether you want to embrace the 2017 trend of luxury with a marble counter or lean towards the organic material trend with butcher block counters, it can be done in a weekend with a counter shell that fits over your existing surfaces.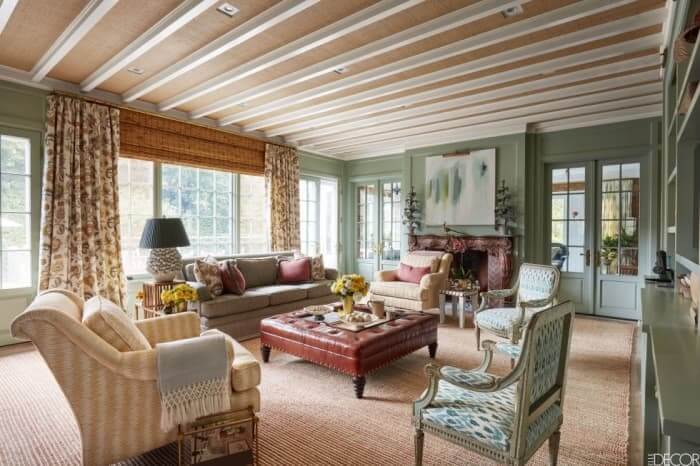 Wall Treatments
Wall treatments are seeing a great departure from the textured panels that were so popular in 2016. Your room's texture will be pulled into through the fabrics we mentioned earlier. This year is all about solid wall colors.
One of best colors to use as an accent or for a statement in 2017 is navy. This traditional color is becoming a softer alternative to the harsh black that you may have used as your accent in the past. Not only does it have a softer edge, but it also won't close off your room. When using large black accent walls, it can sometimes make your room feel much smaller. Avoid this claustrophobic design by using navy instead.
Green is another major trend in 2017. With Greenery, a bright and refreshing green, being Pantone's Color of the Year 2017, it's revitalized the previous year's trend of pastels and bright whites. If this shade is a little too bold for your home, try a more muted earthy green for a calm and relaxed living room.
While the incredibly popular 2016 trend of ship lap is phasing out, there are some textured wall panels to be used in 2017. Using the previously mentioned material of cork, you can create a very small accent wall. While it's not recommended for a full size wall, a small nook with a cork wall can pull in those homey accents that we're seeing early on in 2017.

Staircases
A home design element that can change your space entirely is your staircase. This potential home centerpiece can be overlooked as simply a necessity and not a design feature. However, an update your staircase can redefine your entire home.
If you don't want to replace your current staircase, there are plenty of simple updates that can give your existing stairs a facelift. Painting the steps and risers is a popular way to bring them new life. Adding carpeting is a popular option for homes that want a comfortable and non-slip staircase.
For a large impact in a smaller footprint, you can replace your traditional straight staircase with a trendy spiral stair. This plays perfectly into the 2017 trends of smooth curves and lines. The spiral design builds on top of itself and keeps the footprint to a small circle. Not only does this open up space in your home, but the shape creates a new dynamic of how things work together in the space.
Salter Spiral Stair offers three interior spiral stair lines and two outdoor stair options. All five of our product lines can be customized to fit your ideal aesthetic and help you to redefine your home's style. We offer all metal designs, solid wood staircases, and a combination of materials. Your entire staircase is customizable from the individual steps to your decorative spindles.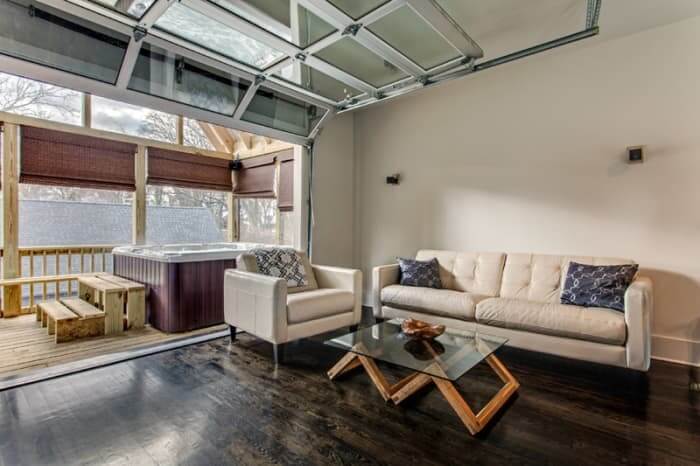 Major Renovation Ideas
Sometimes the changes in your home are going to take a little more than a simple update to your table top. If you want to do a major overhaul of your space, the new year is the perfect time to do it! You may be building walls or finishing a previously unused space in order to create your new home.
One major trend change is the move from completely open floorplans to more closed off spaces. While 2016 was all about minimalism and wide open spaces, 2017 is looking toward more private residences. If you don't want to start building walls in the center of your home, or you live in a loft or studio space, you can create the idea of a closed off space. Room dividers in the form of bookshelves or screens are a great non-construction way to follow this trend!
If you enjoy home entertaining, get ready to see more home bars in the main living spaces. Previously, bars were a fun addition to basements and a bar cart was the easiest way to incorporate it into your living room. However, more homeowners are looking to add the bar straight into their dining room or living room! Don't think you need to add a large counter to the middle of your family room. Some built in shelves and a few cabinets are the perfect solution for your existing space.
One of the largest renovation ideas in 2017 will be a finished garage. This extra space is often overlooked when it comes to renovating for additional living space. The most popular way to finish this space is to create an apartment in your garage. If you have a second floor to your garage, you can have your finished space without losing your car's parking spot!
2017 definitely looks like it's going to be a year of major change for home design trends. You can keep your home on trend without having to redo the entire house! These renovation ideas from changing out a table to finishing your garage are ways refresh your space and give it a face lift for the new year!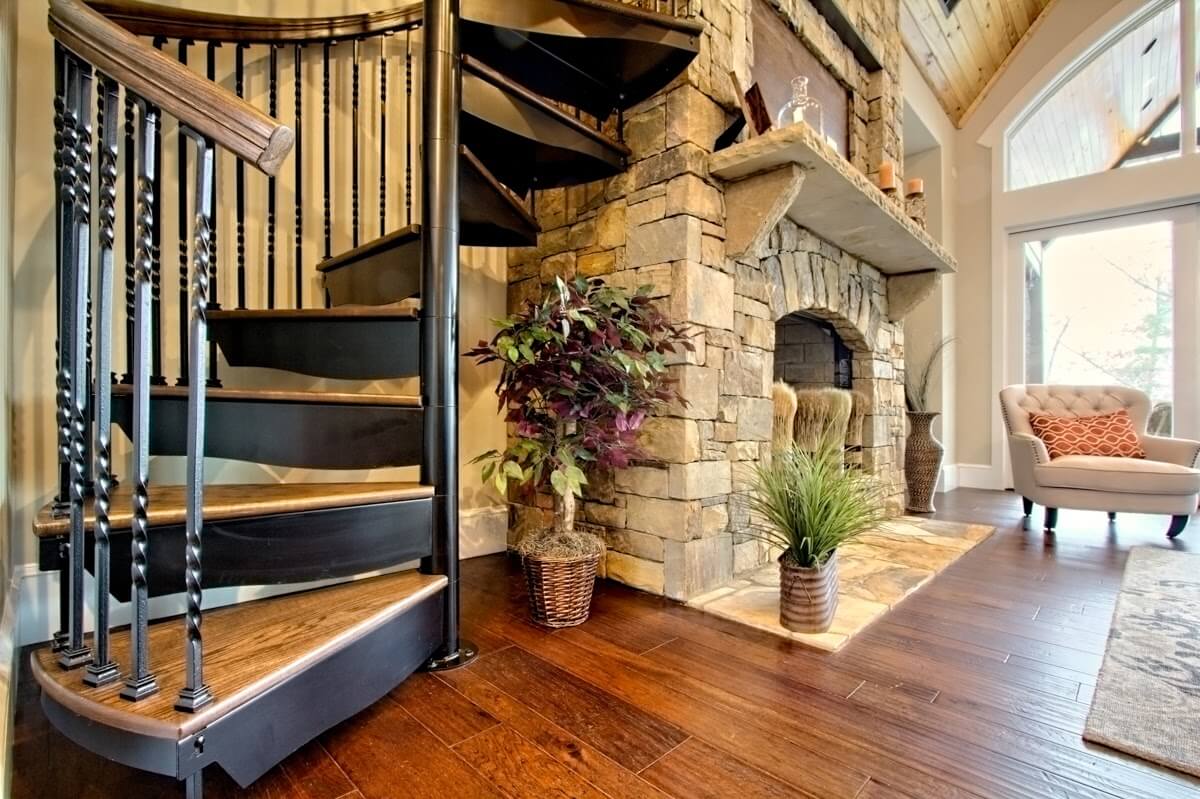 Why Salter
Ready to experience the best in Spiral Stairs?
Get started with a free, no-hassle consultation.
Same Day Pricing

Expert Design & Sizing Advice

Custom Design Options Tailored to your Budget

Estimated Product Lead Times
Get started with a free, no-hassle consultation.