How To Convert A Loft Into A Library
How To Convert A Loft Into A Library
When you think of large expensive houses, you probably see a den or home library tucked somewhere into the floor plan. However, these elegant designs aren't limited to large mansions. This extra space is the perfect place to put a bonus room that you may not otherwise have room for. Turning a loft into a library is a great addition to any home that adds value and enhances your home's overall design. Whether you decide to use it as an extensions of a current home office or use the loft as a separate area, you'll find value in the space.
Table of Contents
Library Loft Railings & Walls
Accessing Your Library Loft
Library Loft Wow Factors
Library Loft Bookshelves
Library Loft Furniture
Building Your Library Loft
The actual renovation process is similar to turning a loft into a home office. You want the focus to be on the function of the room and keep the small space open and use the right staircase to maximize your space. However, they differ in the materials used and the actual design of your space, such as the walls and different wow factors you can incorporate into your design.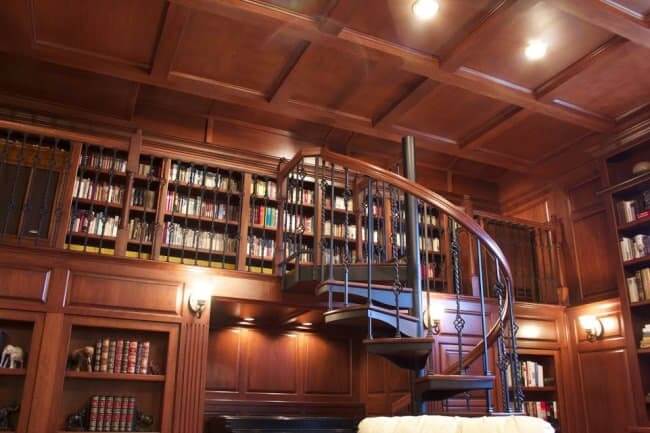 Railings & Walls
The most important renovation step when turning your loft into a library is to close off the space to ensure the safety of anyone using the space. This can either be done by using a solid wall or an open railing at the face of the loft.
Open railings are often a better fit for small spaces because they keep the loft open and feeling larger. For an added design element, you can match your loft railing to the staircase railing that leads up to the loft. This creates a cohesive and one of a kind design.
For the other three walls of your library loft, you have some flexibility. You may want to simply have wall to wall bookshelves that won't allow for much, if any at all, extra design. If you have open spaces on the wall, there are plenty of unique designs that you can use.
Using wood in your wall treatments helps the space to feel warm and adds elegance that's reminiscent of historic homes and their dens. If you want a library that features dark rich tones, use dark stains that can help you achieve the warm look. There are several different designs readily available for your wood paneling. If you can't find wood panels with the right color story, you can always stain them. Using red undertones will create a warm color scheme and add to the luxurious nature of a home library that most homeowner's are looking for.
If you want a more budget friendly home décor solution to your wood paneling, crown molding can help you achieve the expensive look for a low cost. Install your crown molding in the middle of your wall to create a built in paneling effect. You can either keep it standard with an even line around the room for a chair rail or use the molding to create more ornate designs and panels.
Your walls and panels aren't limited to wood stains either. If you want add some color to your library loft, you can either paint a standard wall, or paint over the newly installed panels. This can help create visual interest on your walls without the space becoming too busy. The same rich tones can be applied in paint colors as well. Jewel tones, such as deep blues and purples, can help promote an intellectual mood and round out the opulent feeling of a home library. Deep forest green is another popular wall color option when you're turning your loft into a library. It's calming and gives the room a peaceful mood.
Even though these dark and lavish designs are most common for home libraries, you can apply minimalist design aesthetics to the space as well. Use bright and clean colors for your walls, such as whites and light greys. You don't have to give up any wood paneling for these light and airy spaces. Choose wood panels that are light in color or lean towards light stains. You can also paint over them, just like you did with the darker paints in the other design styles.
Any loft renovation is going to require you to look at your means of access. If you're turning your loft into a library, you want a safe and stable loft stair design that will allow you to carry books and boxes from one level to the next. There are three major designs that are usually considered in loft renovations.
Traditional staircases are the first thought that any homeowner has when they need a new means of access. They are the most common stair design in homes and usually have no problems with safety and stability. You can easily carry things up and down them. However, the design also comes with a very large footprint, meaning it will take up a lot of room in your floorplan. If you decided to use your loft as a library to not take away from your main living space, a traditional staircase can eliminate some of the extra square footage that you created.
Loft ladders are popular in library lofts. They are reminiscent of old libraries that used them to reach the high shelves and keeps with the theme of a classic reading room. However, in a home library, it may not be the safest option. While they have a small footprint that you won't find with a traditional staircase, they also give up some of the stability of a full staircase. Ladders are usually not an ideal choice for frequent use. Another drawback to this minimal design is the fact that it will be very difficult, if not impossible, to carry things to and from your new library loft.
A happy medium between the stability of a traditional staircase and the small footprint of a ladder is a spiral staircase. Spiral stairs feature full steps and a structurally sound frame without the large rectangular footprint of a traditional stair. The spiral design means that the stair builds on top of itself and keeps the footprint to a small circle in your floorplan. A spiral stair design is highly customizable with three different product lines at the base: Classic Steel, Forged Iron, and All Wood. Classic Steel spiral stairs often feature simple designs that complement existing spaces. Forged Iron spiral stairs are known for their ornate details in the spindles and handrail caps. Both of these metal frames can be paired with wood treads and handrails to create a classic library design. The All Wood spiral stair is a great option for those looking for a truly traditional library design. We have a wide range of wood species available to fit your home library design.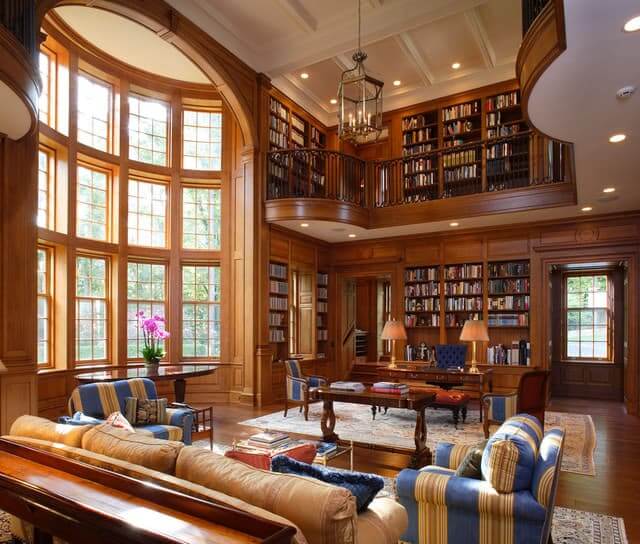 As if turning your loft into a library wasn't enough of a wow factor in your home design, you can incorporate some design elements to truly amaze your guests and take your home library design to the next level.
One of the easiest ways to add an extra element to your home design is to take the same idea of paneling your walls and apply it to your ceiling. Most lofts have high ceilings, making it possible to build a loft. Take advantage of these unique architectural features by incorporating design elements into the ceiling as well.
Fireplaces are another cozy addition to a home library. It brings a literal warmth to your newly renovated loft. Just like wood paneling, they are commonly found in old historical homes and their personal libraries.
For a truly awe inspiring home design, consider installing a multilevel window. The window base starts on the bottom floor of your home and extends up through to the top of your loft. This accentuates the high ceilings that are necessary for a library loft.
Decorating Your Library Loft
Once the space is created, the real fun is furnishing your new home library. With so many design styles available, you can create a one of a kind space in your newly renovated loft.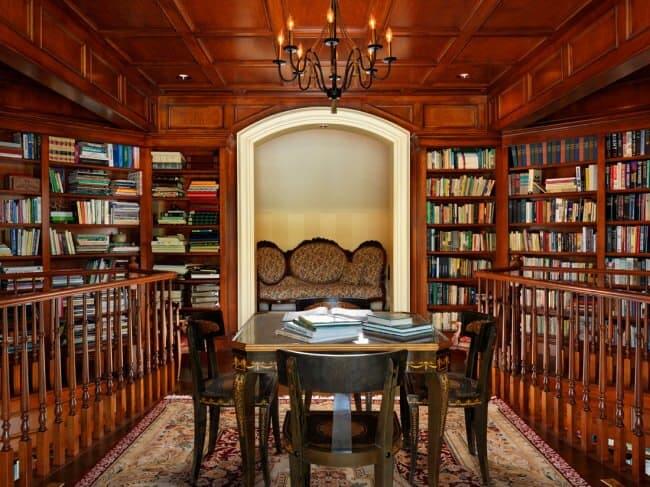 An entire section dedicated to designing your bookshelves may seem a bit much, but they're the keys to turning your loft into a library. Without the right bookshelves filling your space, you'll simply have a seating area in your loft.
There are plenty of unique designs of bookshelves that fit into different design styles. The have a large range in materials, costs, and even DIY projects. Most traditional bookshelves are made from wood that you can either buy pretreated or stain them to match your home library's design. Other modern or minimalist designs may consist of both metal and all wood frames and have open grid like frame. The clean lines and geometric shapes are defining features of minimalist designs. These can be painted to match your wall colors to blend seamlessly with the room.
One of the most classic ways to use bookshelves in your home library design is to install built in shelving units. While these are gorgeous, they can quickly become expensive. The floor to ceiling units, especially all wood designs, are usually custom made meaning a high price. However, you can create the look of a built in by using crown molding. Installing crown molding at the top of your bookshelves fills the gap between the top of your bookshelf and the ceiling. Stain or paint the molding to match the walls and bookshelves and you've made faux built in shelving units.
Once your bookshelves are in place, you then have the task of organizing your books and trinkets on the shelves. While you may want to keep it eclectic and mix different book styles and genres together throughout the shelves, it's becoming quite trendy to have grouped items on your bookshelves.
A popular way to group your books and other items is by color. This particular type of organization is perfect for minimalist style home library designs that are looking for small pops of color.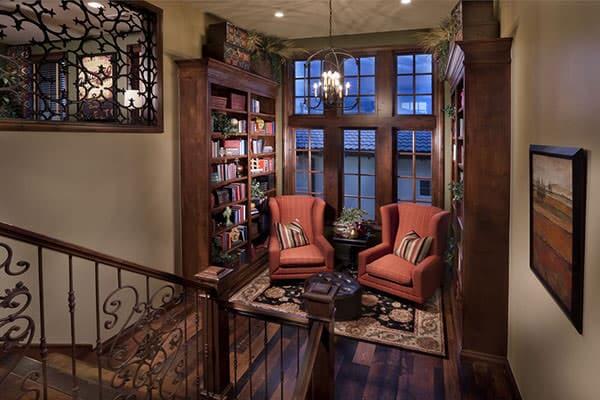 If you have a good book, you'll want a comfortable place to sit and read while you enjoy your new library loft. Overstuffed armchairs are commonplace in bookshops and cafes because they give readers comfort while they're lost in their books. Mismatched chairs paired with small side tables gives your library loft the eclectic style that many old reading rooms have. Jewel tone fabrics paired with a quilted chair or couch back creates elegant pieces that pair well with rich wood tones.
Another popular material choice is dark leather. The richness in the color of the leather is the perfect complement to warm undertones in dark wood stains. It also pairs well with the quilted back and adds a touch of luxury to your home library. This can be a single arm chair and ottoman or a full couch design.
The addition of a large wooden desk can also take you're your library design to the next level. Match the wood tones to the ones you've used in your wall panels and bookshelves to create a cohesive design that takes you into a classic den design.
The last piece that will help define your home library design is your light fixtures. Many homeowners decide to incorporate small table lamps for a cozier feel. They incorporate jewel tone accents in the glass of the lamp and place them on desks and side tables throughout the space. For another more extravagant design, you can incorporate a chandelier or hanging pendant lights.
Turning a loft into a library is a great way to make the most of your extra space and add value to your home. You can incorporate unique pieces in every step of the renovation process. If a custom spiral staircase fits into your loft space ideas, call one of our consultative designers to start your project!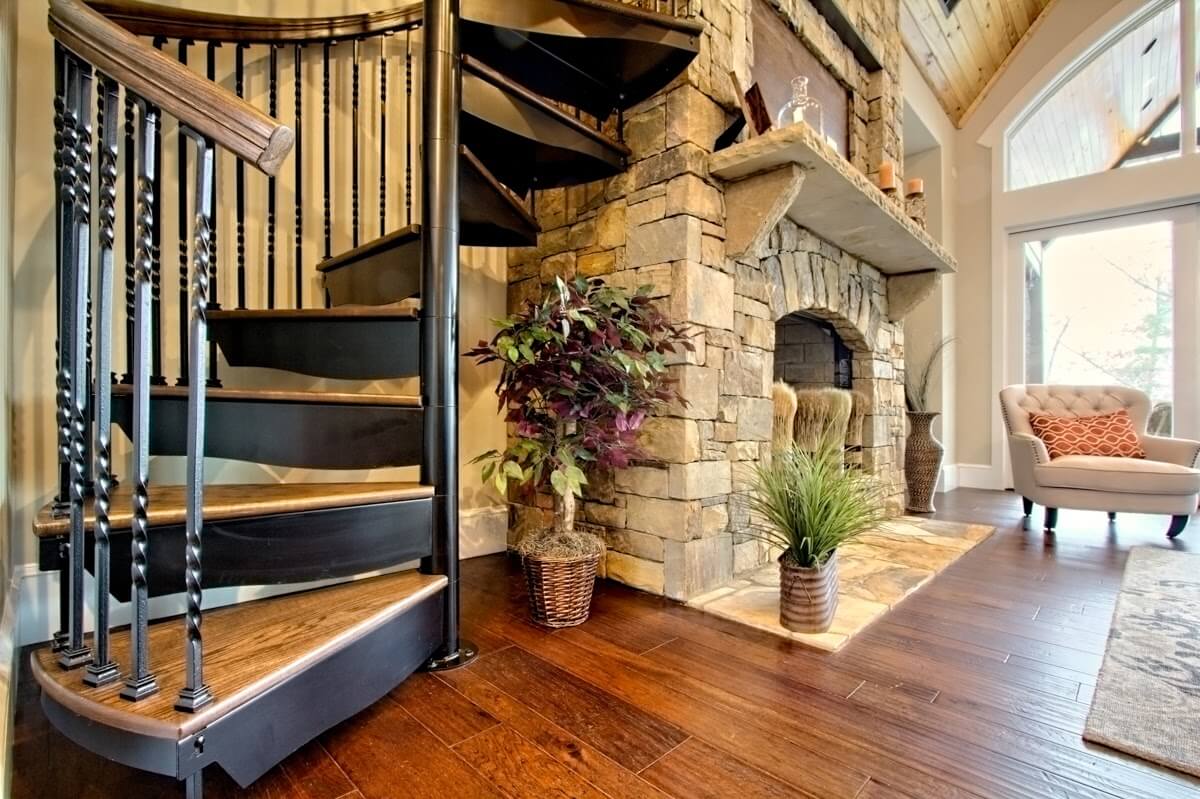 Why Salter
Ready to experience the best in Spiral Stairs?
Get started with a free, no-hassle consultation.
Same Day Pricing

Expert Design & Sizing Advice

Custom Design Options Tailored to your Budget

Estimated Product Lead Times
Get started with a free, no-hassle consultation.