Decorative Deck Railing Designs & Ideas
Decorative Deck Railing Designs & Ideas
Just like you carefully choose your paint colors to compliment your home, your deck railing designs are the "walls" of your deck. Not only does the railing provide a necessary safety measure, but it also defines the space, giving it a definitive frame.
You can use different materials to create different aesthetics that match your home. Sometimes the same base material can provide completely different looks depending on finish and design.
This guide to deck railing ideas will help you wade through the options and find the right one for your deck!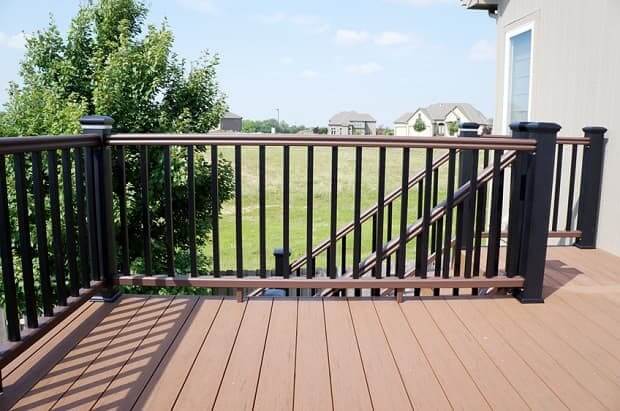 Composite Deck Railing
Composite decking material is one of the most popular materials for outdoor uses because of its major benefits. The material's composition and durability make it a low maintenance option that holds up in any climate.
It's made from a combination of wood particles, such as sawdust and mulch, and plastic. They are combined into a set of boards to create a weather resistant and maintenance free decking material.
These boards give homeowners a zero maintenance product that has the look of real wood. The textured wood grain is part of each board for a durable, but beautiful end result. It holds up to heavy foot traffic and harsh weather conditions.
This seemingly perfect product does have a few drawbacks. When composite decking material is damaged, you cannot spot restore or repair like you would with traditional wood. You will have to replace the entire composite board.
You may also be limited in colors. They can be a little more solid and paint like in finish than a natural wood and stain finish. However, as they grow in popularity, companies are providing more colors that imitate the natural wood tones.
Just like a composite deck, you would use these boards for your railing in the same way you would use traditional wood. These designs are a simple top and bottom railing with spindles connecting the two.
They typically come in kits that are an easy afternoon project. The kits are very easily installed yourself in an afternoon with all the pieces fitting together like an erector set. The average price for a composite deck railing starts at $150 for 6' of railing.
Wood Deck Railing
Wood is the most traditional material for decks and deck railing designs. It is one of the most customizable materials available for your deck designs. By using different finishes paired with different wood species, you can create a complete different design.
All of these different combinations will vary in cost and add a new element to your deck. Given the blank canvas aspect of wood railings, they are easily the most versatile of the designs listed here.
Pressure Treated Lumber
Pressure treated lumber is the most common material used for outdoor wood projects. It's treated specifically for these projects and to hold up to the extra moisture that comes with constant exposure.
It's easily accessible and can be found at any home improvement store. It is the most budget friendly material included in this post. These two benefits make it a top choice for homeowners looking to make their deck railing a weekend DIY project.
Pressure treated lumber can be stained, painted, or shaped to fit any design you want. This wood product is more porous than other hardwoods making it easy to refinish to match the rest of your deck.
It usually costs between $15 and $25 per square foot, making it budget friendly. It will need to go through a deck restoration process every year or so to ensure that your railing is structurally sound.
Cedar
Cedar is one of the most popular decking material options because of its natural durability. If you're looking to keep the beauty of a natural wood grain at the forefront of your deck railing design, this may be the right material choice for you.
This hardwood is naturally rot and pest resistant, meaning you can keep it in its natural state without too much concern. Of course, you can still stain or seal you cedar deck railing.
They're not completely maintenance free. Your cedar railing will need to be treated every two years. It's not quite as low maintenance as a composite railing, but it definitely will hold up longer than a typical pressure treated wood deck.
Mahogany
Mahogany is most recognizable by its natural rich color. However, it's also very durable making it ideal for outdoor projects.
There are several different species within the category of mahogany wood. Depending upon which one you choose, it will be naturally rot resistant. This paired with the rich color gives you a traditional looking deck. The darker and richer the color, the more resistant to decay it will be.
If you want an added layer of protection, but love the rich warm tone of mahogany, use a clear sealant to keep it from greying over time. This way you aren't losing any of the natural beauty of the mahogany, but you're lengthening the life of your railing. Because mahogany isn't locally sourced, it will be more expensive with an average cost of $28 per square foot.
Redwood
Redwood lumber is ideal for outdoor applications because of its durability. It is naturally insect resistant and stands up well to UV rays. Many wood species grey over time in constant sun exposure. Redwood will keeps its luxurious red color and can be sealed with a clear sealant as an added protective measure.
These benefits do make redwood a more expensive option for your deck railing. With average costs around $35 per square foot, you are paying for the low maintenance nature of the material.
Wood Deck Railing Design Options
No matter which wood species you choose, there are several different deck railing designs that you can use. While some of the materials may stand up to weather better than others, they all can be used to create these unique and beautiful pieces. They take the rustic and traditional material of natural wood and combine it with creative designs. All of these projects can be a custom design by a deck contractor or an easy weekend DIY project!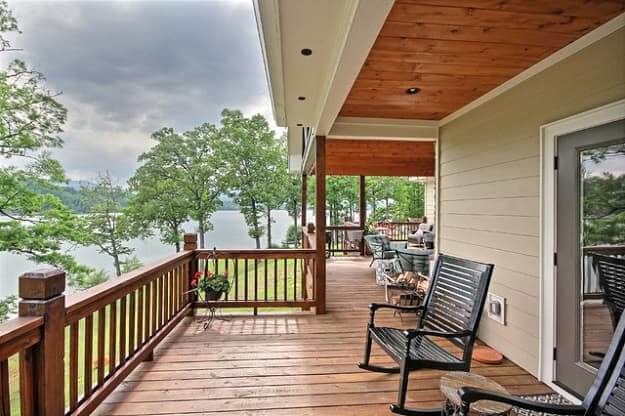 Traditional Deck Railing
You can't talk about deck railings without first considering a traditional straight post deck railing. This design is what you'll find on most homes and is complimentary to all home styles.
The classic deck railing may be unappealing to those looking for a trendier option for their home, but this deck railing design can be customized and altered to fit your vision. Through different wood species, paints, and stains, you can create a traditional deck railing that is still unique to your home design.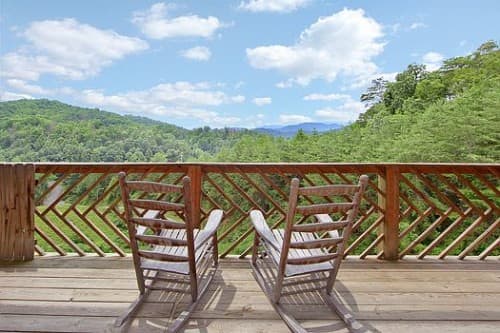 Interlocking Patterns
Don't think that you're limited to straight posts because you're using a traditional material. You can install and secure your wood railing to create a dynamic and interesting pattern that also provides enough coverage for safety purposes.
There are several different designs that utilize flat boards over typical square spindles. By flattening them, you are able to create diagonals that seem to connect together in complex patterns and add visual interest to an otherwise standard piece of architecture.
Lay out your board in your pattern on the ground first to be sure that you're happy with it. Don't be afraid to play around with different shapes to find the perfect accent to your deck.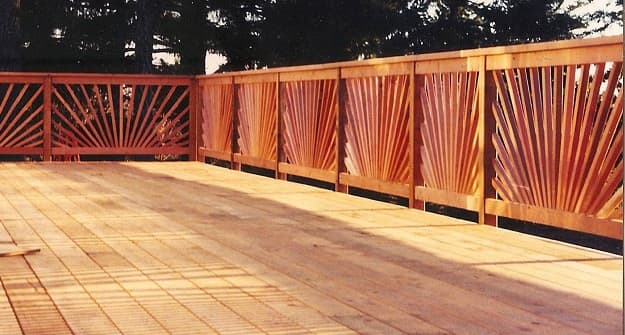 Sunburst Design
Take your diagonal spindles a step further and create a sunburst design in your deck railing. There's flexibility within this general design style as well.
You can use as many spindles as you like in your sunburst to create more or less coverage in your railing. The diagonal spindles themselves are an interesting visual element, but you can also add a solid semicircle at the bottom of your panel for a true sunburst design.
The best way to install a sunburst deck railing design is to build the panels containing the diagonal spindles separately and install the entire piece as one. This ensures that all of your angles will be equal.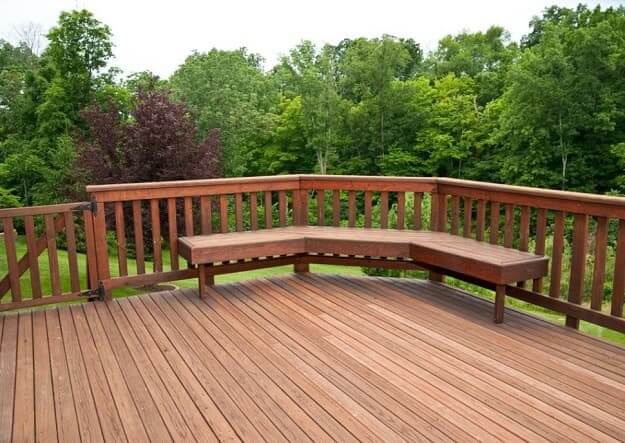 Built In Seating
Take the idea of multifunctional furniture and move it outdoors! Use your deck railing as the back of built in seating. By incorporating built in benches into your deck, you're creating a completely custom design for you and your home.
Your deck is the perfect place for outdoor entertaining, and adding seating makes it even better. You can also use your built in benches as storage benches for different backyard toys and seating cushions.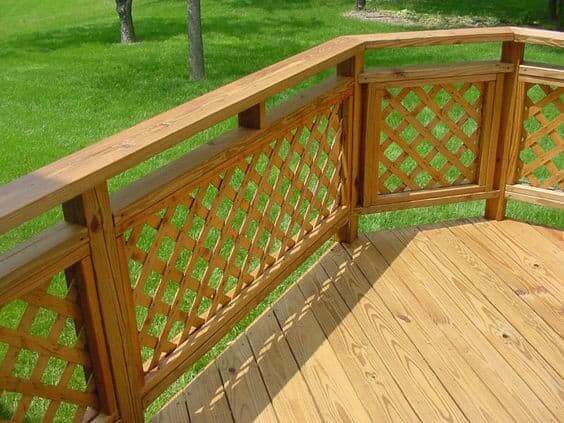 Lattice Panels
If you want a full wall rather than just a railing design, use lattice panels in place of the wooden spindles. This classic piece of home design is usually used as a deck skirting, but why not move it up to a part of your railing system.
Lattice panels come in a variety of materials and finishes to give you the perfect piece for your deck design. If you want to add some green to your lattice, climbing plants are a common addition.
Metal Deck Railing
Some homeowners want to go in a completely different direction with their deck railing ideas. Metal railing surrounding decks and balconies have become more popular in modern and industrial style homes.
While those are the most common aesthetics that use metal railings, this durable option fits into a traditional Victorian style or a farmhouse conversion just as well. While the wood species were essentially interchangeable in their designs, different metals won't fit very design.
Steel
While steel is one the most common building materials, it's not the most used deck railing metal. It does have the durability that you would expect with metal, but is susceptible to rusting with constant outdoor exposure. This can compromise the structural integrity and design aesthetic of your deck.
If you still want to use steel, there are a few ways to help ward off rust. The two rust prohibitive finishes are galvanized steel and powder coated steel. Both coat your deck railing in a protective barrier that can prolong the life of your steel railing.
Aluminum
When compared to steel, aluminum is a much better fit for your outdoor applications. Aluminum deck railing is naturally rust prohibitive and can stand up to harsh weather conditions with minimal upkeep.
A common finish for aluminum railing is powder coat. This process gives the already low maintenance material a weather proof finish and can be done in custom colors. Whether you want a subtle complementary color or a bright centerpiece, you can achieve it.
Wrought Iron
Wrought iron railings are the perfect complement to a Victorian home. They often feature ornate spindles that have designs molded into each one. While they're beautiful, they do have some of the same maintenance issues as steel deck railing.
There aren't many, if any, protective finishes for your wrought iron railing. This can make it nearly impossible to avoid rusting with constant exposure to the elements. They are not galvanized and are therefore more susceptible to rust and corrosion.
Metal Deck Railing Design Options
Because metal is a more distinctive material than wood that can be refinished, you may feel like you don't have as much flexibility. However, you can create different designs that match a wide range of home design aesthetics. Different materials can help you to create different looks to match your home's personality.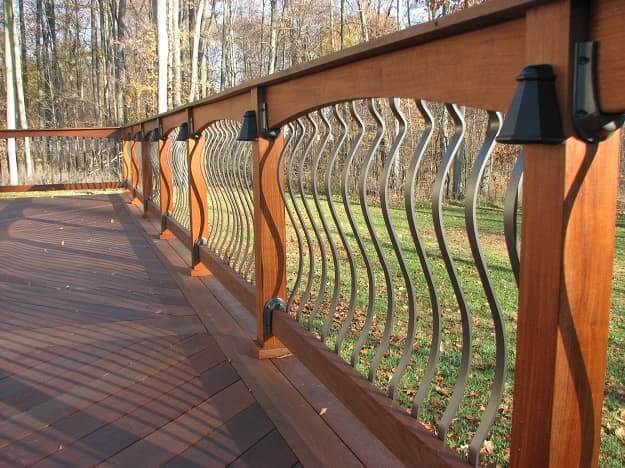 Arched Balusters
This design is simple, but adds a unique visual interest that you wouldn't find with standard wooden spindles. The curve is subtle enough to support but not distract from the rest of your deck.
This European design can fit into a Victorian home or as an interesting design element on a contemporary home. They are typically aluminum railings, but you can use steel or iron with the right maintenance.
Arched balusters give your deck railing design a custom look but they can be easy to install. These designs come in kits with predrilled holes for easy DIY installation. They range in price from $80 to $120.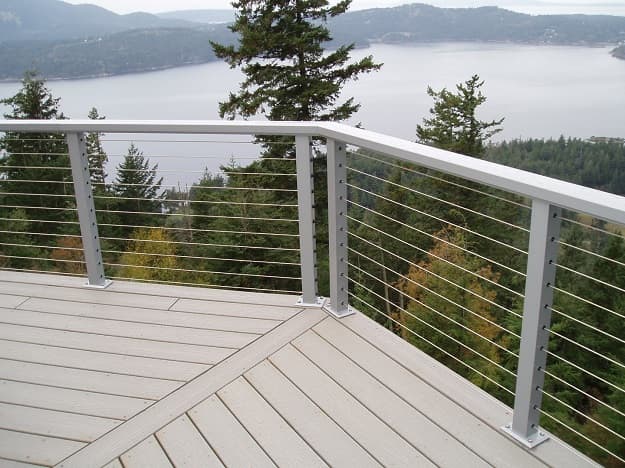 Cable Railing
Cable railing is a trendy option got homeowners that want uninterrupted views from their backyard deck. These stainless steel cables fit well into modern and minimalist home designs. The thin cables provide maximum safety and coverage without blocking your view.
This design can still be customized with your option of vertical or horizontal cables for your railing. There's not benefit to having one of the other, it's your own personal preference.
You can buy kits for a DIY weekend project to update your deck design. Cable railing systems range from $50 to $200 depending upon your retailer and how much railing your deck will need.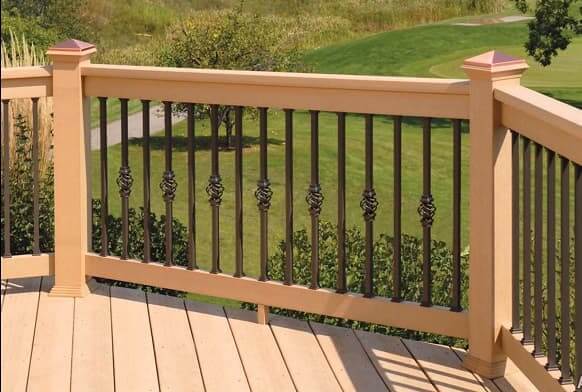 Scroll Railing Designs
This is the classic design that you think of when you picture wrought iron railings. It has the smaller ornate details that you'll find in the railings of historical houses. It's not limited to front gates of old buildings.
While typically found on smaller balconies, these designs bring elegance to your deck design. They can get pricey depending upon your specific design. If you want the Victorian style, but not the amount of detail that comes with a scroll, consider a twisted baluster design or a twisted cage. These feature small details that can go a long way for your deck railing design.
The most decorative railing panels are usually from a contractor and can start at $150 for one panel.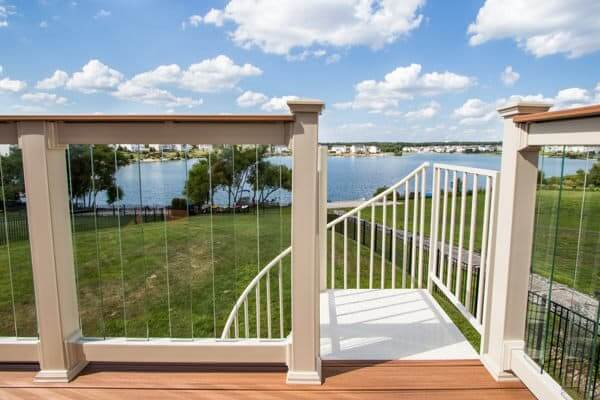 Glass Deck Railing
Tempered glass walls are the perfect addition to any modern or minimalist deck design. With small metal top rails, a glass wall railing takes the transparency of the cable railing to a new level. This is truly an uninterrupted view for your deck. The sleekness of a clear glass wall can't be matched with any solid railing and is perfect for those than want an invisible barrier between them and their backyard. Tempered glass walls typically start at $65 per panel.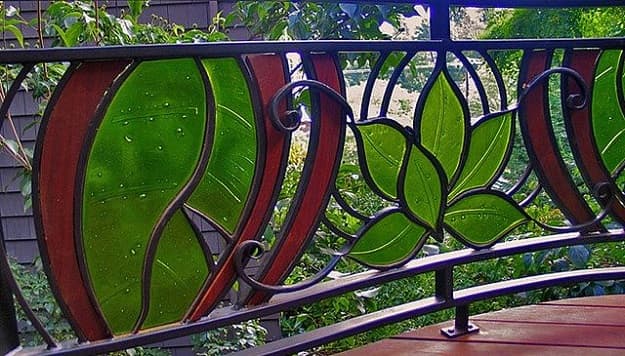 Tempered glass walls are the perfect addition to any modern or minimalist deck design. With small metal top rails, a glass wall railing takes the transparency of the cable railing to a new level.
Your glass panels provide a truly uninterrupted view for your deck. The sleekness of a clear glass wall can't be matched with any solid railing and is perfect for those than want an invisible barrier between them and their backyard. Tempered glass walls typically start at $65 per panel.
If you want to take your glass wall deck railing to the next level, consider using stained glass. While this would defeat the purpose of using glass for its transparency, it would give your deck a unique look that you won't find anywhere else.
You can have the panels custom made or buy stained glass panels that you love. When the sunlight hits the stained glass, your deck will look magical. This price range is hard to estimate as they are completely custom pieces.
There a million ways to add a finishing touch to your deck. After you've worked so hard to create a beautiful outdoor entertaining space, don't muddy it with a subpar railing design.
Salter Spiral Stair provides wood, steel, iron, and aluminum railing for your raised deck! This is an excellent option if you already have a spiral stair. It creates a cohesive design for your outdoor space. Call one of our consultative designers for quick pricing!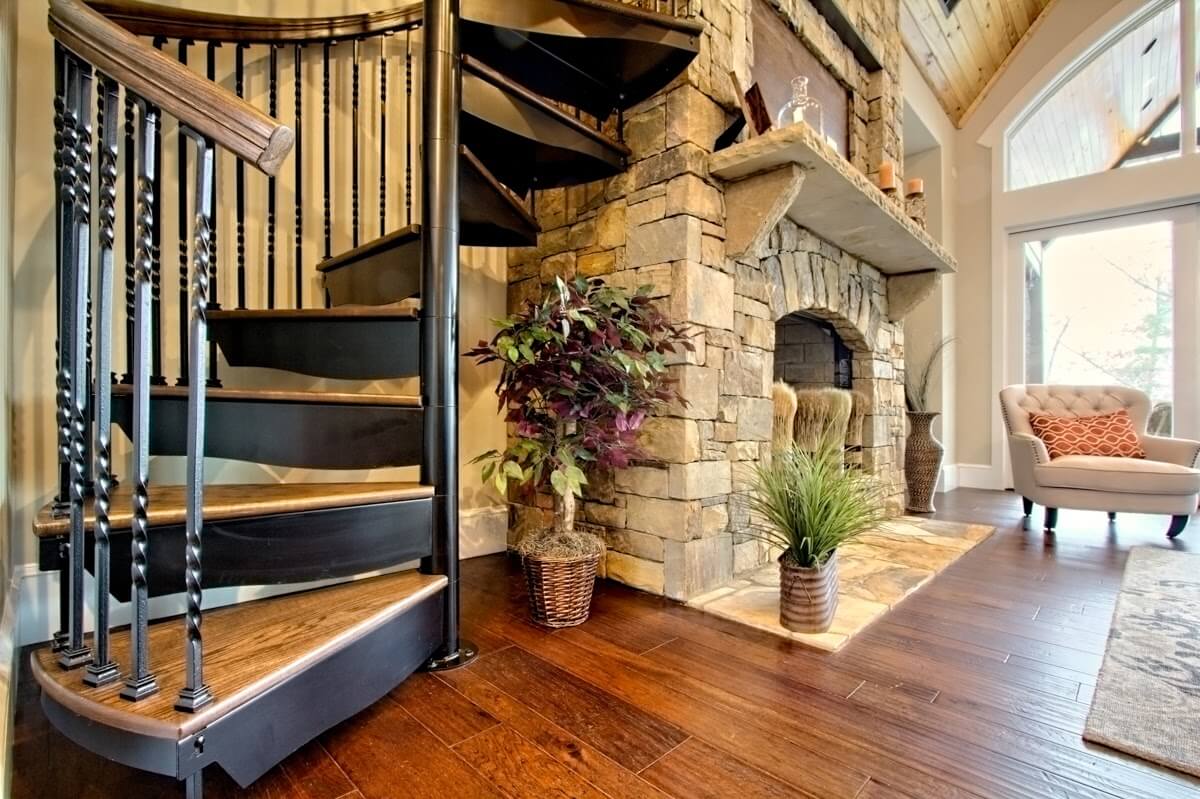 Why Salter
Ready to experience the best in Spiral Stairs?
Get started with a free, no-hassle consultation.
Same Day Pricing

Expert Design & Sizing Advice

Custom Design Options Tailored to your Budget

Estimated Product Lead Times
Get started with a free, no-hassle consultation.