How To Maximize A Small Deck Design
How To Maximize A Small Deck Design
Homeowners have been moving to smaller and smaller homes to simplify their lifestyles. These smaller plots mean that people are having to get more creative in their home design. This doesn't just apply to the interior, but the outdoor spaces as well. You can fill them with design and create a beautiful area for relaxation and outdoor entertaining.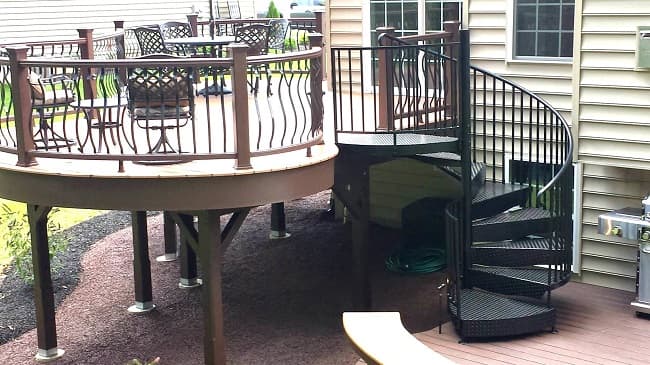 Small Deck Designs
One of the best ways to ensure that you're making the most of your small deck is to have the proper design. The way the deck is design will begin to outline the efficiency of your small deck design. There are several small deck ideas that incorporate different shapes into the build of the deck.
The most traditional shape is always going to be square. The shape lends itself to a grid like system and it's the easiest shape to separate into different areas. If you want a more unique home design, a circular deck could be the best fit for your backyard. The semicircular shape can fit into a smaller area and accommodate the lifestyles that don't call for a lot of outdoor entertaining. Depending on the proportions used, you can also maximize your existing backyard space.
If you have irregular space in your backyard, consider a deck with bump outs. This design can be all angular or a combination of circular spaces and square designs. The beauty of a deck with bump outs in the design is that you can add extra square footage in areas that have the extra space. This can compensate for other areas that cannot accommodate a larger deck. This deck design can also create visual interest in the design and provide a natural organization to your deck design. These small isolated areas are perfect to accommodate small sitting areas or a separate area for your outdoor kitchen.
No matter which small deck idea you choose, you will want to be sure that it fits well into your space. Take into consideration the shape of your home and how the deck will fit into the backyard. You don't want your deck to look out of place in your backyard. Foliage can help your deck design to flow into the backyard naturally. You can help to hide any deck supports with tall plants and large bushes. Just like you would create a color story in your home, you can create a foliage story in your backyard. By using complimentary plants consistently in your outdoor space, you can connect the different areas easily.
You can also add visual interest into your deck design through the finishing touches. A multi-color deck can be achieved through using different color composite decking boards or different stains on an all wood deck. The composite decking material comes in a range of colors and can be installed in a decorative pattern to create a focal point in the deck floor. If you choose to use an all wood deck design, you can use different stains or paint to create a pattern on the deck itself. You can create a two tone effect if you use two different stains on the wood boards. Stain them before you install the boards to keep the separation of color crisp and neat. You can paint a design on the deck as well. This is a popular option for those that want a customer area rug design, but don't want the hassle of having a loose rug. The last deck design element that can add visual interest to your space is going to be your deck railing. Different deck railing designs can create a different style for your deck. By adding the focal points into the deck itself, you can keep furnishings simple without your deck feeling too empty.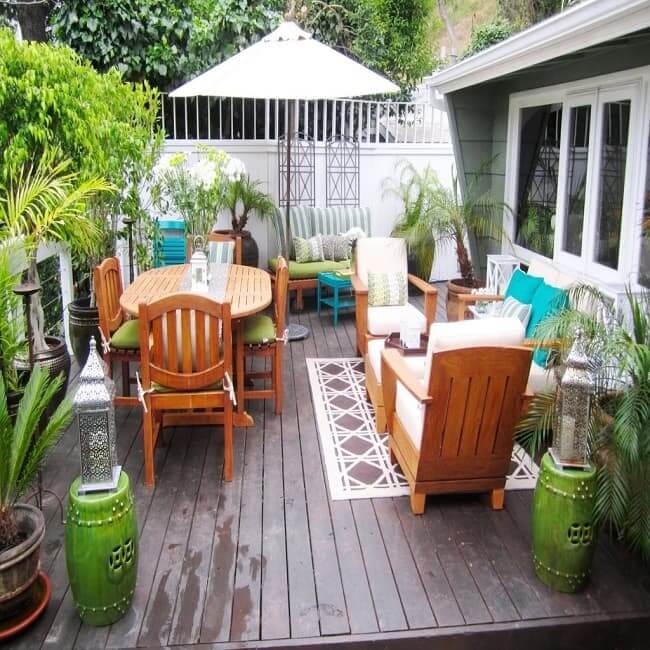 Small Deck Decorating
The first obstacle when you're furnishing a small space is to find furniture that meets all of the requirements. Not only does it have to fit into the space, but also into the home design style that you've used in the rest of your home. Small deck ideas aren't limited to spaces that are overcrowded with lots of small pieces. You can actually make your space look bigger by filling the space with bigger pieces of furniture. By keeping the pieces you do have on the larger side, you can keep the actual number of pieces to a minimum. This keeps the space simple and uncluttered. Because you'll be using fewer pieces of furniture, be sure to keep the focus on your lifestyle. Prioritize the furniture that lends itself to the activities that you enjoy most. For instance, if you like to have alone time and privacy outside, you may decide on a few lounge chairs over a large dining table. No matter what you decide to use your small deck for, there are plenty of different options that fit in your home's design style.
Furniture
Depending on what you plan to use your deck for, there are plenty of furniture options to fit your space and its function. Seating is almost always necessary on a deck. A popular option for deck seating is an outdoor couch. This can range in size from a small two cushion love seat, but also be as wide as an outdoor sectional with ample seating. If outdoor dinner parties are a goal, there are plenty of outdoor dining chair sets. Many of them have metal frames with either a woven seat or an outdoor cushion. Outdoor cushions are the most important part of your deck seating. You want all of your guests, as well as yourself, to be comfortable while enjoying time on the deck. There's a wide range of designs and prices when it comes to cushions to complete your small deck design. If you can't find a set that you like, you can easily paint your own canvas to create an outdoor friendly fabric that's ready to be made into cushions.
Another small deck idea that has a large focus on comfortable seating is to install a conversation pit. Create a central focus point with either a firepit or a small table and angle your seating around this central point. With this design, your deck becomes a natural gathering place and communal area.
Tables are another staple in small deck decorating. Having a stable flat surface can go a long way when your entertaining outdoors. Obviously if you plan to hold dinner parties, a large dining table is necessary. Large farm tables are a great option for those that are looking to use a rustic home décor style. These tables are usually paired with benches which provides plenty of seating. If you can't find the farm table of your dreams, you it's a simple weekend DIY project using either new lumber that can be aged or reclaimed lumber.
Design accents can go a long way in small deck ideas. When you're working in small spaces, the details aren't just finishing touches, but the design itself. Area rugs can help to center and focus a furniture layout. If you can't find the right outdoor rug for your deck, you can easily paint a plain one, like the canvas cushions. Another alternative to a rug is to paint and seal the design directly on your deck. This will require some deck restoration after some time, but it will definitely be a one of a kind design. Don't be afraid to take interior décor details outdoors! Mirrors can expand your space with strategic placement just like an interior mirror.
Lighting
Lighting on your deck is especially important if you plan to use your deck for outdoor entertaining. There are several light fixture designs that can help you to define your space while still standing up to the elements. Rope lights are a popular option for their flexibility and weather resistant casing. The design is made up of string lights that are in a plastic tube that can be bent to wind around deck railings or simple work around the edge of your platform. For a lighting option that takes up no extra space, you can install lights directly into your deck posts. Solar lights can be installed for a low maintenance light solution.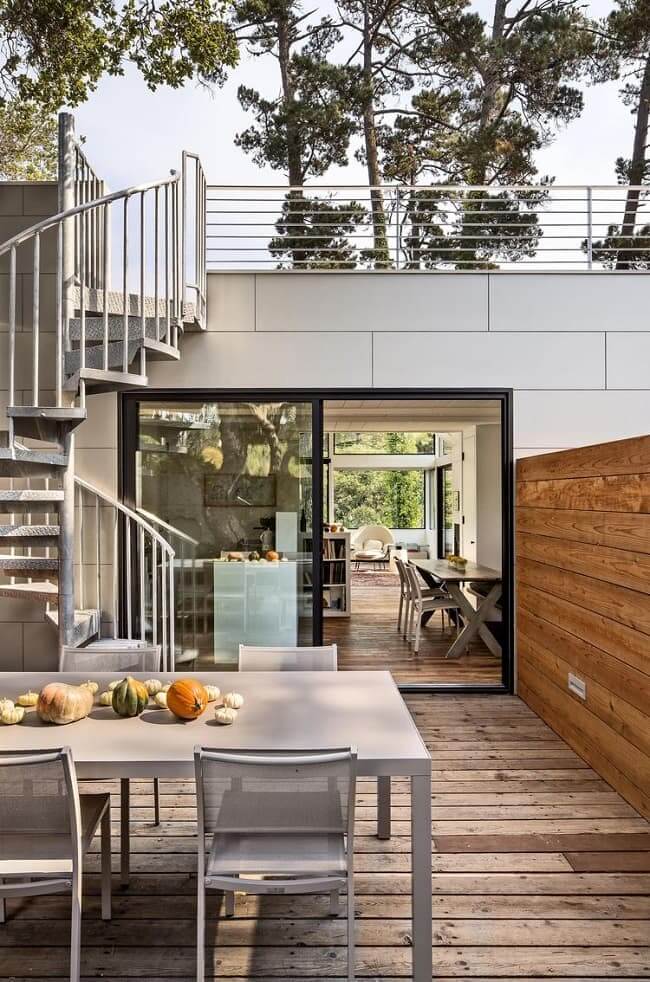 Small Multi Level Decks
One of the best ways to maximize your small deck is to create a multi level deck design. By building vertically, you don't have to worry about take up too much of your already limited square footage in the backyard. To keep your backyard below completely open, you can finish your roof to create a rooftop deck with stairs leading to a lower level. You can easily connect this modern and space efficient deck to a smaller second floor deck. These two decks create square footage by using space that wasn't previously used.
You can also utilize the space below a raised deck design by pouring a concrete patio platform underneath it. Under deck patios have several different applications that can vary based on your lifestyle and the vision you have for your outdoor space. The beauty of an under deck patio is that it's a covered area, giving you an outdoor entertaining area no matter what the area is. You can easily install a drainage system as part of the ceiling to make your space waterproof.
There are several different ways to use multiple levels of outdoor entertaining space. One of the most popular applications is to have separate dining areas and outdoor kitchens. By separating the two, you can keep your dining area and the lounge area for your guests free from smoke. If you choose to use an under deck patio design, you can use the pre-existing supports of the deck as a frame for a screened in porch. This gives you a beautiful three season room that protects you from inclement weather and other pests, such as insects.
No matter what kind of multi level deck design you decide to have in your backyard, you will need a way to move from one level to the next. Deck stairs come in several different designs depending upon the application.
The most popular design is a traditional deck stair. This straight staircase is the most common deck stair design found in homes. They fit well with traditional home styles. However, they take up a large amount of space. To safely use the staircase, you will need each step to be wide and short enough to accommodate the majority of people. This creates a staircase with a large footprint. The whole point of designing a deck with stairs is to open up square footage. A traditional deck stair can take away a good portion of that space.
A small footprint solution is an outdoor spiral stair. The spiral design keeps the staircase's footprint to a small circle in your backyard, allowing you to keep the maximum amount of space available for outdoor entertaining. Spiral stairs can also enhance your deck design and are much more aesthetically pleasing than a standard all wood deck stair. There are two standard options for your outdoor spiral stair, a Powder Coated Aluminum spiral stair and a Galvanized Steel spiral stair. The Powder Coated Aluminum stair is ideal for backyard spaces that have a high design focus. This design takes the already rust prohibitive aluminum and powder coats it to give your stair a maintenance free finish. You also have the flexibility of a custom color on your stair. The Galvanized Steel spiral stair is a cost effective and durable option for a multi level deck. This design consists of a carbon steel stair that goes through a hot dipped galvanizing process that coats the entire stair in the rust prohibitive metallic silver finish. Both designs have the option of a diamond plate tread design. This non-skid surface is ideal for outdoor applications. Another added safety feature are safety gates that can be designed to match your stair and deck railing.
Homes are getting smaller and smaller and their outdoor spaces are doing the same. A small backyard doesn't mean that you can't have a beautiful deck. Clever design and the right additions to your deck can help you to maximize your small deck design. If you want to learn more about a spiral stair design for your small deck, a call to one of our consultative designers can get you pricing in five minutes or less.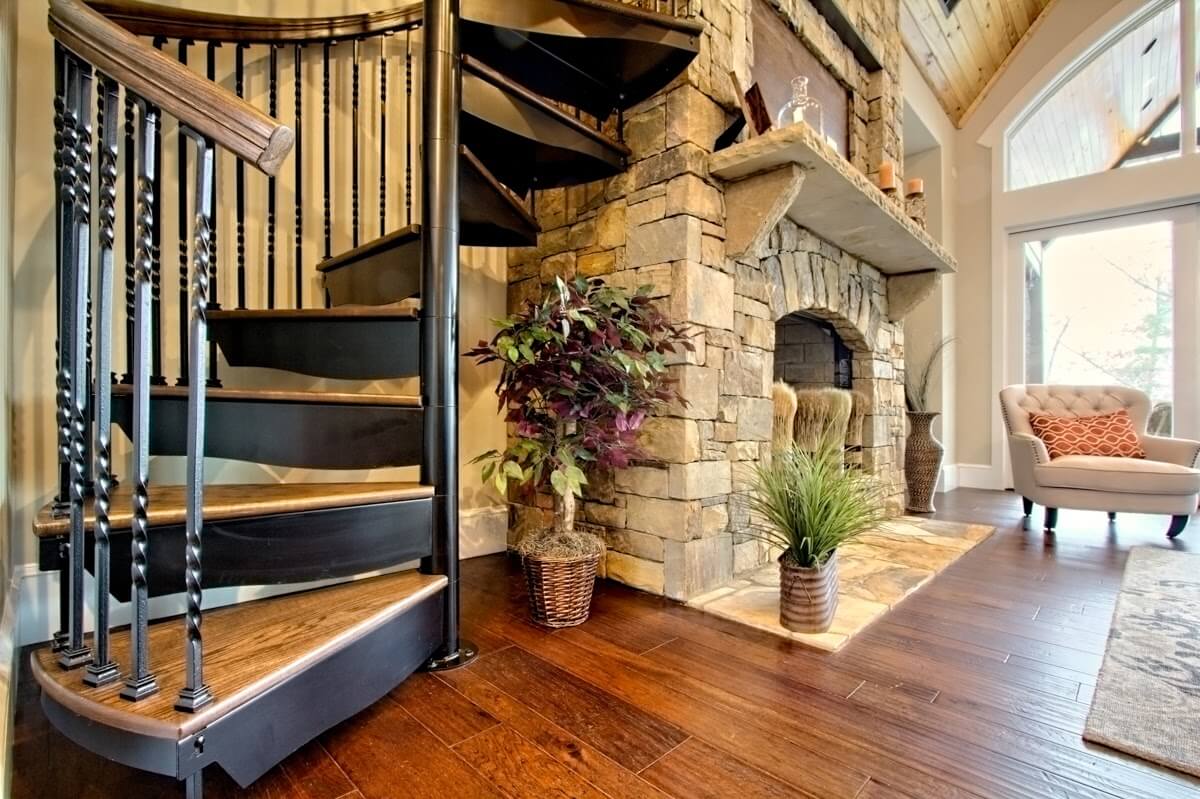 Why Salter
Ready to experience the best in Spiral Stairs?
Get started with a free, no-hassle consultation.
Same Day Pricing

Expert Design & Sizing Advice

Custom Design Options Tailored to your Budget

Estimated Product Lead Times
Get started with a free, no-hassle consultation.