How To Maximize Space In A Small Loft
How To Maximize Space In A Small Loft
You can never have enough space in your home. Whether you want more living space or an extra storage spot, added room is always welcome. Many homeowners run into the problem of wanting to add more space but don't have the time or budget for an addition.
Lofts are the perfect solution for small homes looking for more space. They are a completely interior project and add square footage to your home. You can choose to convert an existing loft or building a brand new frame and platform.
Small Loft Structures
One of the most important features of your loft design is going to be how you decide to enclose the space. Between railings and walls, blocking the open face of your loft ensures the safety of everyone using the room.
Walls are always going to be the most obvious choice with any home renovation or construction. They are a completely solid structure and add privacy to your room. This is ideal if you plan to incorporate a loft bedroom design.
Walls do have their drawbacks when it comes to small loft designs. Because they're solid barriers, they block any pass through of light and air throughout your home. This can make your loft feel smaller and take away any illusion of extra space that you created. Walls are also thicker than railing and you'll lose some square footage.
Many small loft designs utilize railing to enclose their space. It leaves your loft feeling open and allows the constant flow of air and light throughout your home. This keeps your loft feeling connected to the rest of your living space below.
Different railing designs can create different aesthetics for your loft. With different materials and decorative elements, you can create a one of a kind space that fits into your home's existing décor. For a cohesive design, you can match your railing to your loft stairs.
If you want to completely redesign your space, new windows can transform a small cramped loft into a large spacious area. One of the easiest ways to trick the eye and make a room feel larger is to fill the room with lots of natural light.
This can be achieved through new larger windows, skylights, or a combination of both. To truly maximize your loft's space, switch out standard windows for dormer windows. These windows project out from the house giving your loft small nooks and a few extra square feet.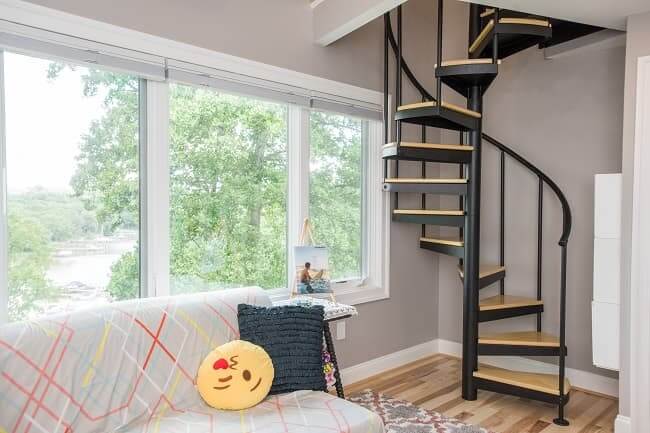 Small Loft Stairs
There are a few design options when it comes to loft stairs. Small loft ideas are all about maximizing space. The factors you need to keep in mind when looking for the right stair design is the footprint of the stair, the safety and stability of the design, and how well it fits into your home's design.
The first stair design on any list is going to be a traditional staircase. It's known for stability and can fit into a number of different home design styles. However, it may not be the best choice for a home that has limited square footage. The big bulky frame can quickly take up a lot of space.
When it comes to the loft itself, you may have to sacrifice some of that square footage as well. Traditional stairs typically enter through a large rectangle in the floor. Depending on the placement of your stair, it will interrupt the flow of your space on top of taking away valuable space.
When homeowners see that a traditional stair won't fit into their small loft design, they sometimes go to the opposite end of the spectrum with a ladder that has a virtually nonexistent footprint. This thin frame makes it easy to tuck into a corner and out of the way unless it's in use.
However, these designs also typically sacrifice some stability. The thin rungs in place of full steps can make it dangerous for anyone who may lose their footing. A ladder also makes it impossible to carry items up and down from your loft. Depending upon who will be regularly accessing the loft, a ladder may not be the best option. Any family pets won't be able to access the space, and elderly family members may have increased difficulty.
Spiral stairs are going to be the happy medium between a large and bulky traditional stair and a minimal, but unsafe ladder. The footprint of a spiral stair is kept to a small circle in your home's floor plan. The footprint is determined by the width, or diameter, of your spiral stair.
This small size also gives you flexibility when it comes to placement of your stair. A spiral stair can either be accessed at the face of your loft or through a hole in the floor. This means that you can place the staircase wherever it will best fit both on the bottom floor and your loft.
A spiral stair is also completely customizable. There are three major materials used to create a beautiful and unique indoor staircase: All Wood, Classic Steel, and Forged Iron. An All Wood spiral stair has the classic beauty that comes with a wood design. A Classic Steel spiral stair is the most flexible design and can handle wood treads and handrails as well as an all metal design. A Classic Steel spiral stair can also be powder coated to be finished with a custom color. A Forged Iron spiral stair fits well into a Traditional or Victorian style home. It can be quite ornate depending on the design customizations you choose.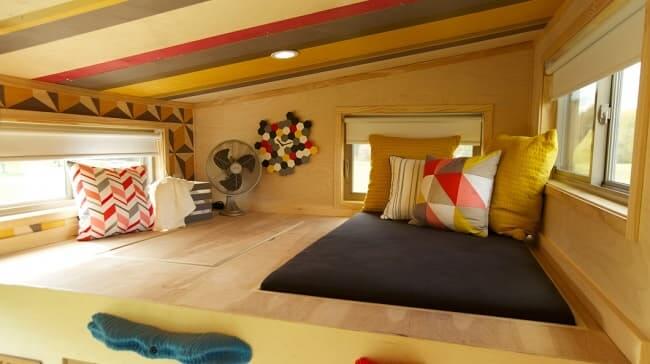 Small Loft Ideas
Bedroom Loft
One of the most common loft ideas is a bedroom loft design. Turning a loft into a bedroom is particularly popular for tiny houses because of the extremely limited amount of space. By lofting your bedroom, you are able to keep the maximum amount of the home open for general living space.
If your small loft idea is more like a micro loft, your bed may take up your full loft. This is most commonly found in tiny homes. If this is the case, you need to find new ways to fit other bedroom furniture into the space.
Storage is one the most important things to have in a small space. You want a place to keep your items without cluttering up your loft. Multifunctional furniture is one of the best ways to have hidden storage in a small area.
While under bed storage isn't a new concept, it's been developed and fit into new designs. One of the most interesting ways under bed storage has been interpreted in recent years is by adding hydraulics to your bed frame and create a secret compartment. With this modification, you can lift your mattress to leave a completely open space in the middle of the frame. This innovative design is the perfect way to create storage in a bedroom loft that has limited space.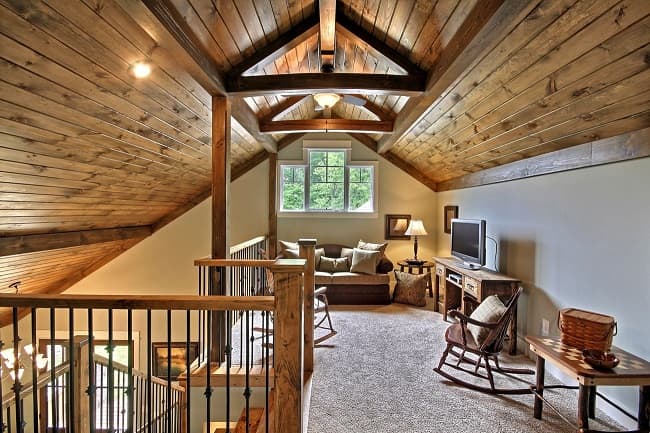 Living Room Loft
Another popular small loft idea is to extend the living space by converting the loft into a living room. This separate living room is a great option for families that have older children. By giving them their own space in the loft, they are able to feel like there is some independence.
However, if you choose to install a railing, the loft will still be open to the general living space below. By turning a loft into a living room, you can give them their area without taking over the family's space.
When positioning the furniture, your TV becomes the natural focal point. Having a central focus helps the space to feel bigger because there is one communal gathering point. Mirrors are another furnishing that can help your loft to feel larger than it is. The reflection extends the space.
Just like most small loft ideas, multifunctional furniture is going to be your friend in this space. Rather than a storage piece, you may want to find pieces of furniture that can provide extra seating when needed. A common piece of double duty furniture used is an ottoman than can break down into six separate stools. If you don't need the extra seating, the ottoman is kept in a small cube that can fit just about anywhere in your small loft.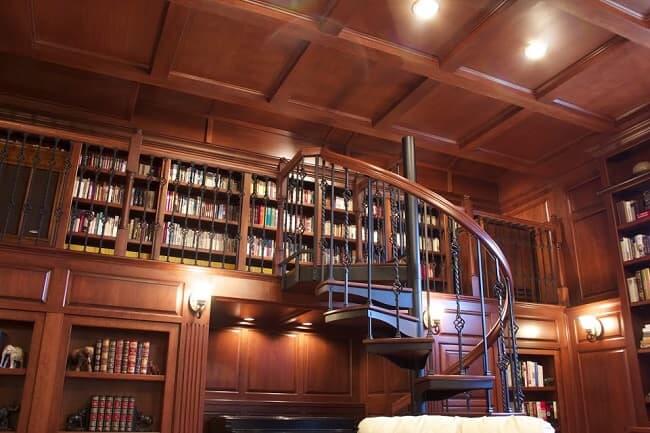 Library Loft
A home library is a unique room that automatically adds value to your home. If you don't want to take a full room for your library, a loft is a great option. It can easily be incorporated into an existing home office or as a separate space all together.
Turning a loft into a library can be just a matter of using the right furnishings. Obviously, the most important part of any home library is going to be your bookcases. Built in pieces give your loft an expensive look, but can quickly put you over any budget you may have.
An easy DIY project of adding crown molding to the top of you bookshelves can create faux built ins. These custom pieces give your library loft a grand and luxurious design. The right choices for your seating options can also add to the luxury of your space. Common choices for your home library are dark leather pieces that play on the rich tones of the wooden bookcases. Quilted leather is a popular choice that is both comfortable and a beautiful design.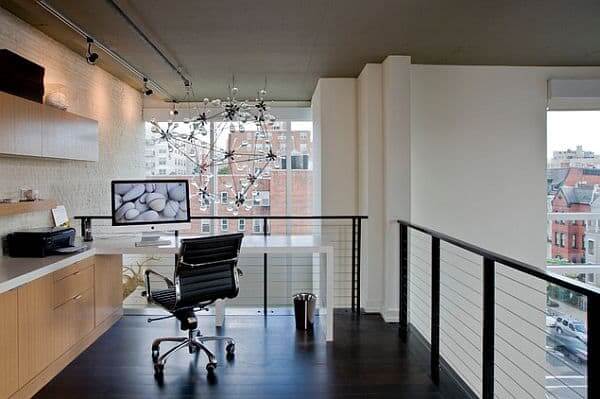 Office Loft
Working from home has become more and more popular in recent years. Some homes have an extra bedroom, or even a home office, already built into the home design. However, if you don't have space already available, a loft is the perfect solution.
In terms of space, you are creating square footage that you didn't previously have. An office loft is also the perfect location for a productive work environment at home. A loft is separated from your general living space keeping you away from any extra distractions. If you decide to use a railing rather than a full wall, you are still connected to the rest of your living space.
One of the most important things to remember when planning your office loft is your light source. Depending upon the type and amount of light in your loft, it will affect your productivity level. Natural light is always best to promote productivity. Large windows can help the space feel bigger and make it a more effective workspace.
Lofts are often associated with trendy urban spaces, but they've recently become a fixture in tiny homes. Even the smallest lofts create square footage in a home with limited space. They have flexibility when it comes to function and keeps the space underneath completely open. If you want to keep the footprint small, consider a spiral stair to access the loft. A call to one of our consultative designers can get you pricing on your stair in five minutes or less. Be sure to ask about the matching railing for your loft face, as well!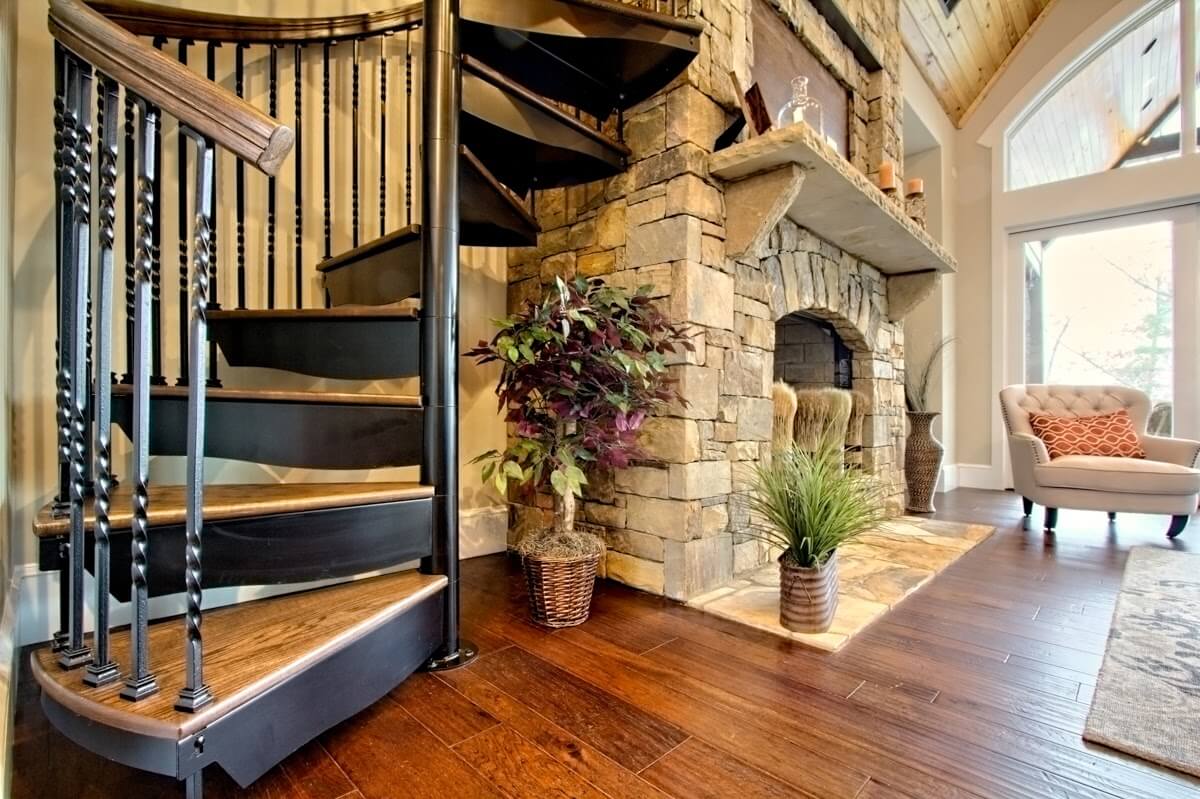 Why Salter
Ready to experience the best in Spiral Stairs?
Get started with a free, no-hassle consultation.
Same Day Pricing

Expert Design & Sizing Advice

Custom Design Options Tailored to your Budget

Estimated Product Lead Times
Get started with a free, no-hassle consultation.